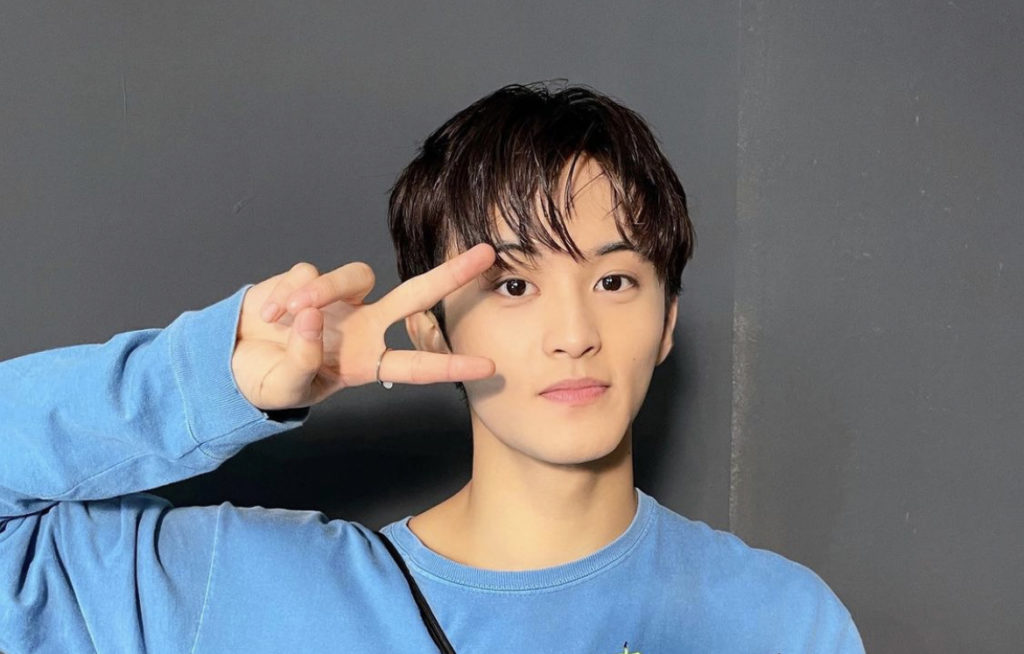 Whether it is with their music or individual endeavors, NCT can't seem to stop breaking records left and right. As the second most mentioned Korean boy group on Twitter, the 23-member act boasts a strong presence on social media. To prove a point, on August 2, birthday boy Mark Lee, hosted an Instagram live stream that busted straight through the records previously set by himself and other K-pop idols.  
#MARK, Johnny and Doyoung's Instagram live Officially breaking record as

1️⃣Most viewed Instagram Live By Kpop Artist (Overall)
1️⃣Most Viewed SM artist Instagram Live
1️⃣Most Viewed Kpop Male Artist

With estimated 571K Audience pic.twitter.com/iUH7X9l2xE

— NCT Global Team (@NctGlobalStream) August 2, 2021
Birthday Live Stream 
To celebrate his 22nd birthday, NCT's pro debuter, Mark Lee, gifted fans with live broadcasts on both VLIVE and Instagram. Other than thanking fans for the countless birthday projects organized in his name, the rapper took the time to share life updates. While showing some of the birthday gifts he received this year, Mark shared how special this day was to him. "Aside from receiving presents, I also got birthday greetings from so many people, including people that I haven't kept in touch with, in a long time. I'm so grateful for today," he said on VLIVE. 
Later on, Mark also surprised fans by going live on Instagram and allowing his fellow members, Johnny and Doyoung, to join. Offering the playful antics NCT is known for, the three of them entertained fans for about 30 minutes filled with filters, banter, and laughter. Among others, Johnny's alien filter and Taeil's sporadic comments had fans going wild and creating comeback theories. 
johnny alien era 👽👽 pic.twitter.com/t7XuLpw5Ja

— sia ?! (@tnlstun) August 2, 2021
Wait if the filter was the spoiler for their comeback hold up!!!
Stars wars concept but in kwangya 😳😳#NCT127 #nct

— yutaaa actorrr (@snowboiiiii) August 2, 2021
THIS IS SO FUNNY helppppp Aakslskks the transition from johnny-green johnny-alien johnny 👽 pic.twitter.com/8YBxNL9Dc8

— 혜🧸 (yoon // kinda ia) (@suhpremacistJ) August 2, 2021
when mark failed to notice taeil hyung's comments on his instagram live earlier 😭

(translations cr: ekfxodlf) pic.twitter.com/Eh7h8SJPOD

— markil 맠탤 (@dailymarkil) August 2, 2021
mark's laugh: the cause: pic.twitter.com/fNcjt5m2xe

— mika ❥ (@hyuckiedoie) August 2, 2021
The fan talk made Johnny a trending topic on Twitter and got the attention of the creator of the alien filter. The Turkish filter designer took to Instagram to thank Johnny for the exposure. "This is cute. Thanks man," he wrote. 
The creator of the alien filter (IG user iamrusslme) has thanked Johnny on his IG stories for using it!

screenshot cr. nvrendingrant#NCT #NCT127 #쟈니 #JOHNNY pic.twitter.com/zZSqHNi9DM

— Global SUH (offline) (@globalsuh) August 2, 2021
johnny, dude your trending? you alien dude? pic.twitter.com/wrL8G8O1vE

— pau (@H0NEYLITHEFIRE) August 2, 2021
Comeback Hints
In addition to the entertainment provided, Doyoung hinted at NCT 127's upcoming comeback and revealed vague details including the theme of the song. "This time, our song is a love song. Not the kind of fake love from Gimme Gimme [laughs], the lyrics too… It's a love song." Johnny further explained, "Yes, it's an 'I wish you stayed by my side' kind of feeling." Doyoung also suggested that there might be two different title tracks. When Johnny mentioned he has been listening to the song, Doyoung playfully asked "Which one? Title one or title two?" Naturally, the revelation had fans speculating about NCT 127's new material.
summary of the spoilers from mark's ig live:
1. title 1 and title 2 were mentioned
2. johnny used an alien filter and said it was a spoiler
3. doyoung said it's not a fake love song like gimme gimme but a real love song https://t.co/j2xoFid2nZ

— 🌱 (@plantsprout) August 2, 2021
Record-Breaking Numbers
In the era of social distancing, Instagram live streams have become one of the most effective ways to keep artists and fans connected. K-pop idols are no exception and they've joined a trend that, according to Billboard, thrived during the lockdown last year. 
Proving the power of NCT's loyal fandom, Mark's Instragam live quickly attracted high numbers of viewers. With more than half a million people watching the live broadcast, Mark surpassed the 326,000 viewers record he had previously set back in February. This makes Mark's birthday broadcast the most-watched Instagram live by any K-pop artist and the most viewed live stream by male K-pop artists on the platform. Some fans even suggested this might be one of the Instagram lives with the most viewers this year. 
Although there's no official data available to confirm it, just to offer insight, on 2020 "Beanie Man vz. Bounty Killa" gathered 577,000 views on an Instagram live by verzuztv. It turned into the fifth most-watched live stream of all time on that social network service.  Mark's birthday broadcast amassed similar numbers.
Regardless, Mark and NCT's popularity is not to be overlooked. In the world of K-pop, stars of the likes of BLACKPINK's Jennie and EXO's Kai previously held this record. 
#KAI's Instagram Live Peaked At 234K Viewers, And Is Now One Of The Most Viewed Instagram Live🔥

•Most Viewed SM Artist IG Live.
•Most Viewed Kpop Male Artist IG Live.#ArtistKaiDay #HappyKaiDay #종인아생일축하해 #가장_따뜻한_겨울_카이데이 pic.twitter.com/TXSt8PFIMz

— KAI Chart (@kaischarts) January 13, 2021
View this post on Instagram
In a year where the NCT brand only grows stronger and its members keep outdoing themselves, the group's career is soaring sky high. With NCT 127's comeback fast approaching, fans can surely look forward to more record-breaking moments. 
Be sure to read all about Taeil's Instagram World Record HERE!
Thumbnail Courtesy SM Entertainment