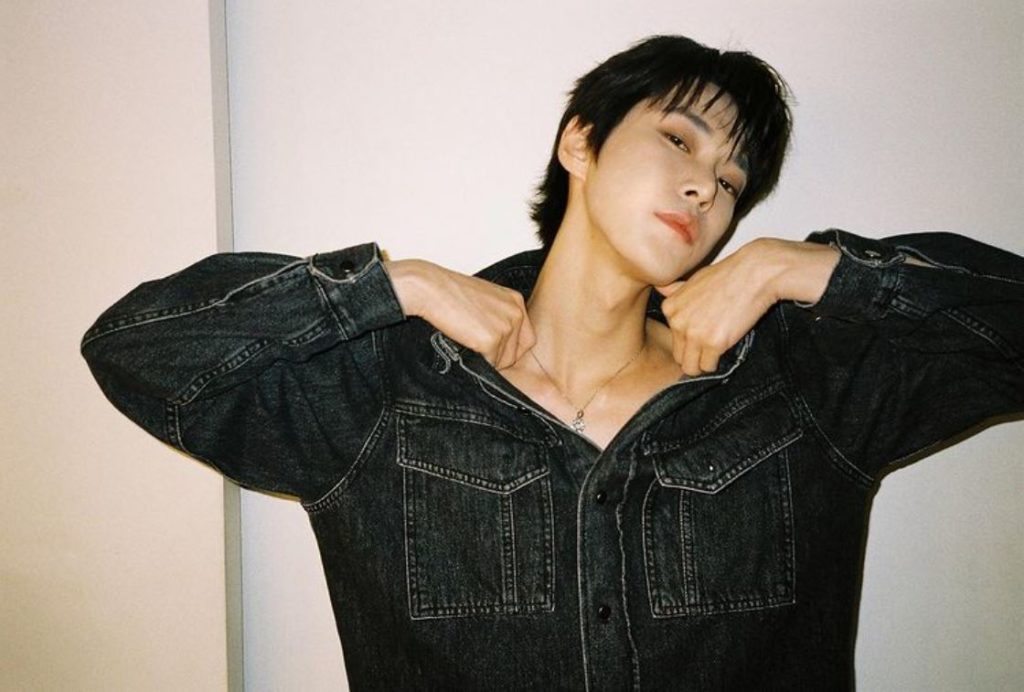 By Valerie Lopez | @valschwarie
From releasing new music to debuting as an actor, NCT's Doyoung has been killing the game in 2021. Doyoung has participated in countless projects in less than five months. This week, it was announced that Doyoung will start another project, joining the cast for his first-ever musical, "Marie Antoinette." Here is a breakdown of everything Doyoung has done in 2021 so far.
Eager to find a way to meet fans in the midst of a pandemic, Doyoung took to LYSN's Bubble app in late January to find out what fans would like to see at an online birthday party. Less than a week before his birthday, February 1, Doyoung asked fans to send in any questions they had. 
When Doyoung's birthday came along, he did not disappoint. Clad in a school uniform, Doyoung went live at 6 PM KST to celebrate his special day with NCTzens. The live broadcast opened with Doyoung singing "Falling" by Harry Styles, alongside guest pianist minGtion, a songwriter for NCT's "From Home" and "Make Your Day." After greeting fans and thanking the staff, Doyoung did a Q&A session with the questions fans had sent in. He then enjoyed a glass of Emos wine, courtesy of Lee Soo Man, and brought out his birthday cake. Doyoung also sang "Pretender" by Official Hige Dandism twice before reading some fan letters. He ended the live broadcast with his own letter and a cover of NCT U's "My Everything," dedicated to NCTzens.
View this post on Instagram
On February 19, Doyoung made his official acting debut as the protagonist in the web drama Cafe Midnight Season 3 – The Curious Stalker. Doyoung played high school student Son Ji Woo, who experiences issues with his love life and his mother's deteriorating health. In addition to acting in the drama, Doyoung sang the drama's OST "Night Air." The drama is now available, with English subtitles, on the On Demand Korea website.
View this post on Instagram
On February 15, NCT 127 had their Japanese comeback with the LOVEHOLIC album. Not only did they release a music video for the title track "gimme gimme" but they also performed it for the Japanese program Count Down TV (CDTV) and participated in photoshoots for Men's Non-no and Elle Japan. 
View this post on Instagram
Collaboration with Baekhyun: "Doll"
Earlier this year, Doyoung exclaimed his love for EXO's Baekhyun on LYSN's Bubble, after Baekhyun's Beyond Live Concert in January. Many fans speculated a possible collaboration between the two SM singers. On March 5, fans' suspicions were confirmed when Stone Music Entertainment dropped news of a large collaboration project, including a song with Baekhyun and Doyoung. The "Rewind: Blossom" project was a music collaboration where various artists remade legendary songs from the 1990s and early 2000s. For this collaboration, Doyoung and Baekhyun sang a remake of the song "Doll" by Shin Hye Sung and Lee Ji Hoon.
View this post on Instagram
In addition to his group modeling opportunities for NCT 127's LOVEHOLIC promotions, Doyoung has had two other projects. Alongside NCT member Jungwoo, Doyoung participated in a pictorial and interview for Cosmopolitan Korea's March issue. Doyoung also has an upcoming pictorial with actor Kim Gongmyung, his older brother. The pictorial is for WKorea's May issue.  
View this post on Instagram
On March 22, Doyoung surprised fans with a cover music video for the song "Falling" by Harry Styles. In the video, Doyoung, clad in a black leather jacket, stood in a dark room where he sang with a standing microphone. Doyoung has previously performed the song during his DoTalk Concert Live earlier this year, on February 1. 
View this post on Instagram
In mid-April, Doyoung was announced as part of the lineup for SBS Hope TV's "Becoming One Again 2021" project, which includes a remake of the song "Now N New." The aim of the project is to give people hope during hard times brought about due to the pandemic. The song "Now N New" was initially released and sung by 60 singers in April 1999 as a message of hope and support during the financial crisis that Korea faced at that time. This collaborative project includes various artists, such as Red Velvet's Seulgi, Brave Girls' Minyoung, and Lee Sangmin. The project will officially drop on May 28. 
Latest on the list, Doyoung was cast to be in the musical "Marie Antoinette." He will play Axel von Fersen, who was in love with Marie Antoinette, the French queen. As announced on April 19, the shows will begin on July 13. 
Anticipation for What is Next
It is only April, yet Doyoung has taken on so many projects. While there are lots of possibilities for what he will do moving forward, one thing is for certain; he will continue to work and show new sides or himself as an individual and member of NCT 127.
Want more NCT news? Check out our article on NCT 127's SLOW ACID X TEDDY ISLAND collaboration here!
Thumbnail courtesy of SM Entertainment.