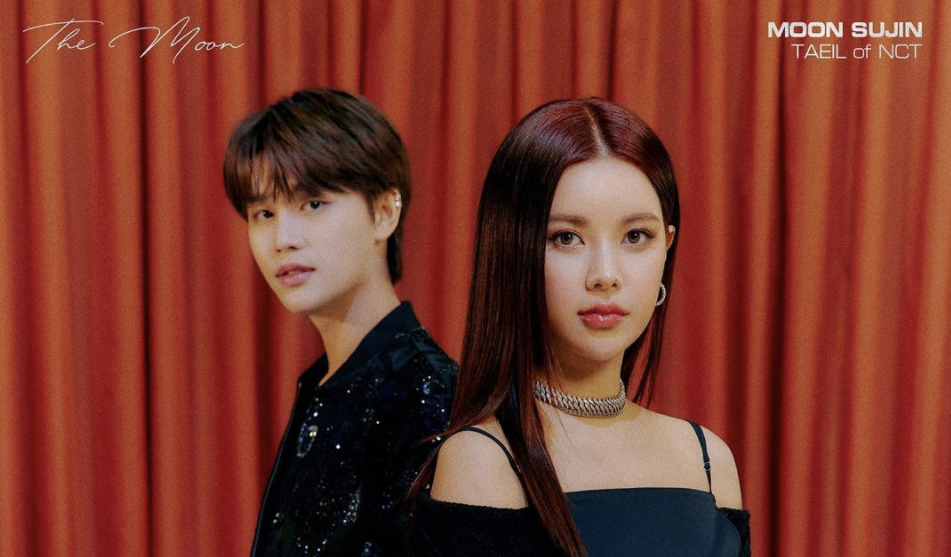 By Chyenne Tatum | @chyandblack
After announcing a new song earlier this week, the highly anticipated duet between Moon Sujin and Moon Taeil has officially dropped, and it's even more mesmerizing than expected. 
Perfect Harmony
Today, April 11th, Moon Sujin released her digital single "The Moon" and its coinciding live clip, where it shows her standing in the middle of a stage surrounded by a sea of sparkling stars. The song starts with a soft piano as her luscious voice echoes through the mic for nearly a minute and a half before handing it over to her duet partner.
As Taeil ushers in the second verse, the song has already built into this relaxing mid-tempo ballad, and it's hard to not feel the urge to close your eyes and let yourself drift away in the midst of it all. Taeil's timbre is just as warm as the set he stood in, a small window showing the night sky outside while he's standing in what looks like part of a moon crater. When he's finally joined by Moon Sujin, their voices blend in perfect harmony: hers is as delicate and soft as a mouse, and the fullness in his voice brings an extra layer of compassion that's just so pleasant to the ears without overshadowing the main vocalist.
beautiful harmony of the moons ?#TheMoon_SujinxTaeil#저달_문수진x문태#TAEIL #태일 #NCT태일 pic.twitter.com/pK3tUWsFa9

— taeil pics / 저달 ? (@taeilzones) April 11, 2021
The Lyrics
Written by Korean producer 623, singer-songwriter Chancellor, and Moon Sujin, "The Moon" is pretty somber with lyrics expressing the loneliness one feels when one's separated from a loved one. A line that particularly stood out was when Taeil sang, "We look at the moon from different places and say, 'I hope you're always happy.'" This further reinforces the cold nights spent alone while you're probably wondering what the person is doing or how they're feeling — it's a feeling that every person can relate to in one way or another.
Interestingly enough, this song sounds like the kind of tune you'd hear during the winter months instead of in the spring, perhaps around Christmas. The sentiment of missing a loved one is especially high during the holidays, but even if you are with a special someone during that time, it still has all the comforting qualities of curling up in front of a fireplace and enjoying the company.
R&B singer Moon Sujin collaborates with NCT's power vocalist, Taeil on her beautiful self-written track, "저 달 (The Moon)". Read the lyrics & English translation to the song on Genius now!#TheMoon_SujinxTaeil @moonsujin94 @million_market @NCTsmtown https://t.co/eaRYmMsog5 pic.twitter.com/eQFtC4BDi0

— Genius Korea (@Genius_kor) April 11, 2021
Walking On the Moon
Both his and Moon Sujin's sets seem to be emulating the visual and atmospheric aspects of the moon itself — although it's not a shocking design choice, it sets the tone and represents both singers perfectly. The dark blue skies in Moon Sujin's set compared to the deep red curtains in Taeil's is a gorgeous contrast, and it's only right that the moon is such an important design theme for the duo now known as "2Moon."
Although the song is rather short, we do still get to see the two artists interact on-set. The glances they share are very sweet, and it's clear that the collaboration was born out of mutual respect and admiration, which helped break any awkwardness that could've hindered their performance.
The Verdict 
Both Moon Sujin and Taeil are fantastic in their own ways, and it was truly refreshing to see such an unexpected collaboration turn into something dazzling as "The Moon." If you're looking for something light and simple to unwind to after a long day, this will be the song for you.
Now that the single has officially released, check out how excited NCTzens were for this beautiful collaboration!
Thumbnail Courtesy of Million Market