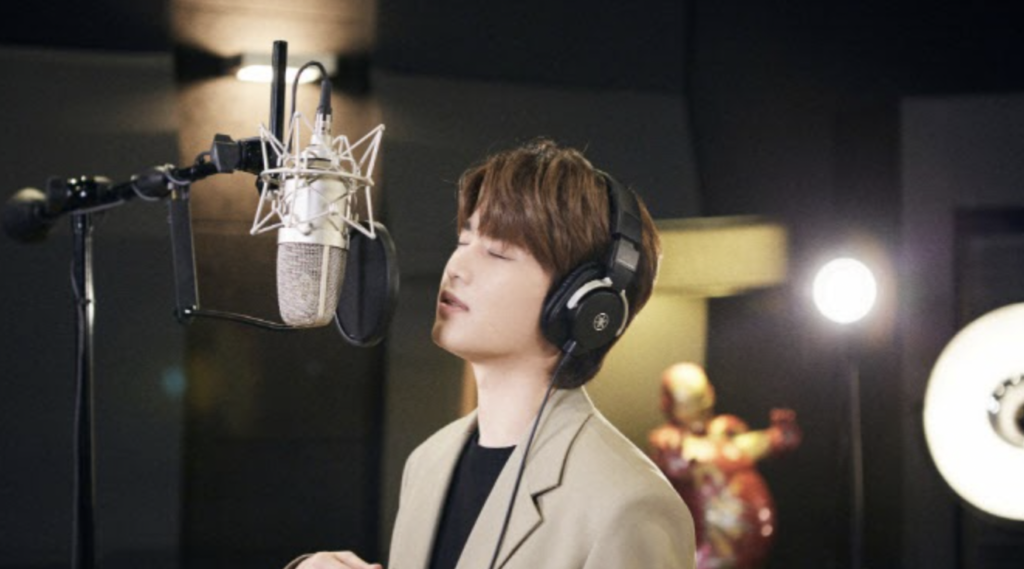 Several artists from across fields have joined a grand-scale project to honor the legendary singer Kim Min-ki. Among others, this collaboration tapped Red Velvet's Wendy and NCT's Taeil, and it is set to be presented throughout the month of June with music releases, art exhibits, and a special TV program broadcasted by KBS.
The man who opened a new horizon in Korean culture
Considered a cultural icon of its time, Kim Min-ki is a respected singer and songwriter who's also carved out his place as a political activist. Born in 1951, amid a turbulent period in Korean history, Kim studied fine arts in Seoul National University where he formed close ties with the singer Yang Hee-eun and the poet Kim Ji-ha.
Still a college student at that time, Kim Min-ki composed "Mountain Dew" in 1970 and a year later was released, performed by Yang Hee-eun. The song became an instant success among university students and was regarded as an anthem of the democratization movement. Other songs like "Evergreen Tree" and "A Child Blooming a Flower" followed, growing into symbols of anti-government protest too. This link between the songwriter and activism resulted in Kim's music being banned from broadcast and stores for more than a decade by the South Korean government.
Although Kim Min-ki was briefly arrested and his music career put to a halt until 1983, the lasting impact of his work has not faltered. To this day, "Mountain Dew" continues to be a symbol of pro-democracy protesters, often used during rallies and public demonstrations against the government. In 2014, "Evergreen Tree" and "Mountain Dew" were listed as some of the most legendary Korean popular songs in history.
The Tribute Album
To honor the 50th anniversary of the legendary "Morning Dew", the Gyeonggi Cultural Foundation put together an 18-track album with covers of Kim Min-ki's songs by various artists. On June 6, an EP titled Morning Dew 50th Anniversary Tribute To Kim Min-Gi Vol.1, containing the first five covers was released. A diverse group of artists including Han Yeong Ae, Yurisangja, Maytree, LEENALCHI, and our very own, Moon Taeil, participated.
Han Yeong Ae, who is a classic rock artist, covered "The Peak", while the seven-member alternative band LEENALCHI reinterpreted "Shift Change in Light of a Factory". Yurisangja, the power duo under J Planet Entertainment, who recently participated in the soundtrack of the drama Lovestruck in the City, remade "Song of an Old Soldier," and Maytree covered "Facing the Barbed Wire Fence."
Following this first release, on every Sunday in the month of June 2021, 5 songs will be released. Red Velvet's Wendy, Yoon Jong-Shin, Kwon Jin-Won, Park Hak-Gi, Jang Pil-Soon, Yoon Do-Hyun, Lee Eun-Mi, Crying Nut and more will be partaking in the tribute. All the participating artists will also collaborate in a cover of "Morning Dew" which will be available on June 27. Subsequently, an LP containing all the covers will be released by Gyeonggi Cultural Foundation in August.
Taeil's Beautiful Person
NCT's powerful vocalist, Taeil, also lent his voice to pay homage to Kim Min-ki. His rendition of the song "Beautiful Person" is a moving ballad that reflects on the beauty of enduring daily life.
Taeil stood out among a group of senior artists as the youngest singer invited to participate in this album. The committee in charge of selecting the participants explained, "In order to reach all generations, idol groups were requested to join. Those who sympathized with the project readily participated." Kim Chang-nam, a professor at Sungkonghoe University and close friend of Kim Min-ki, spoke about the importance of younger stars in this rendition. "In order not to forget the meaning of Kim Min-ki's songs in Korean history, it is necessary to show new interpretations of junior singers."
On June 7, Taeil shared his thoughts on the collaboration, "Beautiful Person is a warm song that really touched me. It is a song that is even more beautiful if you listen to it while savoring the lyrics," he said. Additionally, the vocalist commented, "I hope you have a warm day by listening to 'Beautiful Person' and the other songs in the tribute album. I sang with all my heart."
NCTzen's Reactions
NCT fans were overjoyed with this sweet music release and consequently took to Twitter to express their feelings.
NCTzens were delighted to see Taeil's paying tribute to such a legendary artist and it showed! The song charted on multiple song charts including number one on MelOn Hot Track "Most Liked Song" Chart on June 7!
Time after time, Taeil's talent continues to impress fans. However, through this project, his unique vocals have also proven to appeal to a wider audience. We look forward to the tribute album that will be released by the end of the month, a potential concert to honor Kim Min-ki and Taeil's future endeavors.
In the meantime, you can listen to Taeil's cover of "Beautiful Person" on Spotify, Apple Music, and Melon. You can also read more on how Taeyong and Seulgi teamed up for "Rose".