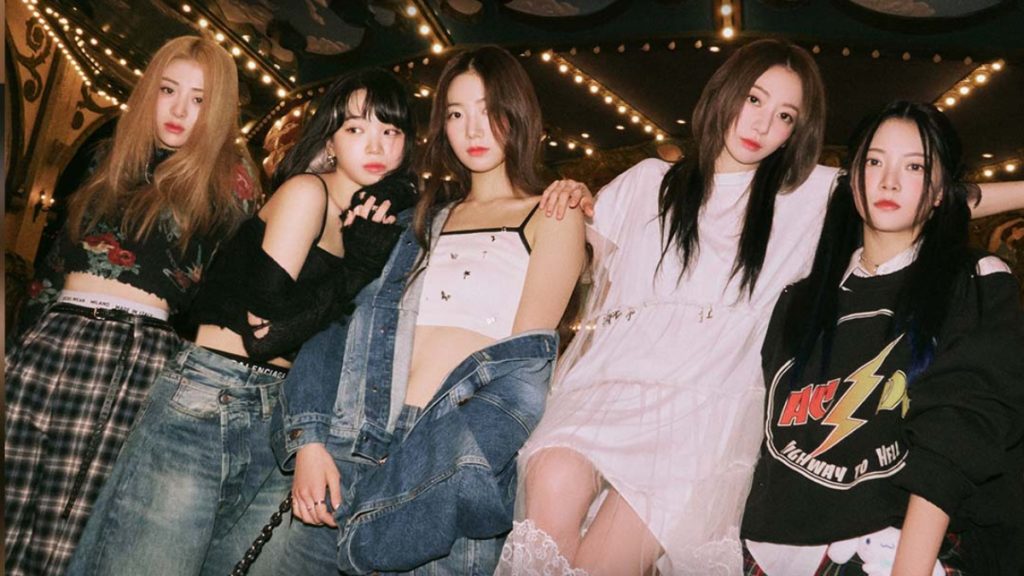 2022 has been a big year for K-pop girl groups and industry giant HYBE. As seen in The GGreat Battle series alone, there's been fierce competition across fourth-generation girl groups for the entire year. This has led fans to call 2022 a new golden age for K-pop girl groups. HYBE in particular has had a year of achievements and innovation. 2022 also marks a first for the entertainment label: their first girl groups. Previously, we've covered ADOR's NewJeans, a HYBE subsidiary girl group that debuted in July. For the last part of The GGreat Battle, it's time to talk about May 2022's LE SSERAFIM. The group had their first comeback as five through their second mini-album, ANTIFRAGILE, on October 17.
The Wings Above the Wind
As with all groups from Big Four companies, LE SSERAFIM's debut was highly anticipated by fans and casual listeners alike. Anticipations rose further when it was revealed that former IZ*ONE members Miyawaki Sakura and Kim Chaewon would join the group. Produce 48 alumna and opera-trained singer Huh Yunjin also piqued the interest of onlookers.
However, previously hidden members Nakamura Kazuha and Hong Eunchae (the group's maknae) quickly drew attention as well. Kazuha, who was a professional ballerina, was scouted in her ballet school in Amsterdam.
Initially, LE SSERAFIM was a six-member group that included member Kim Garam. However, roughly two weeks into debut, she had to take an indefinite hiatus due to a slew of bullying allegations. This hiatus ultimately turned into a contract termination, effectively removing the member from LE SSERAFIM.
Between Angels and Devils
LE SSERAFIM is a five-member girl group whose name comes from the heavenly six-winged "seraphim" entity. The name also stands as an anagram for "I'M FEARLESS," which served as the hook of their debut song, "Fearless." From these descriptions alone, one can expect LE SSERAFIM to take on fierce concepts. In "Fearless," the girls don athleisure, ride motorcycles, and chase thrills to showcase their edge. In their latest comeback "ANTIFRAGILE," they dance and parade in deserted cities in destruction while seemingly surviving meteorite strikes.
As fearless LE SSERAFIM appear, their branding does not stray away from softer sides. During their debut, B-side "Sour Grapes" went viral across social media platforms. It was a laid-back and whimsical love song revolving around blurred lines and mixed signals—a far cry from fallen angels and stereotypical boldness.
The balance between daring and demure is what distinguishes LE SSERAFIM from the usual girl crush concepts. In an article from WeVerse Magazine, Kang Myungseok best encapsulates the quintet's goals:
"LE SSERAFIM refuses to be pigeon-holed into either of the conventional boy group or girl group category. Instead, they blend together the 'it' factor of each category to alchemize a completely new pop music moment. The industry might say this is a moment of expansion for K-pop where the boundaries of girl groups and boy groups are being creatively deconstructed; in [the] phrase 'good-spirited.'"
Rising from Lows
LE SSERAFIM's first comeback, "ANTIFRAGILE," could not be a better fit for the group. According to professor, former trader, and hedge fund manager Nassim Nicholas Taleb, antifragility is the state of becoming better due to obstacles rather than merely withstanding them.
With members of varying industry seniority, backlash from bullying allegations against an ex-member, and the general pressure of being a big company's first girl group, it's safe to say that LE SSERAFIM have been through a lot despite only being a five-month old group. Nevertheless, it's clear that the quintet has risen above and has nowhere to go but beyond. It's proof that these obstacles merely challenge them to get better.
"ANTIFRAGILE" is a reggaeton track with an addictive hook from the strategic repetition of the title. Produced by Latina artists Isabella Lovestory and Paulina Cerrilla, fans appreciated "ANTIFRAGILE" for its good use of the Afro-Latin genre. Notably, the single has lyrics that encapsulate the journeys of LE SSERAFIM as individuals and members of the group—from redebuts, career shifts, hardships early on, and everything in between. Currently, the song sits comfortably sitting at the top 5 of Korean charts, with the music video garnering more than 40 million views a week into its release.
ANTIFRAGILE's album design also hones in on the notion of becoming better and more beautiful after challenges and destruction. Cracked designs on the album's white surface take notes from the Japanese practice of kintsugi. This process repairs broken pottery by adding gold, silver, or platinum-colored lacquer, highlighting the damages instead of hiding them entirely.
Strength in Vulnerability
Going deeper into the ANTIFRAGILE album, listeners will notice a plethora of genres that come together to represent LE SSERAFIM's youthfulness and fearlessness without foregoing their sincerity and vulnerability. Album opener "The Hydra" is a bass-led track with lyrics in English, Korean, and Japanese. They all resonate the same message: LE SSERAFIM can and will withstand any challenges thrown their way.
After the lead single "ANTIFRAGILE" is a laid-back R&B song "Impurities," co-written by member Huh Yunjin. The enchanting side track hones in on LE SSERAFIM's sophistication and vulnerability. In the song, the girls sing about being proud of their flaws or "impurities" that make them as beautiful as they are.
If "Impurities" was softer and more relaxed, "No Celestial" is a far but welcome cry. Also co-written by Huh Yunjin, "No Celestial" is reminiscent of pop-punk songs from the early 2000s. The girls put the "punk" in spunk and pack a punch as they proudly curse in the song's chorus. The guitar-led track further builds on LE SSERAFIM's proclamations of rebelliousness and refusal to be tied down to impossible standards.
Finally, "Good Parts (when the quality is bad but I am)" is lyrically simple, but nonetheless earnest from Huh Yunjin and Sakura's lyricism. FEARNOTS, LE SSERAFIM's fans, are brought back to the sonic palette of "Impurities" and "Sour Grapes." "Good Parts" is also TikTok-viral material for of its breezy and whimsical vibe perfect for "day-in-the-life" videos. This comes as no surprise. One of the co-producers, Salem Ilese, has had extensive experience in working on TikTok hits like "Mad at Disney" and "PS5," a collaboration with LE SSERAFIM's labelmates TXT.
Climbing Higher
"ANTIFRAGILE" has been a grand first comeback for LE SSERAFIM. As they soar to the charts and attain record-breaking album sales, it's clear that they intend on inching closer and closer to the top of the pack. While competition is fierce, LE SSERAFIM can get fiercer, all without shying away from authenticity and vulnerability. FEARNOTs can stay tuned for all of LE SSERAFIM's impending bold moves as they promote their latest comeback domestically and internationally.
Further, fans of the GGreat Battle-featured groups can bring their chosen girl groups to the top through staying in the loop with year-end award show nominations. There's still some time left before year-end award shows are fully in season, but one thing's for sure: 2022 marks a new age for girl groups.
Catch up with the previous The GGreat Battle entry, Kep1er, here.