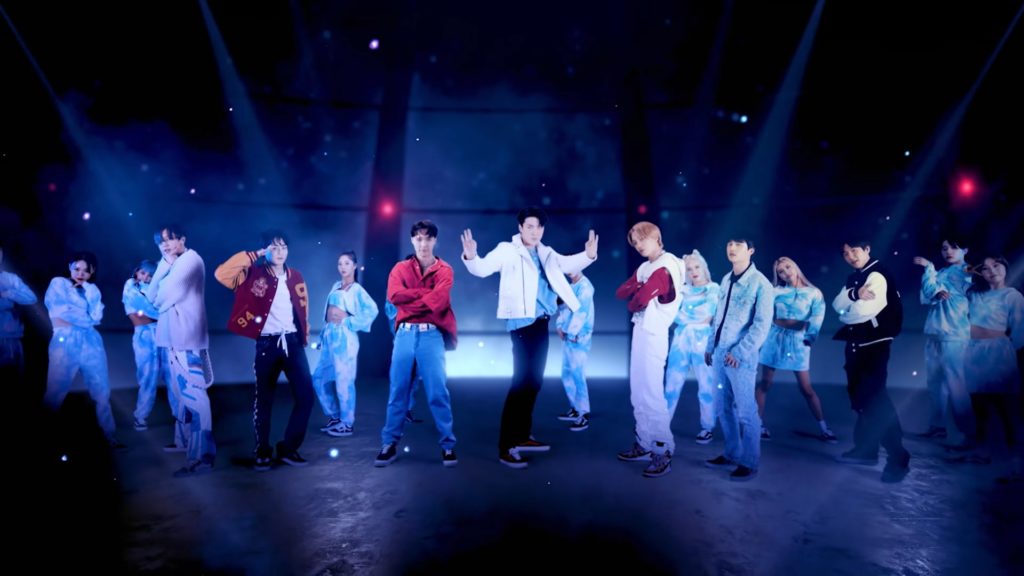 The wait is finally over. On June 7, EXO made their long-awaited comeback as a group with its seventh EP, Don't Fight the Feeling. From the first announcement, SM Entertainment has branded this comeback as a "special album," although most fans weren't entirely sure what it meant. Regardless, EXO has already bested their personal record with over 1.22 million albums sold, making it the second-highest pre-ordered album in SM. Now that the five tracks and its leading music video are officially out in the world, the meaning of the word "special" is becoming more apparent with every listen.
Getting the Band Back Together
After completing their military enlistments in December and January, respectively, Xiumin and D.O. returned to the group with showers of love from their fans, EXO-L. In early 2021, rumors began swirling that EXO would release new music now that they had six active Korean members. But given Chanyeol and Baekhyun's impending enlistments, many were unsure if a new album would even be possible.
Luckily for EXO-L, however, Chanyeol (and especially Baekhyun) worked overtime to have everything recorded and filmed before they each took their leave. That's when the musical legends dropped the first surprise teaser for the album on April 8, 2021, their ninth anniversary together. Social media was flooded with excitement, as fans old and new reveled in the return of the group Korea dubbed the "Nation's Pick."
L-1485 ?SPOILER?#엑소 #EXO #weareoneEXO pic.twitter.com/rBToReriRM

— EXO (@weareoneEXO) April 7, 2021
Short But Sweet
With EXO's usual track record of albums, it's important to note that Don't Fight Feeling is the group's first regular EP in seven years (Overdose in 2014). Every comeback from 2015 to 2019 has been solid studio album releases, ranging from nine to twelve tracks. During that time, the only EPs that EXO released were for its winter albums, which have been sorely missed over the years. Of course, they've done a myriad of subunit and solo work since then, but as a group, full-length albums became the standard. So after a long seven years, what does a non-winter-themed EP sound like from EXO?
Don't Fight the Feeling is essentially a celebration—celebrating nine years of growth, change, and evolution within EXO. Although Chen and Suho's absence is deeply felt in the melodies, the core of what makes this group so special stays the same. The biggest surprise of the entire release is not only seeing Lay in the teaser photos and (edited) into the music video but hearing him harmonize with Baekhyun and the others again.
This era marks his first vocal presence on an EXO album since For Life in 2016. Although the singer was given a small vocal part on the Chinese version of 2018's "Tempo," the cameo didn't fully satisfy EXO-L's cravings for his participation the way DFTF does. It's almost foreign hearing all seven of them together again after each artist has had time to venture out into other projects. Nonetheless, DFTF proves that the more time they spend apart as individuals, the stronger they become when they finally reunite as one.
Track-By-Track
Varying from funk to smooth R&B, the special album opens with the cheerful dance track and its lead single, "Don't Fight the Feeling," written by songwriting legend Kenzie. It's a lively, uptempo track to get your summer going as June eases its way into warmer weather and beach parties. "You have to lose everything, you must admit it. That's how you truly achieve freedom," Baekhyun sings. With this song blasting through the speakers, freedom never sounded so thrilling.
The second track, "Paradise," was already one of the most interesting upon first listen. Co-written by PRETTYMUCH members Brandon Arreaga and Edwin Honoret, "Paradise" is the funky and flirtatious anthem 2021 has been waiting for. For Power enthusiasts, it may feel a bit familiar to the group's funky 2017 record, "Boomerang," another strong B-side that was ahead of its time.
It's a mystery why KBS (Korean Broadcasting System) banned "Paradise" for "coarse language," but perhaps the idea of EXO saying "damn" and having their hands around a lover's hips was too risqué for the public broadcaster. Regardless, they nail the second to last chorus as everything, except for the percussion, is stripped away, and the group sings in unison for a feel-good moment. In conclusion, this new track is both concert and block party-approved.
The last three tracks have a great natural progression to the closing of the EP. "No Matter" continues the funky retro sound of "Paradise," and "Runaway" finally delves into the R&B pop style that fans have come to adore. Listeners have already drawn several comparisons from "Runaway" to 2018's B-side, "Oasis." Both are very spacious in their production and evoke a sense of wanderlust, losing yourself somewhere through time and space. These comparisons are right on the nose as both gems were produced by the same team (Bazzi, Mike Woods, and Kevin White, aka Rice N' Peas).
oasis said it needed a sister and runaway was born.

— ??? (@WEIJENNlE) June 7, 2021
Wrapping up the melodic masterpiece is the acoustic pop song, "Just as Usual," conveying the message of consolation and reassurance and written by THAMA. It's the type of comfort song you'd find in a drama or movie, where the lead character was feeling down and out but is now on the right path to redemption. "I'll protect the seat next to me. I'll watch over you wherever you go," they sing.
The Redemption Arc
Although many fans felt defeated by 2019's Obsession not reaching the million sale mark, Don't Fight the Feeling shows that EXO-L is even more determined and supportive than ever. It's usually worrisome for artists to come back after a hiatus and have doubts on whether they're still wanted in the industry. But, with SM's efforts in including as many members as possible, those worries are nonexistent as the love continues pouring out through album sales and views.
At the time of this posting, the video for "Don't Fight the Feeling" has gathered over 15 million views in 11 hours and is trending at #6 on YouTube in the United States. For some groups, hiatuses can be a good thing, as seen with SHINee's triumphant return this year and now with EXO. Perhaps it's the pent-up anticipation and longing that fans have experienced, the curiosity of new incoming fans, or both. Either way, the power of EXO runs deep as they remain one of K-pop's biggest "gateway" groups in the hearts of millions.
Click here to find Don't Fight the Feeling on all streaming platforms.
Want to read more about EXO? Check out this roundup of EXO Songs that Best Represent EXO.