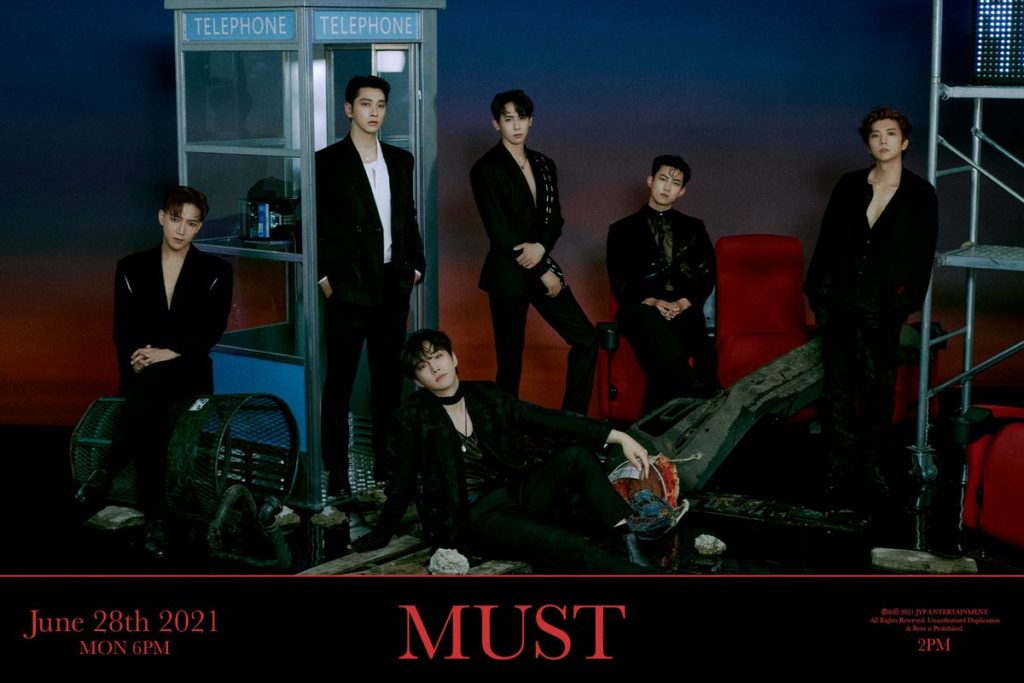 On Monday June 28, the original K-pop "beast idols," 2PM, released their album Must alongside music video for lead single "해야 해 (Make It)." After a near 5 year hiatus due to the group members' mandatory military service and solo careers, the clock has finally struck 2 p.m.
The 2 O'Clock News
"해야 해 (Make It)" begins with simple guitar and vocals as the members begin to describe the first glimpse of a beautiful woman. As their desire grows, drums, horns, and piano are added giving a jazzy and dynamic feeling to the song that perfectly suits the members voices and style in the video. 
When the passion hits the climax, the chorus starts and all instruments are stripped except for the horns. The instruments are replaced by a thumping bass that intensifies the song as members Nichkhun, Chansung, Wooyoung, Junho and Jun. K take turns singing about how they must say something to the beautiful girl in front of them. 
The first chorus immediately goes into Taecyeon's rap. New fans of the group would be stunned by the gap between his wicked and murderous role from Vincenzo to his charismatic and sexy verse in "해야 해 (Make It)." 
The song slows down, stripping back down just to a jazz piano and cymbal, as the members' voices layer and blend creating an inciting melody. Everything comes to a close with a final round of the punchy chorus and Jun. K crooning a last "해야 해."
Written by member Wooyoung, the song shows off a different side of masculinity and  maturity that can only be attributed to the group's 13 year long career. 
A Marvel-like Dream
The music video starts with Wooyoung spotting a beautiful woman in a yellow dress. The camera zooms into his eye and just like a superhero movie, meteors strike and the world goes into chaos, except for the members of 2PM. Even as the world stirs, the members keep laser sharp focus on the woman. 
The guys are dressed in sauvé suits and shirts to look like CEOs from a K-drama. Every outfit features long sleeves, becoming an accessory in the choreography during the chorus. The members wear jewel tones, black and white, or statement patterns making the leading lady's yellow dress pop even more in the scenes. 
As the world burns, the style is switched, and the guys wear looser pants and gym shoes. Each member has a flash scene of the first encounter- in the park, in a crowd, under a fiery sky, and of saving the woman from falling to her death. They end the video by zooming out of Wooyoung's eye to reveal that it was only a daydream. 
The Hottest Time of the Day
2PM fans, named Hottest, were clearly ecstatic about a release. Since they have been patiently waiting for the return of the group after each member finished military service, this release seems catered just to them. 
I love seeing 2PM back. They're so grown I feel like they'd provide me with financial stability and emotional security and THAT'S WHAT I'M ABOUT

— Roxy 누나 ?? (@dramaticproxy) June 28, 2021
being a little older now from the first time i met them .. 2PM hits so different now .. its on another level aacckk ? #2PM pic.twitter.com/RpComEdjd9

— ? ყ⚯͛hყolk ? (@soonkyupsal) June 28, 2021
I'm going to scream everytime JUNHO rolls up his sleeves.. #2PM      #투피엠      #MUST      #해야해      #Makeit pic.twitter.com/VmA52rwDzL

— I #MUST be shoug ??.. (@Sh_RD1) June 28, 2021
2PM are not only sexy because they're talented. they're also sexy because each of them look like they have an 800+ credit score

— ? (@hiraihomos) June 28, 2021
A Must Have Album
"해야 해 (Make It)" is a song that caters to 2PM's synergy and strengths, and has fans anticipating for even more album content. Their seventh full Korean LP, Must, is the first after nearly 5 years.  In addition to "해야 해 (Make It)," other songs include "Hold You," "On My Way," and a special acoustic version of "My House" a title track from their 2015 album No. 5. The song belatedly saw a resurgence on Korean charts while the group was on hiatus. 
A contrast to most K-pop concepts at the moment, the album indulges those who are looking to add more sensual and mature sounds to their playlists. 2PM—just like superheroes—came right in time to save the day.
Listen to the full Must album on Spotify or Apple Music and follow 2PM on Instagram and Twitter for more!
Want to keep up with the newest K-pop music? Read all about A.C.E's latest release here! 
Thumbnail courtesy of  JYP Entertainment.