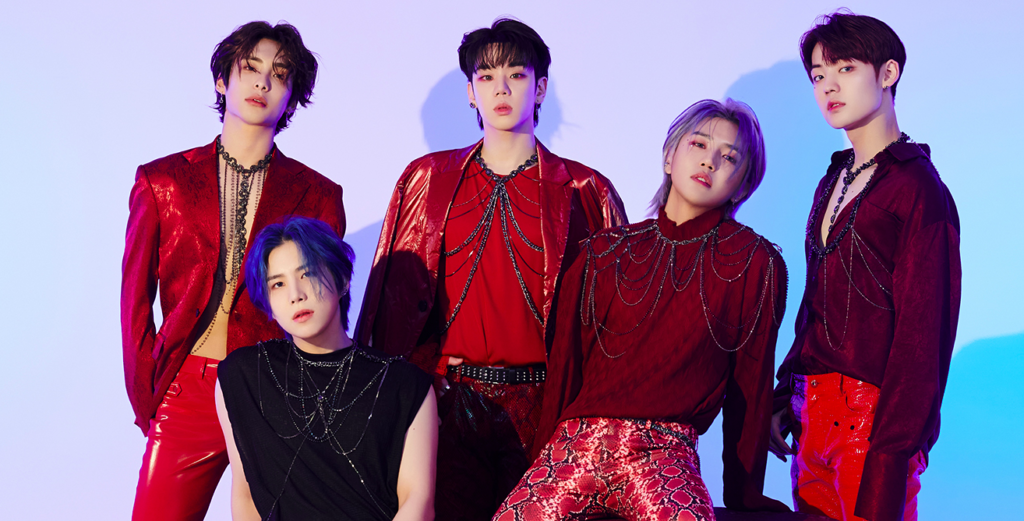 Nearly ten months after their previous Korean comeback, boy group A.C.E returns, bringing a new sound with their latest mini-album, SIREN:DAWN, and the title track, "Higher." The quintet, consisting of Jun, Donghun, Wow, Kim Byeongkwan, and Chan, who are known for stunning concepts and hard-hitting songs, came back on June 23 with a more mellow sound, showing fans a new side from what they usually bring to their title tracks.
SIREN:DAWN topped the iTunes worldwide album chart not long after its release, also charting #1 in 12 different countries and appearing in several Korean charts. This mini-album is A.C.E's highest-selling album so far, with more than 30k sales as of June 25.
"HIGHER" – A TWIST ON THE SIREN MYTH
The title track, "Higher," is the culmination of the entire Siren concept, from the amazing looks to the beautiful setting evoking the deep ocean to the lyrics. The song, a mix of future bass and progressive house, showcases the vocals of all 5 members, telling the story of a siren in love with someone out of reach, represented in the music video by the moon. Besides the sharp-as-always choreography, "Higher" is a less intense and softer side of A.C.E, one not usually present in the title tracks for casual listeners, but something fans are familiar with from the group's B sides.
THE B SIDES
SIREN:DAWN starts off with the short intro "Miserere Mei Deus (We Fell Down)," setting the tone for the following tracks. "Have mercy on me, O God, according to your steadfast love" is the translation of the lyrics chanted in a solemn and melancholic tone. "It's a song about the confession of a special being who falls to the ground, suffering a crisis seeking God's mercy," explains Chan.
"Atlantis," the next track, was co-composed by Pentagon's Kino. He explained on Vlive that Beat Interactive CEO Kim Hyeim knew that he and Byeongkwan were close, so she wanted to request a song for A.C.E. The song is a perfect balance of the music Kino usually produces, and the style of A.C.E's B sides from previous albums, with lyrics about the deep pain of heartbreak.
After the title track, listeners are greeted by the brighter vibe of "Chasing You," an EDM-pop track about being "a fool in love." It's a breath of fresh air in the middle of so many emotional tracks, but still aligns in sound with the rest of the EP.
Closing off on a sentimental note is "Story." This track was co-composed by member Donghun, who also wrote the lyrics together with Chan. Saying "It's okay to go slowly / It might haven't been easy / When it's hard and weary / I can light your way and go with you," the lyrics are a message to their fans, Choice, as a reminder to keep your chin up even when things get hard.
The sweet and mellow sounds of this mini-album have proven yet again the all-rounder potential that every member of A.C.E has, and how they can show many different sides through varying genres – delivering an impeccable new release.
Check out SIREN:DAWN on Spotify and Apple Music. And Don't forget to follow A.C.E on Twitter and Instagram!
Curious to see what A.C.E got up to promoting SIREN:DAWN? Check out our coverage of their stunning comeback looks!
Thumbnail courtesy of Beat Interactive.