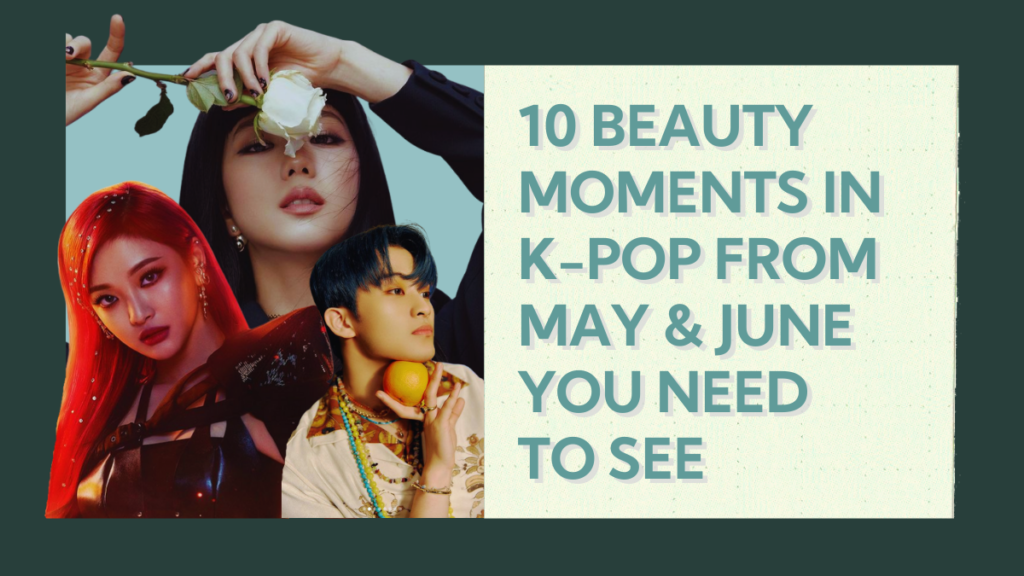 Packed with comebacks, May and June gifted us with some iconic beauty moments from K-pop idols, and we have rounded them up for you! 
1. NCT Dream's "Hot Sauce" Teaser Pictures and Music Video
NCT Dream finally came back as seven with their first full-length album Hot Sauce and fans couldn't wait to see what they came up with. Apart from releasing three amazing sets of concert pictures, NCT Dream showed up in warm-toned shadows and colorful graphic eyeliner for their "Hot Sauce" music video teaser pictures. You can read our full makeup analysis for the teasers here!
View this post on Instagram
2. fromis_9 in 9 Way Ticket Concept Pictures
Girl group fromis_9 released a series of captivating concept pictures for their newest single album 9 Way Ticket. With the "traveler" concept becoming a way to take fans to different places while staying at home, the members sported warm brown, dark red, and muted pink looks, making them look both chic and cozy at the same time, a vibe worth giving a try, especially for fall.
View this post on Instagram
3. æspa in "Next Level" Teaser Pictures
There are no better words to describe the teaser pictures than "Next Level." æspa delivered a breathtaking rollout with video game-inspired visuals in one concept, and a 90s-style alternative fashion magazine concept in the other. Some things worth noticing, on top of the impeccable makeup, are the hair gems and the intricate nail art.
View this post on Instagram
4. Sunmi as Cruella for Allure Korea
Partnering up with Disney, Sunmi transformed into Cruella de Vil for Allure Korea's editorial. Bodying the character's concept beautifully, Sunmi rocked white hair accents, which were paired with looks such as dark eyeliner, red lipstick, black lipstick, green accents, and sharp red nails, following the movie's main color palette.
View this post on Instagram
5. TXT's The Chaos Chapter: FREEZE Concept Pictures
TXT showed different sides of themselves for their album release, but the "World" concept brought the name of the album to life. Turning into ice princes, the boys looked beautiful in their "frostbitten" looks, with reddened lids, stained lips, faux cuts, and cool-toned highlighter.
6. ONF's Hyojin and J-us for Arena Homme+ Korea
The leaders of ONF surprised everyone with their sophisticated looks for Arena Homme+ Korea. Wrapped in lace fabrics and gold accessories, Hyojin and J-US showed us a natural skin look with freckles and moles being the main point. and a beautiful natural glow, a great take on the skin-like makeup trend.
View this post on Instagram
7. BLACKPINK's Jisoo x Dior for Elle Hong Kong
BLACKPINK has a big presence when it comes to representing high-fashion brands, and the group's eldest member, Jisoo, became a global ambassador for Dior in 2021. In her Elle Hong Kong editorial, Jisoo paired the brand's pieces with smokey, dark eyeliner and nude lips, which looked stunning paired with her long dark hair.
View this post on Instagram
8. Taemin in the "Advice" Music Video
Making a show-stopping exit before his military service, SHINee's Taemin didn't hold back with his looks for his latest solo title track, "Advice." Not only did he pull off long two-toned hair, but he also rocked pink and yellow eyeshadow, gemstones, glossy lids, and a messy dark tear-stained eye look, all in one video. We can't wait for his return after enlistment.
9. Onewe in Planet Nine: Alter Ego Concept Pictures
Korean alt-rock band Onewe returned with a rain-themed concept for their newest album and track "Rain to Be." In one of the concepts for the comeback, the members looked amazing rocking the wet hair and glowy skin look, with pearls and small adornments to their skin.
View this post on Instagram

10. A.C.E in SIREN:DAWN Concept Pictures
Another group that went for the water concept but with a completely different approach was A.C.E., transforming into mythological sirens for their new mini-album. From light to dark visuals, the members looked ethereal with pearls, gemstones, and glitter. Some points worth noticing are Donghun's and Wow's longer hairstyles. Read our full teaser photos breakdown here!
View this post on Instagram
Looking for more beauty moments or summer make-up inspiration? Check out our round up of K-pop beauty moments from March and April here, or our summer 2021 beauty trends!
Thumbnail courtesy of Astrid.