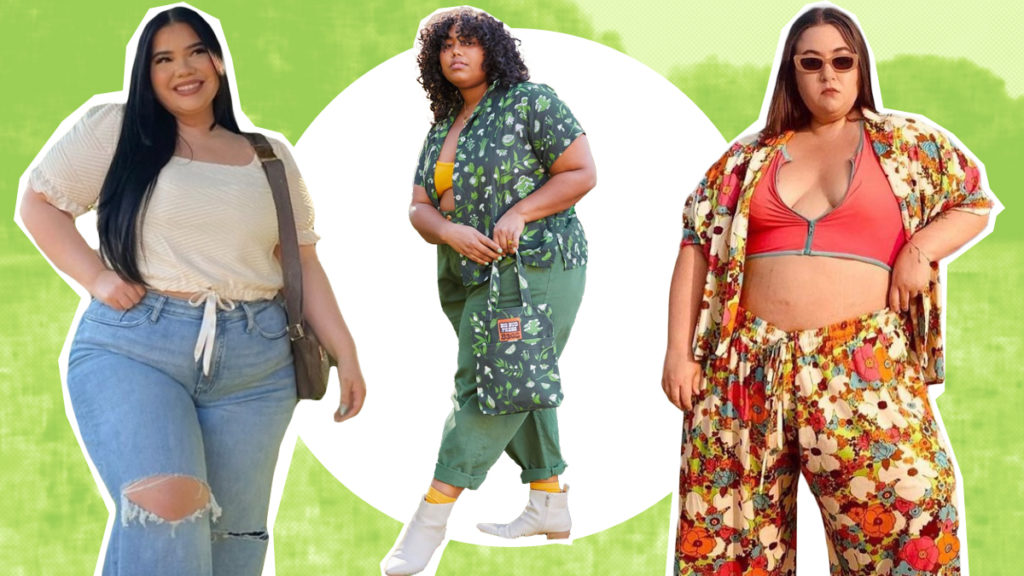 It is no secret that the fashion industry still has a long way to go when it comes to inclusion and sustainability. In more recent years, the much needed conversations on both size inclusiveness and the environmental toll of fashion have helped the industry progress. But with it, a new topic of conversation arises: Is it possible to connect both, and make clothing inclusive and sustainable?
With the rise of fast fashion brands creating full-fledged plus-size collections using unethical fast fashion practices, plus-size shoppers have been eager to see themselves included in the sustainable fashion space. Reducing your environmental footprint requires participation from everybody regardless of size, and fashion brands out there are listening. Here are seven plus-size sustainable brands, ranging from underwear all the way to athleisure, to help you get started on your sustainability journey.
Beloved by the plus-size fashion TikTok community, The Girlfriend Collective is a sustainable, slow fashion brand that turns old plastic water bottles into athleisure and activewear for all. They carry clothing sizes ranging from XXS to 6XL.
Big Bud Press is a clothing label that specializes in workwear-inspired unisex clothing and goods. Ethically made and designed in Los Angeles, California, they are sweatshop-free and use 100% cotton that has been locally sourced, recycled yarn, and deadstock fabric. Their clothing designs feature patterns that are an ode to sunny California culture, which are screen printed and made with non-toxic dye and water-based ink. They are most known for their jumpsuits, which come in over 10 rich colors.
The namesake brand comes from Tamara Malas, a graduate of the Art Institute of Chicago, and was founded in 2018. With a focus on women's clothing, her pieces are inspired by her background in sculpting and painting. Born from the idea that inclusivity should be at the core of everything in fashion, the brand has a size chart that ranges from a size six to 32. The namesake brand has partnered with GreenSpark to plant a tree for every order made as a way to promote sustainability.
With their size-inclusive and ethically made clothing, The Standard Stitch redefines the word "standard" when it comes to how clothes are made. They use both organically sourced and recycled cotton to create clothes that are "as gentle on the earth as they are on your body." Ranging from sizes XS to 5X, the brand provides closet basics that are comfortable enough for everyone to enjoy.
Based in Brooklyn, New York, Wray NYC is a Latinx-owned brand that takes inspiration from fine art and uses it to design timeless yet one-of-a-kind pieces for everybody. The brand features sizes ranging from XXS to 6XL. In addition to their inclusive sizing, they promote sustainability through working with responsible factories, sourcing environmentally conscious materials, and supporting ethical working conditions.
If you're looking for intimates that are sustainable, size-inclusive, and affordable, look no further than Parade. Their pledge to sustainability can be seen through their use of recycled materials in their clothing. Through their recycling program, they also encourage customers to donate their underwear, regardless of brand, so that they can recycle the garment fabrics and repurpose them into new pieces. This brand carries bralettes, underwear, loungewear, bodysuits, and pajamas at an affordable price in sizes up to 3X.
Warp + Weft is a family-owned, sustainable brand that specializes in size-inclusive, high-quality denim clothing for men and women. From jeans to overalls, each product is thoughtfully made with three decades worth of experience. As one of the largest textile manufacturers, their eco-friendly cotton mill bridges expertise and sustainability together through strategically decreasing the environmental toll of making jeans. This is achieved by recycling 98% of the water used during the process.
Even though there is still a long way to go, there is no doubt that the fashion industry is slowly but surely progressing into a more inclusive and sustainable place. Until then, it is up to both businesses and shoppers to hold themselves accountable and keep having these conversations until this is something that is normalized within the industry.
Looking for more plus-size fashion? Check out EnVi's plus-size style guide inspired by the girl group, ITZY, here.