CELINE, a household name in the fashion industry, has been making rounds in the world of K-pop lately. Many fans are becoming familiar with the distinctive sans serif logo on idols' clothing. Whether it is on their album teasers, concept photos or off-duty outfits, groups like NCT Dream, Stray Kids and The Boyz all have sported CELINE attire.  
For their latest menswear show, the French fashion house invited a select group of K-pop idols that included NCT's Taeyong and WinWin, Blackpink's Lisa, GOT7's JB, SF9's Taeyang, NU'EST's Minhyun, Seventeen's Mingyu, SHINEE's Key, Dawn, The Boyz's Juyeon, and VICTON's Byungchan. This sudden rise of brand visibility only leaves fans wondering: why is everyone wearing CELINE?
View this post on Instagram
When Did It Begin?
The monumental change in the fashion house can be marked by the onboarding of Hedi Slimane as Artistic Director of CELINE in 2018. Slimane has since revamped it by adopting new aesthetics, collaborators, and a global strategy that's strikingly different to what CELINE was known for. Formerly a family business, CELINE used to be recognized for the contemporary minimalism that Phoebe Philo exploited during the decade she served as Creative Director. 
However, with Slimane's arrival, the fashion brand has undergone important transformations. An expert in renovating brands—fashion followers remember the overhaul Saint Laurent went through with Slimane at its head—the 53 year-old designer was quick to announce a new direction for CELINE. Starting with the introduction of an accent-less logo, and following with the debut of a menswear collection, Slimane has used the power of social media and Gen Z to reintroduce the French brand to the world. 
Hedi's Roots
Born and raised in Paris, Hedi Slimane is a seasoned figure in the fashion industry. Before joining CELINE, he had already experienced being at the front of big fashion houses like Dior Homme and Saint Laurent—stylized as Yves Saint Laurent—before he embarked on a rebrand. After making a name for himself through a project with Louis Vuitton, the École du Louvre alum was appointed Creative Director of Yves Saint Laurent Rive Gauche—YSL's menswear line—in 1997. Onwards, he revolutionized fashion with his skinny silhouettes, grunge-inspired looks, rock aesthetics, and a deep understanding of fan culture.
Slimane & Music
A consummate lover of music, Slimane has also carved out a place in photography and has fostered a creative relationship with big names like Pete Doherty, Lady Gaga, or Mick Jagger. On the very rare occasions he has spoken to the media, Slimane has addressed the importance of music in his artistic vision. "Everything I do in an artistic sense is a pretext for music, which is the only real and authentic medium that I indirectly use to convey emotions or to create a chronicle of my time," he told Vogue Spain in 2017. Talking to Vogue Paris years later, he also reflected on supporting artists and picking promising musicians to collaborate with. "Today, mainstream culture, promoted by social-media algorithms that favor numbers, leaves no chance for alternative voices. Sadly, the press does not make the effort to validate anything obscure. If I can do it through fashion or photography, I am happy to commit and help as much as I can," he said.
Although K-pop could hardly be considered "alternative" in this day and time, back in the first half of the 2010s, it was just starting to gain the kind of global exposure it enjoys today. Hedi, a visionary, foresaw the phenomenon and made sure to turn Big Bang's G-Dragon and Taeyang into regular front-row guests to his shows. The popular Kwon Ji Yong—G-Dragon's real name—never missed a chance to express his admiration for Slimane's work and soon became one of Saint Laurent's most loyal celebrity followers. 
CELINE & the Idols of 2021
CELINE has, more recently, centered its attention on idols dominating the K-pop scene. Just like Slimane made G-Dragon the only Asian celebrity invited to Saint Laurent's Fall/Winter 2015 fashion show and gave him preferential access to the pieces of his collections, years later he also made BLACKPINK' s Lisa "the first Asian performer," to be handpicked for CELINE's "Essentiels" campaign. The Thai superstar later went on to become CELINE's first official ambassador under Slimane's reign.
View this post on Instagram
She told Vogue UK, "He creates this rare, incredible, and desirable world through his vision. I'm always inspired by his work. It's truly an honor and pleasure to be able to work with Slimane as CELINE's first ambassador." She has since made headlines sitting front row at the brand's fashion week shows and wearing their pieces on magazine covers.
Other idols like NCT's Taeyong, Victon's Byungchan, The Boyz's Eric, and Kim Woo Seok have featured pieces of the new collection on Instagram. The idols are seen tagging CELINE in their photos and showing gratitude towards Peter Utz, the director of couture, events and menswear merchandising. Fans may have also noticed CELINE in many groups' recent promotional content. This includes NCT Dream's recent comeback for "Hot Sauce," The Boyz's "Drink It" music video and "Thrill-ing" concept photos, and Stray Kids' teasers for "NOEASY." 
View this post on Instagram
Among idols, some of the most common items are the CELINE t-shirts and sweatshirts. Though they come in different colors and details, it is simple enough to be styled in various ways, allowing them to fit different groups and concepts. As for accessories, there is the matching bucket hat. On Instagram, the CELINE High Sneaker CT-03 and matching sweatshirt and track pant sets are popular statement pieces.
CELINE LOOSE T-SHIRT IN COTTON  – $415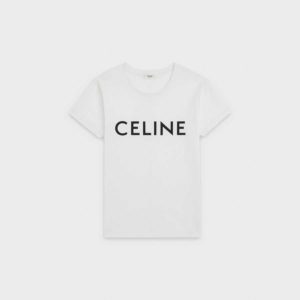 CELINE BUCKET HAT IN DENIM – $455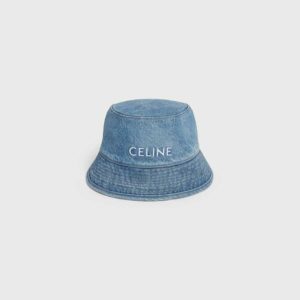 CELINE HIGH SNEAKER CT-03 WITH SCRATCH IN CALFSKIN – $850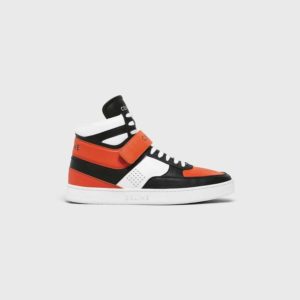 CELINE TRACK PANTS IN COTTON FLEECE – $640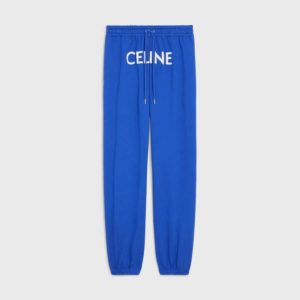 CELINE by Hedi Slimane
Despite his current success at CELINE, Slimane's debut show was received with mixed reviews. Drastically shifting the creative direction caused part of the fashion house's loyal following to move onto other brands. However, Slimane's distinctive style and vision attracted brand new customers, carving out a place in the global market for the revamped French Maison. After three years at its helm, CELINE is thriving internationally; in particular, in the Chinese mainland, where their sales soared even during the pandemic. With Asia as a pivotal region to achieve the "clear mission" of improving the brand's financial performance within the first five years, Slimane has dived into menswear, opened up to e-commerce in the Asian continent—for the first time—and enlisted the help of popular figures among the Gen Z.
Over the past few years, K-pop and the fashion world have formed a forceful bond, driving sales and idols' brand reputation ranking high. The Fashion Law stated, "Fashion's continued obsession with these young talents—both for their music and their celebrated sense of style— sheds light on even bigger takeaway: Korea is increasingly the home of influence that fashion brands simply cannot afford to ignore." With fashion week and VIP lists filled with K-pop idols, it's hard to ignore the power that they hold.
Though fashion lovers across the globe were skeptical at first, Slimane's strategy is clearly working. LVMH—CELINE's parent company—wrote in their 2021 Q1 press release, "CELINE had great success with the creations of Hedi Slimane." Looking towards the future, it seems that CELINE's monumental success is not stopping anytime soon. With its Generation Z targeted clothing and army of influential ambassadors, CELINE is likely to remain a household name.
Want more? Check out our coverage on BLACKPINK fashion here!
Thumbnail by Laras