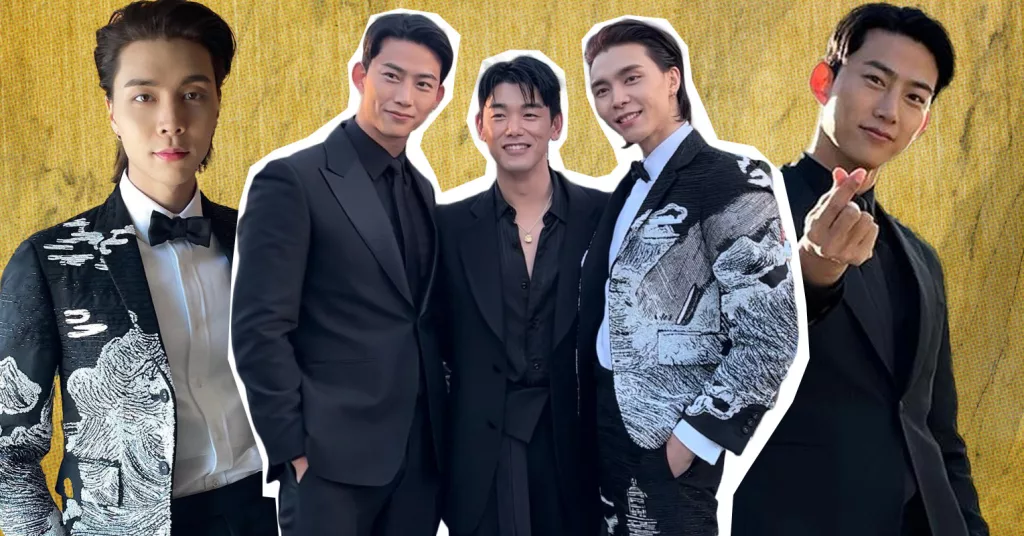 Celebrating Asian American and Pacific Islander Heritage Month, May 6th reunited over 700 influential stars from the AAPI community for the 2nd Annual Gold Gala. Hosted by Gold House at the Music Center in downtown Los Angeles, the event was a night to highlight the 100 Asian-Pacific leading figures that made it to this year's A100 List. Selected for their influence and impact on culture and society, the names in the list come from diverse backgrounds such as the film industry, business technology, and activism.
Honoring their work in the entertainment industry, actors Ke Huy Quan, Sandra Oh, and Iman Vellani were recognized with the Leading Man Award, SeeHer Award, and New Gold Award respectively. Likewise, the cast and creators of Everything Everywhere All At Once (2022) and The Joy Luck Club (1993) — both transformative films for the Asian Pacific community — were awarded the Gold Icon Award and Gold Generation Award. But those were just a few of the many AAPI icons recognized at the event.
With a great variety of celebrities, personalities, and prominent people across fields present, it only made sense that their fashion and beauty looks were equally remarkable. The likes of actress Liza Soberano, Eric Nam, and Bella Poarch chose to honor their roots in traditional clothing-inspired fits. Meanwhile, other attendants supported AAPI designers and brands, displaying their work on the red carpet. Below, EnVi rounds up some of the most outstanding fashion and beauty moments from the 2023 Gold Gala.
Maitreyi Ramakrishnan
Maitreyi Ramakrishnan, the star of Netflix's Never Have I Ever (2020), stunned in a two-piece ensemble. Her peacock-blue top boasted a translucent material that complemented the bold, plunging neckline. A glimmering droplet pattern wrapped around the long-sleeved shirt, adding a playful component to the otherwise formal set — plus, it matched her statement ear jewelry. The actress completed her look with crisp white trousers and heels of the same color. As for hair and makeup, Maitreyi kept things simple: her hair, styled by Alyx Liu, was kept down in soft curls and styled with products from the South Asian-owned brand Fable and Mane. Maitreyi's makeup emphasized her eyes but remained subtle and elegant with nude eyeshadow and glossy pink lips.
Eric Nam
Singer, podcast host, and up-and-coming actor, Eric Nam arrived on the red carpet, dressed in a sleek black number with details that nodded at his Korean heritage. The vocalist appeared on the red carpet draped in a black blazer and slacks. Peaking through the ensemble was a pinstripe dress shirt tied with a goreum-inspired knot. Emulating current men's beauty trends, Eric's hair had a wet appearance that provided sultry energy to the look.
Tan France
As a designer and overall fashion expert, Tan France regularly delivers outstanding outfits. For this year's Gold Gala, the Queer Eye personality sported a kurta by Pakistani designer Mohsin Naveed Ranjha, paired with a monsoon-colored two-piece ensemble. The TV personality also added black sandals and a white shawl, achieving a perfectly balanced look that fell at the intersection of traditional and contemporary.
Rupi Kaur
milk and honey author Rupi Kaur never slacks when it comes to dressing. For the Gold Gala, she embraced the spring season with a strapless, flower-printed gown. The bright yellow, green, and pink design flowed from the bodice down to the train, which extended from a bow-shaped hip appliqué. Wearing black platform heels and subtle jewelry, Kaur let her dress take center stage.
Taecyeon
South Korean multihyphenate Taecyeon arrived at the event dressed in a sleek suit. The monochromatic black ensemble stood out against the event's golden staircase as the Vincenzo (2022) actor posed amiably. His look for the night was simple, with minimal accessories and jewelry. However, an eye-catching gold watch, resting on the 2PM member's left wrist, flashed as he made various forms of hearts for onlooking fans.
Stephanie Hsu
Embracing the night's celebratory mood. Stephanie Hsu, walked the gold carpet in a floor-length fringe dress. The tassels shimmered as she showed her outfit off while posing for photos. Hsu adopted the wet-look hairstyle for the night, reviving one of 2022's biggest trends. Thick statement eyeliner gave her makeup a dramatic feel, while gold jewelry matched her metallic sandals.
Liza Soberano
American-Filipino sensation Liza Soberano paid homage to traditional Filipino clothing, donning a modern iteration of the terno. The design, custom-made by Mark Bumgarner, featured a corseted bodice, a long sheer skirt, and classic terno statement sleeves. The star paired the glamorous floor-length dress with a full set of silver jewelry that included earrings, a necklace, cuffs, and rings on both hands. A simple half-up hairstyle and rose-toned makeup complemented her red-carpet look. Always tastefully dressed with the help of stylist Perry Tabora, Liza also made a beauty statement by donning floating eyeliner — a beauty trend that has taken force in recent months.
Ashley Park
Recognized for her role in Netflix's Emily in Paris (2020), actress Ashley Park emulated the show's extravagant fashion for her Gold Gala look. Park — who attended her second Met Gala on May 1 in a stunning Michael Kors dress — pulled off another show-stopping number on the red carpet. Her floor-length Roberto Cavalli dress walked the intersection of fun and sultry, with bejeweled pineapple embellishments at the center of skin-baring cut-outs. Park's golden Serpenti Forever mini bag from Bulgari matched the event's theme, while her metallic nails added a subtle edge to the night's look.
Chloe Kim
Proving her star power on and off the frosty slopes, snowboarder and two-time Olympic gold medalist Chloe Kim wore a show-stopping, form-fitting black dress. The athlete displayed her fierce side as she appeared in a look that exuded strength and glamour. Chloe's long sleeve, V-neckline dress featured dramatic shoulder pads and patterned shimmer fabric. To balance out the powerful energy of the gown, the jewelry consisted of a glittering lariat necklace, and carefully curated earring stacks to match. Makeup was kept simple but glamorous, with smokey eyes, glowy coral blush, and glossy peach lipstick. 
Johnny Suh
For the past year, NCT's Johnny has been fulfilling his self-proclaimed role as "NCT's fashion evaluator," jet-setting to star-studded red carpets and front rows. The Chicago-native-turned-K-pop star always appears in looks that stun from all angles, and this suit with a twist was no different. Since Johnny tends to go for polished pieces that carry a unique edge, a Thom Browne total look was the perfect choice for the occasion. To offset the playful suit and statement boots, the makeup remained effortless and uncomplicated. Stage-approved smokey eyes were ditched in order to create a clean beauty repertoire consisting of dewy skin, neatly trimmed brows, and rose-tinted lips. Ear studs topped off the look, bestowing an extra gold touch.
Minnie Mills
From attending events such as the CFDA Awards to becoming a regular at fashion shows, The Summer I Turned Pretty star Minnie Mills is a fashion icon in the making. Present at the Gold Gala, the actress added yet another flawless outfit to her lookbook. Styled by Sarah Slutsky, Minnie donned a black dress that featured a plunging neckline, cut-out details, and an open back. The gown, from the womenswear label CHOCHENG, also flaunted a very subtle train and was only accessorized with a pair of earrings. A braided ponytail and eye-cat makeup further injected the look with elegance and sophistication.
Bella Poarch
In a modern interpretation of the Filipino terno, Bella Poarch stepped out for the Gold Gala wearing a design by Hannah Adrias. The ensemble consisted of a brown top with cut-out details and a green midi skirt. Stylist Nikko Panti elevated the outfit with jewelry from the Filipino luxury brand Jewelmer and Siren Minaudière clutch from Neil Felipp.
The Rose
South Korean rock band The Rose made splashes with their appearance at the event in color-coordinated looks. The band, consisting of Kim Woosung, Park Dojoon, Lee Hajoon, and Lee Jaehyeong, favored black for the gala but did not sacrifice individuality. Hajoon and Dojoon, for example, opted for black suits — although each of them gave off different vibes. On the other hand, Jaehyeong went for black trousers and a bold leopard-printed shirt, while his bandmate Woosung channeled glam-rock aesthetics in studded pants and a velvet top featuring a scarf detail.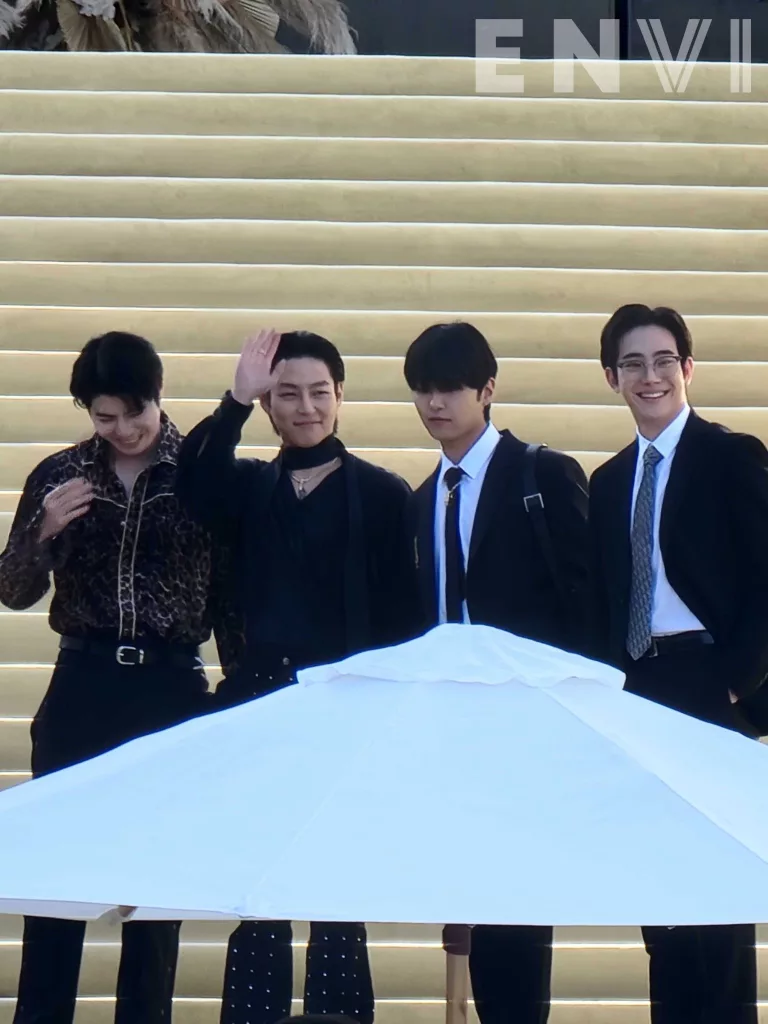 Want to see more AAPI stars dominating the red carpets? Read about the Asian celebrities that took over the Met Gala here!