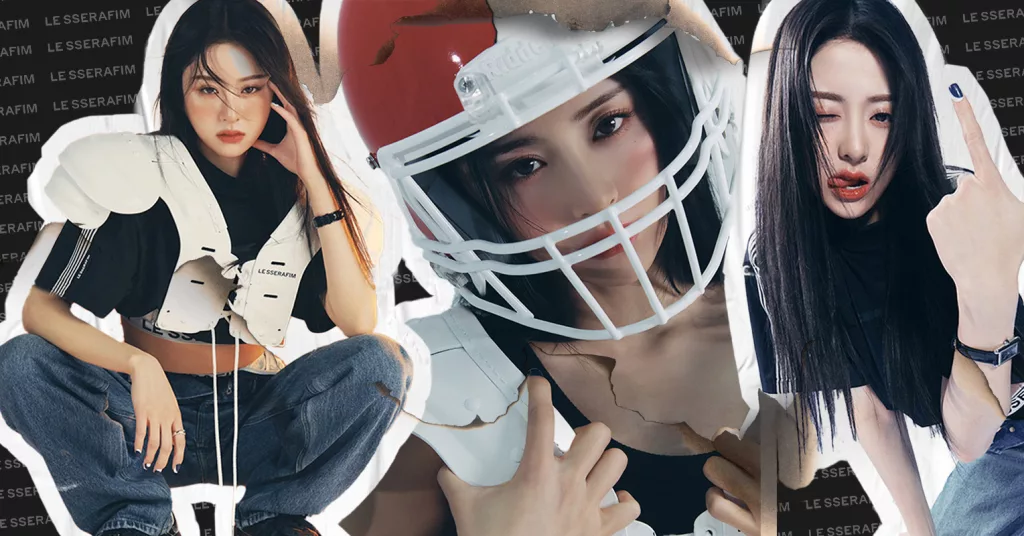 Powerhouse vocals, entrancing stage presence, and an amicable personality — all things that Huh Yunjin possesses. She was the last member of LE SSERAFIM to be announced, but her undeniable skills and bright personality make her a quintessential part of the team. From performance training as a student in the United States to competing on Mnet's competition show Produce 48, Yunjin has a diverse experience with the entertainment industry. Now, as a member of LE SSERAFIM — one of K-pop's biggest 4th generation girl groups — she's using her platform to spread an important message of positivity through addicting melodies.
Producer Huh
As early as three months after her debut in LE SSERAFIM, Yunjin released her first solo music. "Raise y_our glass" is a self-composed track that celebrates both the first 100 days of LE SSERAFIM's career and the group's time as trainees. In January 2023, Yunjin released "I ≠ DOLL," a song that details and breaks down the strict standards and unreasonable expectations of the K-pop industry. The song resonated with fans, receiving so much attention that it charted at #2 on Billboard's Hot Trending Songs Chart and #7 on M! Countdown's weekly chart.
Yunjin's passion for music shines in her vulnerable self-composed tracks, which reveal an admirable, less glamorous reality. But venturing into solo music was not Yunjin's first time working behind the scenes — the singer has participated in the writing and production process of multiple LE SSERAFIM songs. Yunjin has writing and composition credits on "Blue Flame" from the group's debut mini-album FEARLESS and "Impurities," "No Celestial," and "Good Parts (when the quality is bad but I am)" from their sophomore release, ANTIFRAGILE. Her transparency when writing and composing allows her to convey an honest, powerful message packed with emotions.
WakeMake Ambassadorship
On February 24, 2023, Korean beauty brand WakeMake uploaded an Instagram post teasing their new muse. Fans immediately recognized the hints of Yunjin's features — and their guesses proved correct the same day, when the new ambassadorship became official. Since the official start to her relationship with WakeMake, Yunjin has modeled for a series of campaigns that showcase a softer series of makeup looks often not featured in LE SSERAFIM's girl crush content.
As a K-pop idol, makeup and skincare are a core part of Yunjin's daily life. The idol candidly shares her bare face on Instagram and in YouTube videos, embracing her natural features. But she has also shared her glittery makeup looks and her own step-by-step beauty routine, going into detail about her preferred products. Yunjin shared that, for her, the eyebrows, eyelashes, and lips are the most important elements of a makeup look. Netizens have taken note of her versatile beauty, so much that Allure Korea released a video with Won Jeongyo, LE SSERAFIM's makeup artist.
Industry Disruptor
Since her long-awaited debut, Yunjin has made her mission clear: change the idol industry. And through both her music and interactions with fans, it's clear that she can talk the talk and walk the walk. Fans have commended the idol for her unapologetic authenticity. In particular, Yunjin is one of few idols to publicly express support for Pride Month and members of the LGBTQ+ community.
Kindness is the root of everything that she does. From her approach to music and performance to her interactions with fans, Yunjin strives to promote light and positivity through her actions. "I want to make the world a better place," she shared in an interview with WeVerse Magazine. "I want to do whatever will be helpful to the rest of the world." One way she does this is by intentionally shattering the untouchable image of idols — from incorporating meaningful and personal lyrics into songs to sharing her true personality on social media.
This passion translates directly into the honest lyrics she writes for both LE SSERAFIM and herself, especially in songs like "I≠DOLL" and "Good Parts (when the quality is bad but I am)." With lyrics that include "'Cause if I had a choice/I'd put my opinions first" and "I just wanna love myself/When I'm good or bad, love my weakness," respectively, Yunjin promotes self-acceptance while dismantling toxic standards that exist for celebrities. Combining her pre-debut and promotional experiences, Yunjin always shows a human side to her celebrity persona.
LE SSERAFIM's Main Vocalist
Yunjin's talent makes her position as a main vocalist in LE SSERAFIM undeniable. From playing the lead role in a pre-debut high school performance of Phantom of the Opera to giving an operatic performance as the opening to LE SSERAFIM's SBS Gayo Daejun performance in 2022, Yunjin has shown her range multiple times. In an episode of Leemujin Service, Yunjin shared that before pursuing a career in K-pop, she planned on studying opera as her major in university. Her interest in opera and musical performance started in middle school when she accompanied her grandmother to the choir.
Now, Yunjin nonchalantly showcases her impressive vocal range at variety shows and interviews, in behind-the-scenes footage, and, of course, on stage as LE SSERAFIM's main vocalist. As unbelievable as it might be considering her success, Yunjin had difficulty getting accepted into an agency. In an episode of HUP! x Now, she performs Adele's "When We Were Young" and reveals to the host that agencies have rejected her despite her chilling performance of the song.
Ms. American-o
If there is one thing that the members of LE SSERAFIM agree on, it's that Yunjin is a fiend for caffeine. In a cafe-themed episode of LENIVERSE, a YouTube series featuring LE SSERAFIM, the girls teased Yunjin about the quantity of coffee she drinks, saying "she has Americano for blood." As the group learns about the coffee-making process from start to finish, Yunjin gets the chance to show her expertise when making drinks. From personal social media posts highlighting various beverages to unintentional cameos in vlogs, Yunjin is always showcasing her caffeine of choice.
The singer has admitted her love for both iced coffee and matcha, and often shares her daily drinks on the carousels she uploads to her Instagram account. In a vlog uploaded to LE SSERAFIM's YouTube channel, Yunjin walked through her morning routine — which, of course, includes preparing her daily dose of caffeine. Her special recipe requires an iced matcha latte and an espresso shot sweetened with honey. The twist is that she combines the two, creating a dirty matcha latte.
Secret Artist
One of Yunjin's specialties among the members of LE SSERAFIM, as she has shared, is drawing. Since her pre-debut live streams with Lee Gaeun as PLEDIS Entertainment trainees in 2018, she has occasionally demonstrated her art abilities — in fact, art is such a part of her personality that Chaehyun of Kep1er, who has known Yunjin for years, has commented on it as well.
The biggest showcase of her drawing abilities came in the form of the self-illustrated music video for "I≠DOLL" on January 8, 2023. When creating the drawings to accompany her original song, the singer wanted to contrast a complex message with illustrations in a simple style. With drawings that depict Yunjin herself, it's even more clear that the song resonates on a personal level. The minimalist cartoons follow the protagonist — Yunjin — as she changes her appearance, appears on the front page of a newspaper, and is subject to harsh internet scrutiny.
Yunjin shows off her art skills in less official settings too. In a live stream with the UNNIEZ line — comprised of Chaewon, Sakura, and Yunjin — the idol decorated a tote bag designed for carrying tumblers. Though stencils were available to facilitate the drawing process, Yunjin created her own freehand koi fish artwork. Her two-sided decorations earned compliments from Chaewon and Sakura, who commented on Yunjin's natural ability to draw.
Ten Points to Slytherin
Since her pre-debut days, Yunjin has casually made her inner Potterhead known to the public. The topic has come up multiple times in past live streams and WeVerse posts, dating as early as 2018. Shortly after Produce 48, Yunjin and then-PLEDIS Entertainment trainee Lee Gaeun were featured in various types of content by the agency. The two had found a small fanbase of their own after their appearance on Produce 48 and were affectionately referred to as "the Kirins" (the giraffes in Korea).
In one of their live streams, Yunjin and Gaeun referenced spells from the Harry Potter films as they walk outside. Later, in a special Halloween live stream, the two dressed in Harry Potter robes. Fans who had once guessed that her house would be Slytherin were happy to find out they were right — Yunjin's robes were the representative green color.
Fast forward to 2022, shortly after the debut of LE SSERAFIM. Yunjin uploaded the results of her updated Harry Potter House quiz to WeVerse to reveal that she was still a Slytherin. Coincidentally, the idol was also born in the zodiac year of the snake, and her representative animal is, fittingly, the serpent.
Want to get to know the rest of LE SSERAFIM? Check out our 7 Things series and learn more about Chaewon.