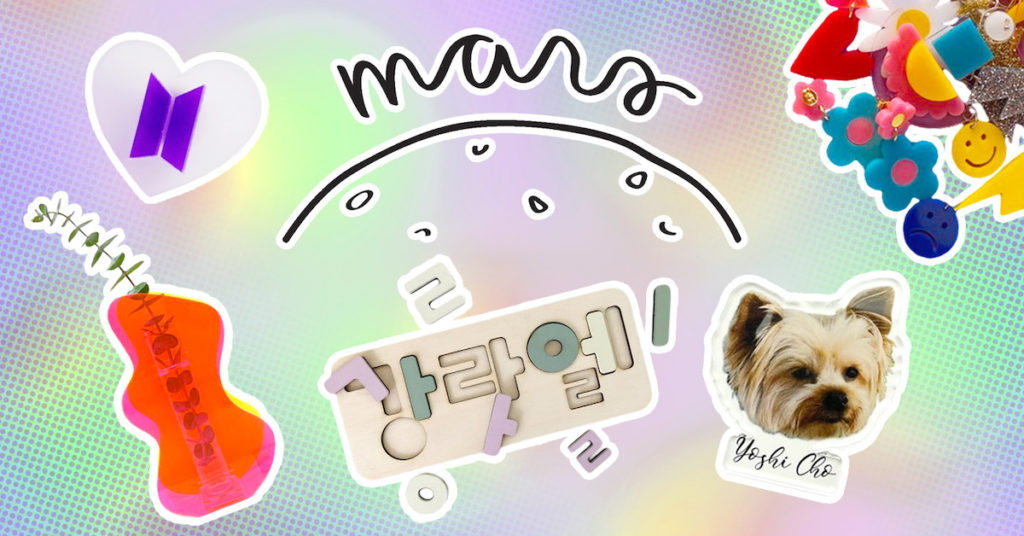 Are you looking to decorate your home, accessorize with jewelry, or even create personalized gifts? California-based online business, Mars by Mar, has got you covered! With a diverse range of items, this shop is sure to help you find what you're looking for. In this chapter of EnVi's Small Business Spotlight, Marion, the shop's owner, spoke with us via Zoom about her products and business journey.
Journey to Mars
In her youth, Marion had no idea that she would one day own a business. Up until around the age of 22, her goal was to become a teacher. However, when she realized she wasn't cut out for the position, she made the decision to venture off into a new major.
"That was like a whole process," she began. "I think at that point, I felt like I was working toward something my whole life, and then it just kind of all crumbled all at once. It was a lot of trying out new things like taking a lot of random classes at community college and trying to figure out what I was supposed to be doing."
Before Industrial Design, her original major was Furniture Design. While she worked for a few high-end furniture companies, she chose to shift to laser cutting as it was less expensive than starting a furniture company from scratch. She took a 3D art class and a stained glass window-making class, and both turned out to be enjoyable. It was then that she discovered a new passion and realized that handcrafting was her true calling.
"I think that's when I realized I want[ed] to do something where I [could] use my hands to create art but also have it be something that can go on the market. I thought that was really fun because I [get] to be a part of the entire process of building something from beginning to end."
After studying and perfecting her work at the Art Institute of Orange County, Mars by Mar was born. In addition to her work at the shop, Marion also coordinates weddings with her other company, Mars Productions.
Inspiration and Behind the Scenes
Marion's initial focus with her business was selling earrings, not only because they were easier for her to make, but because she believes they are fun accessories that people can wear with a variety of designs and colors. Many of the earrings she has up on her website are her own designs, but every so often, she has friends send their designs for production.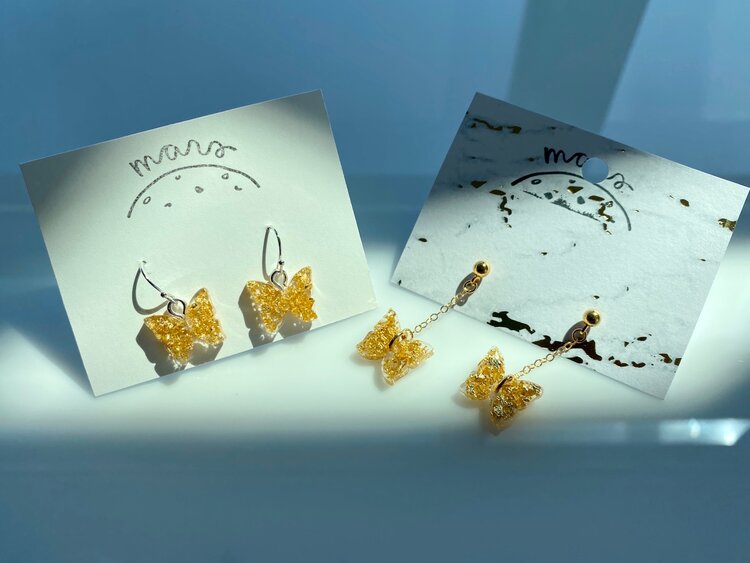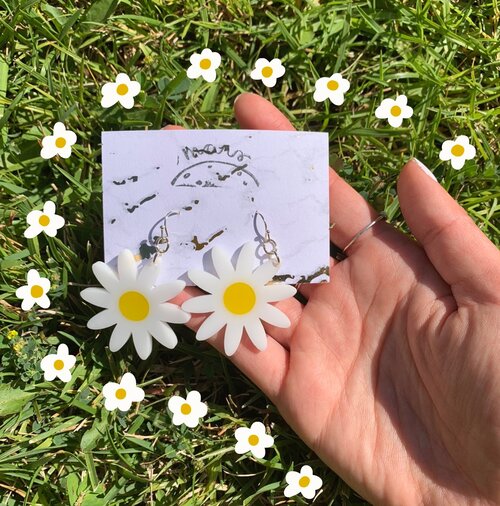 In terms of inspiration, most of her ideas are influenced by her life and things that she likes. Once she has an idea set in stone, the first step is to draw it and bring it to life in Illustrator. From there, she inserts the design into a program that converts it into a file that her laser can read and create. At that point, she chooses the colors and works on any final touches.
When asked what product sells the most, she mentioned that her Hangul puzzle boards are popular sellers. With this item, customers have the choice to purchase wooden or acrylic tiles and boards. She spent almost two years perfecting everything, and when she finally began to sell them, people loved the idea.
"[With] those, usually people will send me a name and then I just make it on an Illustrator file," she began. "I cut all the pieces out on wood, I have to sand down all the wood and glue all the pieces together. Sometimes, I have to hand-paint them. Even [with] acrylics, I have to sand it down sometimes so that is kind of a lengthy process which is why they're a little bit pricier. I think when I finally got that [product] up and running, it was a big thing for me."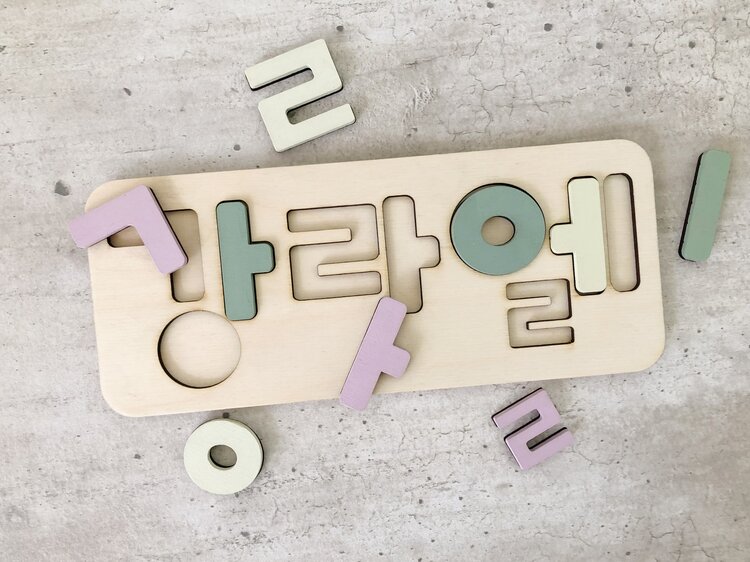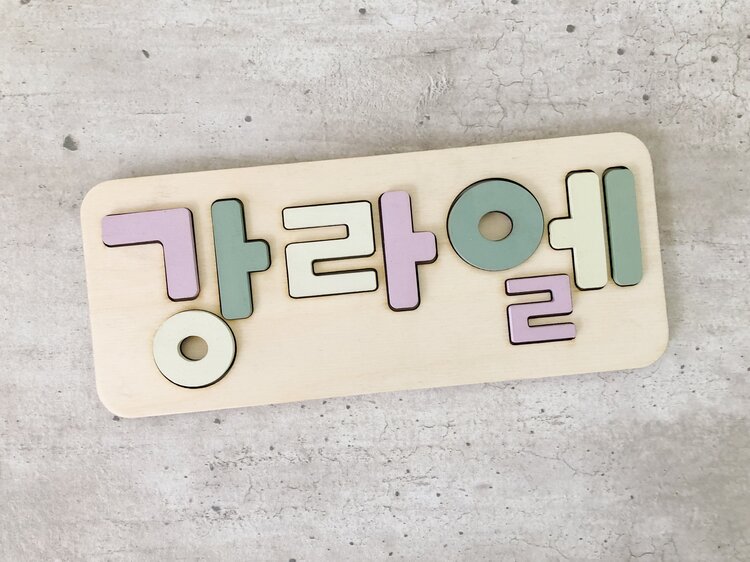 In addition, her "picture this" keychains have done really well too. The idea to make an acrylic keychain out of a photo came to her when her dog got sick. She wanted to create something of her own where she could carry him around everywhere she went. Shortly after, she had a few people compliment her work and ask if she could make some for them as well. This encouraged her to start selling some on Mars by Mar, and once she decided to add them to the list of items for sale, they sold like crazy.
"I get to be a part of the whole process of prepping everyone's pictures," Marion said. "It's cool to see 'oh these are my clients.' I get to see their pictures as well as get to see pictures of their loved ones so that part is really cool to me."
Persistence and Friendship are Key
When asked what advice she would give to someone who dreams of making their own business someday, Marion said perseverance and finding a good community of friends will get you a long way.
"I wanna say honestly, especially because it's an online business, have good friends who will support you and have a community who will believe in you," she affirmed. "I think it's really about the people you surround yourself with, the people who will support you, even if they're not your friends. Even my clients will support me, I think that's really awesome!"
Owning a small business presented a number of challenges in the beginning. She began with only her Etsy shop and expressed that it was difficult to realize that she wouldn't get many sales a month. It only started to get easier when she would see people wearing her products—this served as encouragement to keep going. Furthermore, she believes perseverance is essential, so she stayed dedicated to her work every day until eventually, her efforts paid off.
If you're interested in Marion's products, don't forget to check out her website as well as her Etsy shop, and don't forget to show her some love on Instagram and Pinterest!
Interested in supporting other small businesses? Check out our feature on K-Universe Thrift here!