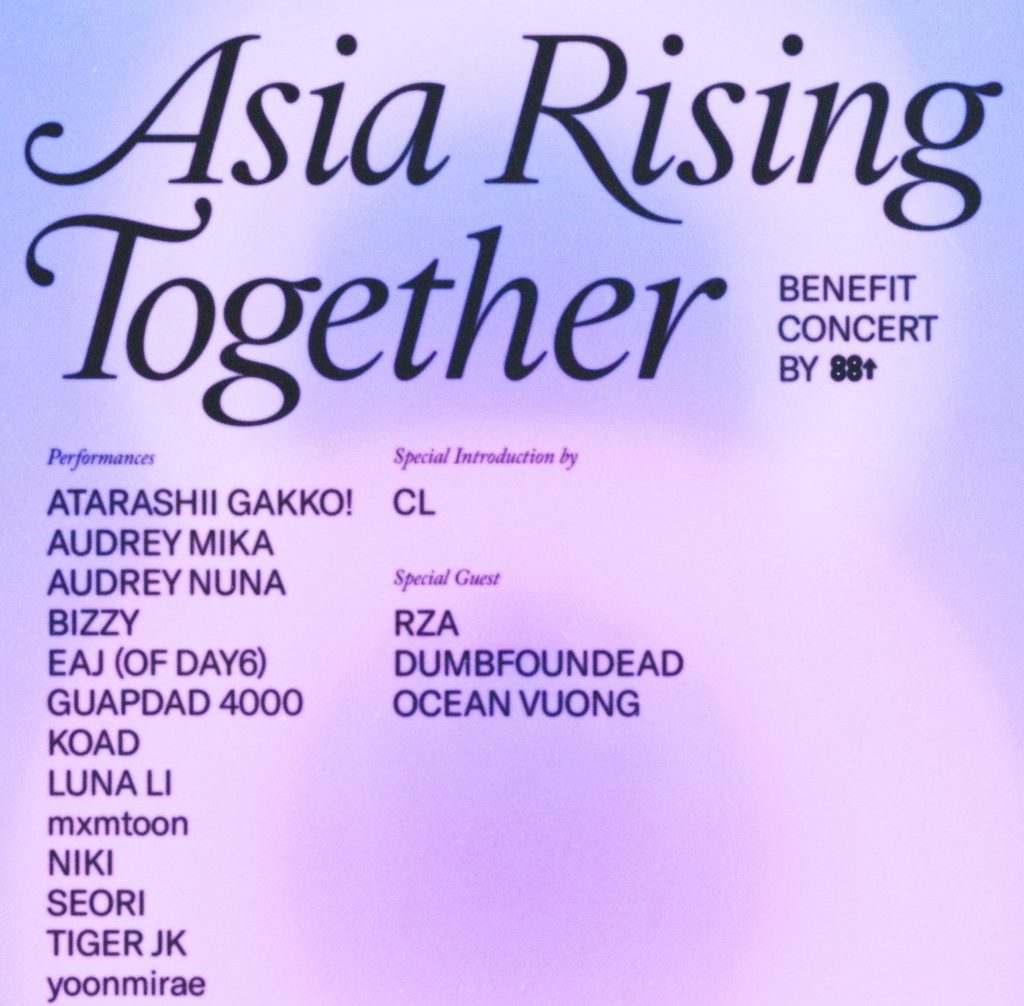 By Maya Whitney | @peachy_127
On May 26th, 2021, in honor of Asian American and Pacific Islander (AAPI) Heritage month, record label 88rising held a two-hour benefit concert. In partnership with Netflix, and sponsored by AT&T, the concert was made to support the Asian Mental Health Collective. AMHC is a non-profit organization with the goal to de-stigmatize mental health in the Asian community, in addition to making resources regarding mental health more accessible for Asian communities worldwide.  
Asia Rising TOGETHER
While the online concert was free to watch via YouTube's live streaming service thanks to YouTube Giving, 88rising was able to provide a donation button above the live chat so viewers were able to donate while watching. Another way for viewers to donate was by purchasing limited-edition merchandise from the Asia Rising Together Charity collection, where 100% of the proceeds would go to the Asian Mental Health Collective. 
Before the show began, Netflix provided a video montage showcasing AAPI representation in the media. Esteemed media personalities like Daniel Dae Kim, Tan France, and more were featured. Following the video montage, South Korean rapper and singer CL gave an introduction emphasizing togetherness, thanking the communities, and viewers. 
View this post on Instagram
Audrey Mika is her own 'gentleman'
The first artist in the lineup was Audrey Mika, a 20-year-old dancer turned singer-songwriter of mixed Japanese descent. Audrey built her platform from TikTok and YouTube and later signed with RCA Records in 2019. As the camera slowly panned in, her mother attempted to teach her and her sister how to make mochi. She explained that it was a way for them to be familiar with their culture and insisted on speaking to them in Japanese as she referred to language being a gift of love. The first song Mika performed was, "Chivalry," a song about being an independent woman. Afterward, she spoke about not being ashamed of her Japanese roots, and the importance of representing multiple aspects of it. The second song of the night was, "Alive,"  which she described as, "A reminder and an affirmation that it's okay to not always be okay and to surround yourself with people that look out for you" in a press release with Sony Music. 
Luna Li showed her musical genius
Next up was Luna Li, a Korean-Canadian indie-pop singer-songwriter hailing from Toronto. Luna rose to fame shortly after videos of her jamming to music in her bedroom went viral on TikTok, and Twitter. Her first song, "Cherry Pit," which she revealed to be heavily inspired by haikus her family had written on their last trip to a cottage in Muskoka. A place they could hike at, enjoying cherries and spitting the pits down into the forest. The next song on her setlist was "Alone But Not Lonely," a retro-pop-sounding song, where she chanted the title name and showed off her dreamy vocals. Li showcased her many talents during the set, as she played electric guitar, bass, harp, as well as violin. 
Seori serenaded the audience
Seori, a South Korean R&B singer, continued the show. She started her career on YouTube, uploading covers of songs, and is now signed under Warner Music Korea. With a soft voice and lo-fi beats, she serenaded the audience with her first song, "Running Through The Night,"  a song about enjoying the night to its fullest, not worrying about the cares of tomorrow. While she does have an English version of the song, she performed the original Korean version and donned a traditional Korean norigae on the button of her blouse. She followed up with her latest single, "Lovers In The Night," a song co-written by MØ and Emiko Love. Seori also collaborated with eaJ, also included in the setlist for the night, on a song called "It just is (feat. keshi's Strat)." 
mxmtoon is unapologetically herself
Continuing the show was mxmtoon, or Maia, a Chinese-American musician based in New York. A very outspoken woman, she talked about fighting stereotypes that Asian women should not be opinionated. She then began her first song, "almost home," about the transition from childhood to adulthood and later named her grandmother as her biggest inspiration in life. Being inspired by her stories and how comfortable she is with sharing her experiences, Maia wants to be as honest as possible and share her stories with a younger audience. The camera panned away from a table of mahjong pieces, then to Maia as she played the ukulele to her song, "fever dream," a song about leaping faith, and trusting oneself throughout their journey. 
ATARASHII GAKKO! is exactly what you're looking for
Following up, the latest of 88rising's acts, ATARASHII GAKKO!. The four-member group that describes themselves as "representatives of the Japanese youth" lived up to that statement, as they performed in the iconic Japanese School uniform. The J-Pop quartet livened up the concert as they performed one of their latest songs, "NAINAINAI," with a fun upbeat sound, and a catchy chorus meant to stick with the audience long after the concert was done.
GO ATARASHII GAKKO!!! @japanleaders #AsiaRisingTogether pic.twitter.com/VqIl61KqyZ

— 88rising (@88rising) May 27, 2021
KOAD cooked up a fiery performance
KOAD, an 18-year old Indian-American rapper spoke about the standard of beauty, and growing up without superheroes that look like you. Performing his first song, "pots n' pans," a highly rambunctious track. Keeping the high energy, he danced freely and told the audience he was feeling "jaunty." The song has traces of classic rock yet is still up to par with his signature rowdy sound.
MFBTY reunited
The tempo slowed once again, as TIGER JK performed "8:45 Heaven." a song he wrote after losing his grandmother whom he considered his best friend. He ended his performance with a shortened version of the Drunken Tiger song, "Oh! 1945 (Time Machine)." Yoon Mirae, a South Korean rapper and singer followed up with her performance of "Black Happiness," a powerful song telling her experience of growing up half-Black, dealing with self-hatred, and finding solace through music. The South Korean rapper, Bizzy then joined the stage as the trio MFBTY came together to perform "Angel." Showing appreciation to their Korean heritage, Bizzy and TIGER JK were dressed in a relaxed style of hanbok throughout the entire performance.
Legend #AsiaRisingTogether pic.twitter.com/0PXpp1ifTV

— 88rising (@88rising) May 27, 2021
INTERMISSION
Throughout the concert multiple organizations aiding the Asian communities were spotlighted, such as MAMA Drive-By-Kitchen, Vietnamese American Community Center of East Bay, and Burdock Media. As well as spotlighting Vietnamese-American poet Ocean Vuong, and musical therapist Mai Abe.
Dumbfounded then sat down with RZA of Wu-Tang Clan, and 88rising founder Sean Miyashiro as they spoke about unity between the Black and the Asian community. RZA said "At the end of the day, we probably have more common denominators than we know," then named The 12 Jewels which he lives by. 
Audrey Nuna needs "Space"
Korean-American rapper and singer from New Jersey, Audrey Nuna, kicked off the next round of performances. The 22-year old artist and her sister were seen chatting with their mother about why she moved to the states, then about her grandfather's deli. Audrey was later shown walking through an aisle of Korean snacks in a grocery store as she starts her first performance "Blossom." In a mini-break between the first and second song, the audience was brought back to the conversation between her mother and sister as they spoke about the hardships of living, especially as an immigrant. Transitioning to the next song, "Space" is what she described as feeling like a journal entry because she felt suffocated at the time she wrote it. 
Guapdad 4000 proved he's a "Big Shot"
Filipino-American rapper and singer based in California, Guapdad 4000 talked about his Filipino grandmother who cooks chicken adobo for him and the warm feeling he gets when he eats it. Relating the feeling to love, he started the first song in his set "Chicken Adobo." "Big Shot" was the last song he performed as he sat in a dark restaurant, his figure illuminated by a blue spotlight. The song has an addicting rhythm that easily flows with his verse.
eaJ brought out the emotion
eaJ, also known as Jae of K-pop band DAY6, is a Korean-American artist based in South Korea. He has released self-written songs under the name "eaJ" since January 2020, gaining more attention with each release. His performance was of "Pacman," a song that showcases just how powerful his vocals are. "50 proof" started right away as eaJ put all his emotion into performing the somber song. Following the song, he sat on the front step of a hanok, a traditional Korean home, as he answered the question "What is healing to you?." He explained healing as something that comes naturally over time. Surprising many fans, the last song was "Zombie," from DAY6's album, The Book of Us: The Demon, which was released last year.
no one expected this ? #AsiaRisingTogetherpic.twitter.com/3Q8WDKHLlq

— jell ˊˎ˗ (@psychoehyunjin) May 27, 2021
NIKI drove the audience home
NIKI, a multi-talented Indonesian singer-songwriter who signed with 88rising in 2017, spoke on stereotypes regarding Asians, advising the community to be unapologetic about who they are. She started her first song, "Drive On," as she strummed her acoustic guitar and sang about leaving behind a storm, and heading into the sun. NIKI then mentioned Ali Wong, as one of the first Asian women she thought of who is changing the narrative of how Asian women should be. The concert came to a close as she performed the last song, "California," with Rich Brian, and 88rising newcomer Warren Hue. They performed an acoustic version of the new single, getting fans excited for the much-anticipated Head In The Clouds III album.
NICOLE ZEFANYA #AsiaRisingTogether pic.twitter.com/S9tvt9LkKl

— 88rising (@88rising) May 27, 2021
Never Alone
CL appeared again as she officially closed the concert, stating that she hoped the audience felt loved and represented. She went on to reassure the audience that although there may be days ahead filled with anguish, nobody is ever truly alone.
Enjoy reading about Asian Music Collaborations? Read about Taeyong and Baekhyun's Monroe here!