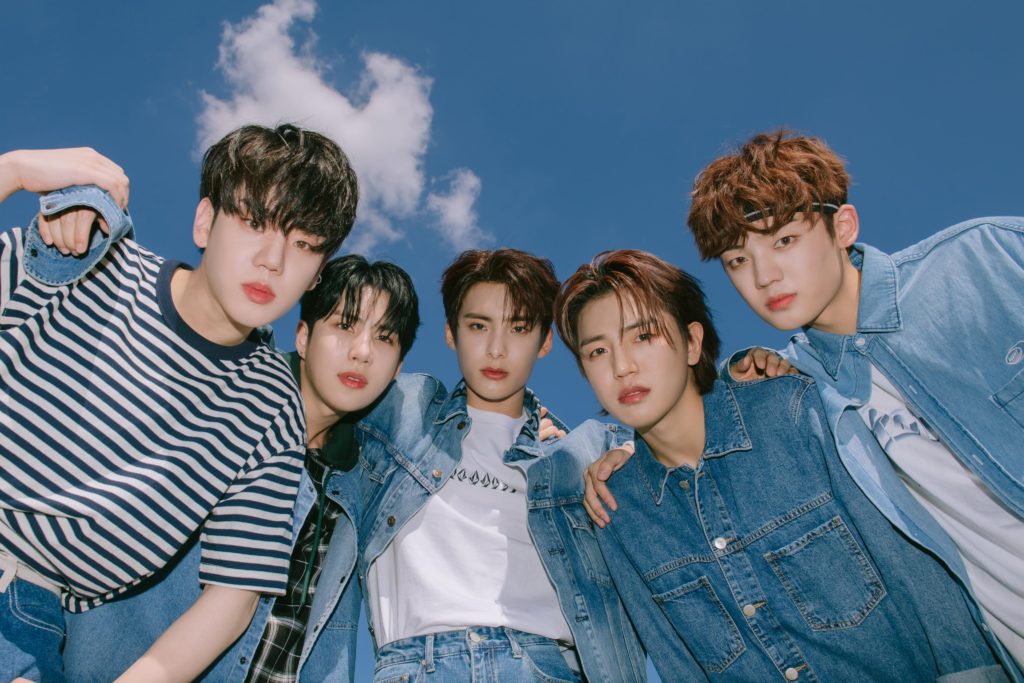 Coming back with their last five-member album before the start of military enlistment, A.C.E returns with Changer: Dear Eris, as a gift for their fans, Choice. With four new songs, the album also contains new versions of their previous songs, as well as studio renditions of tracks already known to the fandom. The release reached #3 on the iTunes Worldwide Album Chart, and the title track reached #1 in several countries.
"You deserve it. You shine beautifully." The sweet message of "Changer"
The title track "Changer" is a bright pop-EDM song that strays away a little from the melancholy of "Higher" and the hard-hitting sounds of "Favorite Boys," their previous comebacks. Different from the usual striking visuals, Jun, Donghun, Wow, Kim Byeongkwan, and Chan look soft and warm in their casual looks.
With lyrics such as "So I pray I'll cover all your pain / With you, stay with me, stay with you / There won't be even a little tear anymore / I'll hug you tighter, even if it hurts," the song feels like a message to fans to not worry or hurt, and live carefree, as the group and fans prepare for two members, Donghun and Wow, to enlist in September.
In the music video, the boys are playing around together with confetti and we see dancing scenes in the open air, all giving a very fresh and welcoming vibe. Meanwhile, fan messages from social media pop around on the screen, another reminder of how this is a thank you message for their loving fans. 
Changer: Dear Eris
On August 31, A.C.E went live to show fans the album highlight medley and tell fans a little bit about the songs. "Think of this as a love letter song. 'Changer' is… words we want to say Choice. We'll always be with you until the end of time so when you're tired… we'll come running to you" maknae Chan said about the album.
They start the album with the instrumental "INTRO: Revolutions," a cinematic track welcoming us for what's coming. Only one phrase is said: "Start a revolution." It is very fitting to A.C.E, who are known for breaking the standards and following their own path.
After the title track, "Changer," we are greeted with an all-new version of the already known "Black and Blue." Originally from their A.C.E Adventures in Wonderland album and performed by Wow and Jun, the song got a completely new look, with all the members in the track and a few changes in the arrangement, but did not lose the original charm. Fans joked that this might have been a big moment for Chan, who's always been a big fan of the song.
yuchan's dreams coming true with black and blue YES

— sara ☻︎ (@CHANSH1NES) September 2, 2021
Next up is the Korean version of "Down," their bright and fun collaboration with American EDM duo, Grey, released originally in English earlier in 2021.
One of the new songs in the album, "Talk You Down" is a pop ballad perfect to showcase the vocals of all five members of A.C.E. A song about staying by the side of your loved ones no matter what, it fits into the overall theme of the album as a sweet and bright, but emotional song.
"Jindo Arirang" is A.C.E's take on the Korean folk song of the same name. First performed on a special program by TV broadcasting company Arirang, where many different artists made their own renditions of traditional songs, this version then received two performance videos, as well as a few stage presentations from the group. The fan-favorite interpretation is now included officially in A.C.E's discography as part of the Changer: Dear Eris album.
Going back to their roots, the quintet added two versions of their debut song, "Cactus," to the album. One version is in English and another is a remix. Both versions have been known to fans since A.C.E's debut in 2017, but have been re-recorded and added to their discography through this album.
Finally, "Remember Us" is Wow's solo track, with the other four members briefly featuring at the end. When asked to say a word to fans in their showcase, as this would be his last stage with A.C.E before enlistment, Wow said "I poured everything I wanted to say to the fans in this song and this album." He performed the song at the comeback showcase, and later at the online fan meeting, Donghun delivered his own rendition of the song.
Fan Reactions
Changer is just that song
The lyrics are so heartwarming but it makes me so happy and sad at the same time and DEAR GOD A.C.E THE WAY YOU HAVE MY HEART 😭😭

— Changer: Dear Brit ♡ (@kwannies_) September 2, 2021
to my housemates who will have to hear changer for the foreseeable future: this would not be a problem of you stanned a.c.e 🔥

— 🌱peekkwan 🧊☁️ CHANGER (@bumblebk) September 2, 2021
changer : dear eris is the album of the year if i do say so myself

— #CHANGER (@minsugafm) September 3, 2021
I've had like the most ridiculous day but this album makes me so happy & sad highly recommend https://t.co/PxQAi72tMW

— mk🦋🌹HATE THAT 8.30 | CHANGER 9.02 | STICKER 9.17 (@tychanwingwmn) September 3, 2021
a.c.e are honestly something else…. choice say this all the time but we say it cause its true. there's just something different about them. something awe inspiring, something breathtaking… and something that feels like home.

— ღ changer: dear nora (@tinyjunbee) September 2, 2021
Changer: Dear Eris it's evidence of not only A.C.E's never-failing talent and music that always exceeds expectations but also of the strong bond and love they have for their Choice and for each other, poured into every note and every word of each track.
We wish Donghun and Wow the best of luck in their military service and can't wait for their return!
You can listen to Changer: Dear Eris on Spotify and Apple Music!
Want more? Check out A.C.E's previous comeback here!
Thumbnail courtesy of Beat Interactive.