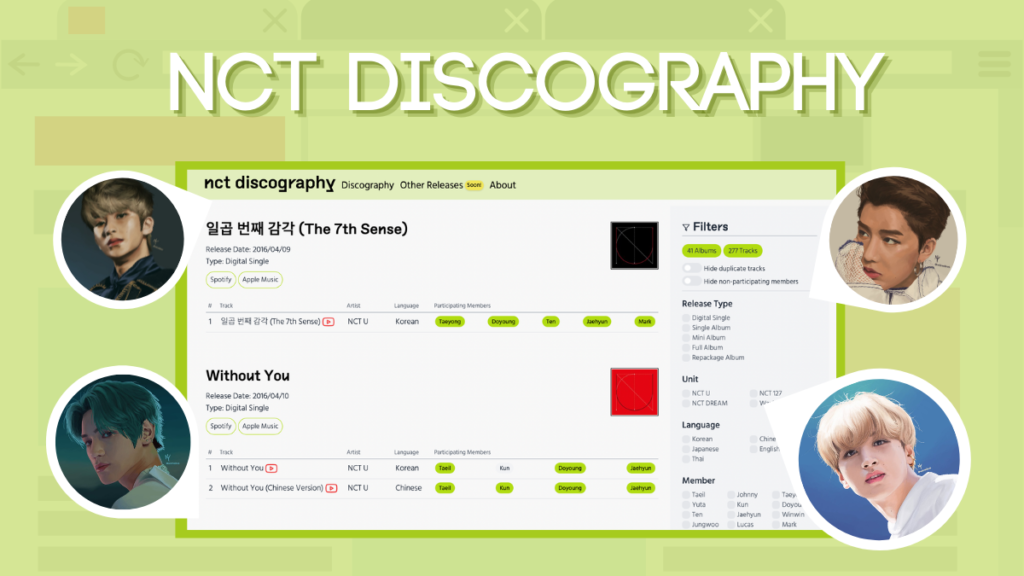 With the NCT 2021 Universe album coming out on December 14, EnVi spoke to wiz, the creator of NCT Discography, an interactive website that aims to demystify NCT's unit system and releases for both new and old listeners.
Read on to discover how wiz became a K-pop fan, fell in love with NCT, and eventually designed the site she hopes will become "an invaluable resource for NCTzens everywhere."
Journey Into the NCT Universe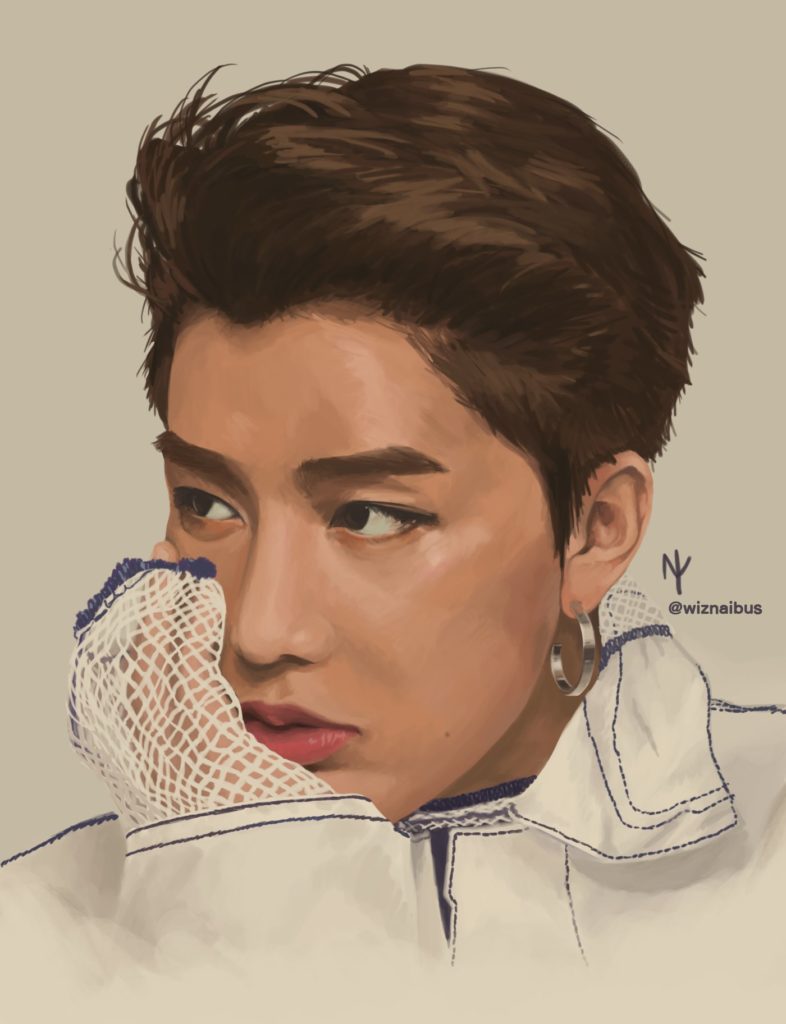 wiz first got into K-pop in late 2014, when looking for new workout music. She was initially only interested in the music, but later got involved in online fandom communities, and became "completely immersed" as she made friends with fellow fans.
wiz described herself as "the kind of person who has a lot of creative energy" and who likes "making useful and/or entertaining things other people can enjoy". She is also involved in several other fan projects, such as assisting with Discord servers, creating fanart, fansubbing, and working on other K-pop websites.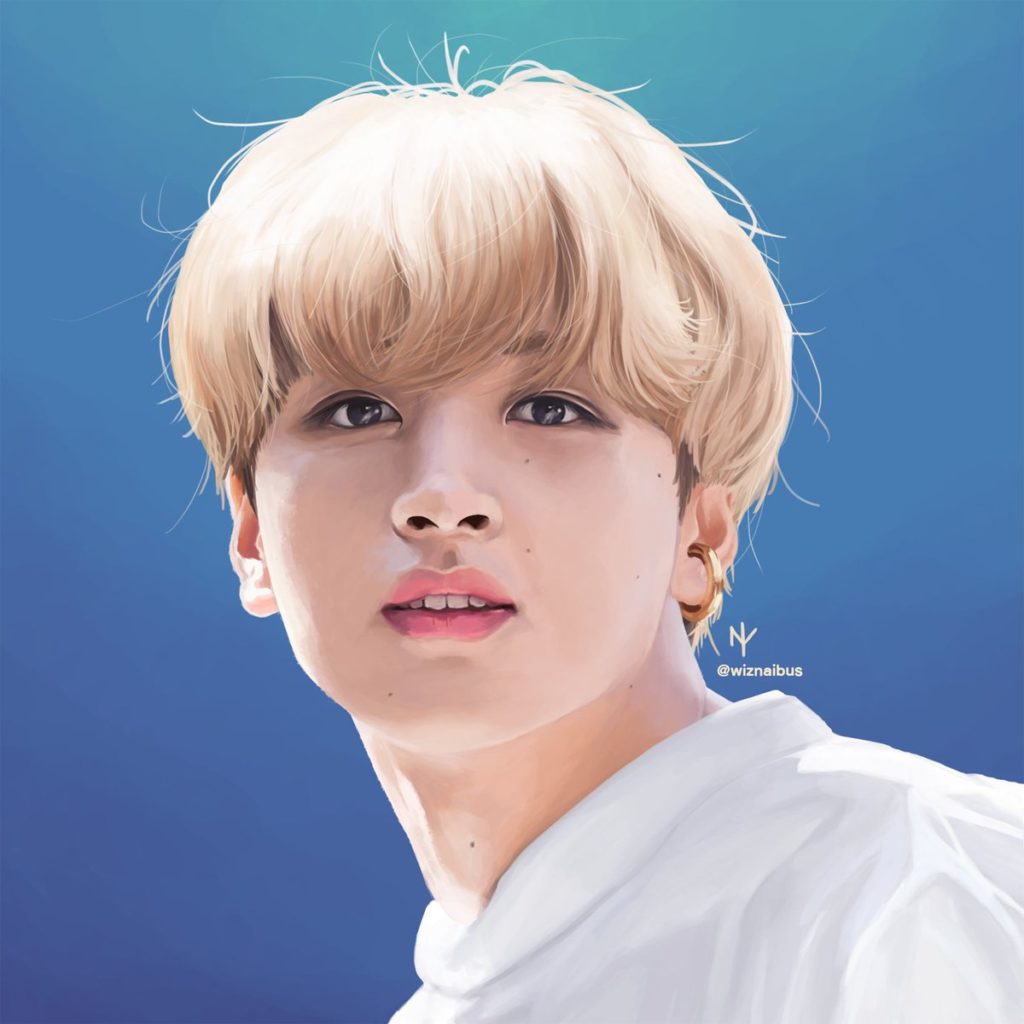 She first listened to NCT in mid-2016, starting with NCT 127's debut, "Fire Truck". Her first thoughts were, "Wow, NCT 127 must be a top-tier group, since this song is fire," she told EnVi. However, she remained a casual listener of NCT for several years before becoming a full-blown NCTzen in 2019. She describes NCT Dream's Boom as her "Big Boom" in the NCT universe. "I spent an entire month going down the NCT rabbit hole with a friend," wiz explained. "[O]ur NCT universe exploded and we became NCTzens!"
Nowadays, wiz considers NCT to be her favorite group and the future of K-pop. wiz feels, " their music, their choreography, and their style, they've always been ahead of their time." She is constantly being bias-wrecked by the NCT members, however, if she had to choose a favorite, it would be Haechan. Beyond his "incredible voice, sense of humor, endless talent, and hard work," said wiz, she admires Haechan's outlook on his career and his advice. "To me, he's a great role model and someone I deeply admire," she told EnVi.
From Admiring Fan Websites to a Growing Portfolio
wiz became interested in web design during middle school. "I had a couple of friends who ran fan websites for video games, and I used to think that being a webmaster was the coolest thing in the world," she explained. She decided to pursue this passion when she started higher education. wiz told EnVi, "By the time I started college I realized that software and web development was something I could improve on and enjoy long-term."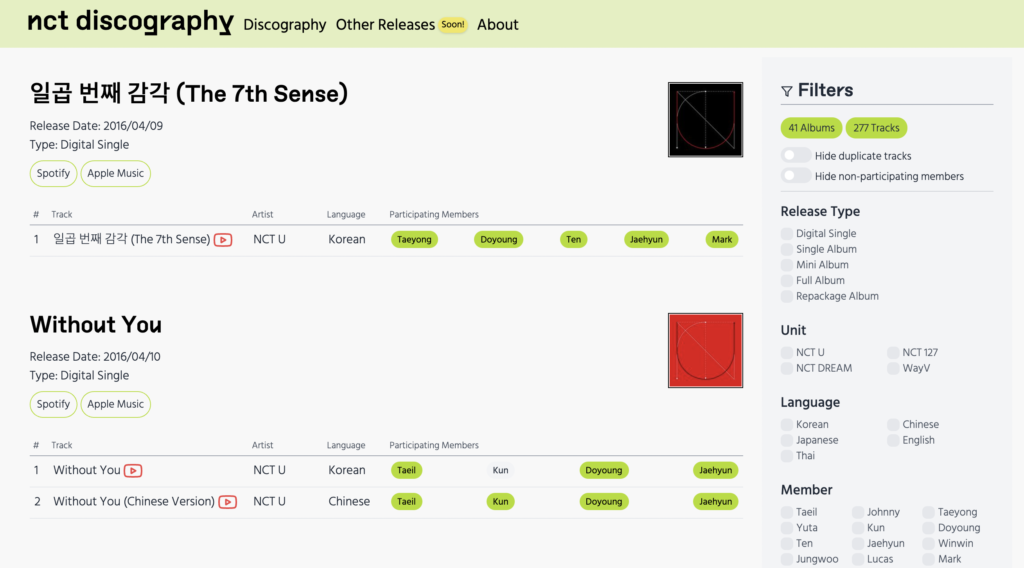 She is now building a portfolio of website work while completing her Computer Science degree.
wiz developed the idea for the NCT Discography website when she was trying to introduce friends to NCT. "NCT is a complex group with rotational units, member additions, and a robust discography, so it can feel intimidating to find a starting point to get into them," she said.
wiz started to notice a pattern in how people got into NCT's music. "[O]ne thing I kept noticing is that people tend to start with a certain member or unit and work their way into the rest of the group from there," she explained. With this in mind, she tried creating playlists to help her friends out. wiz confessed, "I spent an embarrassing amount of time creating Spotify playlists that featured specific members before thinking that there had to be a better way to do this."
From First Draft to Functioning Site
"In just a few clicks you can see information like what units a certain member has participated in, how many tracks NCT has done in a specific language, and all of the songs that specific members have performed together," wiz explained.
According to wiz, "the main goals of NCT Discography are to make getting into NCT's music feel less intimidating for new fans and to serve as a quick and easy-to-use reference for people looking for specific information." Users are able to filter NCT's tracks according to units, languages, and members. As there are members who are part of multiple NCT units, the website uses color-coding to display which unit members were performing in at the time. The site also shows the number of albums and songs matching the active filter, and duplicates for tracks that appear in multiple releases can be hidden. Visitors can then use links to access music videos or listen to albums on Spotify and Apple Music.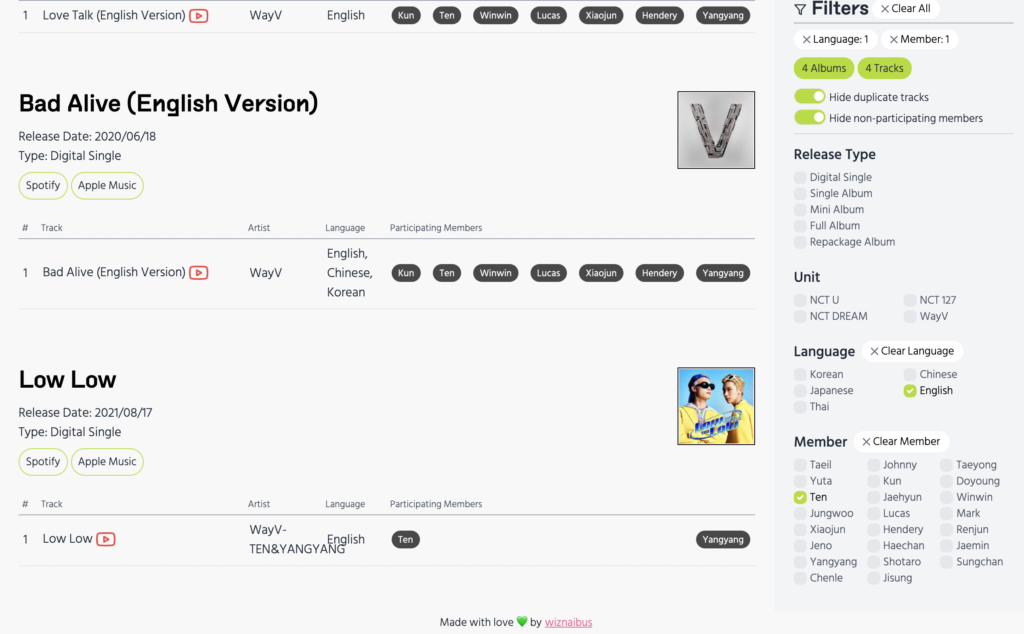 Since its first draft, which came together over the course of a single weekend, there have been several changes to the website. wiz told EnVi, "NCT Discography is a passion project, so I want to push myself to do the best job that I'm capable of," whether that involves learning to use technology she has never used before or redoing features she already spent hours on.
wiz could not have predicted the amount of additional work she would have to do beyond the website code. "There's a big difference between putting a test site online and releasing a production-level site," wiz said. Following feedback from friends, she has worked on making the website more user-friendly. For example, the filter initially only allowed users to select one member, but now users can look at multiple multiple members at the same time.
It's Only the Beginning
In terms of future plans, wiz has various features she wants to add to the website. She revealed, "I've got big plans for the NCT Discography website!". For example, the "Other Releases" feature, will be an additional page focusing on work outside of the groups' main discography, such as collaborations, solo work and NCT members' work in SuperM. She would also like to add features like song-writing credits, unit and member profiles, producer/writer pages, and Last.fm integration.
wiz is also considering adding a videography section and support for different languages, but these updates will be gradual. "Since I'm a full-time college student, updates can be slow," said wiz. However, she is open to suggestions. "The NCT Discography website is an open-source project," she explained, "so anyone who wants to help contribute to changes or use the existing code for similar websites is welcome to do so."
Thank you for speaking to EnVi, wiz! If you would like to try the website for yourself, please visit NCT Discography!
If you are looking to find out more about the NCT system, you can also check out EnVi's guide to the NCT concept.