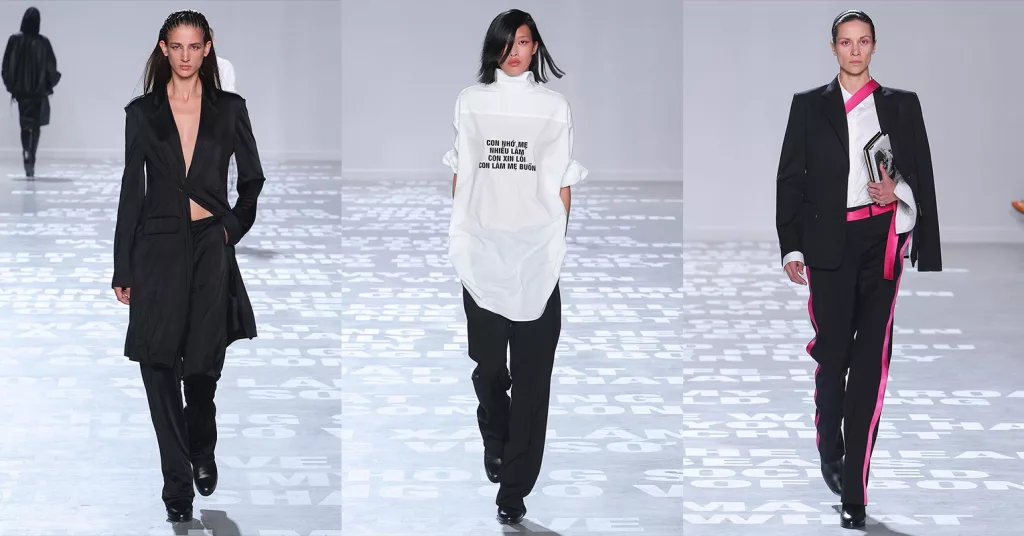 Helmut Lang's Spring Summer 2024 runway marked the debut of Peter Do as the fashion house's creative director. Taking notes from the label's past designs and his own career, the collection (titled "BORN TO GO") centered on details and storytelling. For his first show at the helm of the storied brand, the Vietnamese-born designer blended key elements from Lang's archive with his modern edge and personal story. 
Storytelling at the Core
Consistently tying personal life experiences into his work, Do built his runway around the nostalgia that modes of transportation evoke. "When I started thinking about what I wanted to do for the house, I was thinking about when I first moved to Philadelphia at 14. One of the first luxurious experiences that I had was being in a car. […] Coming from a farm in Vietnam, there were no cars. I thought, what a beautiful way to think about something that's very functional and taken for granted," Do shared with W Magazine.
This inspiration was then translated onto the collection via suits with diagonal straps slinging across the top and around the pants' belt loops. Hints of warm yellow — the same shade we'd see in street signs and road lines — adorned various pieces. Do also explored this concept through the show's mise-en-scène, opening up the runway with a subway-style announcement. Meanwhile, models strode across the venue, mimicking crossroads and stations during rush hours.
Poetic Collaboration
Do's team-up with Vietnamese-American poet and author, Ocean Vuong, was a highlight of the event. Vuong rose to mainstream popularity with his debut novel On Earth We're Briefly Gorgeous, garnering acclaim in the world of poetry. Both creatives worked hand in hand to stamp a sense of sentimentality to this debut. Words from Vuong's essay "Born to Go" were splayed onto the runway and embedded onto white graphic shirts across the collection.
Wearability Is Key
Although experimentation and extravagance are always anticipated during Fashion Week, Do focused on wearability, explaining that a big part of Helmut Lang's legacy was sustained through customers and their sentimental connection to items from the brand. "I feel like when people talk about Helmut, they talk about the pieces of clothing that they own from him, from the brand, and how much those items carried them through. There's always a story behind the clothing," he said.
Besides functionality, Do emphasized affordability as one of his priorities. The collection is expected to hit stores at a considerably lower price than his eponymous brand, which prices oscillate between $500 and $3000. As per reports, Helmut Lang's pieces will start at $95 and will encompass a wide range of sizes, from 3XS to 3XL — although casting models with diverse body types was not a prime concern for the show.
The Hair: Zigzag Headbands and Smooth Strands
Transporting spectators a couple of decades back, the runway was overrun with retro hairdos favored in the '90s. Several models graced the stage without a single strand of hair out of place thanks to plastic zigzag headbands. The accessories served two-fold as a barely there adornment and a key tool in creating an open canvas for makeup. In addition to nodding at Helmut Lang's prominence in the 1990s, these hair accessories were also a throwback to the brand's Fall Winter 2014 show.
Along with the headbands, hairstyles featuring straight hair with curved ends also hinted at the style in vogue during the '90s. Blunt bobs, sculpted fros, and pixie cuts made appearances on the catwalk, tying in Do's concept of simplicity and adding retro energy to the looks.
The Beauty: Graphic Liner
On the beauty front, models sported barely-there base makeup to perfect the skin and create a glowing base for the main beauty statement: graphic liner. Stark white, fiery crimson and black were used amongst a handful of other neon hues to create winged lines that elongated the eyes. Tying into the concept of well-crafted details, the graphic liner was engineered to match each outfit. Rounded black lines and inner corner wings were also used to add an out-of-worldly appearance. Encouraging viewers to stop and take a closer look at the details, this minimal, but ingenious makeup concept honed in on Helmut Lang's aesthetics.
The Takeaway
Recalling the initial announcement of Do's entrance to Helmut Lang, this show was one of the most highly-anticipated presentations of the season. True to Do's forte, the collection showcased his signature sleek, minimal aesthetic that's sure to resonate with his cult following. While the show garnered much praise and attention, there were contrasting opinions on how Do failed to grasp the revolutionary nature of Helmut Lang's work and how his references fell flat at this moment in time.
The industry will have to wait longer to see what the creative director will bring to the table for Helmut Lang's sustained revival, but Do's tenure certainly represents a milestone for the new wave of young fashion designers taking over New York's fashion scene.
Interested in more New York Fashion Week coverage? Check out the highlights of Libertine's runway return here.