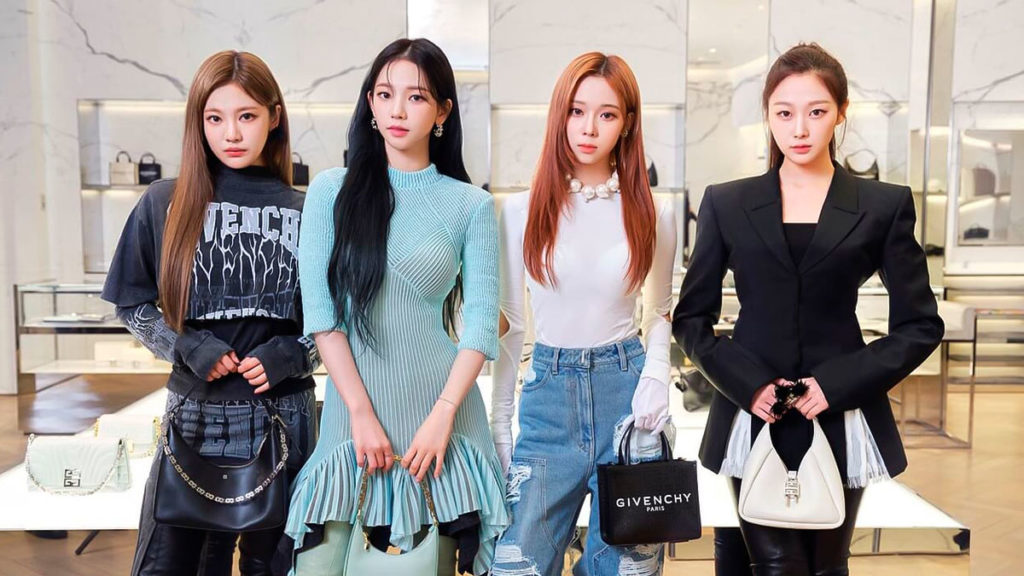 French fashion house Givenchy unveiled their Spring Summer collection on October 2. Unlike previous shows under the tenure of Matthew Williams, the brand presented a womenswear-only runway at Jardin des Plantes in Paris. Adding to the important changes—Williams had previously shown mixed collections at closed locations only—was the presence of the K-pop girl group and Givenchy's global ambassador aespa, which literally stopped traffic with their arrival.
Givenchy's Parisian Chic
Nearing the third-year mark of his tenure as Givenchy's creative director, Matthew Williams is still in the quest of finding a unique voice for the French brand. Previously helmed by Clare Waight Keller, Givenchy has pivoted to what people describe as a goth-infused aesthetic in recent years. However, in his latest effort, Williams attempted to reinterpret "Parisian chic" with the help of French stylist, fashion editor, and former model Carine Roitfeld.
Ahead of the fashion show, Williams had anticipated a more "feminine and sophisticated" vibe as compared to his previous efforts. Talking to the New York Times, the designer addressed some of the criticism he has received for past shows that mixed menswear and womenswear and didn't seem to convince the industry. "The thing with only having a few shows outside of Covid, and still not having a show just with women: There hasn't been enough time for the industry to make a fair judgment on what it is," he said. "You have to give somebody time to, like, make the album."
For Spring-Summer 2023 Williams brought an assortment of mismatched items ranging from wasted denim cargo shorts to oversized tailored jackets and ruched dresses. The collection was a parade of differing looks, some casual, bordering American casual wear, some more polished and suitable for a legacy Parisian fashion house. The eclectic mix also included a wide range of fabrics, including tweed, fringed textiles, sheer materials, and denim on denim.
aespa's Front Row Debut
Arguably the most important fashion event of the month, Paris Fashion Week (PFW) attracts celebrities from across the globe to experience the latest proposals from the biggest fashion houses. After several seasons of digital front rows and live-streamed shows, PFW has finally recovered its original glory and has welcomed la crème de la crème from around the world. Givenchy's show was not any different. Matthew Williams' show brought out stars like Halsey, Doja Cat, and Olivia Rodrigo.
Nevertheless, the arrival that literally shut down streets was K-pop group aespa. Making their front row debut at PFW, the Givenchy ambassadors were front and center, generating incomparable online and offline buzz. The stars kept things simple, but stylish. With each member channeling their own aesthetics, aespa perfectly captured the stylish edge of the Givenchy woman. Karina, for example, picked a white dress with flounces and combined it with black boots. Winter injected a tad of romanticism in a white ruffled layered dress. Meanwhile, NingNing opted for a slip dress with a ruffled bottom from Givenchy's Fall 2022 collection, and Giselle went for a leather look, accessorized with items like the recently released 4G Pearl ring.
Beyond the Buzz
In this day and era, it seems every major fashion brand is tapping on the power of celebrities and particularly, Asian stars. With unmatched social media power and loyal fandoms, the hype is understandable. However, beyond the buzz, these celebrities have proven to be making waves in fashion for more than just the numbers.
For many, K-pop stars represent the voice of a new generation and that is particularly true for aespa. Leaders of the so-called '4th generation of K-pop,' Karina, Winter, Giselle, and NingNing have already reclaimed a place among K-pop's fashion royalty. Shortly after their debut, aespa was appointed Givenchy's global ambassador and became the first K-pop group to be handpicked, as a whole, to represent a luxury brand. Recently, the foursome also snatched a deal with the luxury jeweler Chopard, which is a testament to their commercial prowess. Sought-after stars in the fashion and music industries, aespa continues to accumulate accolades and record-breaking moments with every move. And of course, their PFW debut was no exception.
Eager for more fashion coverage? Read everything about NMIXX's appointment as global ambassador of the Spanish brand LOEWE.