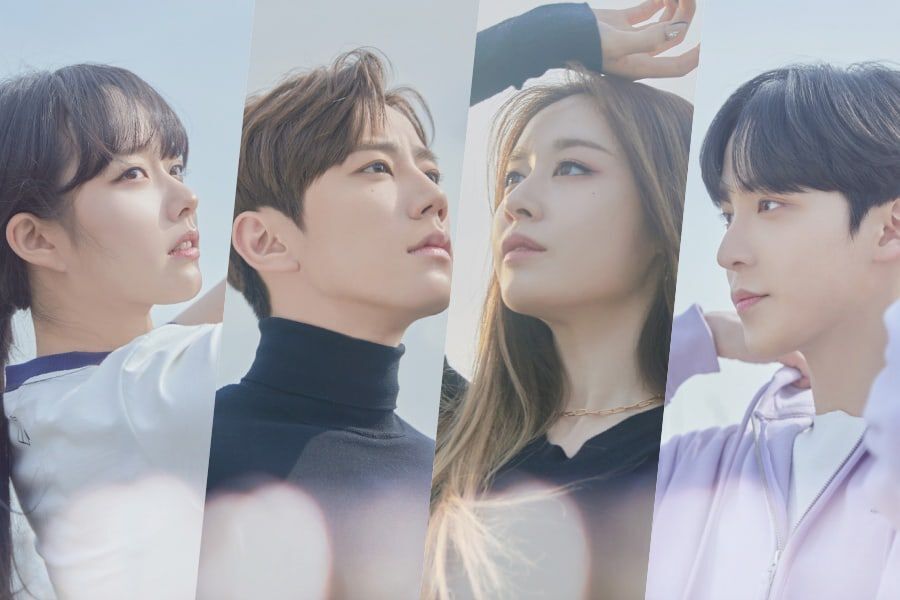 Trigger warning: this article discusses sexual assault, abuse, and suicide.
Spoiler warning: this article contains spoilers for KBS2's Imitation. 
Earlier this year, KBS2 aired the final episode of Imitation, a fictional but realistic glimpse into the lived experiences of people involved in the Korean entertainment industry. The drama chronicles sacrifice, struggle, and success from the perspectives of four individuals at very different stages in their entertainment careers. Imitation juxtaposes the struggles of being at the top against the difficulties of surviving and succeeding in an oversaturated, highly competitive market. In the process, it explores several sobering realities of life in the K-pop industry.
What's in a Name?
Imitation certainly lives up to its name, and the motif of "imitation" is surprisingly well executed both on and off the screen. Production took an unprecedentedly immersive turn for fans of the drama, with social media accounts established for each of the drama's fictional k-pop groups. They also had in-character interviews and performances on KBS' Music Bank. By engaging fans of the various cast members through real-life promotion methods, the drama manages to successfully mimic the cultivation of the relationship between celebrities and those who support them.  Fans gladly slipped into characters of their own while supporting their idols' on-screen personas. 
Imitation
Imitation stars actress Jung Jiso (Parasite), idol-actor Lee Junyoung (U-KISS, formerly UNB), Jeong Yunho (ATEEZ), and Park Jiyeon (T-ARA). The casting for this drama is one of its strengths, featuring a diverse combination of seasoned veterans, former idols, and newcomers. The star-studded lineup ranges from first-generation stalwarts like Danny Ahn (g.o.d.) and Shim Eunjin (Baby V.O.X.) to up-and-coming soloist Kim Minseo. Imitation also serves up a dose of active boy group appearances, featuring San, Seonghwa, and Jongho of ATEEZ and SF9's Hwiyoung and Chani.
Imitation is the second collaboration for Director Han Hyunhee and screenwriters Choi Sunyoung and Kim Minjung. Their first collaboration was 2019's Rookie Historian Goo Hae-Ryung, starring Shin Sekyung and ASTRO's Cha Eunwoo. It is an adaptation of the 2014 webtoon of the same name by Park Kyungran.
The drama follows the journeys of Lee Maha of rookie girl group Tea Party, Kwon Ryeok, center of top boy group SHAX, boy group SPARKLING's center Lee Yujin, and established K-pop soloist La Rima. Among other issues, Imitation touches on slave contracts, dating scandals, sponsorship, "big company privilege," mental health issues, and sasaeng culture, among others. It's refreshingly realistic in its commentary on the cutthroat, exploitative and demanding nature of the industry. Here are four moments where Imitation lived up to its name.
1. The Jacket Scandal
In Imitation, SHAX's success is a consequence of hardwork and the financial backing of a "big" company.  The members pay for it with their freedom and their privacy. The drama gives viewers insight into sasaeng culture through the actions of SHAX's official fanclub FINS. They stalk, scream, protest, and threaten to boycott the group the second any of the members step "out of line," and are particularly malicious in even the slightest suggestion of their idols dating. The boys, particularly Ryeok, are reduced to objects of entertainment meant exclusively for the use and enjoyment of those who "own" them, not just by their fans, but also by CEO Park. 
Early on, Ryeok finds himself at the mercy of his fans when he lends a fan-gifted jacket to Tea Party's Maha. It sparks a truck protest and fans demand an apology and clarification of their relationship. His handwritten apology is pretty standard, as idol apologies go – it's sweet, almost sickeningly so, and clearly meant to placate people who have long forgotten what boundaries are. Even so, there's a scene that solidifies the fact that obsessive fans know exactly how ridiculous their behavior can be. In a conversation about idols dating, one fan questions another about the hypocrisy of supporting them while condemning Ryeok, to which the ringleader responds "Kwon Ryeok of SHAX is an exception." He's described as a "national treasure" that needs to be "protected" and "watched" – he's too precious to have any kind of private life. It's a pretty ironic thought coming from people who claim to love him and support his choices.
Their obsessive mentality and invasive tactics are nothing new to anyone who has been in K-pop fandom spaces long enough. Sasaeng culture, while widely frowned upon, still thrives. It is propped up by the increasingly toxic nature of parasocial relationships between fans and the idols they claim to support, especially on social media sites like Twitter. Safety, free-will, and privacy are the tradeoffs many K-pop idols have chosen to make. Although, several stars have stepped forward over the years to call out toxic fan culture for what it is – unhealthy, insulting and ultimately dehumanizing.
2. Jaewoo's Apology
Jaewoo (Ahn Junghoon), SHAX's leader, is a well-meaning character who is hyper aware of the industry he's involved in. Unfortunately, he ends up hurting those he's tried to protect in the process. He is confronted with a crisis of conscience when faced with the news of Ryeok and Maha's relationship.
Leaders in K-pop groups are often not given much grace by fans, the public, or the companies they answer to. They're held responsible for the actions of their members  and the success of the group as a whole. For larger groups like Seventeen and NCT, the pressure is more palpable. Lee Taeyong, leader of NCT, has expressed that being in charge of so many people came with greater responsibility: "[T]here was also the pressure of feeling like I needed to show a different side of myself for each of the four NCT teams, and I had a lot of concerns." APINK's leader Chorong opened up about her struggles with being thrusted into leadership in an interview with MAMAMOO's leader Solar: "I debuted when I was 21. I didn't know it then, but looking back now, I was really young… At first, there was only pressure. I was like, 'How do I do this?' For groups such as BTS, one can only imagine the kind of pressure RM faces as leader of the world's biggest boy band. 
K-pop leaders act as spokespersons, mediators, and representatives. There's little room for them to make mistakes, relax, or simply be young adults like the rest of a group's members. Jaewoo is no exception, having to bear the pressure of being a part of one of the country's top boy groups and leading it at the same time while the group's most popular member secretly shoulders the burdens on his own. His actions, though seemingly cruel, come from a place of understanding the sacrifice the members have made to get where they are, and a fear of the past repeating itself. His intentions are pure and earnest, and he's not afraid to play bad cop if it means he can keep SHAX together until the end.
Jaewoo is humble enough to understand that even the best of intentions can be corrupted, the end doesn't always justify the means, and hurting those he's grown with and cares for will never be worth what a company can provide. Seventeen's S.COUPS has expressed similar sentiments in the past when asked how he navigates disagreements between the group and their company, stating "I will prioritize the members rather than the company. I will be extremely cold because the members are more important to me." 
It is this mentality that motivates Jaewoo's heartfelt, on-his-knees apology to his members in Imitation's final episode, confessing that he was the one who revealed Eunjo and Annie's relationship and regularly reported on the rest of his members to CEO Park. It's a tense, emotional moment where the strength of SHAX's brotherhood is showcased. Ultimately, it is Jaewoo's humility and commitment to righting his wrongs that earns him his groupmates' respect and forgiveness. 
3. Annie's death
Annie and Eunjo's subplot is one of the heavier aspects of Imitation's commentary on issues in the K-pop industry. While the drama kicks off with questions regarding Annie's death by suicide and Eunjo's subsequent disappearance, the truth isn't revealed until the final two episodes. In episode eleven, Annie's final message to Eunjo is filled with grief as she breaks under the combined pressure of blackmail, exploitation and the guilt of leaving those she cares about behind. It's an incredibly sobering moment for the viewers when the flashbacks accompanying the phone call reveal how the then CEO of Omega Entertainment attempted to force Annie into offering sexual favors to higher-ups in exchange for sponsorship for her group's debut. In real life, sponsorship is a practice which has often equated to prostitution, which remains illegal in South Korea. Even in death, Annie is disgraced, her death used to cover up the circumstances surrounding Eunjo's disappearance. Her story is heartbreaking and sadly, not at all far-fetched. Similar incidents are scattered across the K-entertainment industry, where the pressures and hidden evils of idol life have taken many lives too soon. 
Annie's demise in particular is painfully reminiscent of that of Boys Over Flowers star Jang Jayeon, who died by suicide in 2009 less than a week after penning a letter chronicling a heinous account of sexual and physical abuse and exploitation at the hands of over thirty industry executives, politicians and business moguls. Despite President Moon Jae-in's call for an official reinvestigation into Jang's death in March 2019, to date, only one arrest has been made, and justice remains outstanding. 
It is no secret that females in the entertainment industry, both in Korea and abroad, are often subject to the same manifestations of gender-based discrimination and violence as women in wider society, with often less protections and greater repercussions. Eunjo's resignation regarding pursuing justice for Annie is a clear reflection of this. Ultimately, there is very little, if any, discourse surrounding justice for Annie–another "imitation" that opens doors for difficult but important conversations surrounding slave contracts, exploitation and sexual violence in the K-entertainment industry.
4. SHAX's Final Performance of MALO at the MML Awards
In an unprecedented move, the members unanimously agree not to renew their contracts with N.O.G. Entertainment. Their choice doesn't come without a price. It's implied the group has to engage legal means to retain rights to their group name and image. The next time we see the SHAX boys, it's in a small hall nowhere near the size of venues they had once filled.
From the outside, there's way too much red tape and differing opinions wrapped up in the non-renewal of a contract, especially for a popular group, for SHAX's decision to be realistic, but it's not exactly impossible. GOT7, once the flagship boy group JYP Entertainment, did just that in January 2021. All seven members agreed to balance group projects while further developing their solo careers. The move was not without its uncertainty, as  leader Jay B shared in an interview with NME: "It was just about leaving the company. We didn't announce the disbandment of the group, we didn't know what to do going forward… But the future of the team is a bit like, seven of us have to work together." 
SHAX makes their final appearance before leaving N.O.G. at the MML Awards, where they deliver a charged, purposeful performance of their hit song MALO. The lyrics are a clear reflection of their feelings towards their situation. Ryeok, Jaewoo, Leehyun, Dojin and Hyuk are unapologetic and determined as they give their all, singing "Just think about it once / How poisonous your words are to me / I am fed up, just get away" and "I am the most important thing / I decide, I choose / Nobody can pressure me." 
While there's no explicit evidence of a connection, one can't help but be reminded of GOT7's powerful, unapologetic performance of OUT, a b-side off their 2017 album Flight Log: Arrival, during KBS' 2020 Gayo Daechukje, which served as their final major stage appearance prior to the group's departure from JYP Entertainment in January 2021. Similarly, SHAX's final stages serve as a pointed message to people and a life they're walking away from without regrets – the end of an era, so to speak. 
Imitation: Final Thoughts
From the very first episode, Imitation established itself as a show that isn't afraid to tackle and explore the "dark side" of the Korean entertainment industry. It's thought-provoking, immersive and inspirational, if nothing else – and it's worth watching to see just how much of a reflection of real life it really is.
Watch Imitation now on Viki. Buy Imitation's official soundtrack here. 
If you or someone you know is struggling with suicidal thoughts, physical abuse, or sexual abuse, please refer to the following resources: 
National Sexual Assault Hotline: www.rainn.org 800-656-HOPE
National Suicide Prevention Hotline: www.suicidepreventionlifeline.org 800-273-8255
National Domestic Violence Hotline: www.thehotline.org 800-787-SAFE
Thumbnail courtesy of KBS2