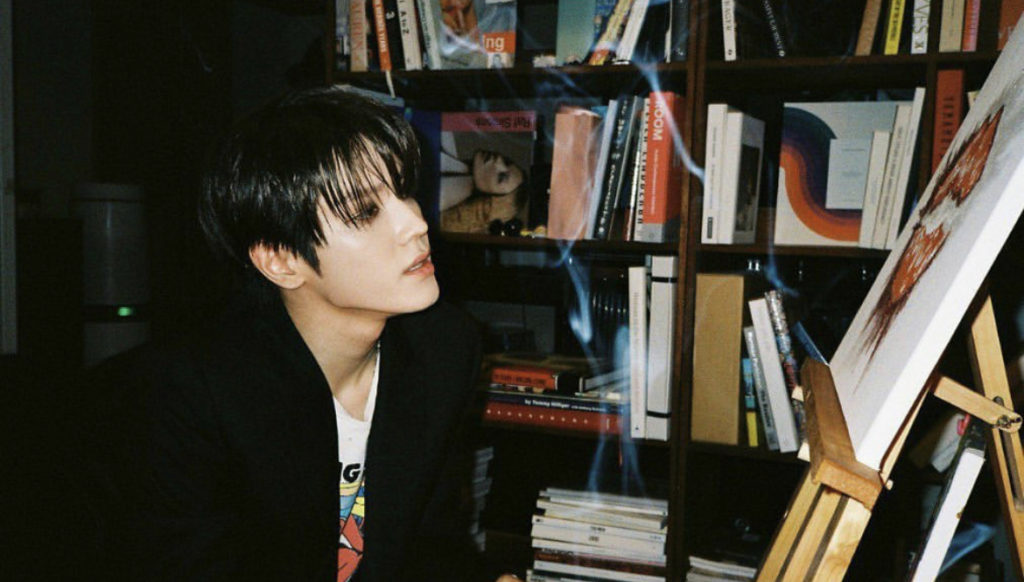 By Ellie Forte | @filthydinosaurs
On May 3 at 12AM KST, NCT's Taeyong released his latest song "Monroe" with Baekhyun of EXO. Produced by SQUAR, the song has a vintage mood. In its first hour, "Monroe" reached over 205K streams on SoundCloud. The song features energetic production, engaging rapping, and smooth vocals from both Baekhyun and Taeyong. "Monroe" delves into the emotions accompanied with love.
Inspired by Marilyn Monroe
On April 30, Taeyong first released the teasers for "Monroe" on his Instagram story. Taeyong is no stranger to using cultural moments and symbols to tease his upcoming work, create concepts for his music. Marilyn Monroe was a cultural icon known for her beauty and femininity. In the song, Taeyong sings, "I love your blonde hair, I love your lovely eyes," alluding to her physical features.
Taking it a step further, he included a snippet from a news broadcast discussing Marilyn Monroe. The song starts, "After a year's absence, Marilyn Monroe flew back to Los Angeles from New York and answered reporters' questions".
In addition, EXO's Baekhyun starts off the song by singing "I'm still smoking cigarettes." Marilyn Monroe was famously known for smoking cigarettes both in her films and private life. The line cleverly places Baekhyun as Marilyn while Taeyong is the reporter responding. By using Marilyn Monroe as the muse for the song, he is able to paint pictures in the minds of listeners. 
 "Monroe" was first teased for 10 seconds in September 2019 during a VLIVE named "Long time no see?LEE TAEYONG."
taeyong spoiled a song called "monroe" back in 2019 so is his instagram update a hint for his next release? ? pic.twitter.com/dX9AsX50xQ

— taeyong pics ? | taeoxo_nct on ig (@taeyongpictures) April 30, 2021
Surprise Collaboration with Baekhyun
Back in March, it was announced that Taeyong and fellow SuperM member, Baekhyun, would collaborate on a future SoundCloud release.
TAEYONG set to release a collaboration song with EXO's BAEKHYUN on his SoundCloud https://t.co/rlauGsE3J6

TAEYONG's SoundCloud: https://t.co/UIZX0ScoIF#TAEYONG #NCT127 @NCTsmtown_127

— Fan Support for NCT 127 (@support_127) March 19, 2021
Taeyong did not mention Baekhyun would be on this song, and listeners were happily surprised to find that this was the highly-anticipated Baekhyun collaboration.
NO WAY THIS IS THE BAEKYONG SONG???*??!(

— ? (@tokkiknight) May 2, 2021
IM GONNA D!EEEEEEEEE
TY X BAEKHYUN AHHHHHHH #TAEYONG_Monroe#먼로_들어주태용

— hannahbanana? (@ty0ng95) May 2, 2021
Baekhyun on several occasions has said that he wanted to collaborate with Taeyong. The two were also a hot topic last june as Taeyong participated in the #CandyChallenge with Mark. Since then, fans of both Taeyong and Baekhyun have been excited for these two artist's futures.
TAEYONG X BAEKHYUN MONROE OUT NOW#TAEYONG_Monroe#먼로_들어주태용 pic.twitter.com/qtEX40YeWl

— TY X BAEKHYUN MONROE OUT ON SOUNDCLOUD (@tyhjwy) May 2, 2021
all of taeyong's released songs in soundcloud deserves to be in an official solo album with a high production mv and amazing promotions

— lilay ? (@DUALITY0NG) May 2, 2021
blue, gta 1&2 , monroe lyrics by TY composed by TY and he even took part in artwork as well the all rounder lee taeyong pic.twitter.com/YzOeOyvS1H

— riya ? (@gtaprints) May 2, 2021
give taeyong a pen and put him on the studio and he will DELIVER

— yen (@shotoyongs) May 2, 2021
Because Baekhyun is set to enlist soon, this was an especially exciting release for his fans, BBHLs. Baekhyun also recently released his critically acclaimed mini-album, Bambi. 
For the Future
Taeyong's music is a testament to his talent as an artist. With years ahead of him, he shows a bright future for a possible solo record.
Want to listen to more? Make sure to keep up with Taeyong on his Instagram. 
Now that it's officially released, read more about how Taeyong surprised fans with his symbolic teasers for "Monroe!"
Thumbnail Courtesy of SM Entertainment