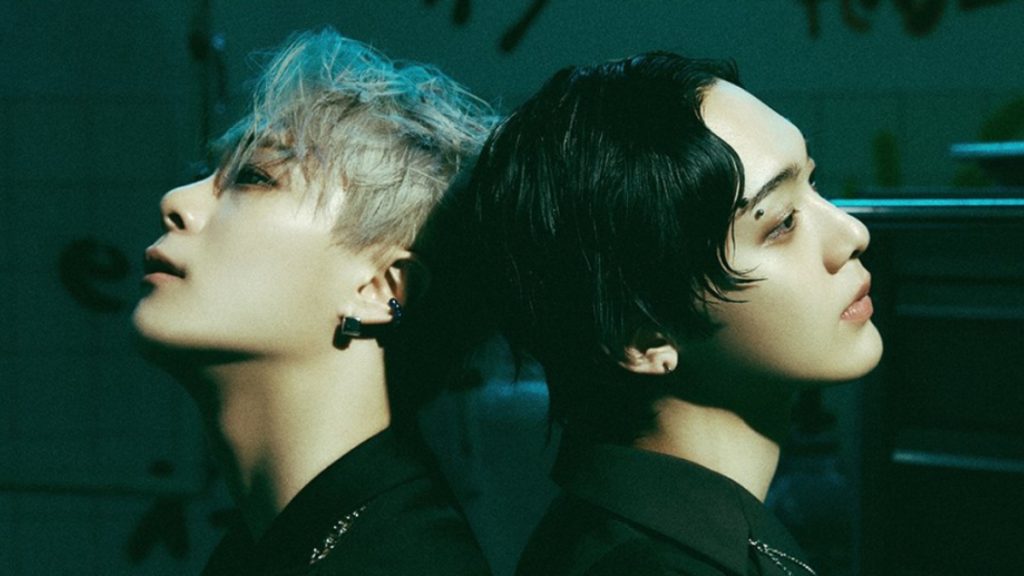 On January 4, ASTRO sub-unit MOONBIN&SANHA kicked off the new year with the release of their third EP, INCENSE, and its title track "Madness." Announced last December 1, 2022, the comeback followed a month-long rollout of teasers with concept photos, song medleys, and lyric previews via interactive crossword puzzles. 
The sub-unit explored many challenges, from new sounds to more songwriting and composition opportunities. Each song was also complemented by highlight medleys and short concept videos. The latest release also found global success, with the EP topping music charts in 18 regions and the single "Madness" in eight regions.
Scientists MOONBIN&SANHA
The concept for INCENSE sees MOONBIN&SANHA sport a scientist's aesthetic in clean-cut monochrome outfits with the setting propped up with lab equipment. The album also features two versions of the concept, IMPURE and PURE, which respectively show the duo in light, modest settings and dark, intense images. A digipack version of the album is also available. 
A Musical Roller Coaster Ride
MOONBIN&SANHA start off the album by asking to be the listeners' "Perfumer" in the first track. The song takes on R&B sounds with a sultry sound and lyrics to match. The song also marks the unit's first full English track. During the comeback showcase, Moonbin revealed that he took inspiration from the movie Perfume (2006). He also added a special ritual to infuse various perfumes before the performance. 
In the title track "Madness," the unit explores fast-paced EDM sounds, big band music, and heavy bass that highlight the song's intense concept. Assuming the roles of a scientist, the duo sings about creating a romance-inducing "incense" that spreads into someone to fall for them: "No one can stop / Incense that spreads without a sound / It will spread more to you / It's my madness."
The youngest, Sanha, inserts an unusual yet distinctive rap verse, deviating from his usual main vocalist position. A first-timer to rapping on an official track, he mentioned being anxious about the first listen but still deemed it a good experience. All-rounder Moonbin is also credited as one of the lyricists in the song.
Following "Madness," the duo showcases their individual musical colors through their solo tracks. The tracks also add more songwriting and composition credits to their names. While MOONBIN&SANHA are no strangers to songwriting and composition, Sanha recalled that the process for INCENSE was still a "big change."
Moonbin continues the album's R&B sound and intense lyrics with "Desire," singing about being captivated by someone with no desire to stop: "Somehow, I get more attracted to you / You coldly push me away / But I don't want to stop."
Sanha also shines in his own solo track with the gentle and emotional song, "Wish." The vocalist soulfully sings about promising to reciprocate one's love by offering a shoulder to lean on: "You, who was always in the same place as me / I promise you, who protected me / Now, you can lean on me and rest comfortably / I'll hold you, who is precious to me, tightly in my embrace."
MOONBIN&SANHA continue to take listeners on a musical roller coaster ride with playful B-sides. "Chup Chup" captivates a friends-to-lovers trope. The chorus creates a catchy recall, repeatedly mimicking the sound of a kiss.
Ending the album on a high note, the duo tells the listeners that it's "Your Day." They elevate the mood with an invitation to enjoy the day with singing and dancing. On the album showcase, Sanha recommended the disco dance track as a perfect fit for birthday celebrations.
What's Next for "Madness" Promotions
MOONBIN&SANHA are set to continue promotions as a sub-unit for "Madness." They are scheduled to appear on various shows such as SUNMI's Showterview, Youngjin's Health Center, and KBS' The Return of Superman. The comeback will give fans opportunities to meet the duo through online video calls and face-to-face fansign events, and it will also introduce new merchandise through pop-up stores.
INCENSE is available on global and international music platforms. Follow ASTRO's official Twitter and Instagram accounts and MOONBIN&SANHA's Spotify account for more music and updates.
Want more MOONBIN&SANHA? Check out our coverage of the unit's previous EP, REFUGE.