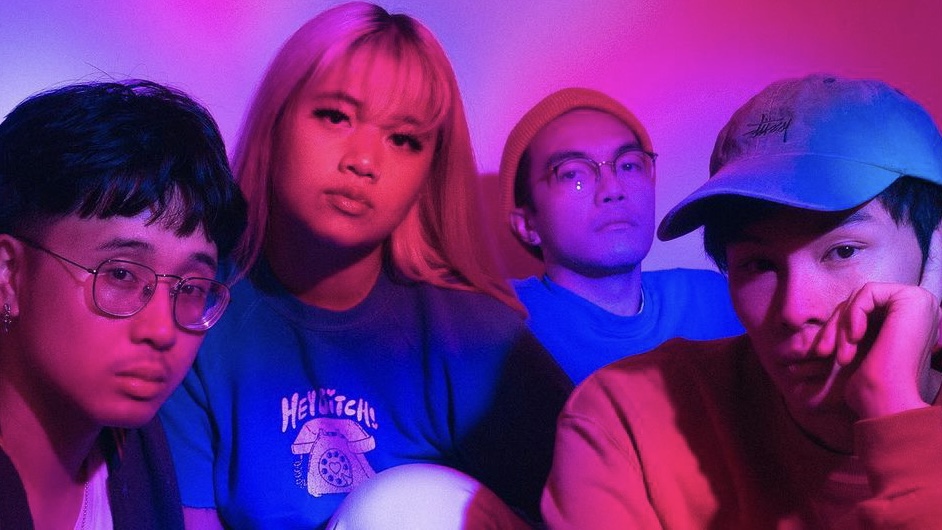 With inviting personalities and overflowing creativity, DACEY (DAH-SEE), a Vancouver-based alt R&B/indie band, is cementing their spot as a genre of their own with their multi-diverse sounds. The band consists of lead singer and namesake Dacey Andrada, bass guitarist and producer Joshua Akow, lead guitarist Nathan Chan, and producer, guitarist, and keyboardist Justin Tecson (JT). Dacey and Joshua sat down for an interview with EnVi via Zoom to discuss their latest single, future endeavors, and songwriting process.
View this post on Instagram
DIVERSE ORIGINS
The quartet met at Vancouver's Nimbus School of Recording and Media back in 2018, and has since released a few projects together, including their newest single, "LUV U A LIL BIT." With backgrounds that include Motown, Metal, EDM, and Alt-Pop, each member's diverse musical upbringings have shaped the band and inspired them in their career thus far.
Andrada shared that as a child, she grew up listening to her dad's music collection, ranging from cassette tapes and burnt CDs to vinyl. With an array of genres, artists such as James Brown and the Beatles, are a major influence on the musician's sound. "Vocally, my biggest inspiration is Amy Winehouse. Performance-wise, I take inspiration from Selena," Andrada shared.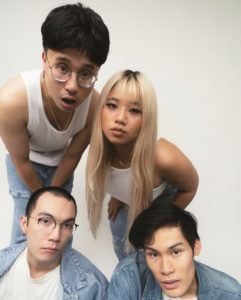 Adding on, Akow remarked on his own journey as a musician, "One of my buddies in sixth grade bought CDs of deadmau5, and it was electronic music production which got me into clicking around and composing music." A jack of all trades, Akow's start as an artist began as a dancer focusing on hip-hop and R&B music, then it took a shift towards a more musical approach, and now is focusing on music production and songwriting.
While the lead guitarist, Nathan, is inspired by Japanese hardcore bands, JT—who mainly dabbles in music production—is more hip-hop and R&B based, and inspired by artist's like Kanye West. 
NEW BEGINNINGS 
Through tracks like "Broccoli's Keeper," "Groove Witchu," and "Sidewalks," DACEY has gradually started to make waves in the industry. The band has featured in various playlists, such as "Indie Pop", and even graced the cover of Spotify's "Fresh Finds Indie Playlist."
"LUV U A LIL BIT" is their newest release, with a smooth beat and Andrada's sultry vocals to match, the song is an instant favorite. "It's not my deepest lyrically," Andrada said when asked about the inspiration behind the track. "[It's] very surface-level but reminiscing about the past, how toxic it was, and how the good outweighs the bad, no matter what." The track's music video depicts the band's performance while Andrada constantly finds herself distracted and reminiscing about her toxic ex-boyfriend.
Lyrics from "LUV U A LIL BIT" detail what Andrada expressed when referring to the past,  "I miss yo stupid kiss / tell me you reminisce." While all the steps that go into making a song can be very tedious, Andrada describes the process being a group effort. "We all write differently, and sometimes we'll write together as a band when we have the chance to get together," Andrada said. 
UNFORGETTABLE SOUND 
DACEY's unique sound continues to break genre barriers. They're often put into the alt R&B and indie category when it comes to their music, but that doesn't really do their sound justice. When asked to pick the one DACEY song that could describe the group as a whole, "I'll Be There" was chosen. "Out of what we've released so far, it's the track that has the most out of the member's fingerprints on it," Akow explained. 
"I'll Be There," is a smooth track with a catchy riff that makes one feel like they're transported back in time. Another memorable track is "Broccoli's Keeper," which is a silky tribute to reefer and talks about how one sometimes needs to be stingy with their reefer because people try to mooch off of you. Their diverse sound has drawn fans to the band, and Josh explained the feeling attributed to that. "Being able to share your music with people that appreciate it is one of the most fulfilling things, being able to share that energy in a live performance–there's nothing like it." 
FUN CONVERSATIONS
The members themselves are as diverse as their music, whether they're talking about their love for avocados or the controversial discourse around mint chocolate-chip flavored ice cream. They might have different tastes, but one thing they can agree on is pistachio being the superior green ice cream flavor. "But one flavor that is great is pistachio," Andrada said. "Pistachio is definitely the superior green ice cream flavor," agreed Akow. 
The controversial food questions didn't end there. When asked about their thoughts on coconut and pineapple on pizza, the duo had some interesting, but contrasting answers. Whereas Andrada is indifferent to pineapple on pizza, Akow admits though it's not his first pick, he would enjoy it. As for how they feel about coconut, Akow enjoys coconut in his desserts, but Andrada proclaims "coconut water is the best," while not really vibing with the coconut "shavings" that bakers put on cake.
FUTURE ENDEAVORS 
With a soulful voice, catchy beats, and smooth songwriting, it's not hard to see the talent DACEY possesses together. The group's chemistry shines through on their tracks, and their personalities shine even brighter in live performances. 
When asked about future collaborations, Andrada quickly supplied a few artists. "I would love to collaborate with Tyler, The Creator, and Anderson .Paak. I think it would be possible with us to, like, mesh sonically." Akow also added that he would love to collaborate with Kali Uchis. "That would be dope," Akow said. 
It's always a joy to discover extraordinary music, but it's an even bigger joy to discover extraordinary music made by great people. Keep an eye out for DACEY, their appealing tracks are sure to stay in your head and be on your playlists. 
Keep up with DACEY on Twitter,  Instagram, and Spotify!
Check out our previous Artist Spotlight on Elephante here!
Thumbnail courtesy of DACEY.