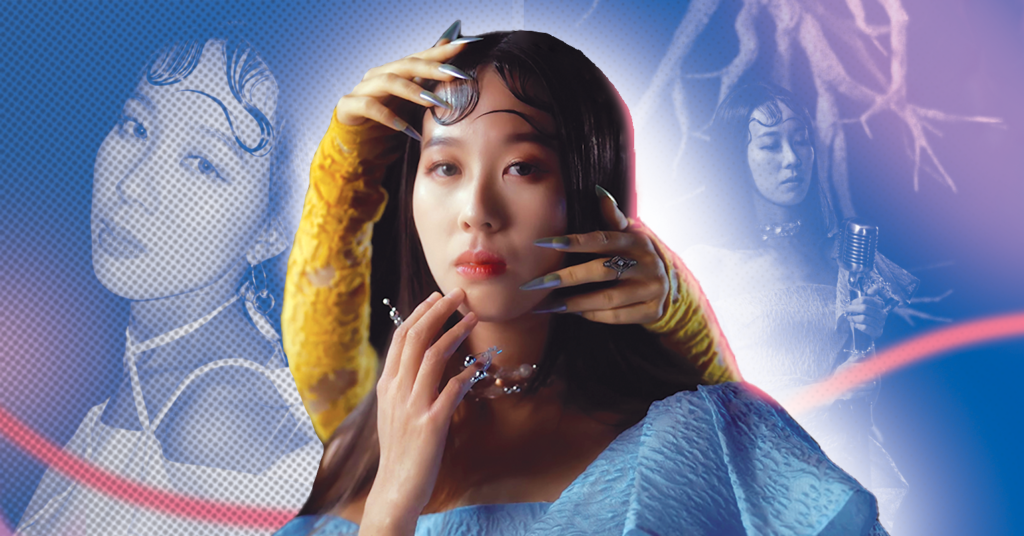 Songstress, songwriter, and producer XTIE recently released her new single "Skin," hoping to share her story of overcoming body image issues. Born and raised in Hong Kong, XTIE is a multi-talented creative that has also produced songs for both K-pop and Cantopop. Riding the wave of the growing demand for dance pop, XTIE has produced the main theme song for the local girl-group survival show King Maker IV (2021) alongside local song producers.
Celebrating her new release, XTIE hopped on an interview with EnVi dialing in from Hong Kong. With radiant energy and never-ending stories to share, join the conversation to know more about XTIE's journey of self-discovery!
Who is XTIE?
To start off, the name XTIE was inspired by her childhood experiences and hopes for the future. "Back in primary school, we were all tasked to come up with an English name. I've heard the name Christy before, and decided that it was a nice name," XTIE shared with a nostalgic gaze, jogging her memory as she warmed up to the conversation on a bright morning in Hong Kong.
The playfulness of the talk continued, with her cat sneakily making her way across the room, often popping into our Zoom conversation. "But my teacher at that time spelt it in a rather uncommon way, and that stuck with me ever since." She shared. "The name Christy was spelt like Christie, instead of with the original letter Y." Deciding to stay true to herself, she decided to name herself XTIE, with X standing in for the endless possibilities and collaborations with other artists.
Growing up, she had always wanted to pursue music. At the end of primary school, students would get commemorative books to keep in touch with classmates. They would ask classmates to fill in their contact info, write a message, and anything that they'd like to share before they separate for middle school. XTIE filled in "work in the music industry" every time she was asked to sign one, despite not knowing what exactly she wanted to pursue in the industry.
Like many other Asian families, she was advised to pursue a path with more stability. Hence, she decided to do a degree in Social Studies and studied abroad for her final year, where she dedicated fully to pursuing music. "I knocked on the doors of studios, asking if I could sit in and participate in the classes… I was very brave to do so," XTIE recalled, smiling at her university exchange days in Glasgow.
Cosmic Pop
"If I had to describe my music, I would call it cosmic pop," XTIE said with a soft chuckle, smiling as she proceeded to explain the term. "I like to think of my music as something not bounded by just one genre; I like making dance pop, Cantopop… and sometimes, I also like to make slow ballads like my new release, 'Skin.'" Talking about her process, XTIE continued to explain what she means by cosmic pop. "I have a few 'inspirational callings' where I feel that the universe fuels my energy to write about stories I want to write about. I really like to sample organic sounds in my work because I'm really able to connect with my songs through that and it allows me to connect with nature as well." She added that her 'cosmic pop' genre does not limit herself in music creation in any way. Instead, it gives her flexibility to create whatever she feels like!
Although she creates works for the local market in Hong Kong in Cantonese, she likes to express her artistic side through English as it feels more comfortable for her creative process. Despite being born and raised in Hong Kong, she feels that she best expresses herself in English. "I'm inspired by a lot of western pop artists that have influenced the way that I imagine soundscapes. In this way, I'm also creating new music for the Cantopop market and bringing a unique perspective into the conversation, hoping to inspire others in Hong Kong," XTIE elaborated as she continued to reflect on the post-pandemic impact on the local music industry. With the lack of music tours, people started to look towards rising Hong Kong artists, like Alfred Hui and Janice Vidal, for connection and inspiration.
On Producing
A year ago, XTIE also joined the ongoing K-pop producing industry, meeting other producers around the world through the digital space via Zoom. Inspired by the different perspectives of other producers, XTIE wanted to incorporate different vibes in her composition when it came to producing for the Kingmaker IV (2021). "There are 99 girls on the show, so it felt like Produce 101's concept. The theme song had to be big, and I wanted to incorporate different concepts that girl groups have; girl crush, fresh, cute, and cool at the same time. Therefore, I separated the song into different sections to reflect that, drawing from hip hop, K-pop, and even adding elements of future bass." She added, her voice rising in excitement as she shared the experience with a bright smile: "I really love what I do."
With three previous seasons of Kingmaker being boy-based, the fourth season shocked the Hong Kong public with its first girl group project show. "I felt so special that I was able to be a female producer producing for the girl group show," XTIE beamed. "I screamed in my house when I got the job!" she added, recalling her fond memories of producing for the VIUTV segment.
Let's Talk about "Skin"
"'Skin' is my most important song so far," said XTIE. "'Skin' was one of the very first songs that I've written as a songwriter and singer because it's very important to me."
As an artist that grew up with eczema, XTIE struggled with body image issues, especially with attending an all-girls school. Through music writing, she is able to conquer her fears and face them head-on. "There was a time where I felt that I should just stick with songwriting and producing because I felt like no one wanted to hear me sing. When people consume music, they also consume your singing and your appearance," she shared with a radiant smile. The deciding factor of what brought her to the spotlight was what kickstarted her passion in the first place: her love for musical theater. "When I belt a note on stage, I can feel my stress, worries and frustrations being all let out, it heals me."
Being a pop singer now is no easy task, especially in our digital world today. XTIE remembered her first time on set two years ago, conquering her first fear of being on camera. "Being on camera requires a new set of skills. I can't watch 'Flower Town' on my own because I feel so awkward in it! But after shooting 'Flower Town,' I feel that I was able to open up a bit more and become better with appearing more authentically on 'Virgo.' During the set for 'Virgo,' I allowed myself to play with the camera and try out different things because I became more comfortable with it." XTIE shared, still constantly learning new things every time she goes on set. Most recently, she conquered her fear of dancing through "Spaceship." She challenged herself and viewers through creating a mini-dance challenge for the song.
XTIE was told she was too twiggy and unsuited for dancing. Burdened with body image fears, it took inner work and courage to conquer it publicly. With the encouragement of her friend and choreographer, Emily Lu, she found a safe space to do so. "No matter what body issue you may have, skin issues, body image issues, I hope that through my song you are able to find your power to tell yourself that you're beautiful," XTIE said. She rooted for her fans' own success in their own journeys of embracing yourself. "I have the ability to write songs to speak for myself, and I hope that my song could also help others find their confidence and connect with them."
Hop On XTIE's Spaceship
Hinting at her future works, XTIE told us that she draws inspiration from everywhere. From having random conversations with others in her day-to-day life, she's inspired to live life fuller and encourage others to feel the same. In her upcoming song, XTIE explores what it means to be confident. "I listen to a lot of women artists like Julia Michaels and Taylor Swift. Listening to Julia Michaels with my AirPods on while I'm walking, I feel like I'm a model. This feeling is so powerful and it's not just achieved through the lyrics but also with the music production. That's something that I want to achieve; I want to embrace my flaws, appreciate myself, and also encourage others!"
With that, XTIE concluded the interview with a message to EnVi readers: "Thank you for listening to my music especially since I've just started out not too long ago. I'm very grateful for the opportunity that I was able to have to speak with EnVi today and share my stories. I hope that my songs can empower you all and encourage you to pursue your dreams no matter what they are!"
Check out XTIE's music on Spotify and Apple Music. Be sure to follow her on Instagram and YouTube to keep up with her latest updates!

In the mood for discovering rising artists? Read our previous artist spotlight on Caroline Romano here.