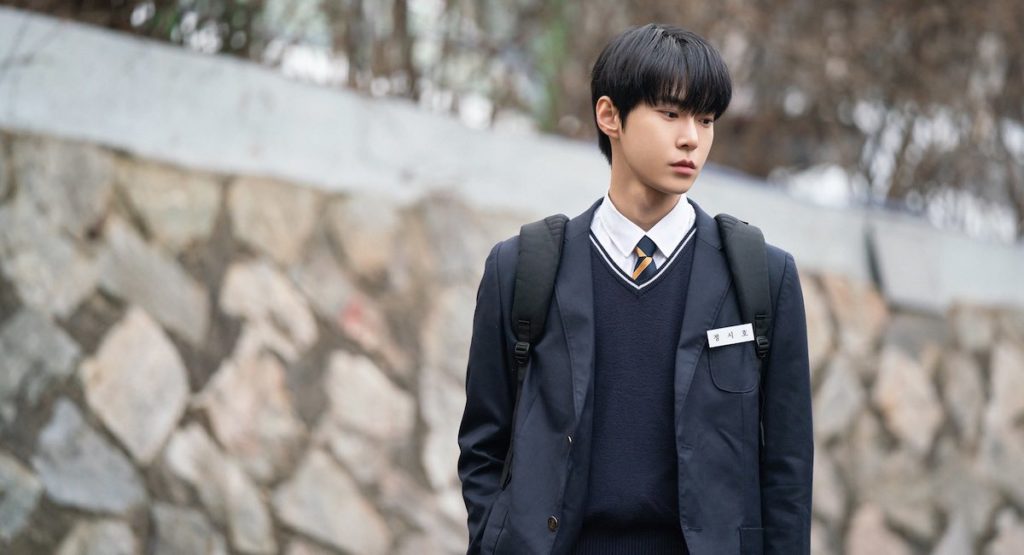 True to his nickname as the "OST King," NCT's Doyoung released "Unable To Love" for the OST of the drama Dear X Who Doesn't Love Me on July 22. The emotional pop ballad offers comfort to listeners who may be experiencing unrequited love. This is also the situation that the male lead in the drama, Siho–who is portrayed by Doyoung–faces.
Dear X Who Doesn't Love Me
Dear X Who Doesn't Love Me began airing on July 14 on the streaming service TVING. The fantasy romance show is centered around the character Heesoo (played by Han Jihyo,) who longs to be in love. After coming across a magical notebook, her wish is granted as she is able to make men fall in love with her if she writes down their names. Doyoung plays Heesoo's best friend, Jung Siho, who is secretly harboring romantic feelings towards her. As the drama is still airing, it is uncertain whether Siho will confess his true feelings or his love will remain one-sided. However, viewers can expect the drama to continue portraying the difficulties faced when searching for love and the pain that comes with keeping feelings hidden.
Doyoung is recognized for his soulful vocals in NCT 127 songs such as "Back 2 U (AM 0:127)" and "No Longer." His emotional delivery extends to his acting in Dear X Who Doesn't Love Me, which has been appreciated by fans on social media.
Although Doyoung has honed his acting skills in the past year, he explained during the "Dear X Blueroom Q&A" that he received help for the role from his brother, Kim Gongmyung. Kim Gongmyung is an actor who has starred in dramas such as Lovers of the Red Sky and The Bride of Habaek.
"Unable To Love"
Love isn't easy; especially if you have an unrequited crush on your best friend. This is a fact that Doyoung's character, Siho, knows all too well. The feeling of unrequited love is reflected in the lyrics: "I look at you with a smile today / While I am hiding my heart." Even without understanding the meaning of the words, the longing in Doyoung's voice alone is powerful enough to convey the emotion of his character. The mellow piano instrumental allows his sorrowful vocals to be the focal point of the song, pulling at the heartstrings of listeners.
A preview of the OST was revealed at the end of episode three of Dear X Who Doesn't Love Me, but the track was officially released on July 22. Afterwards, fans took to Twitter to share how they were moved by Doyoung's voice.
His popularity was also demonstrated as he trended number one on the platform.
Kim Doyoung: The OST King
If you are a fan of K-dramas, there is a high chance that you have heard Doyoung's voice in the background of your favorite shows. Notably, he has sung "Like a Star" for the season one OST of Yumi's Cells and more recently, "A little more" for the Disney+ drama, Soundtrack #1. Doyoung also delivered moving vocals in "Night Air" for the third season of Cafe Midnight, another drama where he played the male lead, and the one that marked his acting debut.
An All-rounder
Expanding from his career as an idol and diving into acting was a success for Doyoung as he won the "Best Actor" award for his role in Cafe Midnight at the 2021 Seoul Webfest. In the same year, he portrayed Count Axel von Fersen in the musical Marie Antoinette, which he revealed gave him the opportunity to "improve on delivering his intention to audiences." This practice explains how he was able to perfectly capture the emotional message with his voice for "Unable To Love."
In 2022, Doyoung also impressed fans with his stunning visuals on the cover of W Korea and entertained viewers as a host of the variety show, Master in the House. Fans can anticipate the all-rounder to continue his busy schedule as he prepares for NCT 127's comeback, which is expected to be revealed later in the year.
Listen to "Unable To Love" on Spotify or Apple Music and make sure to watch the last four episodes of Dear X Who Doesn't Love Me on TVING on July 28.
Want to read more about Doyoung? Check out our article on his OST for Yumi's Cells here.