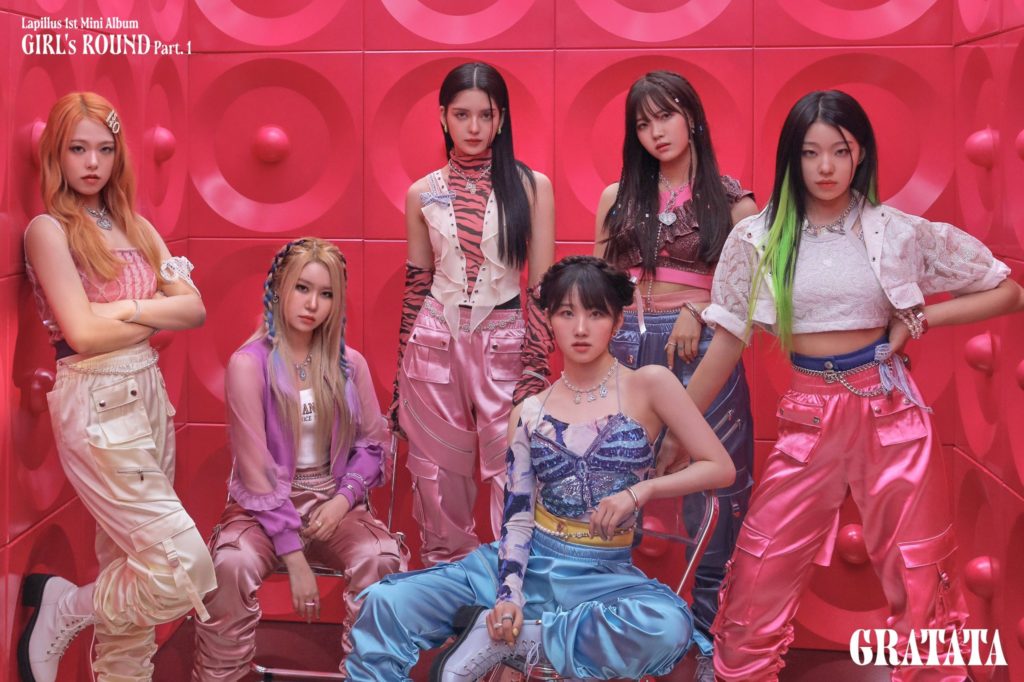 After a striking summer debut with their hot title track "HIT YA!," Lapillus double the energy with two powerful title tracks, "GRATATA" and "Burn With Love." The six-member girl group released their first mini album GIRL's ROUND Pt. 1 on September 22, containing three fresh songs, along with their existing debut single "HIT YA!" and an instrumental version of "GRATATA." Members Shana, Chanty, Yue, Bessie, Seowon and Haeun exhibit strong vocals, powerful rap, and vibrant charisma as they hit the stage with their first group comeback.
Chief composer and producer Bull$EyE of AVEC Music Publishing posted about the album on his Instagram. "I tried to capture the different colors of each of the six girls in different songs," he mentioned in his caption, highlighting the group's concept as a jewel that shines different colors depending on the direction of light. The group wants to send a message to the world to "Shine your Lapillus," as main vocalist and rapper Bessie had revealed in their debut showcase.
Pull The Trigger
The album makes a commanding first impression with "GRATATA," which is full of energetic electronic dance beats and mesmerizing moombahton elements. Beneath this intense instrumental lies a moving message of encouragement. In the lyrics, a bullet represents the girls' dreams aiming towards the "endless sky," inspiring their listeners to also shoot for their wildest dreams.
Burning Like a Flame
Transitioning into "Burn With Love," the group's second title track, begins with a slow guitar melody, building into an upbeat chorus that is just as intense as the emotions of the story. The lyrics express the members' undeniable desperation to be with someone they previously loved. They compare their own heart to a flame, continuously spreading and burning until it reunites with their lover.
Lapillus(라필루스) 'Burn With Love' Performance Video
Welcome to their Queendom
"Queendom," the final new song of the album, turns up the heat by including thunderous drums and hard-hitting dance beats. With bold lyrics such as "Young and pretty way / Not a single thing is missing," and "The line is over there / Everyone is behind me," Lapillus make a commanding statement that the three-month-old group should never be underestimated.
Shine with Lapillus
With two music releases under their belt and an upcoming U.S. appearance at Kamp Los Angeles, the young rookie group has a bright future ahead of them. Want to enter Lapillus' Queendom? Follow them on Twitter, Instagram, TikTok, and YouTube for the latest updates.
Want more girl group content? Check out EnVi's exclusive interview with ILY:1 here!