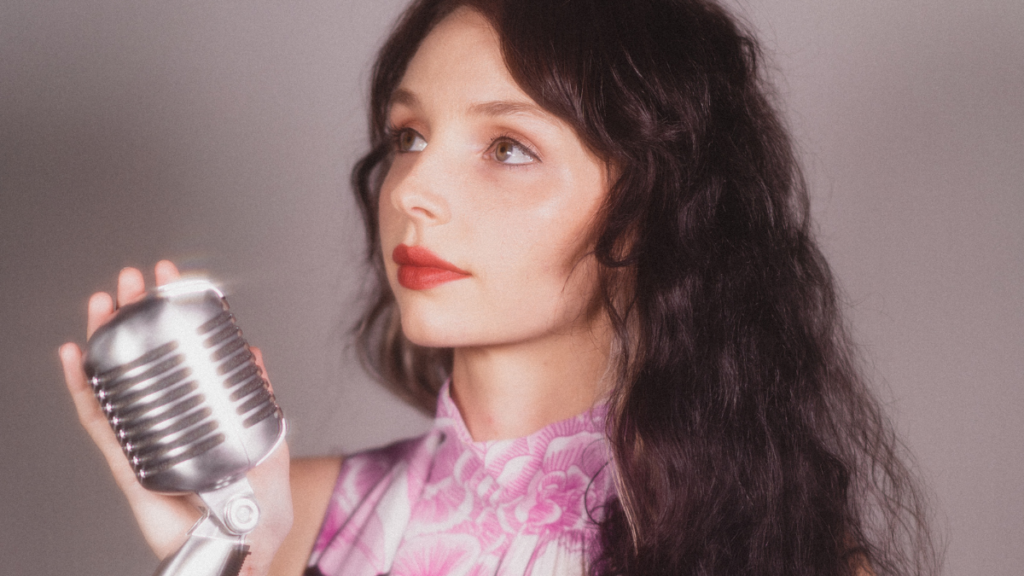 With her ethereal voice and sensitive lyrics, singer-songwriter Gal Musette brings an introspective touch to the indie music scene. After learning how to play the piano and guitar, Gal created her first original composition at just 10 years old. From there she began a journey of growth and self-discovery, leading to the release of Gal's debut album Backwards Lullaby in 2021. With the release of her latest single "Je vois le ciel," the sentimental baroque-pop singer sat down with EnVi over Zoom to talk about her most recent work and growth as an artist.
Gal's artistry has captivated the hearts and ears of fans and artists alike. Alongside performing in shows across Southern California, the singer has opened for acts like Macy Gray, Suzanne Vega, and one of her greatest inspirations, The Magnetic Fields. Today, Gal continues to showcase her emotional voice through her growing discography.
A Lonely Ballad
Her latest single, "Je vois le ciel" ("I see the sky"), is sung entirely in French, which the singer grew up speaking. "Most people are…used to hearing people sing in English, so I can be more dramatic [in] French and dive into some of the more intense feelings." Those feelings manifest in the somber film noir music video. The track tells the story of "a person that…takes long walks by themselves and is struggling to see beauty in the world without someone to share [it with]," according to Gal.
Gal helped bring the vision of music video director Maria Garcia to life for "Je vois le ciel." Garcia "finds another way to say the same words with her visual art" making her a favorite of Gal's to work with. The director brings new depth to Gal's work once again with Gal's newest song. In the video, Gal plays a young woman whose loneliness has made her obsessed with the relationship of an older couple. She follows them closely through beautiful mountain and seascape scenes. The imagery is tied together with gothic aesthetics, creating a perfectly somber visual for the French ballad.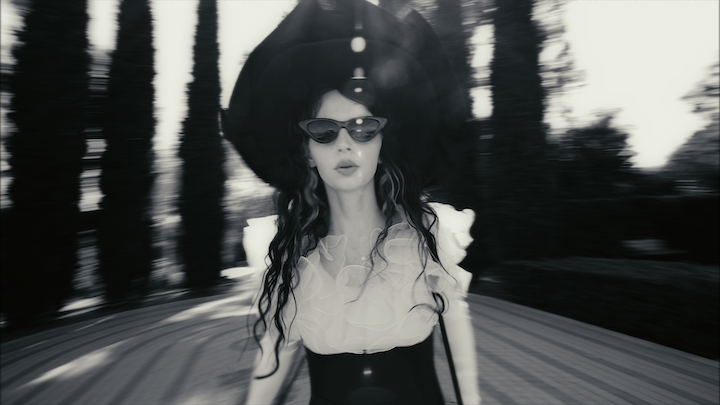 "I feel very connected to the video," Gal told EnVi. "Seeing all these beautiful things in the world, in nature, but not enjoying it because they don't have a partner, someone to share it with. [It's] definitely something I'm currently going through."
It took several minds to bring "Je vois le ciel" to life. It started with Gal in the studio experimenting with her piano, but the single gained more of its signature elements after going through her creative team. "My producer thought up the idea to put a drum beat behind it like just kick, snare, kick, snare, and something about that decision kind of gave it a groove and gave it a new life."
"Music Saves My Life Everyday"
"Je vois le ciel" captures the signature qualities of Gal's voice, like her gentle yet deeply emotional tone. When describing her own sound, the singer said, "It feels all over the place. I guess if I were to quote what other people have said to me, they call it dreamy. I think it's true."
The dreamy feel of the main character of the music video is felt through the chorus and runs as Gal sings of a golden blue sky that has no meaning. The lyrics take on a darker color, which is a recent change for the singer. "There's a bit more darkness, an edge to the songs because…I'm very introspective with my music, and sometimes that can come off as ambiguous. A lot of it has to deal with anxiety and depression, things that we all go through as humans."
The style and color of her work are inspired by a variety of artists, especially Gal's four "pillars:" Regina Spektor, Nina Simone, Joni Mitchell, and Rufus Wainwright. "Fidelity" by Regina Spektor caught the ear of a Gal as a child and inspired her very first song. "I was like, 'How does this exist?' This magical music and the visuals." Gal retold the scene just as passionately, "I went straight downstairs to the piano and wrote a song immediately after."
For the artist, music is more than a career; it's life-saving. "That sounds really dramatic, but it's true," she told EnVi. "I definitely heal through music…certain words can touch your soul..those kinds of moments mean so much to me. So with my music, I would hope that I can touch people in that way too."
On The Horizon
"Je vois le ciel" is part of Gal's upcoming album set to release in 2023. The pre-release single is "in a different world" from the anticipated record. The new album will branch out from the singer's arsenal of love songs and focus on "the swimming of emotions, and depressive and manic phases." Fans have plenty to look forward to, "there's a lot of joyful pieces, and a lot of crazy songs, and a lot of really dark, heavy things as well."
With the next season of her life and album ahead, Gal hopes to grow both as an artist and an individual. "Self-love, self-care is a big goal of mine right now. As a musician, I would love to grow as a pianist and guitar player and be able to support other artists more in their projects…As a songwriter to not be trapped by old patterns."
Stay up to date with Gal Musette, and stay tuned for her new album by following her on Twitter, Instagram, and Facebook and subscribing to her YouTube channel.
Want to find more rising musicians? Read our artist spotlight on XTIE here.