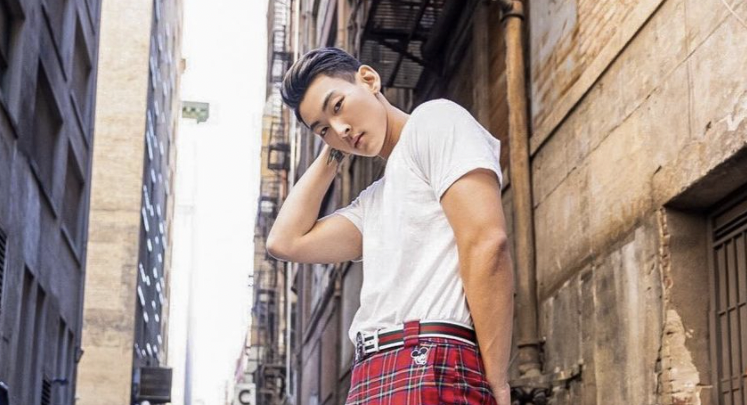 With shiny eyes and a smile so bright, up-and-coming R&B-Pop artist Justin Park begins the zoom call describing the kind of artist he is and the message he hopes to deliver through his music. His honesty bleeds into his craft, having already shown his vulnerable side in his debut album Places Like Home, he's ready to show the world just how much he's grown since in his upcoming EP, I Can See The Stars.
How It Started: Places Like Home 
The Korean-American Los Angeles native began making music at 17—a junior in high school, he described it being the moment he considered himself a professional. Through the years since then, he's seen a lot of movement in his career with labels coming and going, he finally settled into his home of six years—5A Label. 
As an artist being vulnerable can be cathartic. For Justin, penning a complex album inspired by the stories from his heart was tough, especially for a debut album. "How do you comprise yourself, how do you package yourself in a way where people are going to like you or mess with your music, or you or your vision. For me, for the first album, I actually didn't even know," Justin laughs. As he shared not really knowing what the outcome would be but having to just do it and go along with the flow. 
Places Like Home, was drawn from the personal experiences of the artist's life. Combining elements of R&B, Pop and Hip-hop, the album features slow-tempo, romantic tracks such as "Dates In LA," along with R&B-Pop laced "Like We Used To," and the hip-hop influenced track, "Sicario Melara," where he confidently shows off his own swag. From the heartache of relationships to the feelings of happiness, he bared it all in this album, providing his audience with a more intimate and healing experience. 
View this post on Instagram
Nothing But Vibes, Music, and Thriving Creativity
There's something special about immersing oneself completely into their craft, to capture the essence of the art that's created without the distractions of the outside world. It welcomes an opportunity for the artist to explore a different aspect of their creativity while strengthening the connection with their art. It was this feeling Justin felt while working on his latest single, "You Don't Know," as he secluded himself in the calmness that Joshua Tree welcomed along with producer/songwriter Dirk Pate. 
"For that song, I actually wrote in the studio with good friend Dirk, he's a really talented writer, we were writing together, tossing–like he had a really good idea already and it's just like man if you came on top of this and injected a little bit of your soul and idea. And I'm like, 'heck yeah bro,' he had such a good base," Justin told EnVi. "We were shooting in Joshua Tree, and recording a lot of the song there, and we had a lot of album ideas come out of that experience." 
It's his smile that really lights up the screen, as he gushed about his time in Joshua Tree and the way his music video illustrated the album coming together, a concept he felt fans would enjoy seeing. "The music video shows the actual album composition coming together, when it does come out the fans are going to see for the first time what it's like making music, what it looks like for an artist to be deep in the work, in the artistry, in the lyrics. Because it really takes a long time to be honest." The singer explained the process of composing an album takes time, describing it as being a moment of contemplation and reflection, to ensure that the message that the story is portraying is the right one. 
"That was my first time really working away from the city, secluded and having no distractions. You know–wifi was pretty bad and all that stuff, it was cold and you couldn't even go outside. It was snowing so, we were inside writing, working, you know–it was cool," Justin beamed. 
The Art of an Artist: Continuous Exploration
An artist never stops creating. Even through dispiriting moments, they strive on the constant exploration of their craft as they continue to improve their artistry. Justin detailed this feeling as he described what his art means to him and how he pushes to become a better version of himself. 
"The person that I am, the artist that I am today is nowhere near where I was two years ago. I'm much better today. I'm more driven, I'm more passionate," the artist expressed. Surprisingly enough, Justin admitted to having fallen out-of-love for music for a short time during the pandemic, a moment he shared was filled with unmotivating thoughts. 
"I pride myself on my art, and what I'm able to create. And for a time I wasn't able to do that very well, I wasn't inspired or motivated. You know–music is not motivating me. I would get bitter or resentment–at like, 'why is this song famous and not mine,' you know," he admitted. Though he experienced these negative thoughts, he was able to come back from them. Taking a step back, he caught himself from dwelling deeper into them, instead he decided to focus on something positive–his craft. 
What better way to find inspiration than to study an artist you admire. For Justin, the Paul McCartney documentary on Hulu gave him that spark of inspiration back, propelling him into seeking that love he almost lost for his music once again. 
"Wow, it super inspired me. It talked about the process, and just how deeply they went into their art. The Beatles are kind of known for their weird instrumentals, weird instruments being used. Like a piccolo, a weird trumpet from like the arcaid times, medieval times you know they would include," the artist gushed. Justin's enthusiasm is felt through his smile, as he continued to explain just how motivating the documentary was and how it pushed him to want to be completely in love with his music. 
Intertwining Cultures: Going Back to His Roots
Aside from writing for himself, Justin also dabbles in writing for other artists as an international writer with Mister Rocks Music Group (MRMG). Where he's written for Kpop artists such as B.A.P, and worked alongside fellow friend and artist Amber Liu, on various projects such as the track "XL Uber," and the "Like We Used To," music video. 
View this post on Instagram
The singer opened up to EnVi about always having an interest in Korea, and not wanting to shun his roots by not working there as an artist. He shared wanting to be able to create music not only in America but also in Korea. Having the best of both worlds is one ambition he's ready to partake in. "You're getting rid of your whole Korean fanbase–your possible Korean fanbase and your roots necessarily so. For me it's like I can do both, that's what I told myself. I can do both or everything, I'mma try to do everything." 
Continuing on, he detailed the endless opportunities for him as a songwriter in the Asian Music industry.  From attending K-pop writing camps in Korea to writing for Chinese artists in China, it was an experience he grew from and welcomed with open arms. 
View this post on Instagram
"Traveling the world, going to Korea and China, all sorts of places–it's hard. We had like really hard flights–transfer flights 24 hours and 30 hour flights, just because we had to save money, that was really smart. And it gave me a lot of experiences," revealed the singer. "Because you can be in first class sitting by yourself not really experiencing what's around you. But that's not an artist." For Justin, an artist is one that immerses themselves into the experiences around them, unafraid to retell that experience into a story, a story that teaches them more about the world around them. 
Finding His Love For Music Again
If there's one thing this pandemic has shown Justin is the art of perseverance, the notion of continuing to strive to perfect your craft in the midst of an ever-changing world. Justin shared with EnVi how adapting to living through a pandemic made him realize just how much he loves being a musician.  
"It was just so weird to me to be stuck in my room, a place I was never at. So I became so unmotivated, so lazy– I was like 'man am I even an artist?' because I'm not doing shows," he said. "I haven't seen the people that have been listening to my music, it was almost like a fake idea to me, you know? That's how crazy I was going."
He offered another perspective, a realistic one that many artists like him can relate to. "At some point my art is not going to do well right. An album might flop, who knows this next album might flop. But it's like, if you don't have that confidence in yourself, that love for yourself, love for the art to be like you know what it's okay. I can do it again, I can work again. But you know to have that kind of mindset it's hard." 
Going deeper, he expressed feeling as if he was being tested on his character, on how much he wanted to be an artist. In a form of self-reflection, he began to learn more about himself as both a person and artist, coming to appreciate the art more than he had in the past. 
"Now I work so much harder, I appreciate everything about my life, I appreciate everything about the process and I could truly love it. Because I think before my mindset was like, yeah let's just do the music to perform in front of a lot of people. But now it's like, dude I love this art, it's my baby. I'mma put so much effort into it, and I want people to share the feeling, to really enjoy it you know?" 
Believe in Yourself and Strive for Your Dreams
Perhaps what's so relatable about Justin's entire journey, is the way he's shown resilience through it all, continually challenging himself and his craft, while never losing hope of what he aims to achieve. Something he'd like others just like him who have a dream they aspire to achieve, to remember to never lose hope in themselves or their dream. To remember that they hold the key of their dreams in their hands and it's up to them to take the step forward and do something about it. 
"To everyone out there with the dream, but who's also right now struggling, whether it be financially just maybe internally, you don't understand who you are, you don't understand why things are going the way they are. I say have hope, the first thing is to have hope. You have to have hope, you have to know that things will change and things will get better. Secondly, you have to tell yourself that it's going to be you, at the end of the day who changes all of this. If you don't do that it's not going to change. You have to seek what you want, you have to go out there and try." 
Be sure to look out for Justin's upcoming EP I Can See The Stars, in the meantime listen to his latest single, "You Don't Know,"  and follow him on Instagram & Twitter! 
For more on up-and-coming artists, check out our interview with Peachy! here.
Thumbnail from justinparkofficial.