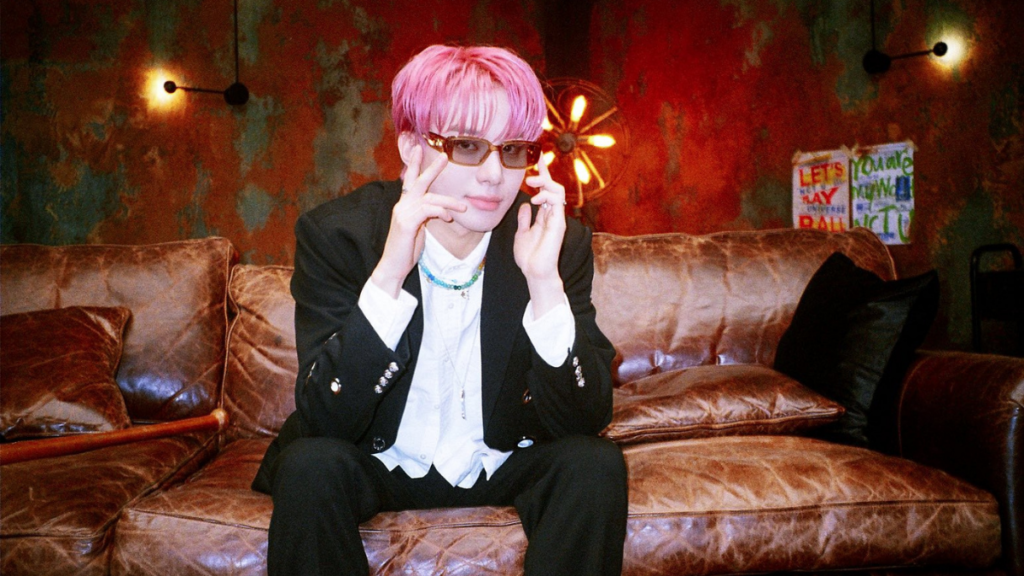 In the four short years that we've known NCT vocalist Kim Jungwoo, we've seen him rapidly grow into the confident artist he is today. Over time, Jungwoo has not only showcased his skills as an idol but has also added various job titles to his repertoire. "Music Core" MC, Nature Republic ambassador, and model are only a few of the professions on that list. Ever since his debut, Jungwoo's visuals have captured the eyes of many, and his multiple magazine features are a testament to that. We've rounded up some of Jungwoo's most memorable magazine appearances.
Vogue Korea, March 2018
Ever since his first magazine feature for Vogue Korea in March 2018, fans have taken notice of Jungwoo's modeling potential. Posing alongside his fellow NCT U members, Jungwoo modeled a youthful, coming-of-age concept. Wearing kimseoryong and MSGM, the simple silhouettes and soft color palette allowed Jungwoo's visuals to take center stage.
Paper Magazine, October 2018
Jungwoo ended 2018 with five magazine appearances under his belt. One of these was NCT 127's feature in Paper Magazine. This marked the beginning of Jungwoo's iconic "triangle pose" that the idol continues to use in album teasers and pictorials today. The photoshoot's casual styling contrasted Jungwoo's bright orange hair, giving a unique flair to his boy-next-door look.
Dicon Magazine, August 2019
Model Jungwoo returned in the summer of 2019 with Dispatch's "NCT 127, and the city of angel" pictorial magazine. The pictorial gave fans a glimpse into the playful dynamic Jungwoo has with his NCT 127 bandmates. The sunny photoshoots held in LA and Seoul showcased his growth as a model and documented his journey in becoming a global star.
2020, The Four Seasons of Jungwoo
2020 was a busy year for Jungwoo. He expanded his modeling ventures by making appearances in multiple publications throughout the year. In the spring, Jungwoo was joined by NCT members Jaehyun and Doyoung for GQ Korea. Jungwoo was a show-off in Saint Laurent, flaunting cool visuals that contradict his warmhearted personality. Summer was the season for maknaes, as the youngest members of NCT 127, Jungwoo, Mark, and Haechan graced the cover of @Star 1 Magazine's June issue. The sun shone on Jungwoo's modelesque features, highlighting his straight nose and perfect pout. Expressing a softer aesthetic, Jungwoo looked dreamy in his CELINE jacket and Alighieri jewelry. In December, Jungwoo returned to Vogue Korea for a pictorial with NCT U's "Work It" unit. Wearing a denim set by Alexander Wang, Jungwoo boldly showcased the hard work he put into his physique. The unveiling of Jungwoo's edgier side left fans stunned and eagerly waiting for more.
Cosmopolitan Korea, March 2021
Jungwoo was joined by his bandmate Doyoung for this March 2021 issue of Cosmopolitan Korea. Embodying a more risque concept, Jungwoo was adorned with pearls and button-up shirts left unbuttoned. While many enjoyed the color photos from the photoshoot, the black-and-white photos offered a sexy yet elegant look. Jungwoo's growth in confidence was made evident through the pictorial's dynamic CELINE styling.
@Star1 Magazine, July 2021
Jungwoo and Doyoung's friendship continued to shine in their pictorial for @Star1 Magazine's July 2021 issue. Styled in a loose nautical theme, Jungwoo adorned the cover of the magazine with his eye-catching visuals. Mesh tops and bright colors were only some of the elements that made up the styling for this photoshoot. Jungwoo playfully posed for the camera, receiving many praises from the magazine's staff.
What Comes Next?
Showcasing his ever-growing confidence in front of the camera, Jungwoo has proven that he is a force to be reckoned with in the modeling world. From the start, he has exhibited his ability to embody various concepts in the magazine features he's had. Fans are eager to see what the fashion world has in store for Jungwoo as he begins to make his impact on the industry.
Enjoyed our round-up of Jungwoo's model moments? Want to read more about NCT's fashion endeavors? Check out our piece on NCT 127's fashion takeover here!