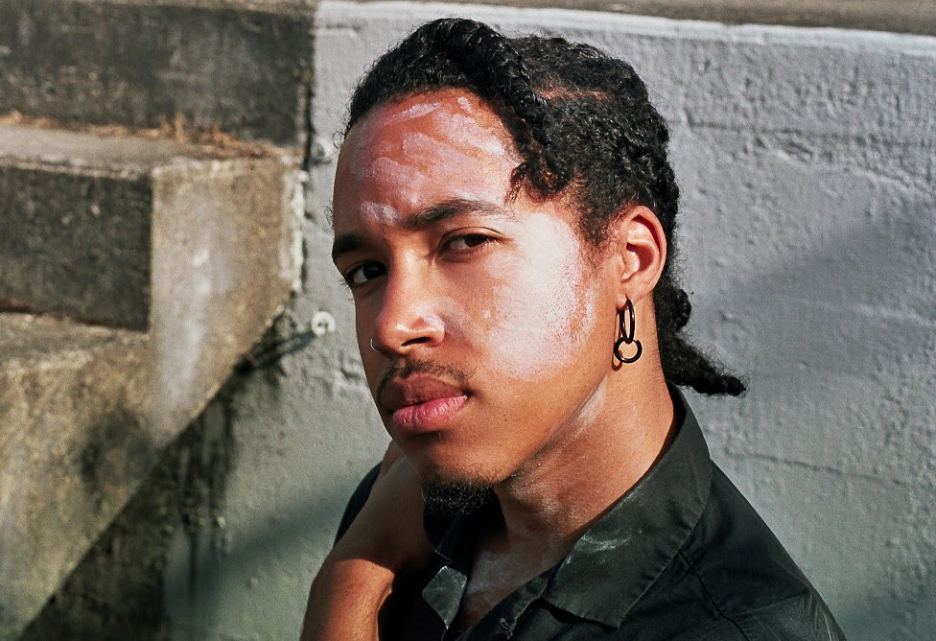 By Valerie Lopez | @valschwarie
Rusur went viral on TikTok recently for his English covers of K-pop songs. His powerful vocals and rap skills shone in these covers, leading to the question: who is Rusur? Some may know the singer-songwriter as Johnny Gr4ves, the voice behind five songs in the most anticipated video game of 2020, Cyberpunk 2077, and the award winning songwriter featured on Dawid Kwiatkowski's COUNTDOWN album. Others may know him as Zee, a contestant on the hit Canadian show Next Star: Supergroup. Rusur, Johnny Gr4ves, Zee. These are all names he adopted for different stages of his career. 
Finding Inspiration
Rusur, born Zeboria Peters, is a 22-year-old artist from Calgary, Canada. Although he certainly has many accomplishments under his belt, he had not always been interested in music. In fact, his journey is not one focused on the glitz and glam of being famous. 
"It's never been about pursuing music. It's been about reaching people and inspiring them, so I realized early on that, okay, I want to change the world," Rusur told EnVi Magazine. 
Growing up, one of his most influential role models was Will Smith. A fan of the Fresh Prince, he was inspired by Will Smith's limitless drive to explore new career paths. Rusur loved how Will Smith was not confined to the box of "Will Smith the Rapper" or "Will Smith the Actor." Will Smith always appeared to be doing a little bit of everything and paving his own path. For a young Rusur, that turned gears in his head. His childhood goal was to meet the man who inspired him. With a clear goal in mind, Rusur needed to figure out just how to achieve it. He believed that he could make it happen if he set his mind to it. 
"The whole plan was, since Jaden Smith is the same age as me, I would essentially befriend him and we would hang out at his spot, you know? Make some music and you would hear Jada Pinkett Smith, 'Jaden, Zeboria, come down for dinner.' Then I come down, have dinner with Will Smith [and say] 'So Will Smith, what's up with the world?' That was my diabolical plan at like, 8."
Meeting Will Smith snowballed into something much greater for Rusur. He believed his ticket to meet Will Smith was to inspire others just as Smith had done for him. This made him realize that he wanted to change the world. He also learned more about himself and his values. Early on, Rusur realized how powerful language and positivity are. "I realized the core reason why I am where I am at is because I understood how powerful I am. I understood how much of an impact one phrase can have on somebody in their life. And with that, I just realized that, yes, I have the power, but how can I give that power to others so that we can all enjoy it together?" 
The answer to his own question came easily. He thought he could fulfill his dream of encouraging others by building a platform to spread his message of empowerment, self love, and positivity.  
Getting into Music 
At just 15 years old, Rusur decided to take on music by auditioning for the hit Canadian show the Next Star: Supergroup. The purpose of the show was to find the next breakout group. He auditioned for the program multiple times, eventually receiving a golden ticket. However, he was doubtful he made it until he was given his flight ticket for Toronto, where he would spend the summer fighting for his chance to debut. 
After being broken up into groups by the judges, Rusur felt disheartened by the outcome because he believed the judges put him in the "miscellaneous" group. This did not stop Rusur from giving his all. His father encouraged him to continue his battle because he had nothing to lose and everything to gain.
"We literally blew their socks off in one performance. I gave literally 120 percent and I say that because after that performance— because that was the elimination day— I was like bedridden sick. Just dead. But we made it through! We made it to the finale!"
Rusur's team made it to the final round, but lost to the competing girl group. Although he did not win the show, Rusur believes that that show gave him the essential skills to start his own career in music. This was the first time he had ever had formal teaching in singing, dancing, filming, and interviewing. Rusur refers to his experience as an invaluable "artist bootcamp" that he hopes to one day be able to provide for young artists in the future. 
The Birth of Johnny Gr4ves
After his work on the Next Star: Supergroup, Rusur formed a duo with a member of his former boy group. The duo eventually went their separate ways over time. Afterwards Rusur focused on his solo career as a singer. At 16 years old, he featured on the hit EDM song "Just Like That" by Pegboard Nerds under the name "Johnny Graves." While the song did well, there had been issues with song credit on music platforms. The song was credited to the wrong Johnny Graves, and thus, Johnny Gr4ves was born. 
"It just so happened that in the logo there was already an upside down 4 for no reason really. It looked cool and so just boom, popped it into the name. That was the moment I realized it was a missed opportunity becoming a performer as Johnny Gr4ves because I had no social media." 
This experience was an eye opener for the young artist. Rusur also realized that he needed to work on his presence and personal branding. "It blew up faster than I could prepare. When that song went off, I had no social media presence. I literally had one photo and it was of Pegboard Nerds. What would someone follow if they saw my page? They wouldn't. What would they follow?" 
Some trouble lead to blessings, as in Rusur's case. He leveraged his mishaps and used it as an opportunity to learn the ropes of being an artist. He moved back from the spotlight and focused on behind the scenes work. He studied music and marketing, learning how to present himself on social media. He also began songwriting and polished his skills, having written over 400 songs in the past five years. 
"I love songwriting and I love being able to share stories— maybe that aren't even my own— and help people realize their own selves, you know? So having that ability was so, so rewarding and so I kind of fell into that."
In 2016, Rusur hit the jackpot. He landed the song "Say Yes" on Polish pop singer Dawid Kwiatkowski's album COUNTDOWN. Dawid Kwiatkowski's manager reached out to him after hearing another artist's remix of one of Rusur's songs with Konrad Oldmoney, a producer who Rusur considers his mentor. Kwiatkowski's manager sought the original songwriter and thus the project was completed. COUNTDOWN won "Best Polish Act" at the MTV European Music Awards (EMAs), making Rusur an award winning songwriter.
Returning to Singing
Rusur's next big project began in 2018, when Konrad Oldmoney enlisted him to create music for the video game Cyberpunk 2077. Out of 15 songs submitted, five were selected to be featured in the game. The game, along with his songs "BRUZEZ," "Clip Boss," "Gr4ves," "SERPANT," and "DAGGA," were officially released in December 2020. All five tracks featured Rusur's vocals, and "SERPANT" includes some of his freestyle rapping in French. 
"I got to stretch my rap skills where I hadn't been able to for a long time, so I just got to stretch out and be whoever I wanted to be and talk about this fake world of violence and thugs. I was able to put on my acting hat and my voice acting hat and perform."
In 2020, Rusur also worked on an opening song for the English dub version of the anime Beyblade Burst Surge, a dream come true. "I grew up watching Beyblade, playing Beyblade. One of my first toys I remember, I was in preschool and there was a big kid [who said] 'Let it rip!' on this metal slide and sort of making sparks. I was just like, 'Oh my gosh! I need that toy!' and I started playing Beyblade. This is a thing that I need and we need to make this happen. So that's what I did."
Rusur, alongside Konrad Oldmoney, took a crack at creating an opening song for the anime. Eventually, the two came up with the song "We Got The Spin," which was released in late 2020 when the show was released in English.
Even though both projects featured Rusur's vocals, this was under his songwriter name Johnny Gr4ves. These successful experiences made him realize that he had the potential to do more. He was able to release songs in global projects without being a big name singer. It motivated him to focus part of his career to being in the spotlight. It reawakened his desire to be the star.  
A New Path: Rusur
Rusur deliberately designated songwriting credits to the Jonny Gr4ves name and decided it was best to keep his songwriting name separate from his stage persona. In 2020, he created the Rusur brand to focus on his work in the spotlight. Rusur comes from the French word "rus," which is "red" in English. He came up with this name since red is a color he associates with love. After all, his lifelong goal is to empower individuals and spread love across the globe.  
However, the pandemic came with new challenges. How would he find and work with producers when interactions and collaborations are limited? Motivated by his desire to return to the spotlight, Rusur tackled a new beast: producing. He began teaching himself how to produce by using online resources and posting covers on his Instagram under the Rusur name. 
Last year, he began one of his most important musical projects: his first and last album, Just in Case. The album is an entirely self-produced and written eight track EP. From fun tracks like "Celebrate!" to striking speeches like "Magnum Opus," the album is full of songs that express his own story and beliefs. The goal of his first and last album is to spread his message. He urgently completed the project in three weeks since one day he might not wake up. 
Now that he has completed that album, he has set a new goal: to spend his life promoting it. He plans to study different languages so that he can promote his music to people around the globe. He believes that the best way to reach people is by respecting their cultures. This goal will allow him to spread his message about empowerment. The first languages he wants to learn are Korean, which he is currently studying, Portuguese, and Mandarin. 
One of his ongoing projects is a series of posthumous albums, a project that he plans to continuously work on every five years. "These albums will extend my story when I essentially can't speak for myself. But my story continues even after I die. People can learn a little bit more about me in different lights because I'll have my little vocal recordings within the projects." 
Eventually, he wants to create community centers for his final project, where he wants his recordings to be placed and released every so often, like a time capsule. He wants to create community centers so that more people have access to equipment that they might not have at home and pursue their dream careers. 
Finding a Community on TikTok
After finishing up his personal project, Rusur decided to build his presence as Rusur on social media. He dedicated his Instagram to posting music covers of some of his favorite works. Further exploring cover music, he made a Tiktok specifically for posting his K-pop covers. He has been a fan of the genre for over a decade. He became interested in the genre after his family hosted exchange students, who brought along their cultures. His first songs were Wonder Girls' "Tell Me" and BIGBANG's "Haru Haru." He considers BIGBANG and 2NE1 two of his favorite groups, specifically citing G-Dragon as one his top artists. However, he also enjoys music by Stray Kids, NCT, and Kang Daniel. 
"In terms of creativity, [K-pop is] so cool. You look at the fashion, you look at music videos, you look at the choreography, the fans, the storylines behind them— it's amazing. And I want to share that excitement with North America." 
He translates K-pop songs into English before covering the songs with his own vocals. He has covered many songs including NCT U's "90s Love," WayV's "Nectar," and KAI's "Mmmh," which is the song that made him go viral on the platform. He started on Tiktok in February and in just two weeks the singer gained over 54 thousand followers. Now, in less than two months and three seasons of his international K-pop covers, he has over 115 thousand followers and 2.3 million cumulative likes on his content. When he began his account, he started a community playlist, which now has over 1,300 songs. Rusur has received nothing but love on Tiktok, a platform he believes promotes creativity, artistry, and community. 
"It's so crazy and it's based around my love for K-pop. It's just what a full circle moment because I've listened to K-pop for like ten years at least, so I was just like, 'woah! This is awesome!'" 
Grateful for all of the love he has received, Rusur goes live twice a day six times a week to thank his followers. The first live, "RUSUR LIVE," is at 3:30 PM and his second live, "RUSUR AFTER HOURS," is at 12 AM. In these lives, he gets intimate with his followers, taking requests, answering questions, and even discussing his own personal experiences. He ends every live with "stay curious, stay creative, stay searching for yourself. I love you. You matter. Don't ever forget it." He hopes that one day his words will stick with people. 
Moving Forward with Changing the World
Like Will Smith, Rusur believes that there is no limit to his career. Rusur plans to continue to work as both Johnny Gr4ves and Rusur. He plans to continue releasing music under Rusur, with some features on the way. Rusur recently helped write and produce music on the recently debuted artist Jineya's EP, The West End, where he also featured his vocals in a song titled "Stuck." In addition to participating in music projects, Rusur plans to explore acting and fashion.
As for his social media, Rusur is spicing things up by posting season four of his international K-pop covers on Instagram instead of TikTok. He will resume posting season five on TikTok afterwards. For his followers, Rusur is creating a scavenger hunt as a fun, interactive way for them to explore different phases of his career. The date is to be announced, but he wants to give back the love he has received over the course of the past few months. 
While he has been consistently working towards his life goals, there is one goal that Rusur has accomplished. One small step to something greater. "I facetimed Jaden Smith," Rusur told EnVi Magazine with a laugh. The road to meeting Will Smith and changing the world are a lot closer than one may think, after all, meeting Will Smith means you have changed the world for Rusur, and he has accomplished part of his childhood diabolical plan.
Big or small, all accomplishments and projects are a step towards something much, much larger. At the end of the day, Rusur wants to celebrate life and everyone's achievements. He wants to empower people to pursue their dreams and understand their worth. He simply wants to change the world, which he certainly has.
Be sure to check out Rusur's most recent song feature, "Stuck," and follow Rusur on Tiktok, Instagram, and Spotify to stay up-to-date with his work!
Thumbnail courtesy of Rusur, taken by Kirstin Elyse.
Want another creative to check out? Read our article on Louisa Meng here!