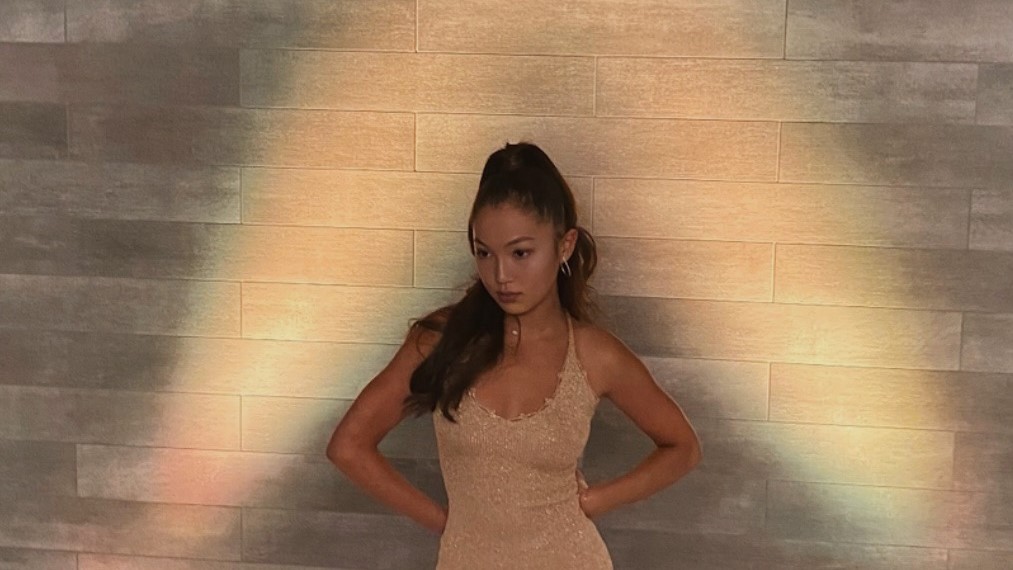 Starry-eyed and eager to change the world perfectly sums up 17-year-old singer-songwriter Sophia Bromberg. She was taking her lunch break when she hopped on the Zoom call with EnVi, beaming and ready to chat for the next half an hour. From the importance of sustainability to her time on the popular American singing competition, The Voice, Bromberg gave EnVi a deeper look into her life.
Born to Shine
Musically inclined since the age of five, Bromberg grew up in a music-loving household in Marin County, California. She told EnVi about the value of expressing herself artistically from a young age. In kindergarten, Bromberg began to take classical piano lessons and continued to play the instrument throughout her childhood. Shortly after, she branched out and decided to tackle the guitar.
With two older sisters who are also singers and spending her weekends watching her mother perform at local festivals, it is no wonder that Sophia Bromberg was born to shine. Although she was timid when she was younger, Bromberg broke out of her shell in middle school by participating in musicals. By her junior year of high school in 2021, Bromberg went on to audition for The Voice.
Once in a Lifetime
Sophia Bromberg took the judges' breath away on The Voice with her rendition of Conan Gray's "Heather." About 30 seconds into her audition Ariana Grande, John Legend, and Kelly Clarkson turned their chairs simultaneously to meet Bromberg face-to-face. With a soul-influenced take on the pop hit and a splash of whistle notes to top it all off, Bromberg left the judges stunned in their seats as they praised her abilities. But the judges weren't the only ones in shock, as Bromberg shared her point-of-view of the experience.
"…It was such a surreal experience," Bromberg explained fondly. Although her nerves were at an all-time high, she reminisced about the moment she remembered the most. With her eyes closed, she sang her heart out only to open her eyes mid-performance to find three of the judges facing her.
Her journey on The Voice led her to a battle round where she performed Stevie Wonder's "Signed, Sealed, Delivered, (I'm Yours)" with Jim and Sasha Allen. Though she did not advance beyond that round, Bromberg expressed her gratitude for the experience The Voice gave her. "I wouldn't change it for the world… It was simultaneously super enjoyable and also exhausting and inspiring and eye-opening," Bromberg smiled.
Team Ariana
The Voice pairs its contestants with one of the judges who express their interest as the contestant's mentors. Bromberg was lucky enough to have interest from three judges but ultimately decided to join Team Ariana––led by Ariana Grande herself. During her time on Team Ariana, she mentioned that Grande taught her a lot about her vocal health, technique, and finding the registers of her voice.
"The biggest thing I learned from [Ariana Grande] is the power of maintaining humility and being genuine and authentic. Especially in the industry of music," Bromberg stated. In an age where authenticity tends to be fabricated, Bromberg remains in awe of Grande's kindness and compassion towards everyone. While she did learn a lot musically from Grande, the lesson she found to be one of the most important is about staying humble, treating others equally, and always with kindness. It is that innate deeper connection and compassion for others that also sets Bromberg apart from the rest.
Champion of Change
On April 22, which also happened to be Earth Day, Bromberg released her latest single, "Champions of Change" featuring Oren Major. In a partnership with Footprint, a unique science company with a mission to eliminate single-use plastics, Bromberg and Major created a track with a message as powerful as Footprint's mission.
The pop-soul ballad has a moving message that pleads for others to treat the Earth better. With lyrics asking for Mother Earth's forgiveness, exposing how problematic micro-plastics are, and begging for a change that will benefit future generations to come, Bromberg captivates listeners with the passion in her voice. As Footprint's youth ambassador, she jumped at the opportunity to bring her love of the environment, sustainability, and music all together.
"I think it's such a great message that really needs to be spread. Especially during 2022, in an age where we're in a climate crisis," Bromberg stated passionately. "[Footprint] gave me the opportunity to talk about it in [the] form of music, which is such a widespread art that's accessible to so many people." She told EnVi that she hopes the track is educational for others and can be a resource for people to learn from.
Living in Marin County, California, Bromberg has always been surrounded by nature and was raised to appreciate its beauty. Her family's influence has also led her to always give back however she can. Whether it be philanthropic gestures or cleaning beaches, Bromberg is dedicated to making the world a better place for all.
Be Proud, Be You
Beaming proudly, Bromberg told EnVi about "Cardamom Princess," a song she had just written. "It's all about being proud of being a mixed female and just loving your darker skin, and your curly hair, and your hairy legs. Just all that. It just makes me feel more myself," Bromberg gushed excitedly.
Coming from a mixed background, being half white and half Korean, Bromberg has learned over the years to love every part of herself. She takes pride in her mixed heritage as it shaped her into who she is today. She also notes that music helped her embrace her identity. Bromberg finds herself being influenced by artists such as Erykah Badu, H.E.R., Jorja Smith, and Snoh Aalegra. She added that these powerful women of color empower her to embrace her unique identity as a woman of color as well.
More to Come
Sophia Bromberg is quite busy as she nears the end of her high school career, preps for the transition to college, and continues to write and record more songs. When asked about what her fans can look forward to in upcoming months, she smiled and said, "A lot of songs that they would want to drive to late at night… I feel like that is the vibe!"
Although there is no official release date for her music, as she is still working on recording tracks, Bromberg hopes that her music will be available for fans to listen to within the next five months.
While you wait for new music from Sophia Bromberg, you can listen to her singles "lately" and "Champions of Change" on Apple Music and Spotify. Make sure to follow her on Instagram, TikTok, Twitter, and YouTube for all updates!
Looking for more artist spotlights? Check out our interview with Ariel Rose here!