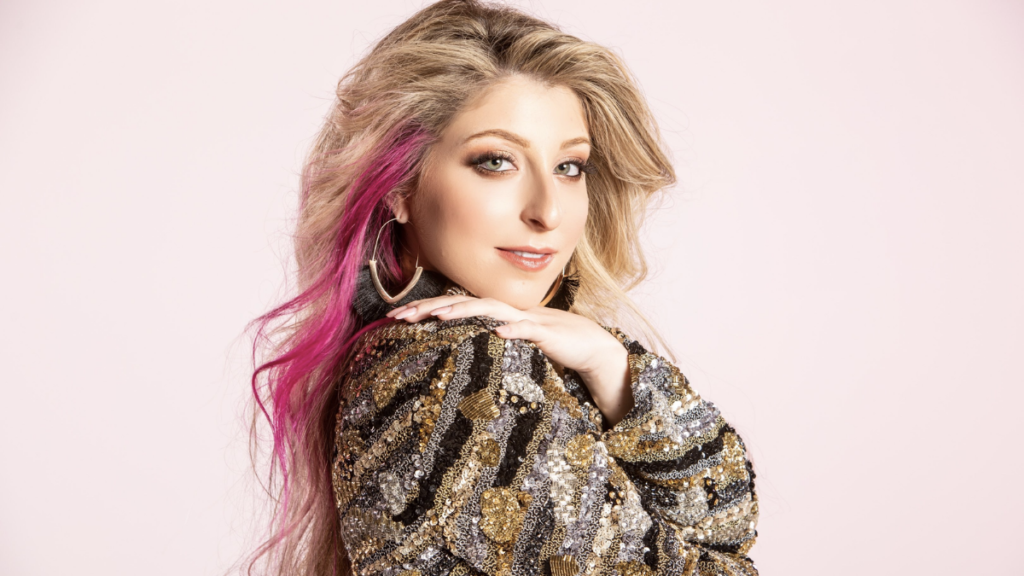 Miami-based singer/songwriter Ariel Rose sat down for an interview with EnVi via Zoom to discuss her musical influences, her journey in the music industry, her Spanglish EP, future plans, and more.
How It All Began
Ariel attributes her love for music to her family and the city of Miami. Ariel's grandfathers were musicians and her father is a classical pianist. Her upbringing in Miami also influenced her admiration for Latin culture and music. "We are surrounded by a melting pot of cultures here, especially Latin culture," Ariel enthusiastically raves.
Ariel's interest in singing started at a very early age. She would sing around the house, but it took one Macy's Thanksgiving Day Parade to inspire her to pursue music as a profession. Ariel recalls watching a girl at the parade singing "Rudolph Rudolph the Red-Nosed Reindeer" in a very stylized way. "I remember looking at the TV and being like 'I want to sing just like her,'" Ariel reminisces. When Ariel's parents heard their daughter utter those words, they stopped in their tracks. Her dad stopped decorating the house and said, "Oh my god, we have to put you into singing classes!" Ariel continues, "At that point, that's when I knew that performing is what I wanted to do."
Ariel's passion for music carried on into her teen and adult life. At the age of 15, her single, "My Perfect Day," won 1st place in the Pop category in the Great American Song Contest. Multi-Latin Grammy-nominated producer Juan Vicente Zambrano also produced her first album, Rhythms of Life, which she recorded in English & Spanish. 
She also released her original single and music video "Somebody Loves You" in May 2020.  With this song, she partnered with United Way to raise funds for its Miami Pandemic Response Fund. The song is an inspirational pop ballad that featured uplifting lyrics and powerful vocals about love and hope. Recently, Ariel was featured on the Suncoast Emmy-winning project River of the Last Valley, which won in the musical composition and arrangement category. And as of May 2022, Ariel is preparing to release a Spanglish EP. 
Journey and Challenges
Ariel battled many challenges throughout her music career, but she stayed motivated until she reached her goals. One challenge came right after she graduated high school. After graduation, Ariel worked at a retail store, but quit right after two weeks to make a living from performing. "I decided to go to every hotel and restaurant in the South Florida area, but no one took me seriously!" Ariel said. "I didn't take no for an answer. One place, one restaurant that gave me an opportunity, I went back there three times and I said, 'I'll sing for you for free for one hour, just try me out!'" After that opportunity, Ariel was able to perform for a living while studying music at the University of Miami.
When asked how she would describe her music, Ariel defined it as a "Latin pop fusion." However, defining her sound has been difficult in her musical journey. "A lot of the time people say 'you need to be edgier, you need to be cooler,' but I'm kind of corky and girly, I like being girly!" Ariel went through a period of confusion in college about what genre she wanted to do, so she didn't release music for a while. "I was like 'I should go for American pop,' but my love has always been Latin music." After much thought, Ariel concluded, "Why am I not going to be true to who I am and what I love?" Now, she enjoys creating music in the genre that speaks most to her–the Latin genre.
Despite the challenges in her music career, Ariel has also come out of those experiences with valuable lessons. "I think the most important thing I've learned is to surround yourself with a really solid team of people who are a great support system and who really believe in you. If you have that at the beginning, then it's really helpful to where you want to go and how you want to grow as a person," Ariel emphasizes. Her support system includes her parents, her mentor Latin Grammy-winning producer Tony Succar, and her vocal coach Luis Manual Diaz.
An EP in Story Form
After a year and a half of hard work, Ariel will release her EP, In Paraíso, on May 20, 2022. Ariel refers to the EP as a 'visual EP' because, "[she] wanted each song to reveal a new part of the story, like chapters in a book. You'll see the music videos kind of continue on in story form and at the end, you see the story complete."
Leading up to the release of the tropical-infused, visual EP, Ariel uploaded onto YouTube the music videos for two of the Spanglish singles included in the EP, "En el Paraíso" and "Let Me Go."
Looking for Paradise
On March 25, 2022, Ariel released the music video for her Spanglish single "En el Paraíso." "En el Paraíso" is an empowering reggaeton and bolero-influenced Spanglish song that is a metaphor about "leaving a relationship or leaving a chapter behind and being able to move forward and find your own happiness," Ariel declared. This message is conveyed through her lyrics, "I'll be on an island just vibin, Y solo pienso en mi. Estoy mejor sin ti." Ariel worked alongside Latin Grammy-nominated producer Duo Mike Muñoz & Gio Fernandez on this single.
For the vision of the music video, Ariel collaborated with director Jose Alejandro Gonzalez of JAG Productions. The music video cuts between scenes of Ariel in real life and animation by animator Ariana Aguilera. We see neutral light-colored scenes of Ariel in her bedroom ready to move on, juxtaposed with bright and colorful cartoon images of Ariel in her version of paradise. "I wanted a way to incorporate a beautiful, vibrant color scheme. I wanted it to be like I'm dreaming of paradise, maybe I'm not there yet, because that is the beginning of the journey to paradise in my EP," Ariel said.
Letting Go
On April 22, 2022, Ariel released the music video for her single "Let Me Go." "Let Me Go" is a salsa-inspired single featuring Latin Grammy-winning producer Tony Succar, Kenji, and Dominican rapper LORS.
The music video opens with Ariel laying in bed singing the lyrics, "You've got me thinking this is how our story ends. Thought that we had everything. Can we move on, go our separate ways?" The scene then transitions into Ariel walking into a nightclub and continues with the lyrics, "If I left, would you go right? Would you chase me through the night? Or would you let me go?" The lyrics allude to the difficult decision of choosing whether to leave or stay in a relationship. While at the nightclub, Ariel joins rapper LORS and the band on stage. LORS raps his part in Spanish and Ariel follows it with her English verses, creating a dynamic duo.  
What's Next & Advice
Following the release of her In Paraíso EP set for the May 20th unveiling, Ariel has even more music in the works that she's excited to share with her followers. She is also working on scheduling performances. Ariel said she prefers performing and touring to different places over recording because "you get to see how audiences feel and connect on another level."
Ariel closed the interview with a quote and advice for aspiring singers/songwriters, "There are only two people that you have to make happy in this life: the 8-year-old version of yourself and the 80-year-old version of yourself." Ariel said that quote resonates with her because there have been many times in her life where "[she] thought maybe [she] shouldn't be doing this because, of course, this is a tough industry." However, taking from her own experience working in the industry, Ariel realized, "if you really love something, go for it with everything you have! Create the life you want for yourself and you will be successful."
To stay up to date with Ariel's projects, make sure to follow her on Instagram and Twitter, and subscribe to her YouTube channel!
Looking for more artist spotlights? Check out our interview with rockstar Anna Mariko Seymour here!