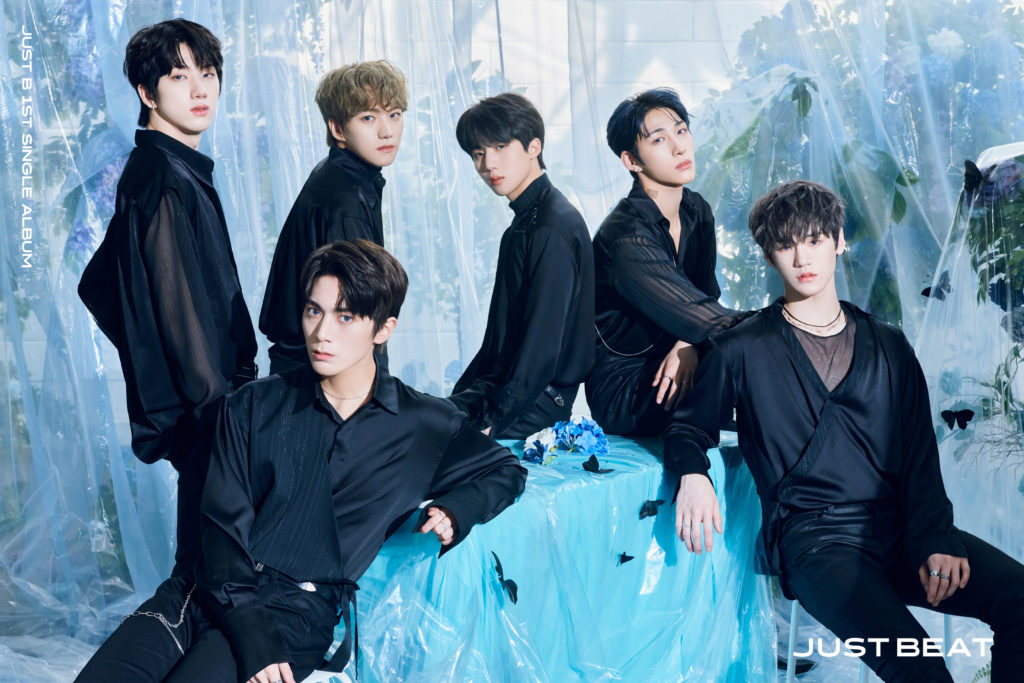 Throughout October, K-pop boy group Just B released teasers for their latest single album, Just Beat.  Both beautiful and ominous, the teasers continue a storyline introduced in the trailer that was released on October 12. The trailer video included a Matrix (1999)-like blue pill and strange texts from an anonymous sender. 
Behind The Mask
The first teasers consist of the members surrounded by and holding plain white masks against a blue background. The stark contrast of the white against the dark blue stands out. The masks are theatrical and creepy in their identical expressions that seem devoid of emotion and singular identity. 
In the accompanying video teasers, each member covers half their face with a mask and opens their eyes to look into the camera. There's a black and white filter over these videos. The removal of color also removes a sense of liveliness. 
View this post on Instagram
View this post on Instagram
Distinguishing Lights 
The following teasers showcase different members posing with interesting configurations of light. In Photo #3, members DY and Sangwoo are shown with the Greek word διακρίνω, which means to distinguish, along their jawline or hand. Geonu and Bain have the number "1252" along their neck and face. The meaning of these numbers remains a mystery. However, there may be some correlation with angel numbers. 
View this post on Instagram
View this post on Instagram
A New Chapter
Photo #5 features the members posing, with butterflies resting on them. Some members, like JM, also feature barcode tattoos. The butterfly commonly symbolizes rebirth and life. The barcode tattoos have the number "1001," which could be a reference to the angel number that signifies a time to take action and start a new chapter. They are ready to start something new after being trapped behind masks. 
View this post on Instagram
View this post on Instagram
Technology Versus Nature
The natural imagery with butterflies and flowers contrasts the technological dystopia setting established in the earlier teasers, as well as the barcode tattoos. This contrast is also seen with the backdrop of trees covered in gauze. Lastly, the juxtaposition of natural and unnatural elements creates memorable visuals and elevates the storyline.
View this post on Instagram
Following the single album teasers, JUST B released the music video "Tick Tock" and the single album Just Beat on October 27. The single album features three songs: "Tick Tock," "Vindicated," and "Try."
Want updates on boy group releases? Check out our coverage of The Boyz's teasers for their upcoming sixth mini-album, MAVERICK, here. 
Thumbnail courtesy of Blue Dot Entertainment