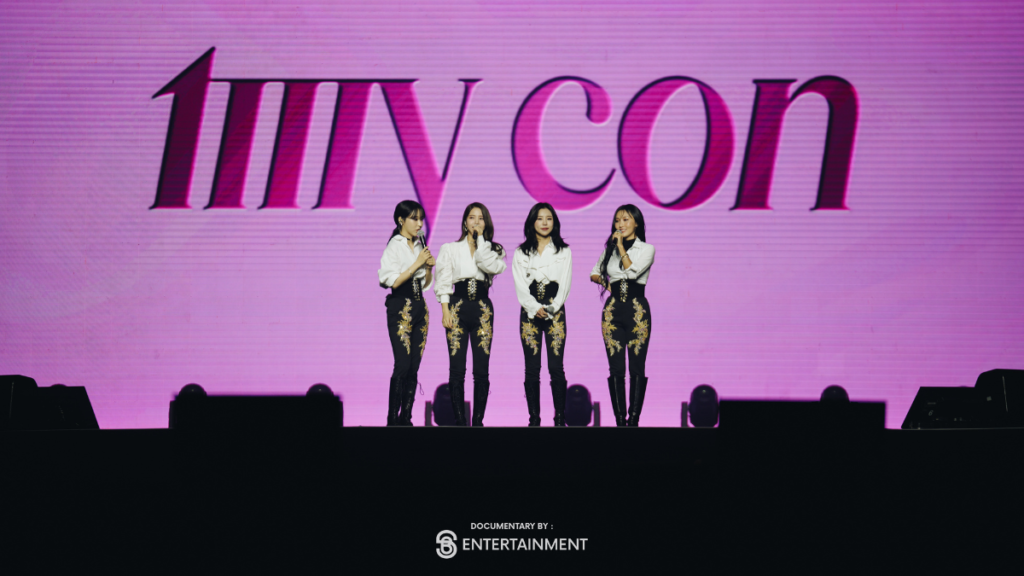 After their first stop at Seoul's Olympic Hall, MAMAMOO are going out on the road for their "My:Con" world tour. Despite debuting in 2014, "My:Con" marks the group's first world tour, so you can only imagine how much MooMoos, the name of MAMAMOO's fans, have been anticipating this night! The world tour started with the Asia leg, with Hong Kong and Taiwan being MAMAMOO's first locations. For their third stop, the soulful girl group performed in Jakarta on February 5, where EnVi was able to watch the quartet live in action.
MAMAMOO are a South Korean girl group consisting of Solar, Moon Byul, Whee In, and Hwa Sa. The girls have been known as a stand-out group ever since their debut on June 18, 2014 with their bluesy and jazzy singles like "Mr. Ambiguous," "Piano Man," and "Decalcomanie." The group expanded their repertoire in 2018 when they explored more Latin-inspired sounds, like their hit "Starry Night" and "Egotistic," as well as retro-sounds in "Hip" and "Dingga." For their latest comeback, "Illella," MAMAMOO experimented with a more reggaeton sound, while still maintaining a heavy emphasis on their vocal performance. 
We Say Mama Mama Moo
The girls strutted onto the stage dressed in a strong regal outfit of white flowy shirts and black embellished pants tied together with a corset belt. They kicked the night off with the upbeat "1,2,3, Eoi!, gracing the stage with charisma and filling the arena with this aura of coolness. Fans cheered loudly as the girls opened up the show, a mixture of screams and singing bouncing off the walls.
The group then continued on to perform their debut song, "Mr. Ambiguous." Even through earphones, one would imagine how this particular song would sound in person, and hearing its live rendition in person definitely exceeded expectations. The upbeat rhythm, the kicking bass, the vibrant brass, the melodious harmonies and, of course, the live powerhouse vocals made the track an unforgettable one.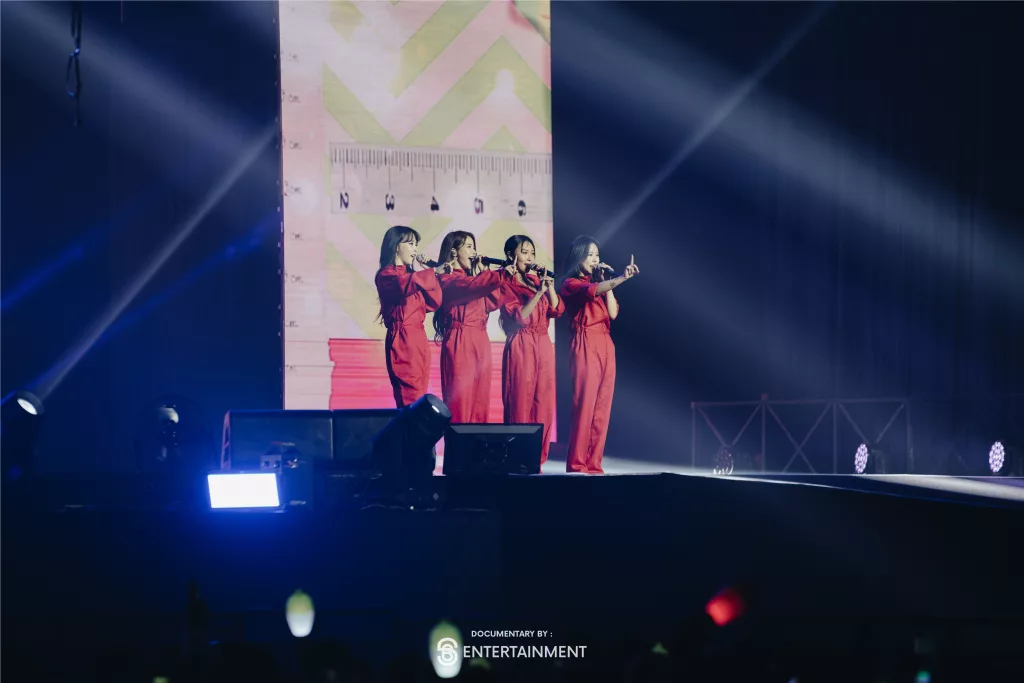 The girls then started their introductory talk, with each member introducing themselves in Bahasa Indonesia, which made fans go even wilder. After greeting the fans, the group continues on to perform a groovy medley of upbeat retro tracks from their discography, including "Dingga," "Funky Boy," and "You're the Best." In between songs, MAMAMOO played along with the crowd, challenging them to do waves back and forth with their lightsticks, the Moobongs.
After that lighthearted bit, the stage lights dimmed as dramatic and cinematic instrumentals blasted through the speakers. The show took a bold turn when dancers came on stage to perform an intense dance break. This led into the girls' performances of their heavy-hitting tracks "Aya" and "Illella," which showed off a more dramatic and sultry side of the group.
Girls Just Wanna Have Fun
After an intense back-to-back performance, an animated VCR played showed a short cartoon story featuring the animated version of the girls bickering about who's taller, Naturally, this led up to the four popping back up onto stage to perform their cheeky hit, "Taller than You." MAMAMOO were clad in oversized red jumpsuits, a much more relaxed ensemble in comparison to their opening segment. In this chapter, the girls let loose a little as they performed with grins on their faces, delightfully watching the crowd grooving along with them.
A long-awaited highlight of the show was the members taking turns covering each other's solo songs. Solar wowed fans with a mesmerizing performance of Whee In's solo, "Water Color," clad in the iconic bright blue look from the song's music video. Next, Hwa Sa took command of the stage, as she suited up for a formidable cover of Moon Byul's "Eclipse," where Hwa Sa's tough side shined.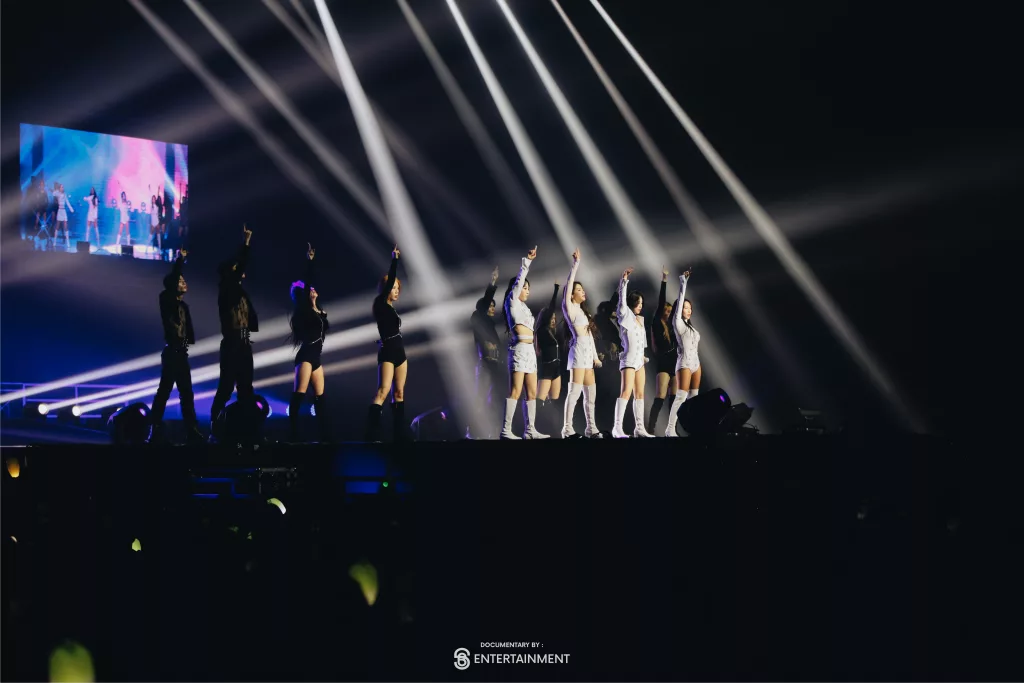 Next up was songbird Whee In, who brightened up the stage with an upbeat and energetic cover of "Honey," suitably adorned in Solar's signature sunny yellow fit. Lastly, main rapper Moon Byul, shocked fans as she exchanged her boyish swag for a chic and sassy performance of Hwa Sa's "Twit." After their part switch, the girls came out together to do a medley of solo songs from each member, including "Spit it out," "Lunatic," "Make Me Happy," and "Maria."
MAMAMOO At Their Core
Another VCR played, this time showcasing the girls sitting in a bar-like location, as they took turns prepping meals for each other. The mood was mellow when the girls asked each other more serious questions. This led to them having a heart-to-heart, setting up a more sentimental mood for the next few stages. As the lights turned back on, the group started to belt out their emotional ballad "Paint Me" followed by "I Love Too." Here, the girls were able to show off their vocal skills as they hit various runs and adlibs.
Then came the fan-favorite "Star Wind Flower Sun." A fan project organized by their local fanbase closed the song, in which MooMoos raised hand banners that read, "We are just thankful to be able to meet MAMAMOO." When the girls saw the project in action, their eyes turned glassy with tears, and the four of them were hit with a wave of gratitude and awe. MAMAMOO later said that the crowd had far exceeded their expectations, and they were shocked by how much love they received.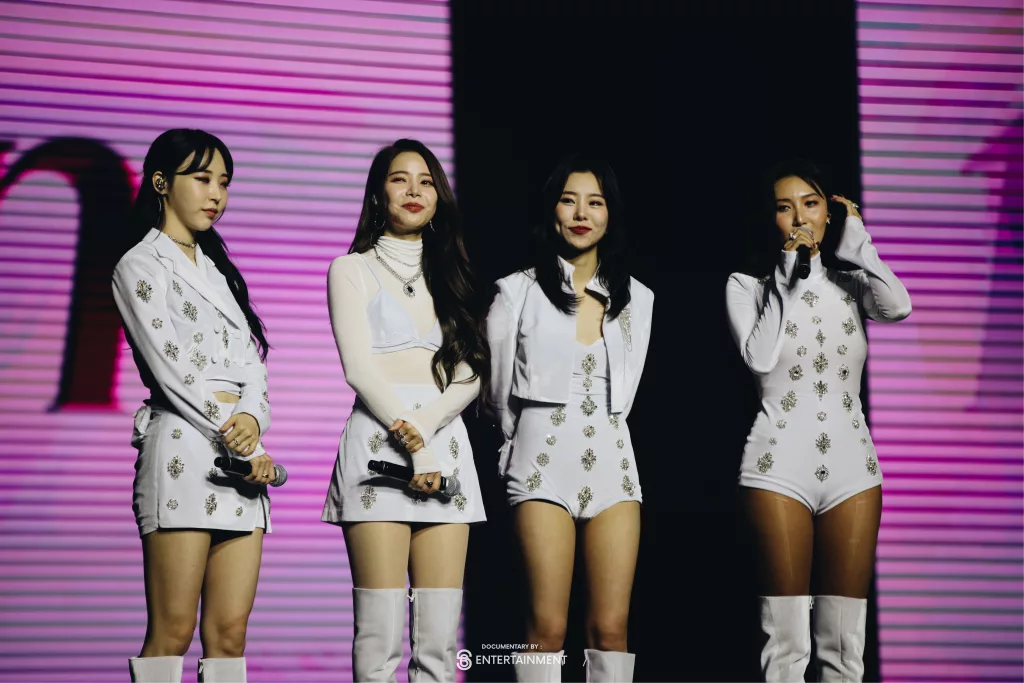 Afterwards, the girls sang their best hits back-to-back. Their soft and vulnerable side that was shown in the last segment was exchanged for a mature and dominant aura as they burst into this plethora of songs. They started with their soulful "Decalcomanie," and followed up with the rebellious "Hip" before turning the concert hall into a party with "Egotistic" and "Gogobebe." The girls took command of the stages, dancing passionately and singing fiercely while taking everyone's breath away with their stability. MAMAMOO also showcased their dancing skills when each member was assigned a dance break to start and end each of these songs. 
A Night You Won't Forget
The girls walked off stage after they finished up "Wind Flower," leaving the crowd with a VCR of the four attempting to prove their trendiness by doing Gen Z challenges. As the video faded to black, the fans started chanting for MAMAMOO to return, not ready to call it a night. Shortly after, the girls returned back to the stage in their off-duty casual fits. To kick off the encore, they started belting out their fun and laidback B-side "Travel" as they dispersed to different ends of the extended stage, interacting with MooMoos from all corners. During this last segment, the girls were visually more relaxed, their cool and powerful stage persona from earlier traded for a more smiley and carefree energy.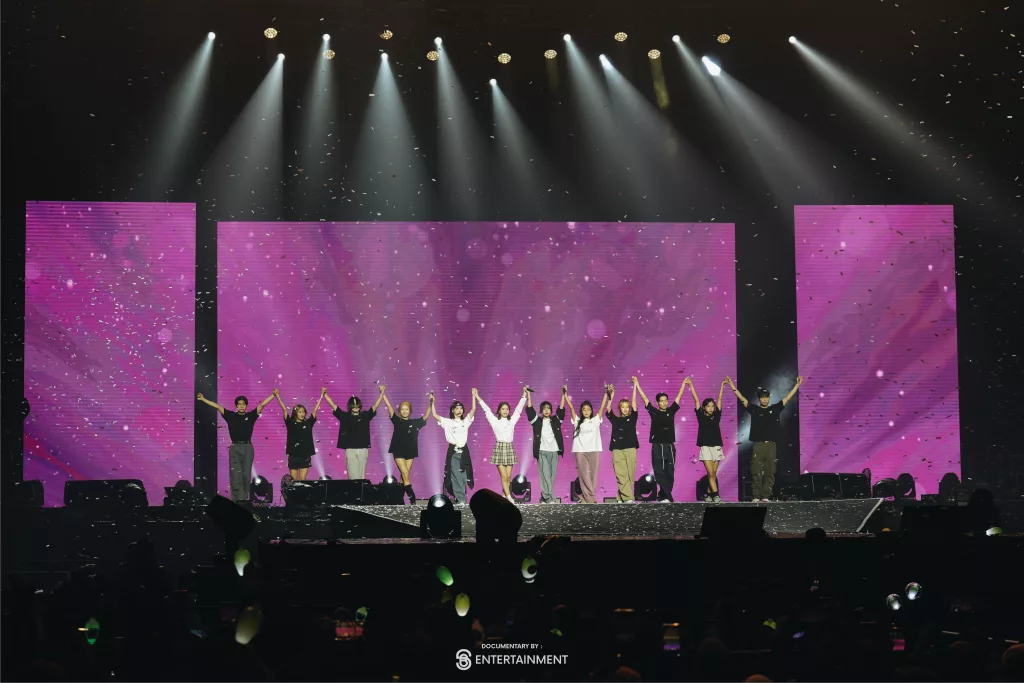 To end the night on a cheerful note, MAMAMOO broke out their classics "Yes I Am" and "Um Oh Ah Yeh." Although the night was coming to an end, the crowd was still singing along loudly, proving that the girls were definitely skilled in lifting up everyone's spirits. As the four starlets walked back onto the main stage to take their final bows, they looked back at the crowd with proud, yet sincere, smiles on their faces. The show was a powerful one, as the girls gave their all in each performance. All in all, the concert truly showcased MAMAMOO's core essence – four charismatic performers, who are unapologetically themselves, conquering their stage with confidence and skill.
Want more MAMAMOO? Check out EnVi's breakdown of Moon Byul's special mini-album The Present here!