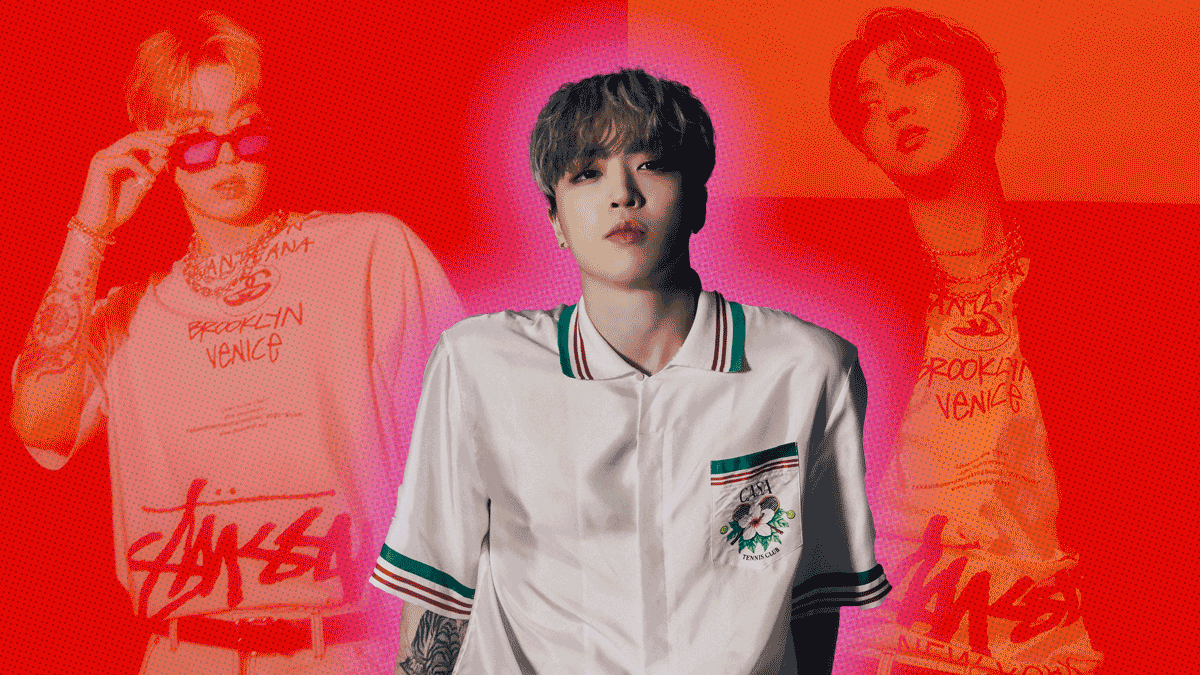 In 2018, JUNNY packed up his bags in Canada and set out for South Korea to pursue his passion — music. Since then, the multi-talented artist, singer, and songwriter has taken the K-pop industry by storm. In just the past two years, JUNNY has been credited on numerous hit tracks for artists including NCT, KAI, IU, Baekhyun and more. But 2022 is JUNNY's year. The 26-year-old is preparing to release his first full-length album and has a European tour set for August of this year. JUNNY sat down with EnVi over a video call to give the rundown of his upcoming album and a deeper look at him as an evolving artist.
Building Anticipation
JUNNY has been cleverly building anticipation for his upcoming album with two pre-release singles. Though an album release date has yet to be announced, JUNNY shared some information about his new project. "The album itself is very personal to me. It's about all the moments I've been through […] during my time in Korea." He elaborated, "I've been dealing with a lot of experiences, […] making songs, and being able to work with certain people that I've always dreamed of. I put [those experiences] into a little chapter and then I made it into an album." Since his time on the DIVE Studios' "Get Real" podcast, his "sensitivity" has been a running joke among the cast of the podcast and he took the chance to reference that as he laughingly added, "It talks about my sensitivity as well." Hoping that listeners will embrace this new side of JUNNY, the artist concluded that he is looking forward to showing the world what he is capable of doing, musically.
JUNNY revealed that the most challenging part of preparing for this album (which also happened to be his favorite part), was finding his personal sound. "I tried to push myself a lot on this album to really show what I can do." JUNNY is determined to find his signature sound and create an image for himself that is true to him. But such a feat is not done alone. The humble artist gives credit to his team who, he explained, made the album making process more enjoyable. "I felt we kinda did a great job, to be honest. I'm proud of the work that we did, I'm proud of my team […] if I had a video recording of the whole process, 90% of the time we're dancing. We were just enjoying the whole process. I'm very blessed to have a lot of talented people working with me."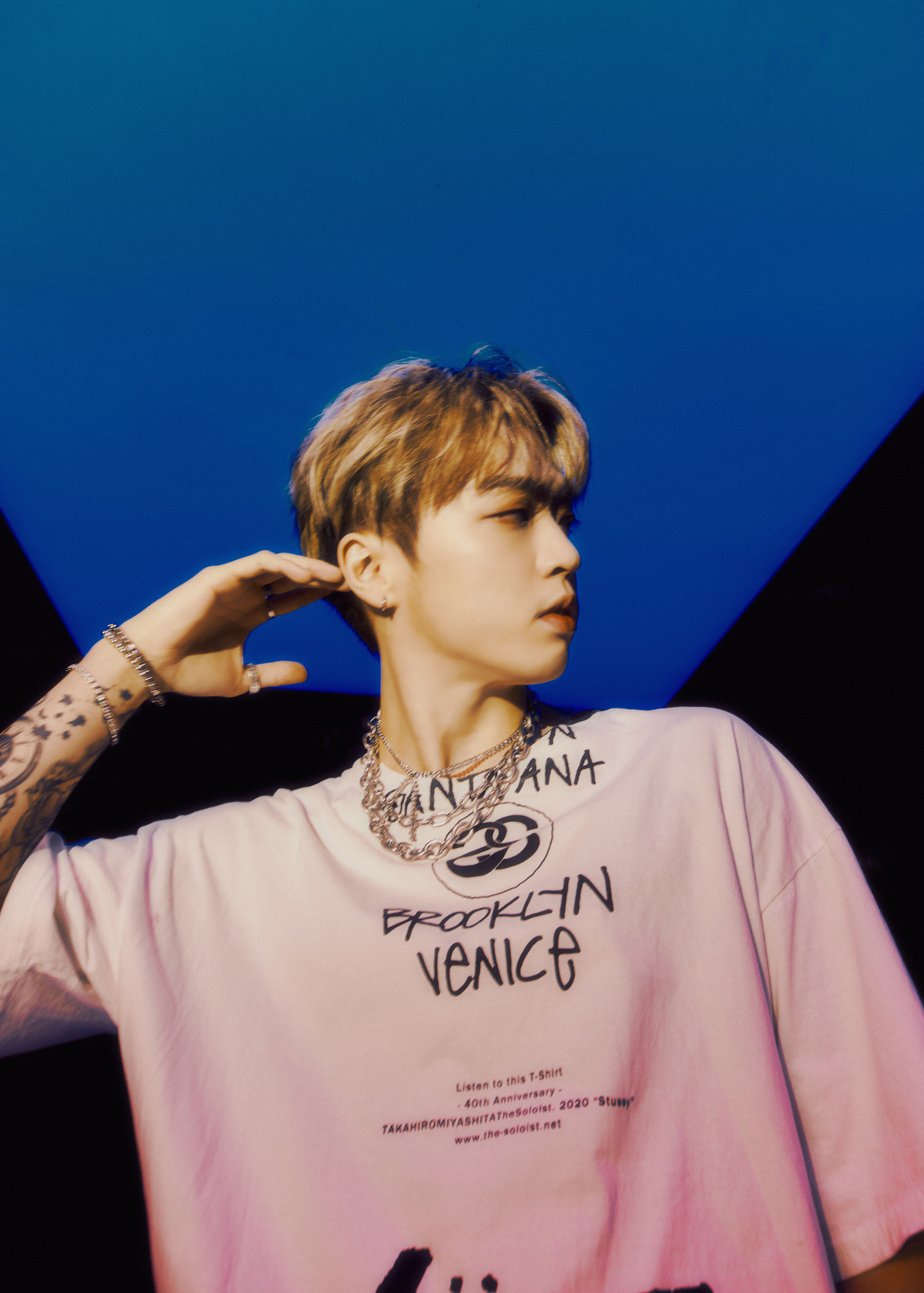 The talent JUNNY possesses is undeniable. He has proven that he is good at what he does as a songwriter, producer, and composer. But when asked about what goals he has set for himself prior to releasing this album, JUNNY responded ever-so-modestly, "I wanna grow, especially for the listeners. I want them to always expect something new out of me, something better, and my job as an artist is to not let them down."
Delving deeper into the album, we asked if there is a message JUNNY aims to spread through this album. With a smile, JUNNY responded, "there isn't like a life lesson that I can give the listeners after listening to this album but just a realization that I'm the same as you guys and we go through the same things, we're human, we all share the same emotions and we're all in this together. […] I want them to get to know me more. [and] connect in a more closer way just by listening to these stories that I've built with my team."
When the topic of his tour came up, JUNNY exuded excitement. "I mean, this is like, Europe, right? I've never been to Europe before and going overseas to perform is crazy to me. I just want to perform anywhere I can and this is one of the greatest achievements that I've earned." After many artists and performers resorted to online concerts and online interactions with fans due to the COVID-19 pandemic, JUNNY looks forward to finally seeing his fans face to face and performing live. To prepare for the tour, JUNNY mentioned that he recently asked fans on Twitter what songs they want on the set list. Laughing, JUNNY admited, "there's a lot of songs! There's a lot of songs I forgot about. I'm trying to make the best set possible, you know, to satisfy everyone and hopefully it works out well."
Origins of the Genius Singer Songwriter
Before moving to South Korea, JUNNY lived in Vancouver, Canada. He grew up in a family that enjoyed singing and music. Being the youngest of three siblings, it's only natural that JUNNY strived to be like his older brothers who are seven and eleven years his senior. "One of the things that [my brothers] enjoyed was just singing. […] And trying to mimic them singing, I realized I could sing in a little way." From there JUNNY discovered more about his talent at school. "During my elementary school, there was a Christmas concert and it was a choir class and the choir teacher pulled me up front and [told] me I was going to sing a solo part for 'Rudolph the Red-Nosed Reindeer.' That was when I was like, 'oh maybe I can sing better than other people. That's cool.'" While reminiscing, JUNNY couldn't help but laugh.
After discovering his talent, he continued to sing and reached his next musical milestone in high school. And in true high school fashion, it was a crush that motivated him to write his first song. "I used to like this girl, […] I wrote these songs about her and I wanted to give her the CD. I never got to give her the CD cause I got really scared but that was when I first wrote an actual song." Covering his face, JUNNY made one last remark about his first song. "It was very embarrassing, but at the time, I was very, very proud of it and proud enough to burn it into a CD." From high school, JUNNY went on to college where he learned how to make music professionally. As he continued to hone in on his craft, he began posting his music on SoundCloud. Growing confident in his abilities, JUNNY took a leap of faith and moved to South Korea to continue his musical journey.
Different Sides of the Artist
Along with being sensitive, JUNNY often mentions on podcasts like "Get Real" that he is easily swayed. But this did not apply when it came down to creating this album. "I always get heavily influenced by others. This album, for some reason, I realized there was a part of me where I'm really, very straightforward. […] I felt like I was very different when I'm making the album." But laughingly, JUNNY was quick to say that as a person, he still easily swayed. When it comes to his craft, JUNNY found that he has a clear vision of what he wants and was determined to maintain that while creating his album. With a smile, JUNNY concluded, "I knew exactly what I wanted, that was for sure. I felt kinda good about it. [Being easily swayed] is one of my insecurities but now it's just like, oh I have a side of me that's this way and I'm glad I got this trait."
A charming point of JUNNY is that many fans find the artist to be relatable. JUNNY's mannerisms and way of communication comes off as genuine and honest and reflects his positive attitude. When asked about his relatability, JUNNY responded, "I never thought 'oh people are gonna relate to this.' It's more like I talk about things and fans and the audience […] relate. At first I was like 'oh that's pretty interesting' but […] we're all human and I've learned that, and we're all the same, we all feel the same things." Knowing this, JUNNY admitted, "now I'm trying to tackle the subgenres, and the stuff that not a lot of people may talk about. […] I want to go for interesting topics where more and more of my audience can [think], 'oh, JUNNY can feel this way,' or 'he thinks this way.' I'm just trying to be more diverse."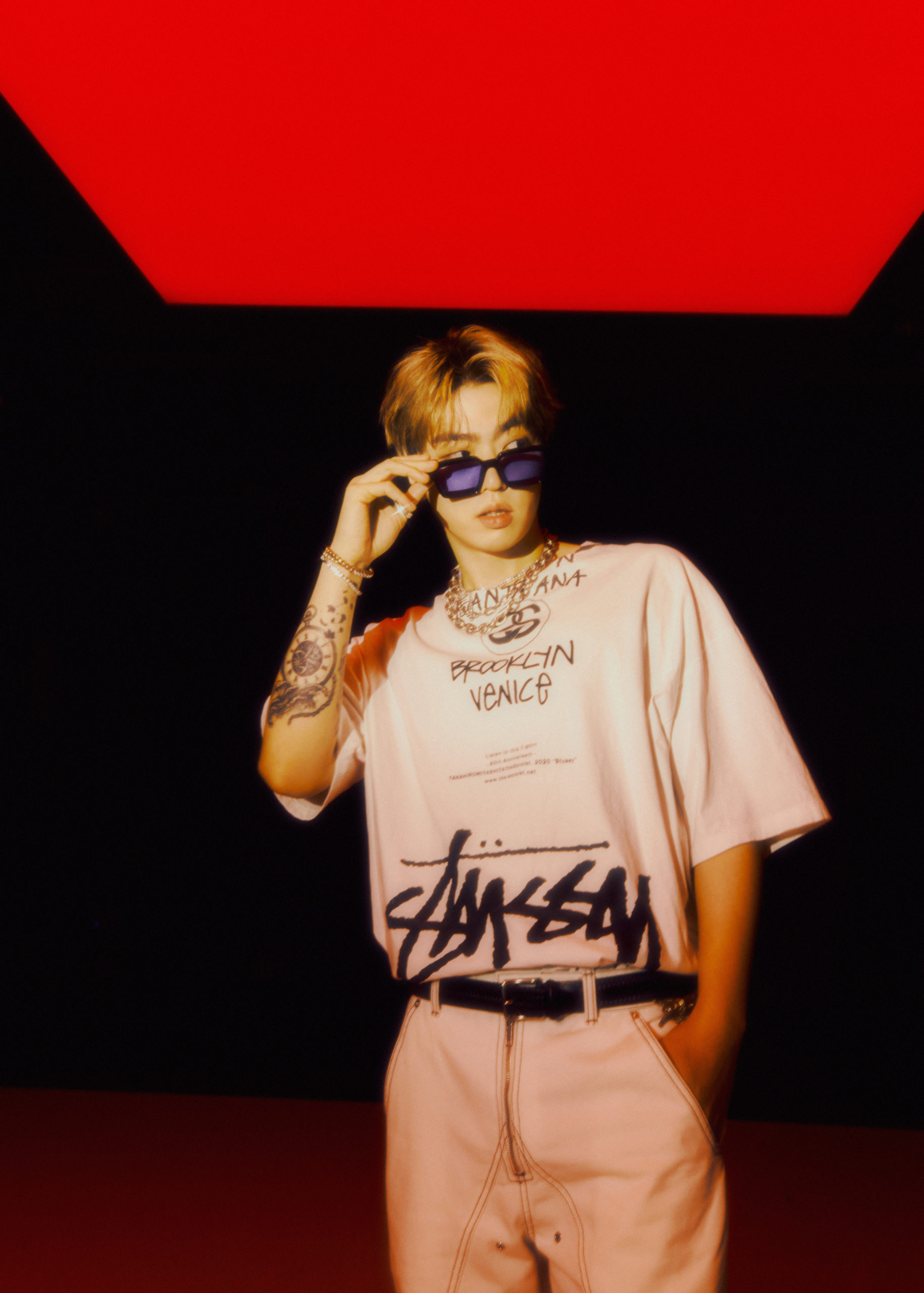 Our discussion on being relatable led to the topic of happiness. In a previous interview, JUNNY simply stated that one of his goals is just to be happy. Elaborating on that, the young singer spoke beyond his years, and shared a heartwarming thought that truly highlighted his genuine attitude. "Happiness is like the best cure for everything, right? […] Happiness is the key in whatever you go through or whoever you're with, you just gotta be happy and that's the best thing you can do. When I make music now, it's more like, if I'm not in a good mood or if I'm feeling down, I know that a song isn't going to come out. I want to work with people who have the same positive energy as me and I feel like those kinds of people I work with, we create beautiful things. Happiness is key, definitely."
With a new JUNNY era upon us, I took the opportunity to ask JUNNY what he has learned so far since beginning his career and if he would change anything. He answered, "I wouldn't change a thing. Everything happens for a reason, that's my belief. […] It made me who I am now." After an introspective moment, he continued, "I've learned a lot along the way, but the most important thing I've learned is, […] there's a lot of sides to this industry and there's a lot of things I have to prepare for, not just in music itself, but visually and concept-wise. I want to present the music I am making and I think that's the difference between my early years in Korea and myself now. I'm thinking about the bigger picture rather than just thinking about the music. I'm very proud of myself for being able to really find that, and just accept that and really work on my craft."
Unforgettable Collabs
In the past couple of years, JUNNY has collaborated with many notable artists. Most recently, he collaborated with pH-1 and CHUNG HA on "Get Ya!" and "Color Me." When asked what it was like working with these artists, JUNNY immediately threw up two thumbs up with the biggest smile on his face, his dimple only adding to the endearing quick reaction. "If I had more thumbs, I'd give them 10,000 more thumbs! […] They both did an amazing job; it's such an honor to have them in these songs and it was a great feeling."
Gushing about pH-1, JUNNY said, "Harry is a good friend of mine, he's so so humble, I mean, to a point where I'm just like 'bro, like you gotta start realizing you're a talented super star!'" The two previously worked on the track titled "AURA," but this was the first time the two were working face to face. "We worked on the song after one dinner together. […] Probably in like 30 minutes he just did the whole verse and I was blown away. '"
Unlike pH-1, this was the first time JUNNY worked with CHUNG HA and he was blown away at her kindness and her professionalism. "She's very professional in the studio and at one point […] she told us she can stay for hours and hours, it wouldn't matter, as long as we're satisfied with the work. She's been in this game for so long and she's one of the top top artists in Korea and for her to say that, I was blown away, I was starstruck. […] She's very cool and I was very inspired."
We continued to discuss artists that have influenced him and JUNNY responded, "It's more like I'm influenced by 10,000 artists around the world and I'm trying to figure myself out that way." Always taking an opportunity to learn more about himself and his personal artistry, JUNNY explained that listening to other artists and genres motivated him to look for his own signature sound and made him realize that is what made them special. "I wanted it to have a certain JUNNY sound and that's when I realized […] I have my own way to go. As soon as I got that on point, I figured out the color and the style of my music right away and this you can see in the albums."
Favorite Songs
With such an extensive discography, JUNNY had a hard time choosing his favorite songs. Rubbing his neck, JUNNY brought up his song "Thank you." The debut single placed at #17 on the Apple Music R&B chart during its release in 2018.
The song continues to stand out to him to this day, and rightfully so. The soft, soulful track highlights the impressive vocal range and lyricism the artist possessed very early in his career. "That song always stuck with me and that's why I always perform it, even to this day. It just means so much. […] It's one of those songs where it wrote itself, definitely." Adding to his list of favorites, JUNNY cheekily shared that another favorite song of his is on the upcoming album. "It's in the album, it's one of my favorite songs I've ever written. […] I can't wait for you to hear this track but that song is one of my favorites."
As for a song that he has written for others, JUNNY reveals the song that meant the most to him is "From Home" by NCT. "I literally wrote that song thinking about myself being away from home. I obviously don't have members of my own I can really talk about but I thought of those people as the people I work with, my company, and [the] friends that I've made in Korea. I kinda imagine […] saying 'without you guys, I wouldn't [have] been able to call this place my home.' It just felt really good and I like that song a lot."
Songwriter to Artist
When JUNNY was asked if he felt added pressure when he writes songs for other artists, he answered, "To be honest, not saying that writing for other people isn't a challenge, I obviously feel the pressure. But I feel more pressure when I work on my own because it's my name on the line and I know I have to […] figure out my own self, [and] what feels good for me." He compared writing songs for others to being the artist's stylist; "it's my job for them to look good on stage, that's what I'm trying to do."
But JUNNY got very candid and added that writing his own songs is more pressure for him because it involves knowing himself and understanding his own artistry. "When I'm making my own songs, I have freedom and having that freedom is a positive in a way but sometimes it can really get to you especially when you're brainstorming. That's why it feels like it's much more difficult and that's when the pressure comes in. […] For me, I don't know, I'm figuring it out, and it's a process and that's why it's very different."
But that doesn't mean he will stop songwriting. At one point, we began talking about him possibly collaborating with NCT and WayV member, (and his friend,) Kun. With a cheekily smile, JUNNY simply said "you may be able to see something very soon!" before picking up his mug to take a sip of his drink. Quickly changing gears to talking more about his friend, I was left wondering if this song is the NCT Lab song that was announced to come soon from Kun.
By this point, it was clear that JUNNY is someone who has a lot of love and respect for his friends and fellow musicians. Speaking of Kun, JUNNY had nothing but good things to say. "He's very talented. I always see him as more of a friend, someone that I can relate to and he relates to me as just foreigners in this place. He's such a humble and sweet guy. When we talk he always has this certain charm about him where he keeps me calm and tells me these great stories. He's very full of wisdom."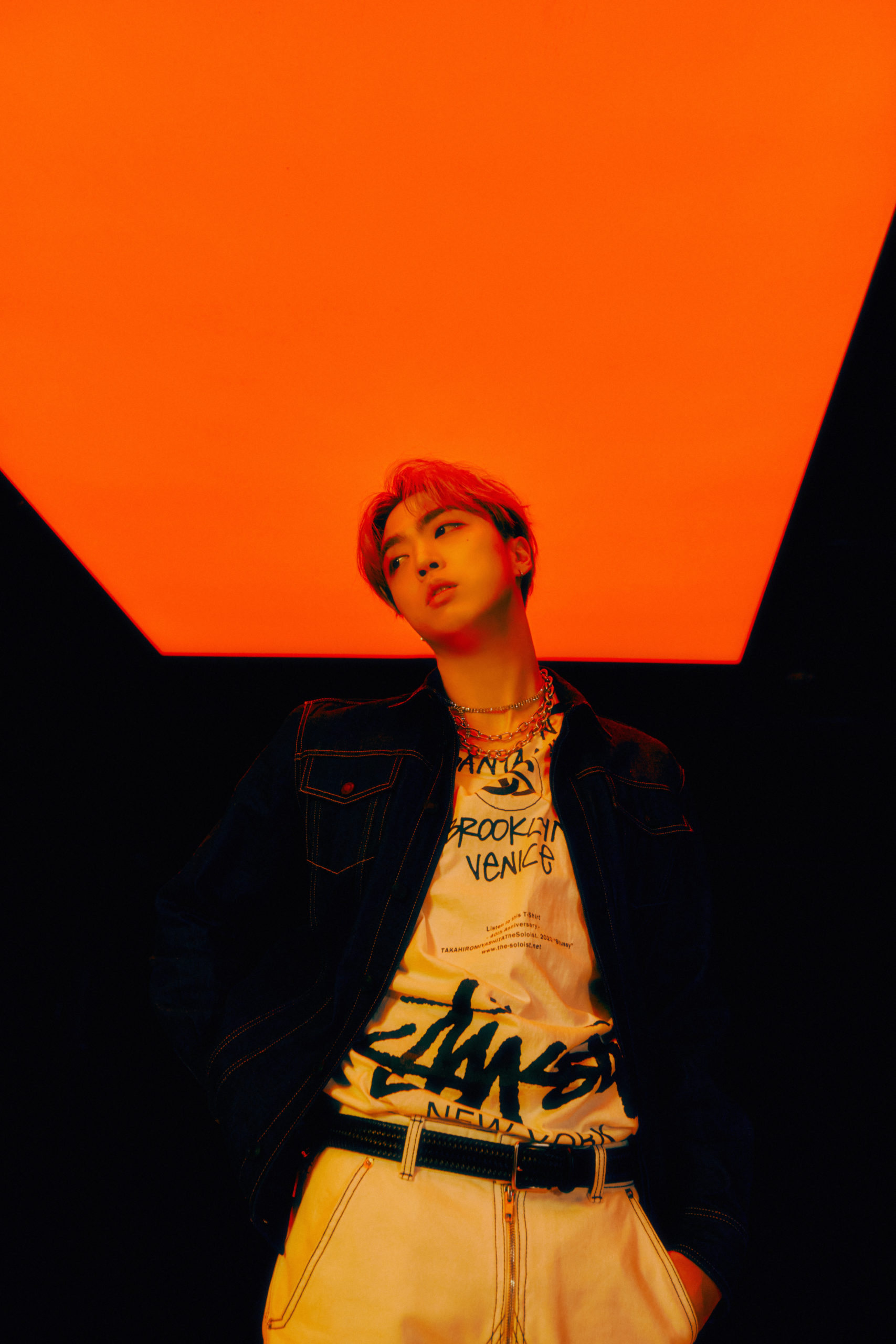 As we got closer to the end of the interview, we asked if there was anything he wanted to talk about. Though we were taken aback by his answer, we were left with feeling more respect for the artist than ever before.
"If I really wanna get honest, I kinda want people to talk about more of my songs too. […] Obviously I've worked very hard last year as a songwriter. I wrote a lot of songs for others and it was a privilege and it was amazing but now i'm really trying to figure out myself as an artist and I want to push myself and be out there. That's why I'm doing all these things that I've never done before. It's very [nerve-wracking] but at the same time it's very, very exciting and I'm enjoying every part of it and I wish people could see more of the artist JUNNY in me and that people appreciate the songwriter in me." Continuing to speak sincerely, JUNNY added, "fans like you know my music, like you've listened to my music for so long and you appreciate me as JUNNY but I feel like there are more people that know me for a songwriter and it's like my duty, my wish, my job, and my mission for them to appreciate me as an artist as well. And it's up to me, right? I gotta put out the good stuff, I gotta put out the good music and the product itself and I gotta put myself out there." JUNNY acknowledged that there is room for growth and obtaining that growth is in his hands. "I hope that this album that I'm gonna release can really help me in that way to shift my way to that road and [I'm] super excited about that."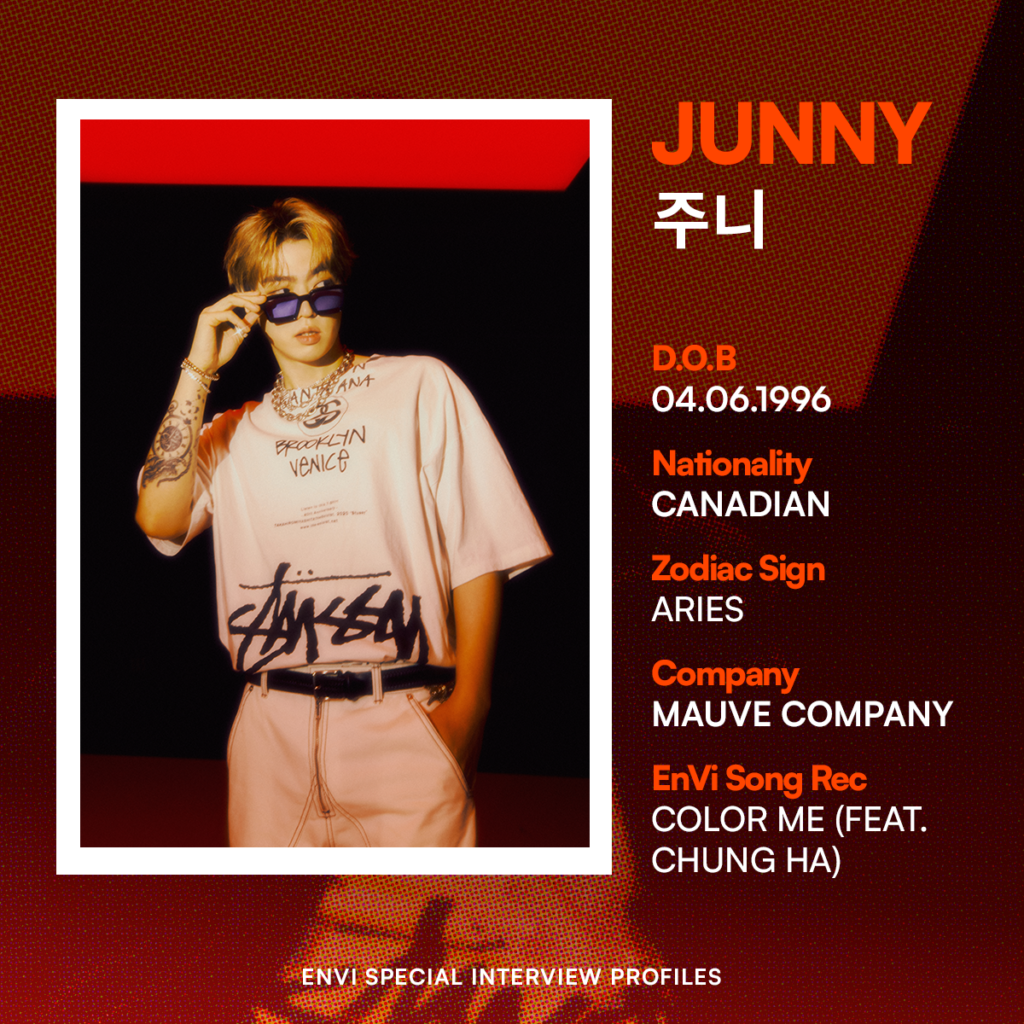 Check out JUNNY's music on Spotify and Apple Music and be sure to follow him on Instagram, YouTube, and TikTok to keep up with his latest updates!