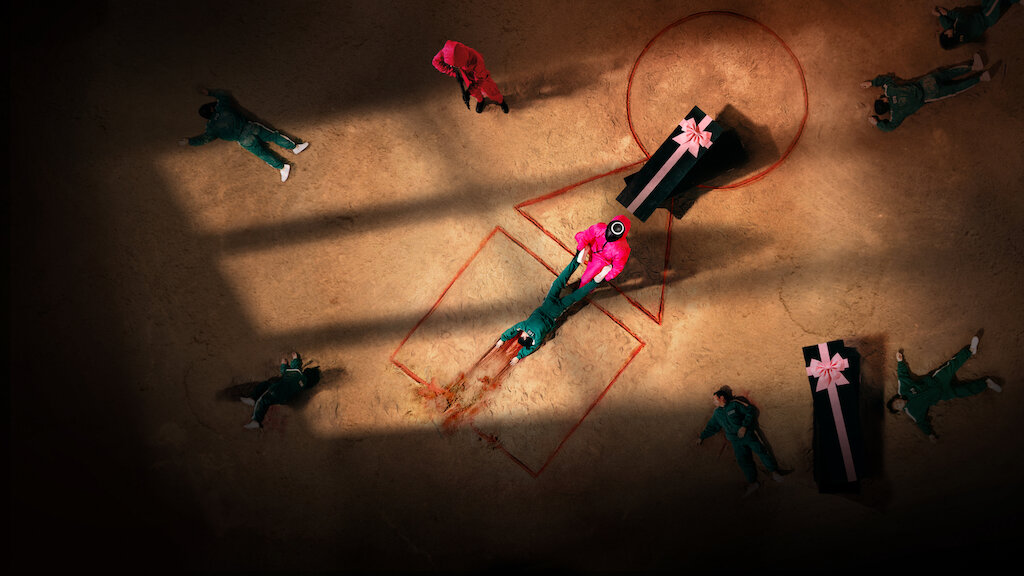 On September 1, Netflix released their official trailer for their newest original Korean drama, Squid Game.  Also known as Round Six, Squid Game is an upcoming eight-episode suspense and thriller series. It stars Lee Jung Jae, Park Hae Soo, and Wi Ha Jun and will revolve around a mysterious survival contest. 456 contestants will compete in six extreme versions of childhood games for a grand prize of 45.6 billion Korean Won. 
It All Started With a Comic Book
Hwang Dong Hyuk, the writer and director of the upcoming series, is known for his numerous successful works. Silenced (2011), Miss Granny (2014), and The Fortress (2017), are just a few he has under his belt. In August, he revealed that he came up with the idea for Squid Game when he read a comic book about survival games back in 2008. Since then, he wanted to develop a survival drama that represented Korea. He wanted to incorporate childhood games that many Koreans have the experience of playing to create a sense of nostalgia amongst his target audience. He held on to this idea for more than 10 years until he brought it to life with Netflix. 
Squid Game, is the literal English translation of 오징어 게임 which is the original title of the drama written in Hangul. The title references a popular South Korean children's game which is a variation of what most people know as Tag. In this game, opposing teams use a board drawn on the ground that resembles a squid. 
Veteran Cast
Lee Jung Jae as Ki Hoon, Contestant #456
Initially starting as a model, Lee Jung Jae made his acting debut in The Young Man in 1994. He has since been in over 40 successful films and dramas. His most notable works include Chief of Staff (2019) and Deliver Us From Evil (2020).  
Park Hae Soo as Sang Woo, Contestant #218
Since his musical theatre debut in 2007, Park Hae Soo has starred in numerous films and dramas. Some of which are Prison Playbook (2017) and By Quantum Physics: A Nightlife Venture (2019). He will also star in the upcoming Korean remake of Money Heist. 
Wi Ha Jun as Jun Ho
Wi Ha Jun made his acting debut in 2012. Before he landed the role for Squid Game, he was fluctuating between working on suspense films and romance dramas. He is best known for his works such as Gonjiam: Haunted Asylum (2018) and 18 Again (2020). 
Other actors expected to appear are Oh Young Soo, Jung Ho Yeon, Heo Sung Tae,  Kim Joo Ryoung, Anupam Tripathi, You Seong Joo, and Lee You Mi. 
A Colorful Splash of Suspense 
On September 1st, Netflix released the official trailer for the series. A couple of weeks earlier, the official teaser was released. The teaser and trailer accumulated over 803k views. The trailer gives off an eerie atmosphere as it opens up to a suspenseful timer sound playing in the background. We see shots of the 456 contestants led single file by a mysterious group of people wearing faceless masks. These masks only have a large shape of either a circle, triangle, or square adorned on their forehead. It gives the same vibes as a dystopian Black Mirror episode. The leader of the mysterious group explains in a distorted voice— all these contestants are here because of debts they are unable to pay off.  
In contrast to the suspenseful scenes, the rest of the trailer is practically a visual feast! Contestants are housed in what seems to be one big child's playground with bright carnival lights and eye-catching walls. We also see the faces of contestants who are of all genders and from the ages of young adults to old seniors. We even see the face of a young South Asian man (played by Anupam Tripathi) that entered the game. Quite obviously, there are no children as contestants, most likely because children do not have to worry about debts like adults do. Ironically, however, all these contestants are expected to win the cash prize by playing children's games. 
The trailer gives a glimpse of one of the six games the contestants have to play —one of the most infamous childhood games, Red Light, Green Light. One person acts as a traffic light by shouting red light or green light to the rest of the players. When the green light is called the players move towards the traffic light but when the red light is called, players cannot. If players are caught moving when the red light is called they are either disqualified or sent back to the starting line and whoever reaches the traffic light first, wins.  Sounds simple enough right? In Squid Game's trailer, players are seen to be brutally murdered if they are caught moving. And this is where we start seeing the panic erupting which raises the question to the contestants, will 45.6 billion Korean Won be worth it?
Shall We Play?
In honor of the upcoming series, Itaewon Metro Station in Seoul was transformed into a colorful jungle gym. Squid Game's very own Wi Ha Jun and Anupam Tripathi were seen taking photos around the colorful display. 
View this post on Instagram
View this post on Instagram
View this post on Instagram
netflix's promotion for squid game is so cool! i wonder how they'd promote annarasumanara pic.twitter.com/35OKRPCPBL

— jau (@flyhigh_hiy) September 5, 2021
Fans Compare
Fans are ecstatic to have a new Netflix survival series to binge-watch and have been counting down the days till the release date. Many compare the upcoming series to other previous releases such as Alice in Borderland (2020), Hunger Games (2012), and Black Mirror (2011). 
!!!! something to fill the alice in borderland shaped hole in my life !!!! https://t.co/8BWNc72zm9

— iana murray (@ianamurray) September 2, 2021
#SquidGame posters look so cool 😱 pic.twitter.com/HcOCf4MkUq

— ♡ | #TheVeil (@jujihoonheart) September 8, 2021
I just saw the trailer for upcoming Netflix K-drama Squid Game..its like a kdrama version of the Hunger Games..seems weird, twisted and a lil graphic..I can't wait 😁

— Boujeena (@Boujeena) August 20, 2021
Squid Game is rated 18+ and will be released on September 17th worldwide on Netflix. Be sure to check it out! 
Want more ACT!ON coverage? Read about the trailer for the upcoming film Turandot here!
Thumbnail courtesy of Netflix.