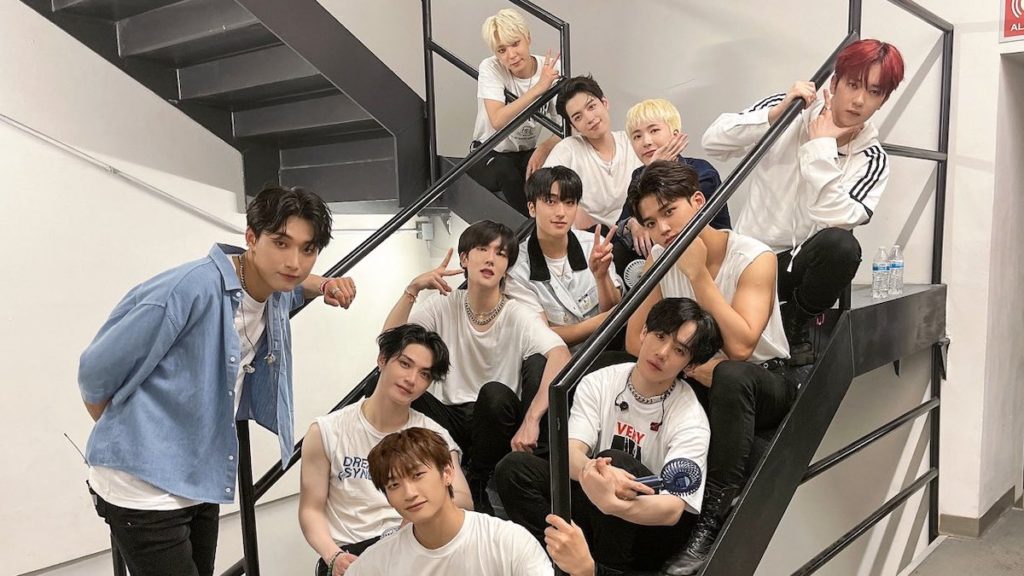 On October 4, OMEGA X performed the first U.S. show of their first world tour – "CONNECT: Don't Give Up" – at the Palladium Theater in NYC. Before coming to the United States, the group made five stops across Mexico, Colombia, and Chile.
Excitement was high before the show began as fans, named "FOR X", waved their lightsticks to create a sea of green in front of the stage. As all eleven members – Jaehan, Hwichan, Sebin, Hangyeom, Taedong, Xen, Jehyun, Kevin, Junghoon, Hyuk, and Yechan – prepared to take their highly-awaited appearance on the stage, fans made their presence known by cheering along to songs playing in the venue.
All Eyes on OMEGA X
There's no doubt OMEGA X know how to bring energy, and their fans follow suit. Both the members and the crowd made sure there was never a dull moment.
As the venue lights dimmed to an illuminating blue, the group came out powerful as ever, opening the show with their 2021 debut song, "VAMOS." Hearing its introduction and members shouting their tag "OX," fans roared, enthusiastically welcoming the members to their first concert in New York City. Keeping energy high, the group followed with the captivating track, "OMEGA X," and all eyes were definitely on OMEGA X. After a brief introduction, the group kept spirits high with "What's Going On."
A Concert of Firsts
"CONNECT: Don't Give Up" is the group's first world tour since their debut in 2021. Although some members such as Xen and Jehyun had visited the States before in 2020, this was their first appearance as OMEGA X. This was also the group's first time meeting American FOR X, allowing them to showcase first-time performances of select songs in their discography such as the sultry "Love Me Like," b-sides such as "Dry Flower," "Ice Tag," "All About U," "Liar," " Venus," and their most recent summer title track "Play Dumb."
Despite facing obstacles with the U.S. leg of their tour including canceling a few cities' stops and postponing the NYC date after an unexpected change in tour companies, the members faced the crowd with immense positivity and never failed to state how excited they were to meet their fans. "New York looks just like the movies," the group shared, expressing their excitement to be in the city.
A Gift FOR X
OMEGA X are pros at making their fans feel special, so it should be no surprise they came equipped with a unique experience for them.
Each member was assigned their own representative city corresponding with the eleven cities of the US tour, and leader Jaehan was the representative member for New York. A "pop quiz" about the leader was the surprise, and one lucky fan who answered correctly was brought on stage with the group for a gift. 
As Jaehan asked about his favorite color, fans quickly and enthusiastically raised their hands. Jaehan was surprised at the enthusiastic response and could not decide who to pick. One lucky FOR X gave the correct answer (green) and was brought to the stage as promised. The gift: the OMEGA X members and Jaehan circled her and sang their fan-favorite ballad, "LOVE." The group finished this sequence with a selfie with the fan and made sure every second of her experience counted.
Beyond creating an unforgettable experience, the members were focused on making the fan feel welcome by creating a safe space, from her sitting on the stool to her exiting the stage, showcasing their immense kindness and care towards FOR X.
Never Give Up
As difficult as concert goodbyes can be, there's no doubt OMEGA X began the US tour with a bang. This show was one that will be memorable for both members and fans for a long time. "I'll never forget today, and we promise to come back to New York," shared Taedong.
As the group gave their ending ments for the night, each member received roaring cheers from the crowd, including a best leader chant for Jaehan, which the other members also participated in. Without a doubt, they all expressed their gratitude to the crowd for their support and thanked fans for such a warm welcome with high energy. Yechan expressed, "I'm so appreciative of you, and I want to say: never give up on your dream," referencing the name of the tour: "Don't Give Up."
The concert's end was filled with sweet and interactive moments between the group and the crowd, including members holding fan-made banners and slogans during the upbeat sentimental encore songs "Younger" and CD exclusive "For Baby." On top of the impressive performances, skilled vocals, and captivating choreographies, OMEGA X's interactions with the crowd added a new level to the concert.
OMEGA X will be making their way across the United States through October. For more dates and locations, look here. Be sure to keep up with OMEGA X on Spotify, Twitter, Instagram, and YouTube!
For more concert coverage, check out our recap of NCT 127 in Manila here!