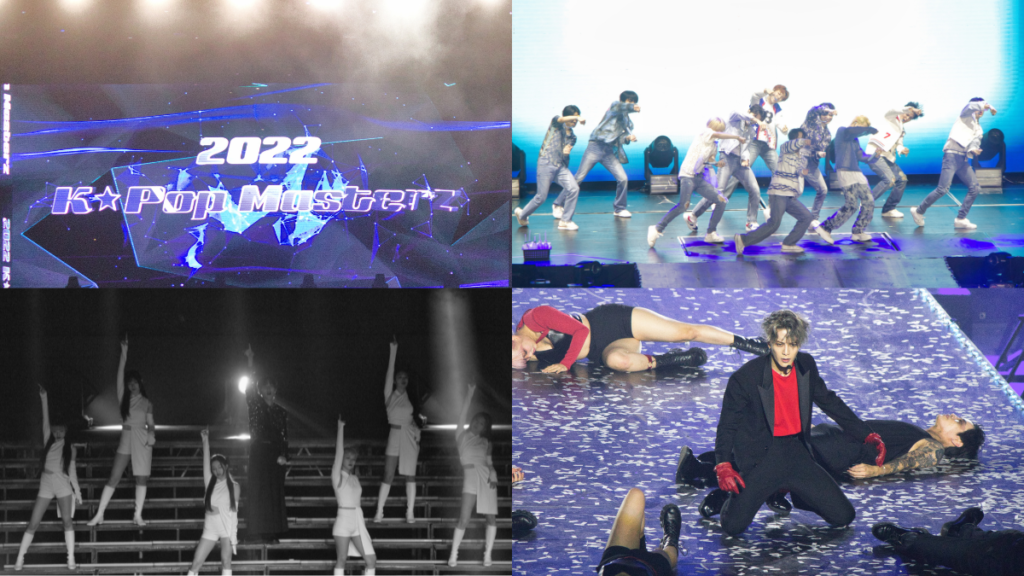 On July 29, PULP Live World presented 2022 K-POP MASTERZ in Manila, featuring TREASURE, BamBam, and Jackson Wang. Both fandoms, TEUMEs and Ahgases, waved their lightsticks to create a blue and green ocean, showing united support for the performers. With Kring Kim as the host, the show was filled with active call-and-responses and dialogue between the performers and the lively audience.
A Strong Start with TREASURE
With ten seconds left on the countdown, the audience's energy was sky-high as the screens introduced TREASURE and the members ascended to the stage. The ten members present—CHOI HYUN SUK, JIHOON, YOSHI, JUNKYU, YOON JAE HYUK, ASAHI, DOYOUNG, HARUTO, PARK JEONG WOO, and SO JUNG HWAN—started off with "JIKJIN." The group's blue-and-white outfits and denim jeans perfectly matched with TEUME's bright blue ocean, and so did their energy. TREASURE continued the enthusiasm as they sang "I LOVE YOU" to TEUMEs. After the first songs and TREASURE's introductions, TEUMEs sang happy birthday to JAE HYUK, who had his birthday last week. The belated-birthday boy thanked the fans, "I'm very happy to receive greetings like this from TEUMEs, so I'm very happy. Mahal kita (I love you!)"
As first-timers in the Philippines, TREASURE had their Filipino vocabulary and first impressions to share. "Masaya ako na nandito ako (I'm happy to be here)," and "Masaya ako makilala kayo (I'm happy to meet you guys)," JAE HYUK and CHOI HYUN SUK greeted in Filipino respectively. Leader JIHOON also complimented, "Magandang TEUME (Beautiful TEUME!)" More special mentions included tourist attractions Boracay and Cebu, as well as Philippine mango juice and mangoes–cited as "special and different" by SO JUNG HWAN. After showing off their adorable knowledge of basic Filipino expressions, the group continued their setlist with "MY TREASURE" and "MMM."
Game Night with TREASURE
Apart from exciting performances, the night had more to offer for TEUMEs. The event also prepared the game "Treasure Match," in which the group split into two and assigned members with rock, paper, and scissors. TREASURE were split into Team "Gwapo (Handsome)" and Team "Mahal kita (I love you)"—both names courtesy of TREASURE themselves.
After the groupings, "One Body One Soul" followed next. All members of each team must act out the assigned word without hinting at each other (of course, the rules were cheekily broken sometimes). With heart-fluttering poses for "ballet," "gwiyomi," and "heart," scream-worthy ones for "sexy," and hilarious (and possibly confusing) poses for "Beyoncé," TREASURE showed TEUMEs their fun and competitive side. Called out multiple times, the boys had slightly mismatched poses, but none of which TEUMEs couldn't excuse. While the game ended in a tie, the ddakji tie breaker ended the same way. "One Body One Soul" concluded both groups as winners, so everyone got the prize—a photo time with more lovely poses for TEUMEs.
After the game, TREASURE thanked TEUMEs in their ending spiels and promised that they will be back. TREASURE wrapped up their setlist with "BOY," and of course did not leave without performing a remixed version of their Tiktok viral sensation "DARARI," an anthem everyone in the crowd knew.
Wheels Up with BamBam
Continuing the night party, BamBam's VCR took the arena by a thunderstorm quite literally with a dark castle and royal banners with the soloist's name in the background. BamBam started his setlist with "Wheels Up" and "Ride or Die." While he sang that he "didn't come to play," BamBam admitted he only had one thing to say… "Skrrt skrrt."
Kidding aside, the soloist mentioned that he had prepared a lot for Manila. "I'm bling bling," he replied as Kring Kim complimented his outfit—an all-black look with a glimmering top that shined with every movement and loose pants. Despite being in the country before, BamBam confessed that this particular trip to Manila was the most fun. After giving the Filipino fish bangus (milkfish) a special mention, BamBam proudly flaunted a new phrase that was clearly to his liking, "Shot puno!" to which the fans replied with surprised but excited cheers. The singer also mentioned wanting to go to the Manila Night Market. After he found out it was nonexistent, he promised to make it with the name "BamBam Shot Puno."
Never-ending #BamBamShotPuno
The phrase that BamBam liked so much trended soon after on Twitter, especially thanks to the next segment. In "BB's Yes or No," a yes-or-no interview to gauge more of BamBam's personality, BamBam was first asked if traveling would be his first priority if he won the lottery, but he shared a different goal in mind, "I have to make a night market!" and said he would name it "BamBam Shot Puno." Despite his uncanny knowledge of Filipino phrases, BamBam only learned "Mahal kita" after he was asked if he can say "I love you" in five languages.
The next question was met with a lot of protest from the crowd. When asked if he was ever surprised by how good-looking he is, BamBam answered no and explained that he wanted people to see his performances instead of his face. The crowd did not back out and started chanting "BamBam pogi (handsome)!" Kring Kim supported the statement, "There's a lot of good-looking people out there, but they're not BamBam." In a later segment, a similar question was asked if BamBam would want a different face if he were to be born again. "I'm not trying to be someone else," the singer responded with confidence.
BamBam's unexpected Filipino vocabulary continued to shock as he shared that his favorite nickname at the moment is "bangus." He shared that he had been eating bangus daily since he arrived in Manila to the point that people started greeting him, "Hi, bangus," which he would reply with "Hi, sisig!" BamBam hailed bangus as the best fish he ever had in his life and proudly mentioned that he tried both the fried and soup variants.
More surprises awaited the audience as the first few chords of Ronnie Liang's "Ngiti" started playing. Seven years ago, BamBam promised to sing the song again after performing a short snippet at their first Manila fanmeeting in 2015. A Filipino classic, "Ngiti" echoed throughout the arena as the audience sang along. BamBam continued his setlist with the slow but mesmerizing "Who Are You?" and the contrasting hip-hop/dance song "Pandora."
A Nostalgic Surprise
As if the night couldn't get any crazier, BamBam asked, "Can I do something really crazy right now?" and invited a special, yet impromptu, performer on stage. "Welcome to my second home, Bambam," greeted Sandara Park. The K-pop veteran shortly sang the second-generation megahit "I Don't Care" by 2NE1. If the nostalgia wasn't enough, the crowd brought out their inner Blackjacks and sang along to the K-pop classic with the 2NE1 version in the background music. With Sandara on the stage, BamBam concluded his setlist with "riBBon."
Jackson Wang Brings the Heat
Blue and green lit up the whole arena, but Jackson Wang's set took over with all red. His setlist started with "Cruel" and "Blow," contributing to Manila's already palpable heat. This was only a preview of the heat that he had to offer Manila, and Manila was all glad to return it with their energy. "When they cheer for you, you know they mean it. That wave just comes to you and hits you," Jackson commended the crowd and tugged at Filipino fans' heartstrings as he called them "so pretty."
Jackson had more to say about the Philippines. After Jackson was asked about what comes to mind in the topic of the country, one point to the crowd evoked a loud cheer after he reiterated the Filipino audience's way of showing their support. It would have been incomplete if the soloist did not share the extent of his Filipino vocabulary. "Isa, dalawa, tataru (one, two, three),"—the last word being his own adorable variant for "tatlo." Afterwards, he added in some suspense as he teased, "I don't know if it's appropriate; can I say it? If I say it, don't judge me, all right?" The word was revealed to be a term jokingly thrown at him, "pangit (ugly)." Met with a loud but expected disapproval from the crowd, Jackson revealed he didn't know the meaning and asked if it was a bad word. "Jackson pogi!," the crowd chanted. And of course, Jackson uttered the classic "Mahal ko kayo" back to his fans.
The Filipino crowd was truly special to Jackson as they heard the fresh release "Cruel" and unreleased songs from his upcoming album, Magic Man, live for the first time. Filled with too-many-to-count hip thrusts, Jackson's "Magic Man" performances were not the last of Jackson's wild stunts. In the following spiel, Jackson's gentleman antics kicked in as the soloist offered his towel for Kring Kim's comfort. The flustered host remarked in Filipino, "I can't look straight at him anymore" before she gained her composure for the next segment.
Click, Click, Watching
The final segment was "Click, Click, Watching," in which Jackson explained stories behind the photos flashed on the screen. Explaining his photo at the launching of Mudance, the singer revealed that his favorite in the collection was the bikini. Followed by the rehearsal photo for Coachella, Jackson's anecdote revealed that rehearsals spanned six hours per day for two weeks. The last photo displayed Jackson moving a basketball hoop at his friend's house in LA. On the topic of basketball, the singer shared, "I like basketball, but I suck at it."
Kring Kim's response with an easy-to-misunderstand transition: "We are gonna check how good or bad is he with balls," which left fans flustered for a while as Jackson started to throw signed balls at the audience. The excitement was high as fans competed to catch the prizes. Jackson went an extra mile and gave away not just the basket that contained the prizes but even went down the stage to personally give the last ball to a very lucky fan.
Before wrapping up, Jackson also gave the stage to his beloved back-up dancers, who likewise shared their excitement to be in Manila. The crowd, of course, gave the dancers the same Manila-exclusive hype (you can definitely count on the Manila crowd for that). A jacket-less Jackson in a red tank top officially concluded the night with "100 Ways." While Jackson's arm flexes and fiery outfit were the last to heat up the night, the audience was left wanting more after the last song.
Manila-exclusive Hype
Whether it was the long hiatus of live events or simply the fans' excitement to see TREASURE, BamBam, and Jackson Wang live, their enthusiasm was surely one unique point that sets them apart from other audiences—as evident by the performers specifically commending their support. If the crowd's level of energy were the only measure to bring groups to the country, TREASURE, BamBam, and Jackson Wang will surely be back.
Listen to TREASURE, BamBam, and Jackson Wang's releases through their Spotify links and check out PULP Live World's Twitter Guide on K-POP MASTERZ IN MANILA.
Excited about more concerts in Manila? Check out our article on PULP Live World's future events here.