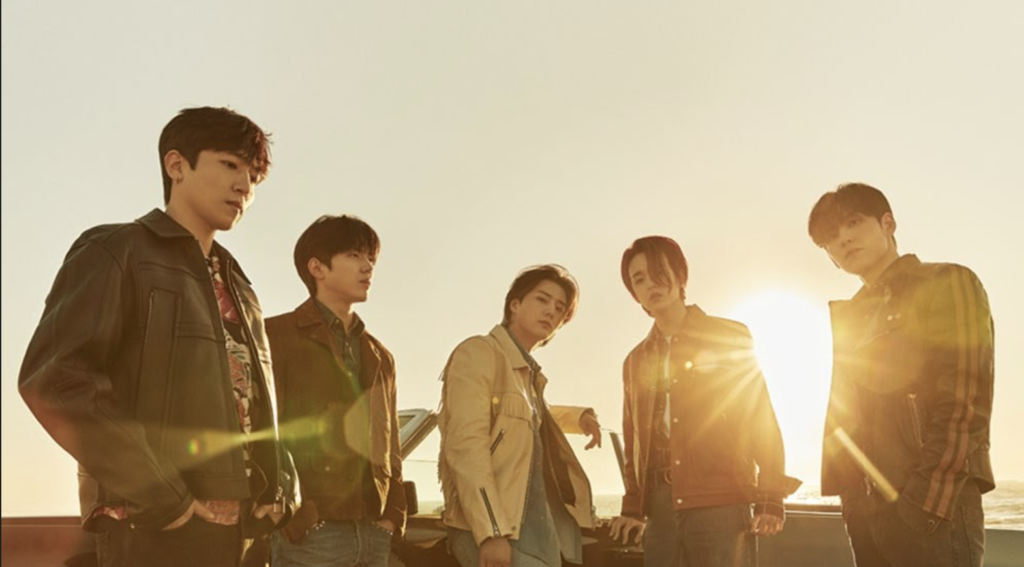 By Jannat Begum | @_jannatara
Following their almost year-long hiatus, Day6 is back as a group with The Book Of Us: Negentropy – Chaos swallowed up in love. Released on April 19 at 6PM KST, the mini-album contains seven songs – "everyday we fight," "You make Me," "Healer," "Only," "above the clouds," "ONE," and "so let's love." 
An Album to Bless The Ears
Day6's musical ability is no joke, and The Book of Us: Negentropy – Chaos swallowed up in love is just another example of this among their array of musical endeavors. Day6K kicks off the album with the track "everyday we fight," the upbeat song details the many fights that occur with one's lover but reflects positively on these moments. With these moments of pain, the value of open communication and the stronger relationship that comes from it is not lost. In an interview with Pinkvilla, Day6's Dowoon cited this song as his favorite, saying, "it has the feeling of continuing to push forward." 
Next, the title track, "You make Me," tells the  meaningful story of hiding one's pain so as not to bring burden onto one's lover. The music video for the song is already accruing its fair share of fan theories to explain the visuals behind the weighted lyrics. 
True to its title, "Healer" is a healing song that speaks on the comfort and warmth one's lover brings. Regardless of the circumstance, with their presence, everything is okay.
Moving on, "Only" is a romantic love letter reassuring commitment to one's lover. With strong vocals during its verses contrasting the sweet blending of voices in its outro, the mellow song shares with the assurance there is "no need to worry" because "you are my only love." 
The track "above the clouds" begins with soft instrumentals to share a touching message. Transitioning from the previous songs filled with a present love, this song takes a different stance to point to the aftermath of a relationship or friendship, not being with a person but still wishing well unto them. Day6's Jae said the song "depicts the changing of angle of one's thoughts, from the memories that's full of painful memories to happy memories."
"ONE" has the lasting image of a metaphorical road embedded in its lyrics. Of "ONE," Wonpil of Day6 said, "I thought it would be nice for this song to have power. That the people who are listening together with us, who are singing it, can feel the strong energy." 
The last of the mini-album, "so let's love," takes a less lighthearted tone than "everyday we fight." Where the latter accepts fights as part of the relationship, the former speaks on the darkness of feeling incomplete and alone and the desperation one feels to be loved.
A Warm Welcome Back
It is safe to say Day6 delivered a wide range of emotions with this mini-album. Though it has just been released, the album does not fall short with its successes. Within hours of its release, The Book of Us: Negentropy garnered five #1s on the iTunes Album Chart. The music video for "You make Me" has already surpassed one million views on YouTube and the song reached #1 on Bugs. 
Although there will be no promotion of this album, the songs will be enjoyed by fans across the world in the meantime. 
Listen to The Book Of Us: Negentropy – Chaos swallowed up in love here on Spotify and Apple Music!
Thumbnail courtesy of JYP Entertainment.
Looking for another mini album to add to your music library? Check out EnVi's review of Kang Daniel's YELLOW!