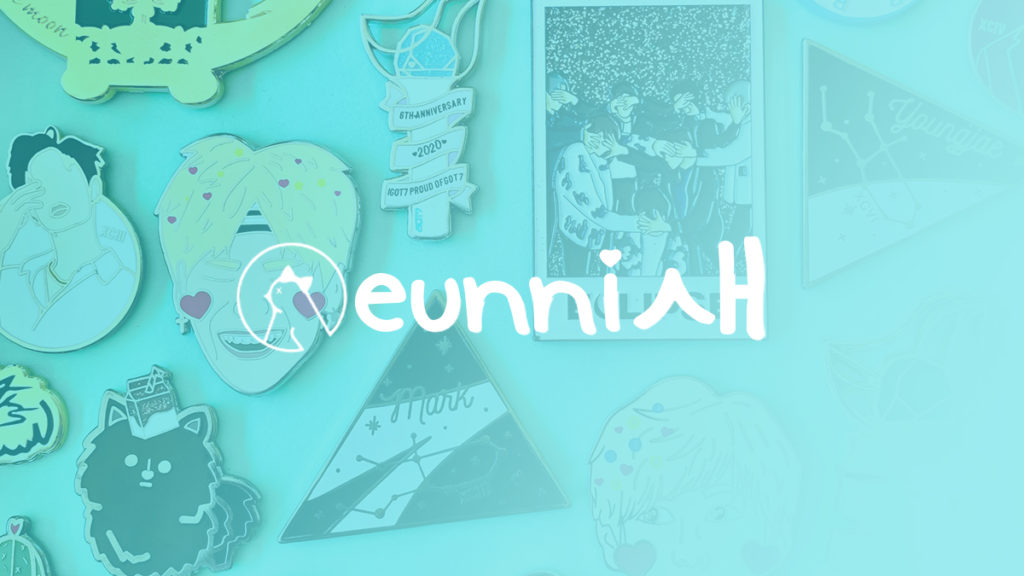 EnVi is back again with another small business spotlight! For our first shop this year, we talked with Shay, the co-owner of Eunnise Pins, a US-based online shop that sells K-pop enamel pins, clothing, accessories, and most recently, plushies! Get to know more about their unique products and how they started.
From Collectors to Creators
Eunnise Pins started three years ago on "a whim and have basically been winging it this whole time." Along with Angie, they started selling pins as they personally are huge pin collectors. "I think Angie had always entertained the idea of having a pin shop, so almost immediately after discovering and falling in love with Got7 together, she asked if I would be interested in making Got7 pins," she shared with EnVi.
 

 

View this post on Instagram

 
Aside from Got7, they also made merchandise inspired by K-pop groups such as Stray Kids, Day6, Black Pink, and KARD. "We do have the intention of spreading into other groups because we are multi, we just have not gotten there yet," Shay told EnVi.
An Aghase's Strategy
Their very first item design is inspired by Got7's Present: You era. It is an enamel pin inspired by the song "Lullaby" and is still a popular item in their shop since its release. "At the time, there weren't that many Got7 shops or fan-made merchandise in general for Got7, so we decided to do it ourselves!" said Shay.
View this post on Instagram
Angie and Shay met in art college and both have backgrounds in design, that is why all of their products are "original, hand-drawn designs and come straight from their Ahgase hearts!" Since then, they have continued to produce merchandise that K-pop fans would want with designs inspired by their biases and the fandoms they belong in.
Eunnise's Top Picks
If you're a pin collector, you'll definitely love their 'Galaxy Boys' collection. Composed of 7 pins that fit together, each pin is inspired by Got7 members. This glow-in-the-dark pin is surely something you should add to your Ahgase merchandise! Each pin is priced and sold individually for only USD 8.
View this post on Instagram
If you love plushies, their Sister새 and Baby새 plushies are the "greenest, roundest bird plushies you'll ever squish!" You can avail them for only USD 38. Shay shared their first reaction when they received the prototype plushies, "Holding the prototypes of those for the first time was really surreal. It went from a drawing on my iPad to a real-life object! It's a really crazy feeling." The plushies are 12 inches big and (weigh) 15.5 ounces. It also comes with a personal birth certificate! It's definitely a plushie worth adopting!
View this post on Instagram
Got something from Eunnise Pins that caught your eye? Make sure to add them to your carts now! Visit their Instagram page to know more about other K-pop merchandise that they offer. Thank you Shay for sharing your business story with us!
If you liked this month's small business spotlight, check out last month's small business spotlight and discover more K-pop small businesses!