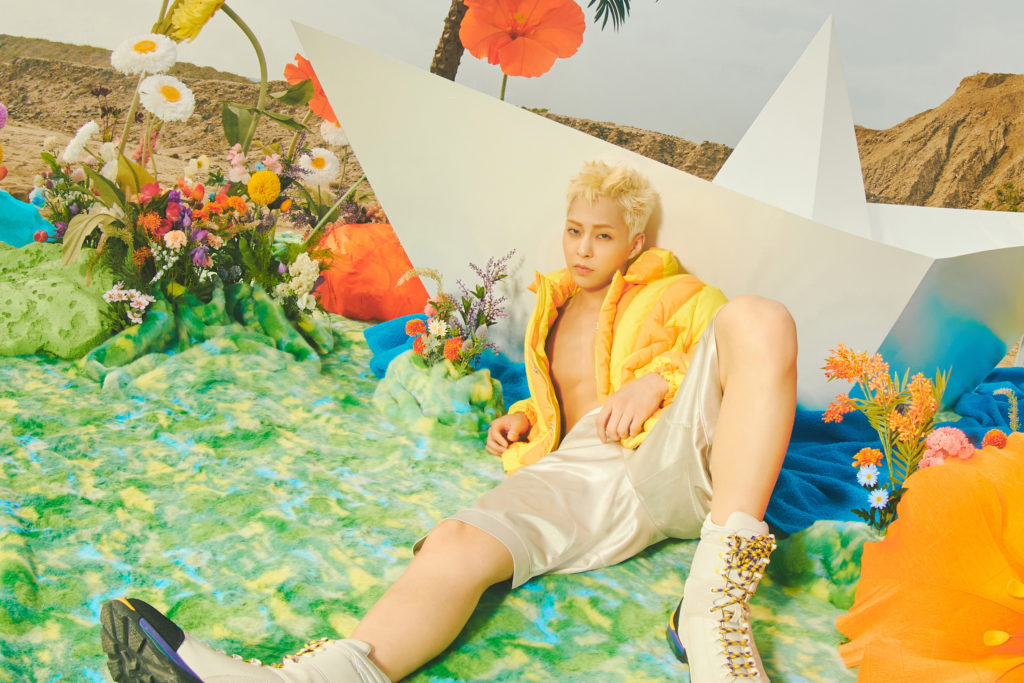 A new soloist has emerged from the multifaceted K-pop group EXO. This time, the chosen one is none other than the group's eldest member, Xiumin, who is also known as one-third of the subunit EXO-CBX. 
In his debut EP, Brand New, Xiumin presents a brand new style and image with five new tracks filled with blaring 2000s nostalgia and serene healing powers.
Xiumin, Born Again
On September 26, Xiumin held an online press conference and showcase—hosted by fellow EXO member Sehun—in celebration of Brand New and its eponymous lead single. When asked how it felt to debut solo for the first time in his 10-year career, Xiumin answered, "I have done individual schedules, but releasing a solo album makes me nervous yet thrilled. The lyrics are about my determination to show [EXO-L] a brand new me."
His lead single, "Brand New," is described as an old-school vibe dance track representing the 1990s-2000s style of music. The song opens with heavy bass, letting listeners know it isn't shy nor subtle in its nostalgic approach and inspiration. Through a mix of smooth R&B and hip-hop cues, Xiumin vocally glides over the track as he showcases his versatility in a new light.
Not only does he shine vocally, but he's also able to flex his sharp dance skills and "powers" in the accompanying music video. Throughout the brightly colored video, Xiumin executes the choreography with utmost charisma and even keeps up the EXO tradition of incorporating his fictional superpower (Xiumin's is frost) by dancing in a winter wonderland-inspired room.
According to Xiumin, the performance is "restless, energetic, and passionate," just like the love and support of EXO-L.
🧊🐥🤍🐿❄️
XIUMIN 시우민 The 1st Mini Album 〖Brand New〗 OUT NOW!
💿🎧https://t.co/VPUN1H4ztC#시우민 #XIUMIN#세훈 #SEHUN#엑소 #EXO #weareoneEXO#BrandNew #XIUMIN_BrandNew pic.twitter.com/RHeYxvYxlo

— EXO (@weareoneEXO) September 26, 2022
B-Side Love
Following the infectious "Brand New," the EP descends into another uptempo dance song with "Feedback." Described as a track with powerful synth sounds and a danceable beat, "Feedback" lives up to its description as it sits on an energetic level of 10 and only comes back down for its bridge. Lyrically, the song is about patiently waiting for a woman's feedback on whether or not she wants to dance with him. According to Xiumin, it even became a candidate for the EP's lead single before finally settling on "Brand New."
The third track is "How We Do," probably the most anticipated B-side from fans online. "How We Do" features labelmate and NCT rapper Mark and incorporates the popular new jack swing genre of the '90s to create a more vintage atmosphere. The collaboration is exceptionally special considering Xiumin and Mark's friendship has spanned over years while working under SM Entertainment. The duo released their first collaboration back in 2017 with "Young & Free," and are back with their first project together in five years.
Similar to SHINee's Key's recent collaboration with NCT's Jeno, "How We Do" truly feels like a team effort that both artists feel confident performing. Between the slick rapping and honey-like vocal work, the entire song is split nearly 50/50 as both Xiumin and Mark share time in the spotlight. And although working together is nothing new for the two artists, it's evident Mark brought a new level of maturity and swagger to the track than he did five years ago.
When Xiumin discussed his motives for wanting the rapper on the track, he said, "Mark has grown so much and has become so sophisticated…I don't see the young sides of him anymore. He is an amazing guy now, and it makes me proud."
Xiumin also mentioned how thankful he was that Mark not only accepted his offer but was also able to write his rap sections, regardless of how busy he's been with NCT lately. And because of it, the final product of "How We Do" is smooth in all the right places (and deserving of a video of its own). When it comes to friendship, these two do it like no other.
OUR NCT'S MARK SHOWED HIS LOVE AND SUPPORT FOR HIS FEATURED SONG WITH HIS XIUMIN HYUNG ON INSTAGRAM ❄✨🔥#XIUMIN #XIUMIN_BrandNew #XIUMINfeatMARK pic.twitter.com/8eKW18aAPr

— #XIUMIN (@erisxekso) September 26, 2022
Finally, the last two tracks on the EP are "Love Letter" and "Serenity." The former is a retro ballad, while the latter is a medium-tempo pop song. In "Love Letter," Xiumin sings of confessing his love in a handwritten note because he's unsure if he'll have the courage to say it aloud. Meanwhile, "Serenity" is described as a healing song and a similar mood to EXO's "Don't Go," a sentimental fan favorite. As "Serenity" closes the EP, the anticipation of what Xiumin's debut album would sound like is finally satiated.
Frozen In Time
With one EP officially under his belt, Xiumin is now the 7th EXO member to go solo, and the wait was well worth it. While the others have stepped into R&B, soft-rock, ballads, and folk-pop, Xiumin's affinity for the Y2K era has already set him apart from the other members as he finally stands on his own.
"I listened to music the most during the '90s and early 2000s period when I was younger," he stated. "I wanted to recreate it in my own colors, and since 'retro' is a trend now, that's why I chose this theme."
Brand New does exactly what its title suggests and accomplishes Xiumin's goal from the beginning—to show the world a new side of EXO's Xiumin that they wouldn't forget.
Listen to Xiumin's Brand New on Spotify and Apple Music.
For more content on new K-pop releases, check out our coverage of Lapillus' Girl's Round Pt. 1 EP here!