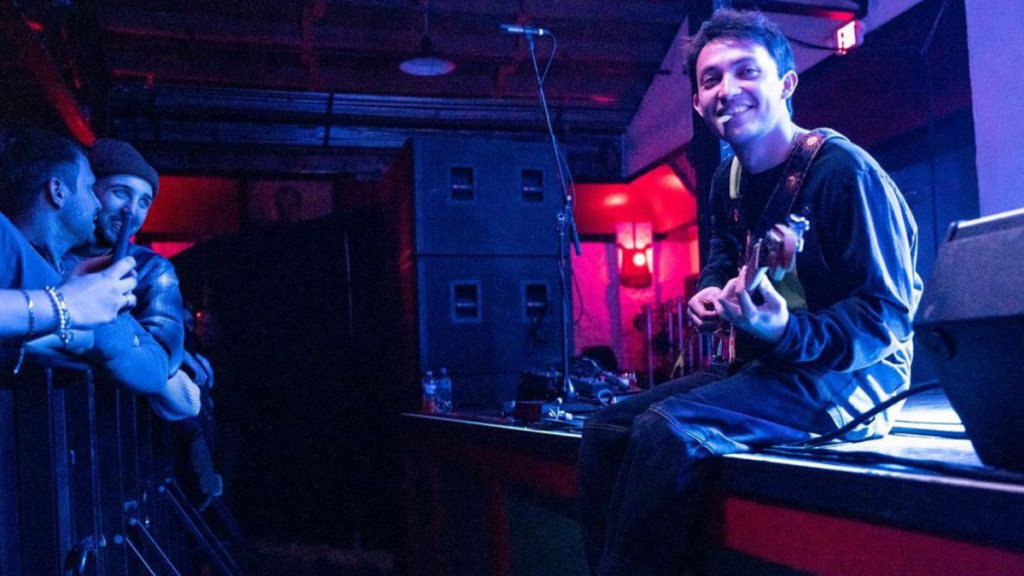 Originally from Arlington, Virginia, Benjamin Hon, better known as bennytheghost, picked up my phone call from a car in the middle of nowhere. As music in the background overpowered our attempt to exchange greetings, Benny asked the music to be lowered, "I have my interview right now." Benny had been traveling around the United States for the past weeks as a guitarist for Jelani Aryeh, the special guest for the North American tour of indie-rock band Hippo Campus. As bennytheghost made his way to the next stop of the tour, EnVi spoke with him about his latest single, "Say Something," his upcoming EP 29 Palms, his wishes to become a rockstar during detention, and his creative process.
Starting A Musical Career During Detention
Having always been interested in creativity, instruments, and figuring out how to play them, bennytheghost traces his interest in music back to his youth. In seventh grade, not only did he start learning how to play guitar and piano, but he also joined the orchestra, where he started playing classical bass. "I just felt like music was so cool, and I felt like if anybody tried hard enough, they could make cool music," explained Benny. "Something about that was super freeing, and it felt like the possibilities and opportunities were limitless."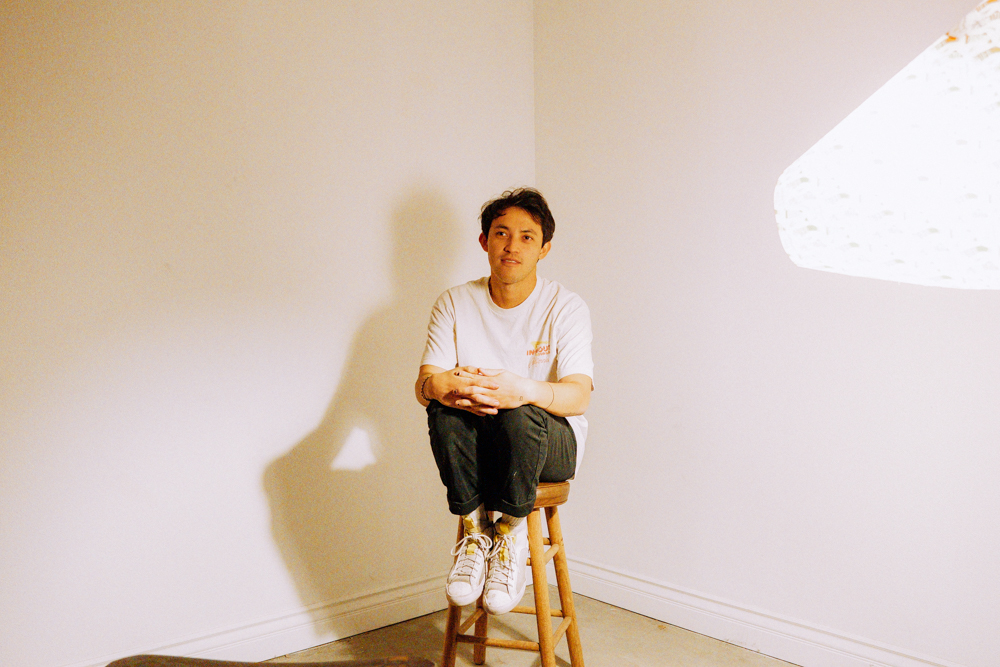 bennytheghost's passion for music became a concrete goal during a self-reflective detention day. In ninth grade, Benny was put in detention for being late to class. During this time, he was reflecting on life and his future. "Everyone is going to graduate, and they will get degrees in college because their parents want them to do that," he said, reminiscing on his pessimistic outlook as a 15-year-old.
Upon concluding he didn't want that lifestyle, Benny asked himself what he would want to do with his life, and he had an epiphany. "I was like, 'I am gonna play guitar cause I will get to make music, and I will get to travel the world, and I'll get to play shows and have fun everywhere," Benny recalled. "Even if I didn't get to make it, it would be so fun to experience the journey anyway."
With the realization that he wanted to travel and rock out, Benny started putting his dreams into action. He applied and transferred to Duke Ellington School of the Arts in Washington D.C. where he studied guitar. He then continued pursuing music at Frost School of Music at the University of Miami. As Benny continued his music studies, his dream of becoming a guitar player in an indie rock band evolved into becoming a singer and songwriter, which he has successfully achieved with time.
Creating Something New From Combinations
During the last two years, Benny has been mastering the craft of creating his music and image as "bennytheghost." His creative process for making songs usually starts with making the music. First, he plays some guitar chords, records them, and then decides what kind of tone the music has. Benny then tries to write lyrics that match that tone.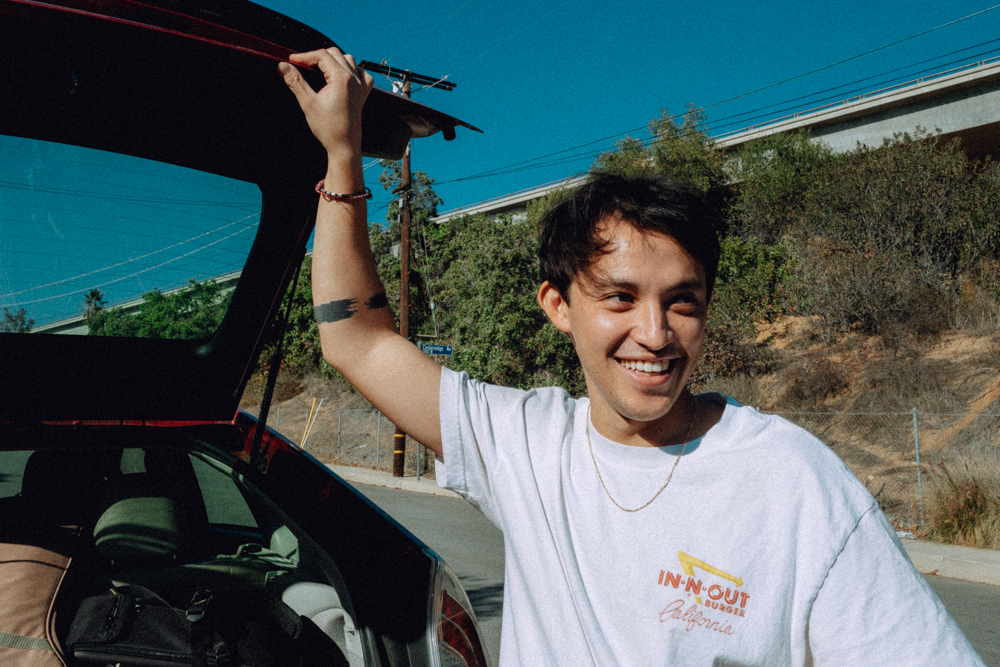 bennytheghost's inspiration comes from movies, traveling, and being on the move. One of his main inspirations is a mix of all the music he is currently listening to. Benny's musical taste can be traced back to bands like Two Door Cinema Club, The Killers, The Strokes, and the Arctic Monkeys. "Something about all that rock music is so cool," said Benny. "Like the guitars were so badass, and that's probably why I started playing guitar."
Yet, underneath all that inspiration from indie-rock predecessors, bennytheghost has made it a goal to remain authentic and to continue evolving as a musician. "As an artist you have to constantly be finding new sounds and pushing the boundaries of what music sounds like," said Benny. "It's just a combination, you pick those textures and you pick those instruments and you find new ways to use them or manage to make something new. Which hopefully I did. I try to do."
Optimistic Sh*t For Negative People
If the inspiration for bennytheghost's music is a mix of all the music he is currently listening to, what inspires the topic and lyrics of his songs is his day-to-day life. "I try to be like pretty down-to-earth and not so poetic," says Benny. "It's really daily-life so that it can frame that same daily-life for other people."
In addressing his day-to-day life, Benny doesn't shy away from heavier topics. In his songs, he addresses issues of friendships, relationships, home-sickness, and even gets vulnerable about anxiety and feeling lonely. bennytheghost layers all these topics under the sound of optimism and catchiness. "I am trying to make the music the same as the energy that I want to put out into the world," Benny shared. "I wanna make music that's upbeat, and it almost sounds optimistic."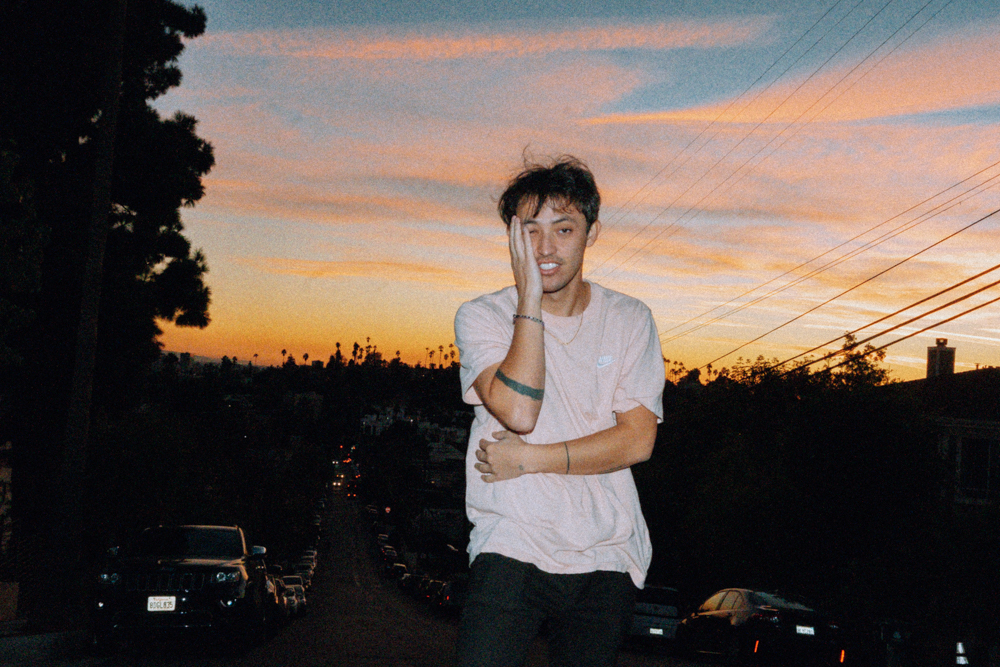 The ending track for his first EP Supersonic, "Red," is representative of bennytheghost's eternal optimism. Meant as a last goodbye to his life before moving to Los Angeles to fully pursue a career as a musician, Benny sings, "​​I'm sorry, love / The rain is kicking in / And I think I think I might be late / Don't you worry your heart." Accompanied with acoustic guitar chords, the vulnerable and heartfelt "Red" carries a lingering sadness. Yet, to Benny, it's a good type of sadness. "I feel like sometimes people mistake sadness for being bad," shared Benny. "But sad it's like a good thing too."
By striking an array of different emotions through bitter-sweet anthems, bennytheghost hopes that listeners can access their own emotions and feel good. "I hope listeners are able to see themselves in the songs and it helps them realize, maybe if they are in the same situation, that there can still be a warm and hopeful way to address the situation," reflected Benny. "It's kind of just like optimistic sh*t for negative people."
Enjoying the Journey & The Power of Friendship
In two years, through optimistic and heartfelt songs bennytheghost has amassed a series of accomplishments as an artist. With one EP out, bennytheghost has been featured on various Spotify playlists including Lorem, Anti-Pop, and Misfits 2.0 presents… Bests of 2021. In 2021 he accumulated 2.9 million streams and more than 800,000 listeners.
bennytheghost's ongoing list of accomplishments continues this 2022. In addition to kicking off promotions for 29 Palms, joining as a guitarist for Jelani Aryeh on the Hippo Campus' North American tour has been a highlight of Benny's career. Upon asking him how the tour was, Benny broke into a joyous laugh. "It's amazing! I don't wanna sound like a huge fan-boy, but they [Hippo Campus] are definitely one of my favorite bands even before coming on tour," stated Benny. "I was so deeply excited to be here, and it's my first tour ever as well. It's really a dream come true!"
Benny rejoices in knowing moments like this are a testament to his hard work and a sign that he is on the right path. After all, playing guitar in an indie-rock band and going on tour was the goal he had as a 15-year-old during detention. "It's almost like rewards for deciding to follow something that you wanna do," said Benny. "It is almost like the universe saying 'You are doing a good job, you are heading in the right direction.'"
The mentality of enjoying the journey also shines through bennytheghost's Instagram account. Whether he announces a single, a music video is released, or there is a new milestone to celebrate, Benny frequently includes a series of thank yous, gives shoutouts, and tags friends and collaborators on his posts.
"It's gonna sound like a CBS kid's show, but it's like the power of friendship," said Benny between giggles. "I feel like bennytheghost is a company name and everyone works together to make it happen. It feels like I am the director or the CEO, or whatever, but my job is to team build and bring people together to make the whole thing happen. But it's by no means, just me. It is about the work and expertise and inspiration that my friends provide."
Early Summer with "Say Something"
Marking the end of a six-month hiatus, the release of the single "Say Something" on February 11 kicked off bennytheghost's promotions for his sophomore EP, 29 Palms. "Say Something" counts with chill and upbeat rhythms and electric guitar riffs reminiscent of the surf rock genre. Complemented by mellow and airy vocal melodies, the indie-pop song has the warmth and ease of a summer song. 
Yet, despite the song's laid-back and cheerful tone, "Say Something" deals with a self-deprecating theme. The lyrics reflect on the uneasiness of being unsure where you stand with someone and wanting to be wanted back. In the lyrics, Benny implores, "Won't you say something? (Like) / Like I'm the one under your thumb / It's all I want." To Benny, the upbeat sound contrasting with the critical tone of the lyricism makes "Say Something" a cathartic jam. "It's kind of a feel-good song… self-deprecating but not sad," said Benny.
Additionally, the music video for "Say Something" adds a playful layer to the song. Filmed partially on a VHS tape, the music video follows a whimsical kidnap scheme in the suburbs. The scenes include shots of Benny getting punched, singing from the trunk of a car, and bandits dancing in the middle of a street. These shots are accompanied by goofy cinematography, like exaggerated zoom-ins and breaking the fourth wall by showing the filming of the video.
In "Say Something," Benny coats a song dealing with serious themes under goofy visuals and a happy-go-lucky sound. Regardless of the situation, this optimistic, playful, and lighthearted outlook encapsulates bennytheghost's spirit and approach to his craft.
"My Boy" & 29 PALMS
With a busy start to the year, bennytheghost will continue his activities in the upcoming months leading up to the release of 29 Palms on April 28. While bennytheghost's first EP, Supersonic, was an experimental project where he got to test different sounds, and gain experience in writing, producing, and releasing music, in 29 Palms bennytheghost goes back to making music that is directly born out of his favorite musical influences.
A vouch for this statement is the second single of 29 Palms, "My Boy." Inspired by The Strokes' album The New Abnormal and their ability to turn rock music into deep and self-reflective tracks, "My Boy" is an introspective indie-rock anthem about being sad and lonely. In an Instagram post, Benny shared, "Sweet little anthem for all of us out there who are so stoked to maybe at some point be not as lonely as we are now."
With layered guitar parts, synth, and drums inspired by the indie band Phoenix, "My Boy" calls for acceptance, "Call me what you want if it makes your day / You can hang me by your door so you don't forget / That I'll be your favorite chord living in your head / I'll be everything and more filling up your chest."
Leading up to the release of 29 Palms, fans and listeners can continue to expect more new music and music videos from bennytheghost. As the year continues, he also hopes to finish his third EP and play some more shows. "After this tour we are gonna go play South West, then some shows in San Francisco–and then who knows," said bennytheghost. "A lot of stuff to be done."
If you would like to hear more of bennytheghost and keep up with his journey, check out his Spotify and follow him on Instagram, TikTok, and YouTube.
Looking for more artist spotlights? Check out EnVi's interview with Bang Yongguk here!