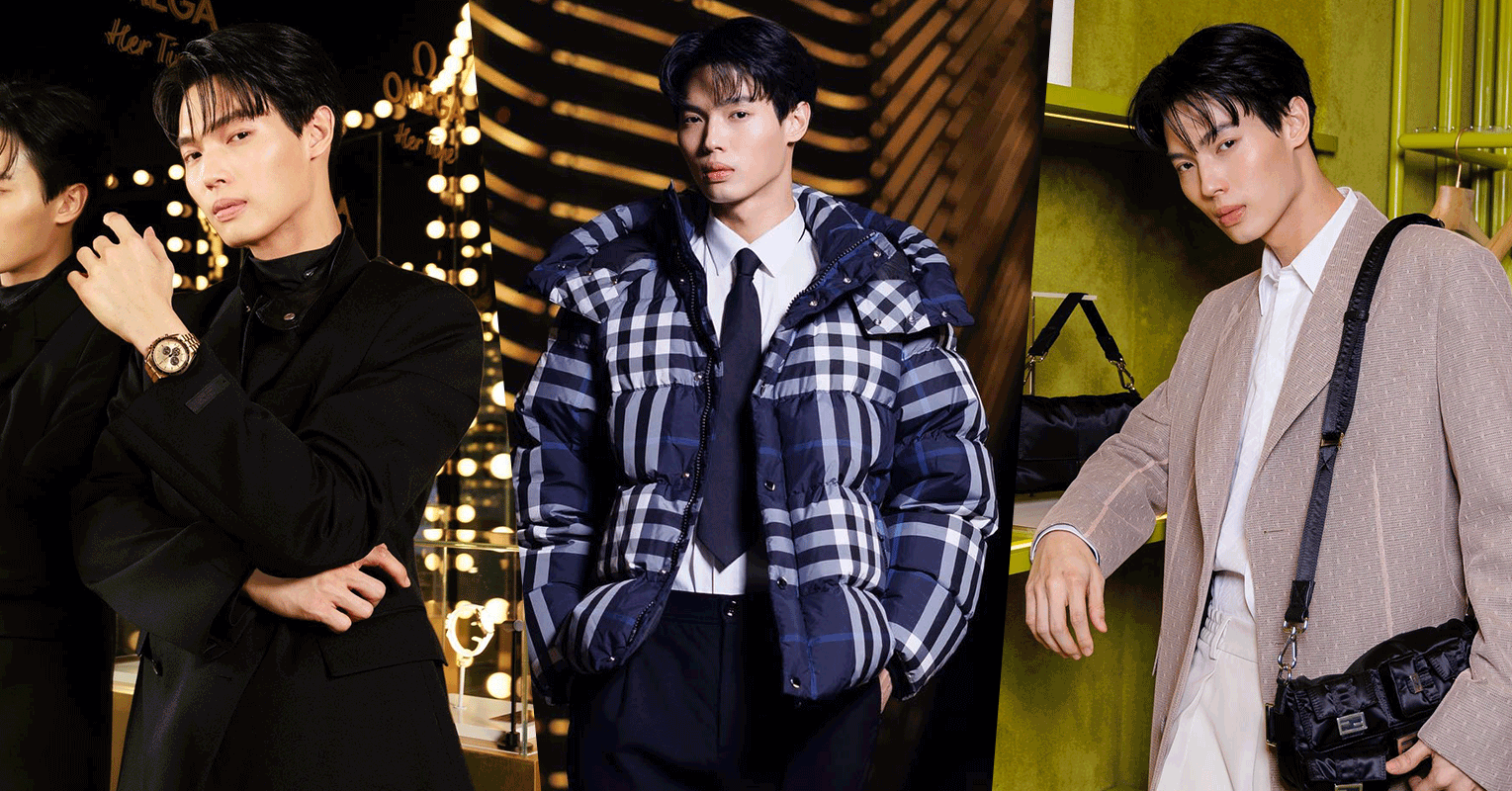 Thai heartthrob Win Metawin is in high demand! From his worldwide successful TV dramas to headlining the front row of fashion shows, the superstar is perpetually under the spotlight. It seems, however, that the past few days have been particularly busy for the Thai actor. Attending OMEGA's "Her Time" Exhibition and Fendi Baguette's 25th-anniversary, the superstar couldn't miss out on the hottest fashion events. Here's a recap of everything Win has been up to in the fashion frontier.
OMEGA's "Her Time" Exhibition
Swiss luxury watchmaker OMEGA has taken its exhibition "Her Time" on a tour around the world to display the evolution of the brand's women's pieces. Arriving in Thailand on November 8, the exhibition opened up at Parc Paragon in Bangkok. From South Korean OMEGA ambassador Han So-Hee to Thai celebrities Gulf Kanawut, James Jirayu, Mew Nittha, and many others, a long list of VIPs graced the event.
Among those names, Win Metawin surely stood out dressed in a black suit combined with a black turtleneck and Prada Monolith loafers. The pièce de résistance of his look was, naturally, one of OMEGA's most iconic watches: a golden Speedmaster Moonwatch. The timepiece — often associated with the trailblazing spirit of the Swiss brand — perfectly suited Win's pioneer status, and added a luxurious touch to his fit.
Fendi Baguette 25th-anniversary Pop-Up Store
A day later, the Thai star continued to showcase his winning style at the opening of Fendi's pop-up store in Bangkok. The shop launch aligned with the brand's celebrations in honor of the iconic Baguette bag. Earlier this year, the Italian Maison presented a special fashion show during New York Fashion Week, commemorating 25 years since the debut of this popular bag. For the occasion, Fendi's creative director Kim Jones collaborated with Silvia Venturini Fendi and the quintessential American brands, Marc Jacobs and Tiffany & Co.
Two months later, the Fendi Baguette 25th Anniversary collection has hit retail and the brand is honoring the release with events across the globe. In Thailand, the fashion label inaugurated a pop-up space at Siam Paragon and, as one might expect, the opening became a well-publicized affair. In addition to popular celebs such as Billkin, Prim, and Dew, Win Metawin was present at the launch party.
The F4 Thailand (2021) star stepped out wearing a full Fendi look consisting of a dove gray wool coat thrown on top of a white silk shirt and beige trousers. On his feet, the actor sported a pair of Fendi Match lace-up sneakers. Of course, tying it all together was a black Baguette bag. Instead of going for one of the most classic options, Win chose a multi-pocket nylon re-edition decorated with metalware clasps that added a twist to his look.
Burberry Outerwear
Last, but definitely not least, Win lent his image to promote the latest Burberry Outerwear collection on social media. The actor took to Instagram to share a picture where he posed in a winter-friendly Burberry ensemble. Dressed in a check puffer jacket paired with a white cotton shirt, black trousers, and the boots of the season — combat boots — Win proved to be holiday-ready.
This isn't, of course, the first time that the Thai actor collaborates with high-profile fashion brands. This year alone has seen the actor conquering the hearts of the fashion industry and becoming a go-to face for brands looking to build exposure in the Asia Pacific (APAC) region. As Launchmetrics' Chief Marketing Officer Alison Bringé previously shared with EnVi, Win has become a "familiar face at Mens' Fashion." During the Fall-Winter 2022 season, for example, the star generated $730,000 in MIV® for Louis Vuitton with a personal post on his Instagram. "On the same note, Win's attendance at Prada's SS23 Milan Men's Fashion Week show brought the luxury house $4.7 million in Media Impact Value™ (MIV®). Thanks to his wide popularity not only in Thailand but also within South-East Asia, brands wanting to build exposure can leverage Win's Voice to reach the wider APAC region," Bringé said.
With Win's influence and reputation among luxury brands, his recent activities surprise no one. Nevertheless, we're always here for more of the star's iconic looks and just like the rest of the fashion industry, we can't get enough of his style adventures.
Interested in reading more about Asian stars making a lasting impact in the global luxury market? Check out how these celebrities have become top players in the fashion industry here.