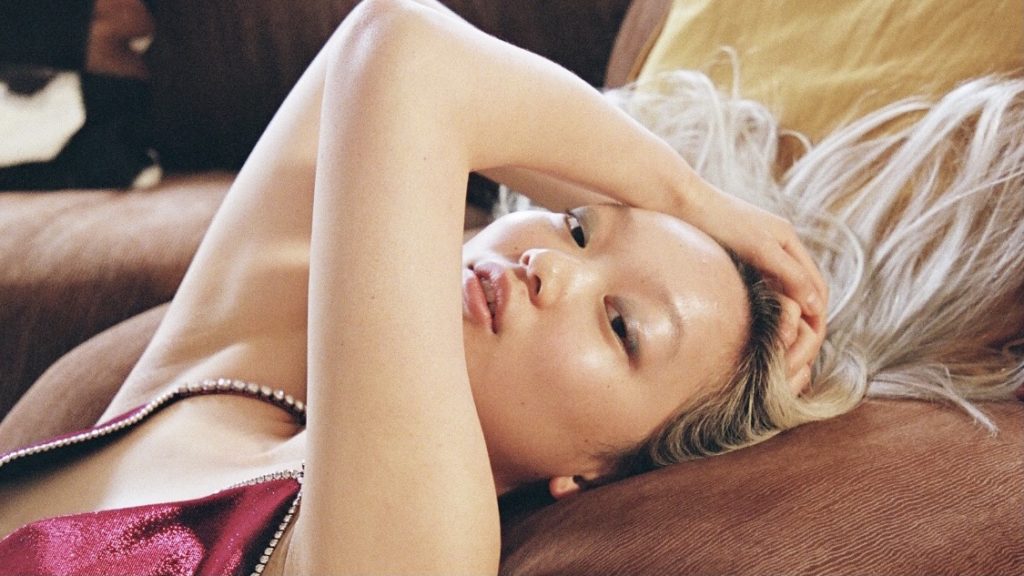 In just a couple of years, Peter Do has become one of the industry's favorite fashion brands. With an enviable clientele that includes world-class stars and an even more enviable community-driven ethos, the American luxury brand has taken over the fashion world. Behind the success of Peter Do is a knit-tight group of friends that anyone who has followed the brand's journey is familiar with. Alongside the Creative Director, Peter Do, there are Lydia Sukato, Vincent Ho, An Nguyen, and Jessica Wu. The latter one, a fully-fledged fashion expert whose authenticity and good nature shine through as she sits for an exclusive interview with EnVi. 
"Let me run to my closet and get it. You have to see it," says Jessica spontaneously. The model, stylist, producer, and PR Director of Peter Do is talking about one of her favorite pieces from the brand she helped found in 2018. The enthusiasm in her voice could go unnoticed, but to me, it is a testament to how committed she is to introducing Peter Do's creative universe. She's a natural storyteller too, the kind who would talk about her passions for hours and snatch people's undivided attention. It makes it a true delight to discuss anything and everything with her, from fashion industry tidbits to K-pop artists and her dream collaboration for Peter Do.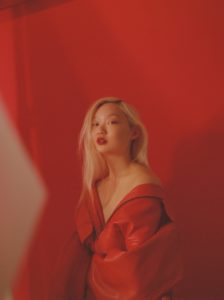 Made For Fashion 
Hailing from Newport Beach, California, Jessica made her first steps in fashion as a teenager. "I've been into fashion almost half of my life," she explains. First discovering fashion through Vogue and its "visually stimulating" editorials, the co-founder of Peter Do found a platform to express herself through a fashion blog. "I started blogging when I was in high school, writing about my personal style and styling myself," she says. Jessica skips the fact she was featured on Teen Vogue at the age of 15 and doesn't mention how fabulous she looked despite her young age. Instead, she tells the story of how she enrolled in fashion school and her first forays as a fashion stylist. 
The way she explains it, I feel Jessica was born to work in the industry. Or rather, she was fated to. "I only applied to one fashion school," she says. The PR Director of Peter Do then recounts that despite supporting her, her parents suggested she applied to other schools, "just in case." However, Jessica was accepted into the renowned Fashion Institute of Technology (FIT) without any problem. She spent the next years majoring in advertising and marketing there. 
The story of how Wu first dabbled into styling sounds equally fateful. Upon moving to New York, a photographer Jessica met through her blog asked to borrow some clothes from her wardrobe for a shoot. "I wasn't modeling or anything, she only borrowed some clothes, but then she told me, I like your sensibilities, why don't you become a stylist?"  
Throughout her school life, Jessica interned and served as a stylist for several projects. When she graduated she had accumulated important in-field experience and amassed a network that eventually led her to step her toes into modeling and producing. It all happened around the time Instagram became the social network platform par excellence and Jessica knew exactly how to take advantage of it. "I was using that to my benefit," she says before revealing that many of her projects, she landed thanks to her social media presence.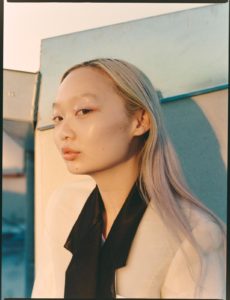 It Takes a Village
Among the people Jessica met through the Internet is Peter Do himself. Although both of them went to the same school, Jessica and Peter first connected through Facebook. She explains that upon watching some of his clothes during the Fusion Fashion Show—the competition between New York's top fashion schools: Parsons and FIT—he immediately caught her attention. "I knew I couldn't pull clothes from like Prada or that kind of brand, so I mostly reached out to students for my projects," Jessica says. Starting off as collaborators, Jessica later went on to style Peter's senior thesis collection and his portfolio for the prestigious LVMH Prize for Young Fashion Designers competition, where he won the Graduates Award. 
Peter met the rest of the Founding Five—Lydia Sukato, Vincent Ho, and An Nguyen—through the internet too, Tumblr to be exact. The designer used the microblogging website to document the development of his student collections and share his aesthetics. It is a habit Peter Do has retained as a brand. In an era where social media is supposed to show the sparking final result, the American brand prefers to go unfiltered. From prototypes to fittings, they show it all. I point out how nerve-wracking it used to be for me, a fashion designer too, to publicly show the process of my work and how baring it felt. Jessica agrees with a nod. "Transparency has been a learning process, from trial to error," she acknowledges. However, It is exactly this transparency that has grown to differentiate Peter Do from other brands in the luxury fashion scene. 
Of course, there's also the driving force behind the brand: the team's friendship and their dedication to change the way fashion operates. Their website says it better than I could ever articulate it. "The brand has always put family first through its commitment to creating a brand that is rooted in kindness and mutual respect." 
View this post on Instagram
#JWuDoesRunway 
For some reason, the conversation stirs from Peter Do's collective force to Jessica's online presence. I think it happens between a joke she makes about crying during the preparation of Peter Do's latest collection and my recollection of a pearl look she recreated on social media. I need to ask about her #JWuDoesRunway series. 
For those who don't know about it, Jessica has been replicating makeup looks from legendary fashion runways since the beginning of the pandemic. She makes them look so accurate that no one would've guessed she didn't even use professional tools at the beginning. "I was doing it because I was bored, then suddenly I was getting suggestions and a Vogue senior editor reached out. Having a profile of me on Vogue, where I was inspired from [as a teenager], was really amazing." When I lament how terrible my makeup skills are, Jessica tries to encourage me, "I was doing it with my fingers. It just takes practice. I am learning as well." 
View this post on Instagram
The Relatable Side Of Jessica Wu
Jessica and I first "met" through a fashion panel on a Clubhouse episode of Inside Kpop. I later reached out for a statement about NCT 127—Taeyong, specifically—wearing Peter Do. Naturally, it only takes time before I am asking about K-pop. I know she is a fan, so I want to know how she first came across it. She had previously mentioned that she grew up in a predominantly white neighborhood, so she elaborates. "Though I grew up in a white neighborhood, I still saw Asian people every weekend at church. I was always aware of its [K-pop's] existence, however, I pushed it for a while." 
It wasn't until Jessica moved to New York that she started to listen to Korean music. Through her college roommate, she discovered 2NE1 and allowed K-pop to slowly carve its way into her playlists. Jessica admits "it's been a journey." She warmly remembers being "EXO obsessed" when the group debuted and recalls the times her roommate would replay SHINee's "View" in the summer of 2015. Among the members of the group, Jessica is particularly fond of Taemin. As we gush about his solo discography, she remarks, "Taemin, he really is an artist. He evolves so powerfully. The artistry in his music, his attention to detail, everything he does is incredible." There's the added perk of having Taemin as one of the first K-pop idols who wore Peter Do during his promotions with SuperM. 
View this post on Instagram
No conversation about K-pop and fashion can be complete without mentioning G-Dragon, so Jessica brings up his role in opening doors for bigger collaborations between K-pop artists and fashion brands. She also mentions BLACKPINK's association with legacy brands and how well they represent the values of each of those houses. It leads me to ask about what K-pop idol would best represent Peter Do. Jessica doesn't hesitate for a second before replying. "aespa. Because of their fusion with fashion, technology, and AI, there's so much to explore." She further explains, "I'm sure there are other idols out there, but right now off the top of my head, I'd say aespa. In their concepts they look mythical, like superhumans. That's very interesting to me because we [Peter Do] are trying to create a wardrobe that keeps evolving."
When asked about NCT, Jessica says that she would be "totally" open to working with them. What's their charm? "It'd be interesting to explore how they would fit within the brand's aesthetics and the way they are perceived by the public. They're all young, but they have such a strong stage presence, translating that attitude into clothing would be a fun challenge." I might appear biased, but I nod vehemently as she speaks.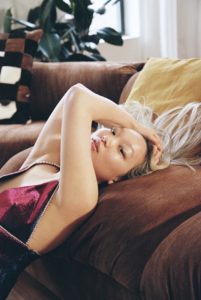 On Collaborations
On the topic of collaborations, I question Jessica about her dream star collaboration for Peter Do. I am aware that the brand has quickly become a celebrity favorite, so I'm not surprised she stops to think for a second. "We have already worked with people that feel like a dream collaboration. I'm not bragging—she is definitely not—but Beyoncé's personal stylist called us on our first collection." Jessica then tells the story of how the first gown Peter Do ever made went viral online after Anya Taylor-Joy wore it on Saturday Night Live. The gown was later reprised by Chloe and Halle Bailey to attend the Bvlgari Fashion Week Party. 
As she tries to come up with a name, the PR Director of Peter Do literally goes through a list of celebrities who have worn the brand. Among others, it includes the cast of Euphoria, Billie Eilish, and Dua Lipa. She expresses how grateful she is for the opportunity of dressing world stars, but she adds, "I think our dream collaboration is anyone who is prominent in their fields, people who are not necessarily in the public eye. We recently dressed a chef for the MET Gala. He is a fan of our brand. The community of people who love our brand is so diverse."
We're about to move on from the topic when Jessica seems to think of someone: Kim Seo-hyung. After watching the South Korean series Mine, Jessica believes the awarded actress is someone she would like to see wearing Peter Do. Too late I realize she is talking about the same actress who starred in The Villainess and Sky Castle. I can't help but agree.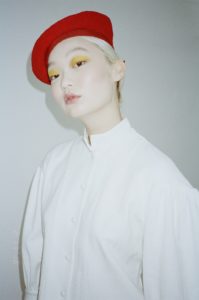 Testing The Waters
Before closing our interview, I ask Jessica for a piece of advice for people who want to pursue a career in fashion. The response is immediate, "test the waters." She speaks from experience. Jessica has done enough in fashion to understand the complexities of the industry, and she has taken many roles as well. "People don't realize fashion is so fast and it's almost like micro industries pressed together."  
Finding what she wanted to do in fashion was a journey for Jessica. She started interning in her first year at FIT and she admits that before founding Peter Do, she was not particularly fond of PR. Now, she's doing it full-time while she juggles modeling as well. Most importantly, she enjoys it, so she insists, "Test the waters, intern, assist, work in different places. If you have the ability and privilege, all these experiences ultimately manifest whether it is positive or negative reinforcements." 
Jessica concludes with, "Be open to failure. Sometimes we place such a heavy height on success—" There's a small pause and I am tempted to ask what success means to her, but I don't have to because she goes on, "I don't know what I'll be doing in the future, but I want to be happy with what I'm doing." I feel that.
Check out our previous Creative Spotlight on Dem Jointz here!
Photos courtesy of Jessica Wu