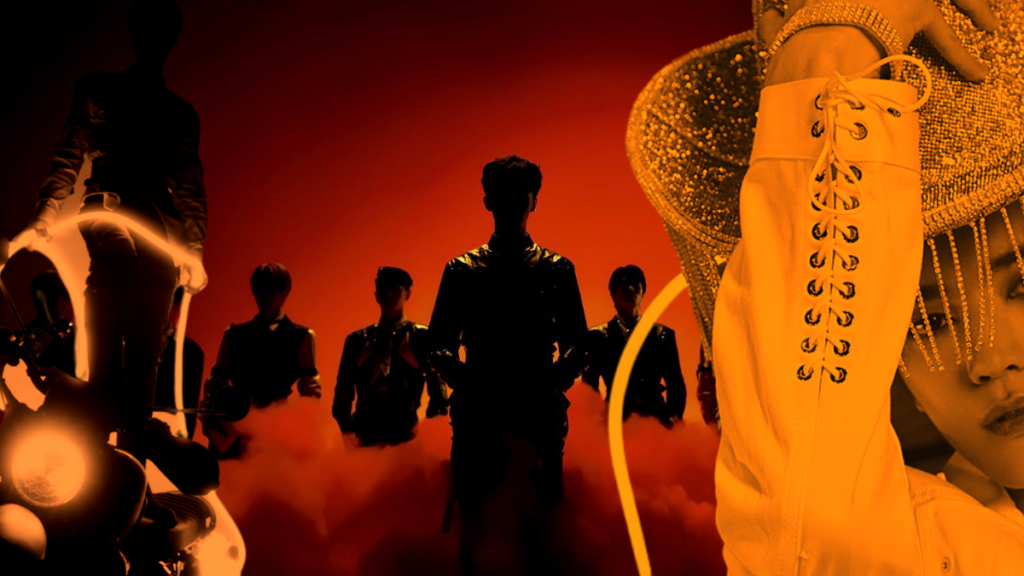 K-pop group NCT 127 has ridden into town—or rather NCity—with a brand new album and plenty of fashion inspiration. In true neo style, on September 17, the Seoul-based subunit of NCT made their long-awaited return. Along with their third full album, Sticker, the music video of their title track was unveiled to the world.  The high concept video offers a stimulating visual experience as it presents aesthetics reminiscent of the space cowboy genre. Anachronic elements, staples of Western film, and NCT's overarching theme of technology mix in the music video for "Sticker." Amid computer-generated imagery and dynamic dance cuts, NCT 127 provides a style guide to modern Western wear. 
The Yeehaw Agenda
A mainstay in menswear, Western fashion continues to inspire designers and brands around the world. Referenced in subtle ways or replicated quite literally, Americana is back in the mainstream scene. In recent years, the trend has made rounds on the runways and the entertainment spheres. Notable examples include brands like Pyer Moss, Louis Vuitton, Gucci, and celebrities of the likes of Lil Nas X, ​​Solange Knowles, or Lady Gaga. 
NCT 127 embraces the "yeehaw agenda" by incorporating essentials of the Western aesthetics, from props for the music video to fashion items. Cactuses, screens displaying horses, a cowboy clothing shop, and even a giant hat serve as background for their performance. Dressed in staples like boots, oversized buckle belts, and paisley bandannas, the group adopts a modernized version of Americana.
NCT 127 The 3rd Album 'Sticker'
Image Teaser #NCT127

➫ 2021.09.17 1PM (KST)#NCT127 #Sticker#NCT127_Sticker pic.twitter.com/EPXMswrXXc

— NCT 127 (@NCTsmtown_127) September 14, 2021
But Make It High Fashion
The styling of "Sticker," however, lands in an intersection between "glam and cowboy," like Jessica Wu, PR of Peter Do, points out. The seamless incorporation of edgier, nonconventional pieces achieves this purpose. Rivaling a fashion runway, their latest music video shows NCT 127 clad in custom-made suits, all-white ensembles, and unstructured fits. It also features a plethora of high fashion brands, including Prada, Saint Laurent, Rick Owens and, of course, Peter Do. Furthermore, loyal to their Seoul-based DNA, the group entrusted Korean rising brands like Tone, KOGWI, and Tikoonz to style them. 
View this post on Instagram
View this post on Instagram
It is this fashion diversity that allows NCT 127 to flaunt a contemporary take of the Western trend. "It's particularly refreshing to see a global point of view in how our [Peter Do's] garments are reinterpreted and styled to complement each artists' vibe and/or album concept(s)," says Jessica about the styling. The PR expert and co-founder of Peter Do adds, "As an American Luxury brand, it's really exciting for us to be featured so prominently on various artists in the K-pop industry, especially because we're always blasting [their music] in the office."
Mix It Accordingly
With the abundance of inspiration taken from it, the faithful representation of Western elements in "Sticker" is worth mentioning. However, what's more remarkable is the smart, present-time-appropriate styling. Take as an example the satin shirts with front yokes, pipings, and embroideries—signature details of Western wear—combined with leather pants. Or the hyper-glamorized silver hats worn by Taeyong and Mark that contrast with their full white outfits. 
View this post on Instagram
Peter Do's Jessica Wu also concurs with the allure of mixing typical staples of Americana with contemporary pieces. "The distressed white denim from our Spring/Summer 2021 collection that Taeyong wore is one of our edgier everyday pieces and looks great in the styling direction for this comeback," she says.
View this post on Instagram
Yet, Confidence Goes First 
Traditionally, the cowboy depictions in pop culture are always linked to action and adventure. Demonstrating sartorial prowess is not enough to master the art of Western-style. As polarizing the trend is, navigating the cowboy lore requires the right attitude and mindset. Just like Jessica reflects, sometimes the strong vision of a brand—or in this case, a trend—can make it appear that "the clothes are wearing you." 
Fortunately, the members of NCT 127 are experts at showcasing their confidence. Exuding charisma and their overflowing talents, the nine guys can pull off any look. Naturally, it also helps that they are dressed by some of the best fashion creatives in the world.  
"I think a common thread through all our collections is that our garments empower the wearer," the PR Director of Peter Do says. As an example, Jessica adds, "The jeans [featured in the music video of "Sticker"] are such a strong piece by themselves, but he [Taeyong] really breathes attitude and confidence into the garment when he wears it!"
It sounds about right. 
Enjoy our fashion coverage of your favorite music videos? You can read about Lisa's Fashion A-Game On The Music Video For "LALISA" here
Thumbnail by Laras
Special thanks to Jessica Wu, PR Director of Peter Do.