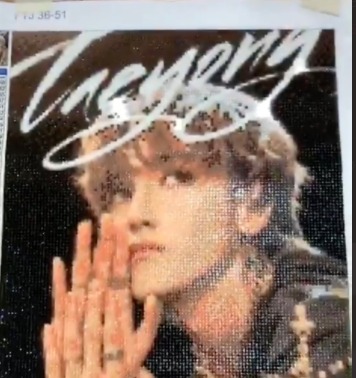 By @18kst
NCT is a group filled with members who stand out for their various talents, and the same holds true for the fandom. Occasionally, some NCTzens have the opportunity to be recognized for their gifts, either by fellow fans or by the NCT members themselves if they're really lucky. Recently, Taeyong reposted an outstanding fan's diamond painting in a Lysn Bubble message, said it was really cool, and thanked her for the painting. In this special feature, EnVi gets to learn more about 19-year-old Filipino artist Una (@_unnieathena), the person behind the diamond painting, and what inspires her work.
EnVi: How long have you been creating art?
I have been making art for a long time. I don't know exactly when I started, but it was probably sometime around elementary school.
EnVi: Are you studying art or is it a hobby?
Una: I don't study it, it's just something I love to do in my free time to relax and express myself.
EnVi: What's your preferred medium to work with?
Una: I like to do digital art mainly, but when I was younger I would work a lot with watercolors or oil pastels. I only recently got into diamond painting.
EnVi: What methods or styles do you use?
Una: I don't have any particular methods or styles because I'm not someone who can really create like that. I'm not formally trained, and I learned how to do my art by watching a lot of youtube tutorials. I really don't have my own style per se and I just use it as a method of self-expression.
EnVi: Describe the first piece you can remember creating.
Una: I can't remember the first drawing I ever made, but the first K-Pop related piece I made was a digital drawing of Lucas. I didn't share the piece publicly because I was too nervous to do so.
EnVi: Who or what do you get inspiration from when you're creating your art?
Una: I get inspiration from family and friends mainly, sometimes myself or even NCT members. I like to make art for my family and friends, especially when their birthdays or the holidays come up. I feel like they always have what I plan to give them, so I just make them art instead. It's more personal and it's something I put the time and effort into making for them, plus it ends up being a better gift in the end anyway.
EnVi: How does making art help you in your everyday life?
Una: I use my art as a form of self-expression. It's something I like to do when I'm finished with my online classes and other responsibilities. I just start drawing or painting to express myself or to just relax and have fun.
EnVi: Talk about your journey with NCT. How did you become an NCTzen?
Una: It's actually a funny story. I became an NCTzen because of the "Kick It" music video. I had heard of NCT before because I have been a K-Pop stan since 2016, but I didn't become an NCTzen until recently. I happened to see the "Kick It" video thumbnail when I was on YouTube one day, and it caught my eye because yellow is my favorite color and the visual in the thumbnail looked really nice. I watched it and I thought "Wow, how did I not stan them before?" Then I started watching more of their music videos, and just became a fan of their music.
EnVi: Who are your biases in NCT and what drew you to them?
Una: That's really difficult to answer because it changes every comeback, plus I have so many. In NCT Dream, I find myself drawn to Jaemin in every music video, plus I feel like our personalities would mesh well if we met in real life. Yuta was the first member that stood out to me, plus he has a great smile. I really like Lucas's stage presence in SuperM, and his sense of humor is great. He also has such a bright personality, which is such a contrast from his stage presence, so I really enjoy that. Xiaojun is my ultimate bias for the NCT 2020 project because his "Make A Wish" part stood out to me a lot. It made me notice his vocals and dancing more, and I liked how he changed his ad-libs with every stage. I noticed Taeyong more in SuperM, and I love the duality between his on-stage persona and his off-stage personality. I also like Doyoung's song covers. His vocals are wonderful, and my family has also noticed how talented he is.
EnVi: What are the top 5 NCT songs you would want to see performed live?
Una: This is really hard because I like so many of their songs! I would like to see an OT23 performance of "Black on Black" because I want to see them all perform together. I would also like to see "Kick It" because that was the song that got me into NCT. It'll be great to see NCT U perform "Without You" because it's one of my favorite songs from them and I listen to it every night. It's super underrated too. I'd like to see NCT Dream perform "We Go Up" because it's a fun song and I really like the choreography. Finally, I'd love to see WayV perform "Take Off" because they have a super cool dance break in that song.
EnVi: What inspired you to make the diamond painting of Taeyong?
Una: My cousins were the ones who encouraged me to try diamond painting! I wasn't sure what to do because my mom wanted me to make a diamond painting for her. Since I stan NCT, the thought of making a diamond painting of one of the members crossed my mind. My mom suggested that I do what I want and experiment, especially because I hadn't done it before. I remembered the picture of Taeyong from Make A Wish and thought it looks like a painting already, plus it's my favorite photo of him, so I decided on that photo. I made a mockup of the picture and canvas to get an idea of what it would look like first. This is because you have to decide bead colors and other things before you actually make the painting come to life. I added the text for his name, increased the contrast, and ordered it, and had it shipped to me. It works similarly to cross stitching which is something my mom does, so it wasn't too hard to do once it came in the mail. I was a little worried about how it would come out because it appears more detailed based if you're working with a larger canvas, and mine was relatively small. I showed my friends, and they convinced me to post the video on Twitter.
EnVi: What was it like when your post blew up among NCTzens?
Una: I was overwhelmed at first. The video was posted before a Thanksgiving dinner over a video call with my relatives who live in the U.S. I didn't look at my phone during dinner so I could focus on spending time with my family, but when I checked after I saw my notifications had blown up. I was so overwhelmed and didn't know how to control my emotions because I wasn't expecting it at all, especially because this was just after a family dinner. My mom noticed something was going on, so I told her what had happened. She was so happy for me and so was I. I didn't expect people to like it that much or notice it because my account isn't a big account, and I mainly use it for communicating with online friends and NCT updates. I had just tweeted it so my online friends could see it, but it ended up reaching a lot of people and they liked it!
EnVi: What was going through your head when you realized Taeyong saw your art?
Una: Before it happened, I had finished an online seminar for my classes and I made a few TikToks. I was going to take a nap in my mom's room because after school we'll talk and bond, and then take a nap. Before I fell asleep, my phone started buzzing and going off and it wouldn't stop vibrating. I started panicking because I thought it was an emergency text that we get in the Philippines to warn us of a typhoon or an earthquake. I restarted my phone and the notifications were still going, but then I saw NCTzens tagging me and saying that Taeyong had seen my artwork. I was confused about how he saw it, but then lots of people directly messaged me and said that Taeyong sent a bubble of the art and said it was pretty cool and thanked me for making it. I immediately got up from the bed and freaked out, and my mom asked what was going on. I told her Taeyong saw my art. I called my friends and told them Taeyong saw my artwork. They were all super excited for me, and we were screaming and jopping and crying over it.
EnVI: If you could choose one NCT song to represent your portrait of Taeyong what would it be?
Una: If I had to choose, I think "Make A Wish" is the most fitting because of the pose Taeyong is doing and it's from the video as well. It just seems super "Make A Wish".
EnVi: Have you started any new projects yet? If not, what is your next step?
Una: Actually, yes! One of the canvases for the next diamond painting has been ordered, and it is coming soon. I won't say who it is because I don't want to reveal who it is yet, but it is related to one of my biases.
Una's social media handles are @yunaenae on TikTok, where she posts random K-Pop content and reactions, and @_unnieathena on Twitter, which she uses for NCT updates and communicating with friends.