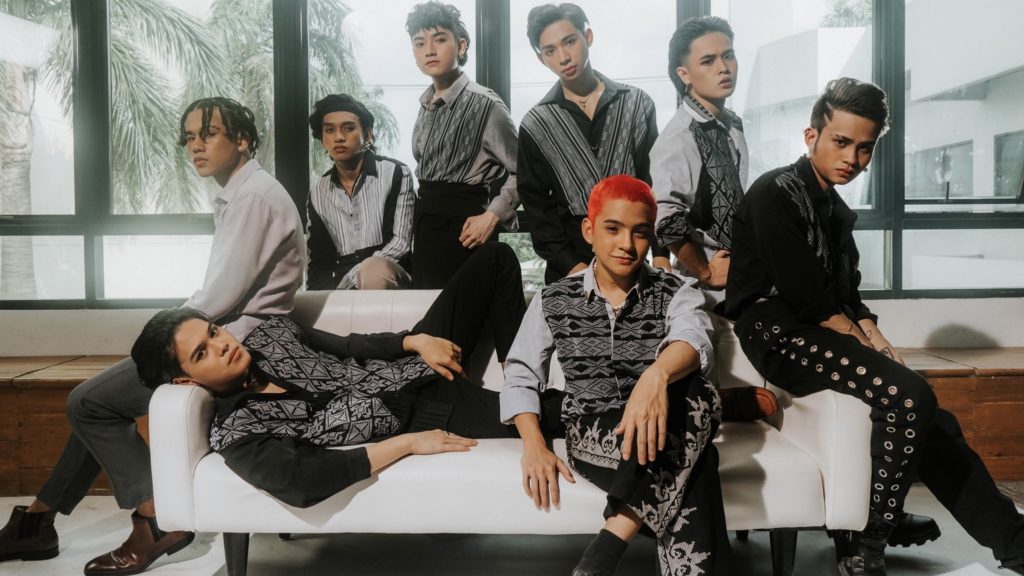 Original Pilipino Music, a.k.a OPM or P-Pop, is on the rise, especially on social media with the growing hashtag #PPopRise. The ever-evolving P-Pop world welcomed many fresh, new idol groups this year. Among them are eight member Filipino boy-group, ALAMAT, and they are back with their new comeback song, "porque," originally sung by Maldita. Just in time for Filipino American History month, "porque" is not your usual Tagalog song as it includes Chavacano, another Philippine language. ALAMAT therefore coincides with the celebration of Filipino culture by singing one of the many ethnic languages of the Philippines.
Along with their latest single, the group has released a total of five singles so far in their career since their colorful debut on February 14, 2021 with "kbye." Shortly after debut, ALAMAT placed No. 2 on the Billboard's Next Big Sound chart, making them the fastest Filipino act to appear on the global chart. Also following "kbye" was the symbolic and powerful "kasmala," which touched upon colonialism and Anti-Asian hate, OST song "Sandigan" for the comic book, Anitu, and "Tibay 'Yan" with Inigo Pascual for Coke Studio Philippines.
The creation of ALAMAT was started by Creative Director, Jason Paul Laxama, and his team in a nationwide talent search called "PWEDE!" under Viva Entertainment and Ninuno Media. ALAMAT, meaning "legend" in English, consists of members all deriving from different parts of the country where they would not only sing songs in the standard Filipino language, Tagalog, but also in their respective Philippine languages from their hometowns. Out of the 120 Philippine languages in the country, the members sing in seven local ones: Tagalog, Ilocano, Bisaya, Bicolano, Waray-Waray, Kapampangan, and Hiligaynon. The Filipino multilingualism in ALAMAT indeed shows that they are not your ordinary P-Pop group. 
Falling Out of Love With "porque"
Compared to their previous upbeat singles, "porque" is a solemn R&B slow-jam that adds a new twist to ALAMAT's versatility and concept of mixing modern sounds with traditional Filipino instruments. While the band, Maldita's, original version is a sad acoustic with a feminine touch, ALAMAT takes a sensual and masculine approach to "porque" while still embracing emotion. The lyrics of "porque" portrays the suffering from heartbreak and the regret of being in love with someone you wish you'd forget. This theme indeed contrasts their previous comeback, "kasmala," which talks about attraction and infatuation. On the contrary, the members express and embody the pain in "porque" with passionate choreography created by Jim Amen. The feeling hits a moment when member Taneo leads the group dance break early in the song with precise movements and clean angles. Towards the middle and final moments, fluttering strings of the traditional bandurria pick up its pace as the group's vocals join together in harmonization. 
Besides the musicality and instrumentation, the meaning of ALAMAT's title, "porque," may be recognizable for many Spanish speakers and learners alike, as the word translates to "why" in English. While you're absolutely right, the Spanish words in "porque" however, are also part of the Chavacano language, a Spanish Creole language in the Philippines, mainly spoken in Zamboanga City. To get a quick overview on why this came to be, we can look specifically at the Philippines' colonization history. 
The Spanish influence is deeply rooted in the Philippines' colonization history with Spain for over 300 years from 1571 to 1898. As a result, the Spanish language made its presence in the Philippine islands, especially in the southern region of Mindanao, where Zamboanga City is located. For ALAMAT to cover a Chavacano song, another Philippine language different from their own native tongue, proves that the boys aren't only representing their respective Philippine ethnic groups, but also appreciating the diversity of Philippine ethnicities through music. 
Keeping the Tradition in Fashion
Apart from the music, Filipino cultural elements are also represented in the traditional and regional clothing they wore for "porque," which ALAMAT utilizes for Filipino representation. The fashion in the music video proudly promotes Filipino pride, having their clothing pieces produced  by Hapi Habi Wearable Weaves, a business-advocacy that has a mission to incorporate Philippine weaves in daily wear.
📸#Alamat's porque concept photo series
<MESTIZO set>

5 days to go before the premiere of Alamat's new single, 'porque' (10.21.2021 or next week Thursday!)#porqueMESTIZO#ALAMATporque5DAYS pic.twitter.com/JDsyfx5qpI

— ALAMAT ᜀᜎᜋᜆ᜔ (@Official_ALAMAT) October 16, 2021
For the outfits in this concept set, Hapi Habi explains that their creative direction emphasizes a  "contemporary take on Mestizo outfits of the Spanish colonial period. It features Inabel Pinilian from Santiago, Ilocos Sur and Piña-Jusi from Iloilo."
In their other concept photo sets, Hapi Habi goes into further detail on the remaining cultural pieces of ALAMAT's "porque" fashion, such as the members wearing salakóts, a traditional headpiece. 
These HapiHabi-designed outfits, called the Kundiman set, make use of Yakan tennun, woven by the Yakans of Zamboanga (where Chavacano is spoken) and Basilan.

Watch the #ALAMATporqueMV,' in which these outfits are featured. https://t.co/W5orpTXcmS

PORQUE WEEKEND STREAM 🤎 pic.twitter.com/G9SczWj2c7

— ALAMAT ᜀᜎᜋᜆ᜔ (@Official_ALAMAT) October 23, 2021
View this post on Instagram
ALAMAT's Filipino Diversity
Coming from different parts of the country, their backgrounds are what sets them apart and  make them uniquely ALAMAT.
Taneo, one of the two leaders in ALAMAT, is Ilocano-speaking and comes from Tabuk City, Kalinga. The second leader of the group, Mo, is half-Filipino and half-Black American coming from Castillejos, Zambales. Tomas, the panganay of the group, meaning the oldest in English, is Bicolano-speaking and comes from Tabaco City, Albay. R-Ji speaks Waray-Waray and is from Borongan City, Eastern Samar. Valfer is Hiligaynon-speaking and resides from Bacolod City, Negros Occidental. Alas speaks Bisaya and comes from Davao City, Mindanao. Gami also speaks Bisaya and resides from Tagbilaran City, Bohol. Lastly, Jao, the bunso or youngest in the group, speaks Kapampangan and comes from Magalang, Pampanga.
Other than incorporating seven regional languages of the Philippines, their concept continues to stay true to Philippine culture in the sound of their music, fashion, aesthetics and overall style. In their songs, such as "kbye" and "kasmala," they integrate traditional Filipino instruments like the kulintang, hegalong, and agung. The group's mascot, Aki Alamid, also represents Philippine culture in its design and is based on the Asian palm civet, locally known as musang/alamid.
ALAMAT's multilingual edge makes their group stand out as they truly spread Filipino culture like no other when it comes to the modern music scene in the Philippines. The inclusion of their various provincial backgrounds, regional culture, language, and overall diversity celebrates the many ethnicities of the Philippines. 
Ready to become an ALAMAT stan or "Magiliw"? Listen to ALAMAT's "porque" and other singles on Spotify and Apple Music! Also check out their YouTube, Instagram, Twitter, and their entertaining content on TikTok! 
Want more? Check out our coverage on Belgian singer, Stromae's new single here!
Thumbnail courtesy of @Official_ALAMAT