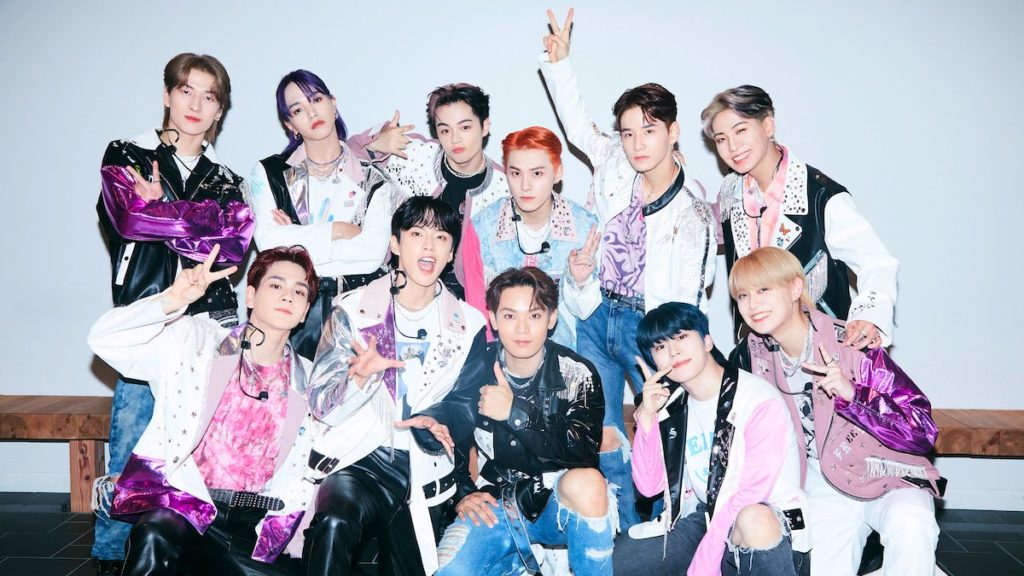 Saturday, September 3 was a warm and humid day on the southwestern bay of Aichi, Japan, but that wasn't about to dampen the excitement of JAMs (JO1's fandom name) at Aichi Sky Expo. JAMs had come to the venue as early as 8am that day, eager to buy and trade merchandise, take pictures, and most importantly, welcome 11-member J-pop boy group JO1 for the first day of their KIZUNA Tour.
A Day to Celebrate
The first day of the tour was a special occasion for both JO1 and JAMs. Not only was KIZUNA the group's first arena-scale tour, but it would be their first tour performing as the full 11-member lineup. Due to his hiatus in the later half of 2021 for health reasons, member Kinjo Sukai was unable to participate in JO1's Open The Door Tour in the winter of 2021. As such, the KIZUNA tour would be his first time seeing JAMs on a stage just for JO1 since his return.
Health continued to affect the activities of JO1 when several members fell ill with COVID-19 in August of this year, causing the group to cancel their appearance at KCON LA. With the dream of promoting internationally at the forefront of their minds, the group has worked tirelessly to connect with international fans, and their performance at KCON LA would have been their first overseas schedule. Unable to see JAMs only weeks prior, JO1 arrived in Aichi with a reinvigorated passion and fire to perform for their fans.
The Aichi tour stop was special for sentimental reasons as well. Aichi is the home prefecture of two members, Kimata Syoya and Sato Keigo, who were able to return as idols and make their hometown proud. Additionally, the end of the summer marked the three year anniversary of JO1's participation in the survival program PRODUCE101 JAPAN. On September 3, 2019, their season's theme song "ツカメ~ It's Coming" was unveiled on YouTube, officially launching their journey from ordinary boys to idols.
A Night of Surprises
The concert opened with a VCR of the members posing and walking through scenes from their KIZUNA tour teasers. As the camera panned from scene to scene, red lights and thread united each set together, connecting the members as one. The screen went black for a moment before the stage lit up to reveal the JO1 members, who immediately launched into a performance of "Move the Soul."
It wasn't an ordinary performance, however. Similar to the performances of "OH-EH-OH" and "GrandMaster" from their online Starlight Deluxe concert in early 2021, the performance of "Move The Soul" featured a live band accompaniment. With the new live arrangement, the song had an added fervor and electricity, which the members also conveyed through their passionate choreography and vocals. The band continued to play as JO1 performed the next four songs in succession: "Born To Be Wild," "Algorithm," "YOLO-konde," and "Walk It Like I Talk It." Once the group finished up the opening songs and paused to greet fans, member Shiroiwa Ruki excitedly revealed that all performances of the concert would feature the live band.
The live band wasn't the only surprise that JO1 had prepared for JAMs. After performing songs "Shine a Light" and "MONSTAR," the group broke into three units to perform re-arranged versions of their songs. Members Tsurubo Shion, Yonashiro Sho, and Kawashiri Ren gave a touching performance of "Running," a pop ballad from their debut single album PROTOSTAR that has not graced stages since their fanmeetings in early 2020. 
Bringing up the energy, attention shifted to members Kono Junki, Kawanishi Takumi, and Ohira Shosei, who gave an upbeat performance of "Get Inside Me," a fun pop song from their third single album CHALLENGER. The energy of the solo stages climaxed when Sato Keigo, Shiroiwa Ruki, Mamehara Issei, Kimata Syoya, and Kinjo Sukai lit up the stage with the song "Kungchikita." The song was originally part of the concept challenge during JO1's season of PRODUCE101 JAPAN and was later re-recorded with the JO1 members.
A Mix of Old and New
In addition to the aforementioned "Running" and "Kungchikita," JO1 brought back and performed several older songs. These include "無限大 (INFINITY)" and "La Pa Pa Pam" from their debut single album PROTOSTAR and "OH-EH-OH" from their second single album STARGAZER. Additionally, they performed "GrandMaster," which was originally part of the finale challenge during PRODUCE101 JAPAN and later re-arranged to create a JO1 version.
The group didn't neglect their newer releases either. One of their more recent releases, "YOLO-konde," was performed during the concert's opening. The track was a collaborative project between JO1 and K-pop group Stray Kids. As the song had quickly become a fan-favorite, JAMs in the audience found it difficult to stifle their screams of excitement when the "YOLO-konde" performance began. JO1 also performed their first and only English song "All Hours," which was released in the early summer of 2022 to promote the YSL All Hours Foundation.
Sentimental Moments
Always thinking of JAMs, JO1 has released several heartwarming ballads with lyrics aimed to touch the hearts of their fans. During the concert, JO1 brought down the energy to create a peaceful and comforting environment as they performed two of those ballads: "君のまま" and "ZERO." As JO1's mellifluous voices conveyed the lyrics of love and self-acceptance in "君のまま," the VCR behind them lit up with an astrology chart wheel containing each of the members' zodiac signs. When each member sang their lines, their slice of the wheel lit up with their zodiac's constellation.
The next ballad was "ZERO," a song from their most recent album KIZUNA. During this performance, the members walked across the stage runway onto a second smaller stage, which rose several feet in the air and rotated as they performed. Gazing out into an audience full of swaying twinkling lightsticks, the members sang out lyrics about love, belonging, and intertwined fates.
Forever "With Us"
Signaling the start of the encore, the live band played a relaxing jazz track as the stage lit up with props and screens that transformed the stage into a bar. Standing in front of a sign that read "KIZUNA's Bar," member Yonashiro Sho began mixing and serving drinks. Members slowly joined him on stage one by one before taking their cocktails and making a group toast to JAMs.
Quickly raising the tempo and energy of the stage, the JO1 members began performing a mashup of their cute, upbeat tracks. These included "Dreaming Night" and "Touch!," which was written by main vocalist Kono Junki. The group wrapped up the mashup with "My Friends," which was written by leader Yonashiro Sho and choreographed by dance leader Kawashiri Ren, and "Run&Go," which was used in several KitKat promotions in late 2021.
Of course, no concert is complete without closing speeches to fans, and JO1 made sure to relay their love and appreciation. Some members kept it lighthearted, like Tsurubo Shion, who opened his speech with several jokes. Others took the opportunity to convey long-held emotions and thoughts, like Kinjo Sukai, who thanked JAMs for sticking by his side through difficult times and assured them that he is happy.
Bringing the concert to a close, JO1 performed the KIZUNA album title track "With Us." The concert ended as JO1 ran happily around the stage, excitedly waving to fans and thanking them for coming. One by one they made their way off stage, and leader Yonashiro Sho took a deep bow full of gratitude and love before being the last to exit.
JO1 is Still on the Move
The next few months will be a busy time for JO1, who are not slowing down anytime soon. Their KIZUNA tour spans across Aichi, Fukuoka, Osaka, and Kanagawa prefectures before concluding in Tokyo in October. They will also be attending KCON 2022 JAPAN, where they will be holding a concert and attending a meet and greet on day two of the convention.
Live events aren't the only thing JO1 are planning. On October 12, the group will be releasing their 6th single album "Midnight Sun." The single will feature the title track "Supercali."
Want to read more about JO1? Check out our coverage of their previous releases here and here!