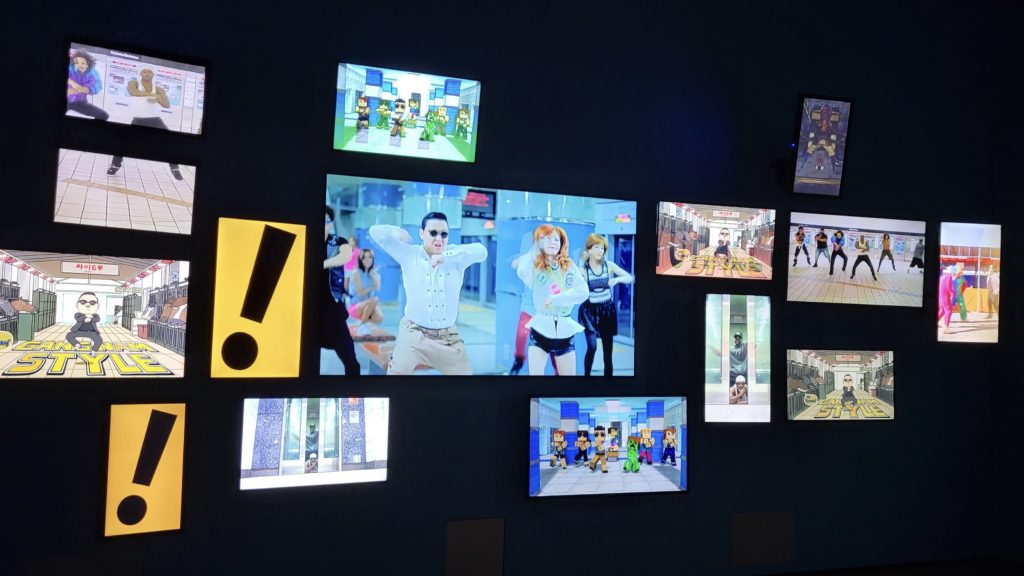 On September 24, the V&A Museum in London opened its doors to Hallyu! The Korean Wave, a landmark exhibition celebrating the colorful and dynamic popular culture of South Korea. The exhibition follows the culture from its origins to where it is today.
Lead Curator Rosalie Kim told us that the idea for the exhibition came about in 2017/2018. "We had students and visitors who started to come to the Korean gallery and Korean courses saying, 'I've seen this in this episode of K-drama or I remember hearing about this in a K-pop song, what is it?' So I realized that a lot of people are getting interested in Korean culture via Hallyu, so I pitched the idea around June 2019."
Kim mentioned how important this exhibition has been to her. "I was born in Belgium and at the time in the 1980s, no one had heard about Korea. They didn't know where Korea was on the map and you were made fun of because you are bringing your kimbap to school for lunch." Reflecting on her past, she continued, "To realize today that Korea's popular culture is something that the world is embracing and everybody knows now where Korea is, is incredible for me."
Arriving at the exhibition, the 2012 hit "Gangnam Style" by PSY immediately greets visitors. The wall is covered in multiple screens displaying the music video and a vast number of replicas made around the globe, including one made in Minecraft. The videos are paired with PSY's iconic pink suit jacket. It is displayed on a mannequin that has been adjusted to represent the singer doing one of the popular dance moves from the choreography.
From Rubble To Smartphones
The first section is information-dense, introducing visitors to the history of Korea. Exhibits included photos comparing Gangnam, a district in Seoul, with how it was in the 1970s versus in 2010. The section highlighted the country's struggle with war and invasion.
The following rooms highlight the beginnings of brands such as Hyundai and Samsung featuring early models of some of the brands' earliest inventions. The biggest feature of this section was the 1986 video sculpture by Nam June Paik, featuring 33 TV monitors taking up the focus of the final room. According to Kim, the video sculpture was already a part of the V&A collection. Due to the change in technology, it was a struggle to set it up.
Kim also talked about how the piece by Kyungah Ham from her collection What you see is the unseen/Chandeliers for Five Cities was made. Ham would send out sections of her artwork to other countries with instructions on what she would like in the section. These anonymous artists would help her complete her work faster by completing the section and then sending it back. A piece belonging to Kim's mother also exists within this section. However, the exact piece is kept a secret. Even though this was not the most exciting part of the exhibition, it was the most important. "There were also things like propaganda from the war period because I think it's a way for people to realize physically how Korea was divided," stated Kim.
"The point was to not show the latest trends or hits. We wanted to show how Hallyu has come around and why it is coming around and also to be able to understand some of the themes in K-drama or K-pop. It is important to understand Korean history because we can't talk about The Handmaiden (2016) without talking about the colonial period. We can't talk about Squid Game (2021) without understanding the Joseon caste system. Those kinds of details were really important for us."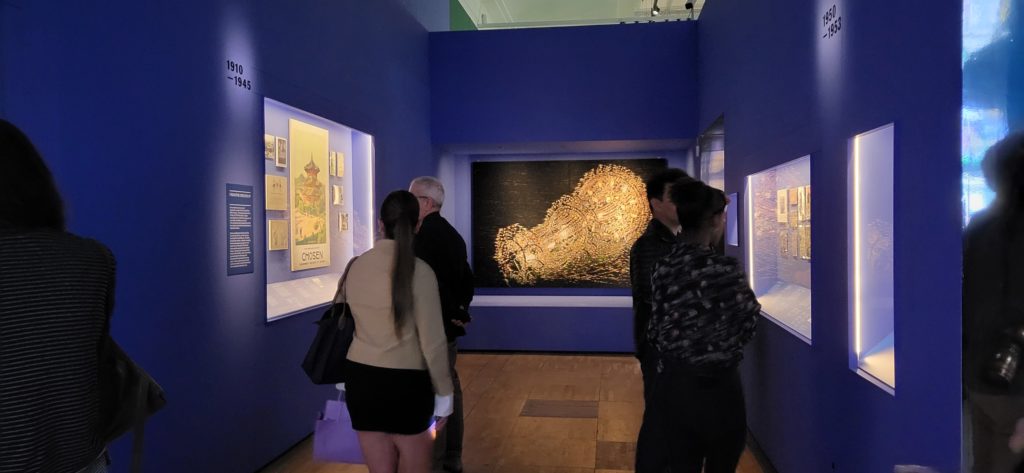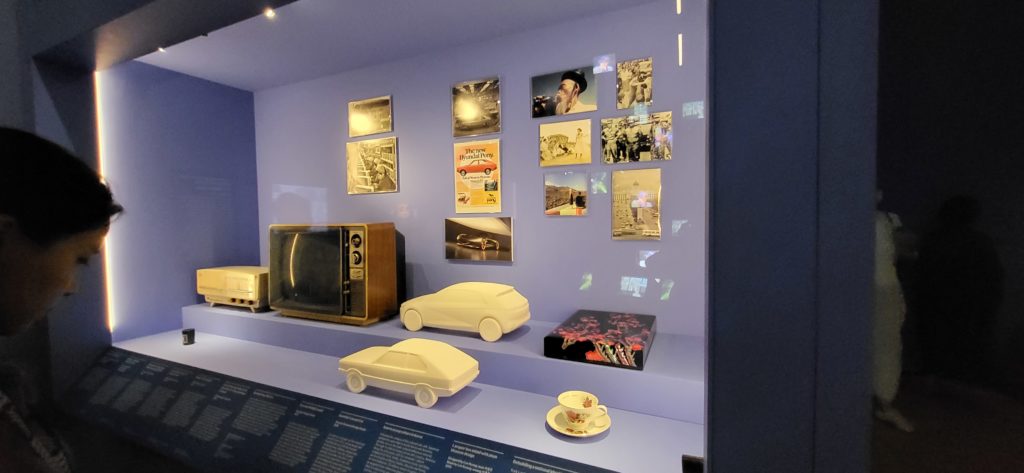 Setting the Scene
Some of the most highly anticipated parts of the exhibition are the outfits from the hit Netflix show Squid Game and the bathroom set from Bong Joon-Ho's Oscar-winning film Parasite (2019). The success of which came at a perfect time for Kim. "It was really lucky because when we decided to go for it, Parasite really exploded, Squid Game exploded, Minari (2020) exploded, and then BTS arrived, BLACKPINK arrived, we had 26 Korean words added to the Oxford English dictionary as well," she said.
"We really wanted to do something with Parasite and as we felt like it's a subject that discusses social inequalities, it's not something you can reflect easily with small objects, so we just gave it a go and contacted the designer and we were super lucky to be permitted to rebuild that. When we were preparing the exhibition, Squid Game exploded, and a lot of us were like 'We need to get Squid Game,' so we have the costumes."
Playing alongside the costumes are clips from some of the first K-dramas such as Full House (2004), a romantic comedy starring Rain who played the male lead. As well as Winter Sonata (2002) a drama that helped to reduce the tensions between South Korea and Japan due to its huge popularity in the country. Not only can visitors watch scenes from K-dramas, but they can also read webtoons with a rolling screen displaying scenes from Love Story and Itaewon Class. Both series have been adapted to screen due to their huge popularity. Also displayed are a large number of props and outfits used in historical dramas such as the armor from Jumong (2006) and the hanbok from Hwang Jini (2006). Visitors can have a more immersive experience by entering the walk-in theater screen showing a fight scene from Oldboy (2003).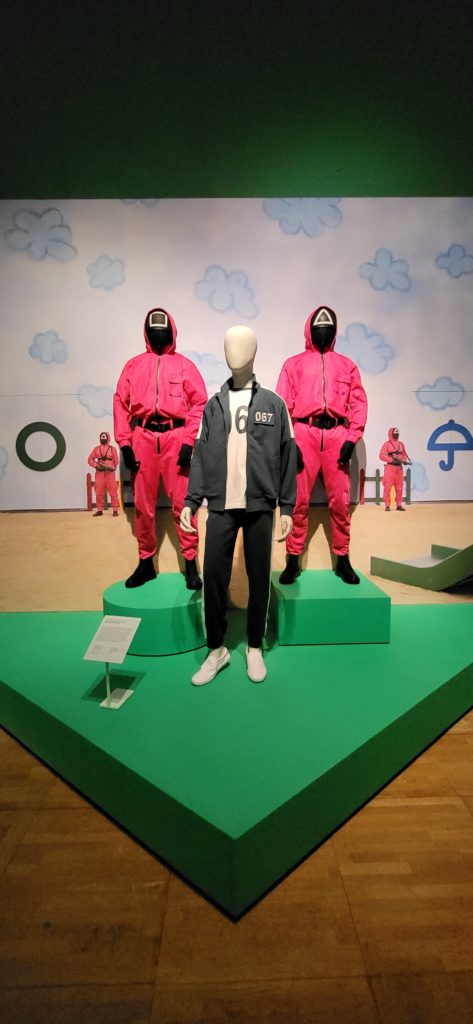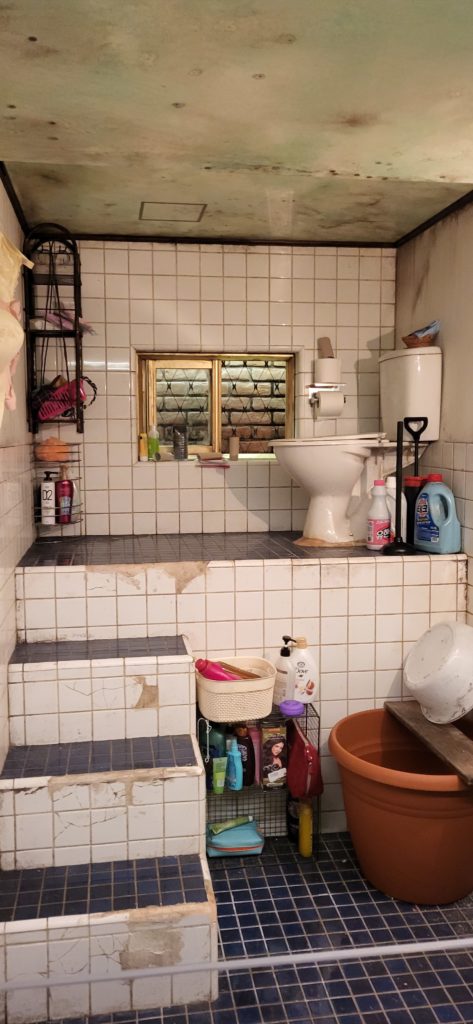 Global Groove
Visitors enter this section alongside a wall of lightsticks including those of NCT, BTS, and BLACKPINK. On the opposite wall, there is a screen playing music videos from H.O.T and Seo Taiji and Boys. Looking up, visitors can spot banners hanging from the ceiling of various UK/London K-pop fandom projects, such as the banner from the fan-organized exhibition for EXO's 10th anniversary. The largest room of the exhibition contained outfits worn by ATEEZ, aespa, G-Dragon, and Somin of KARD.
One wall was covered by a screen displaying music videos that demonstrated three categories; universe, storytelling, and aesthetics. The screen includes videos like ATEEZ's "Fireworks (I'm The One)," NCT 127's "Kick It," and ORANGE CARAMEL's "Catallena." Ahead of this is two vertical screens displaying videos of the AI K-pop group ETERN!TY, and aespa Karina's virtual counterpart, æ-Karina. On the opposite side of the room is the painted sculpture Untitled G-Dragon, A Space of No Name by Gwon Osang. This is a piece that Kim really loves. "I thought this was fantastic… The artist is amazing. We really wanted him in the exhibition."
In a side room, visitors have the opportunity to take part in a dance challenge for PSY and Suga's "That That." Participants learn the dance with a virtual instructor, record it, and then watch their performance on a large screen. During the introductory talk about the exhibition, Kim encouraged visitors to take part in the dance challenge, a point to which the Director of the V&A Tristram Hunt strongly agreed.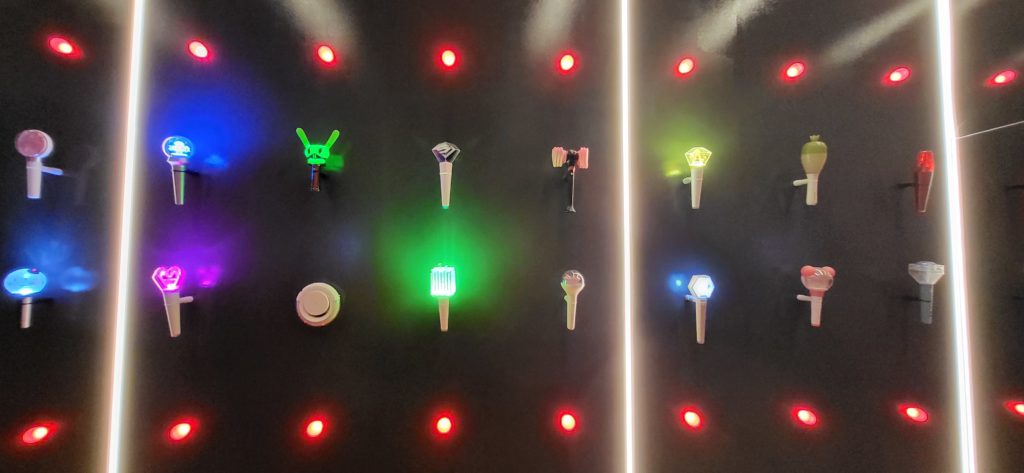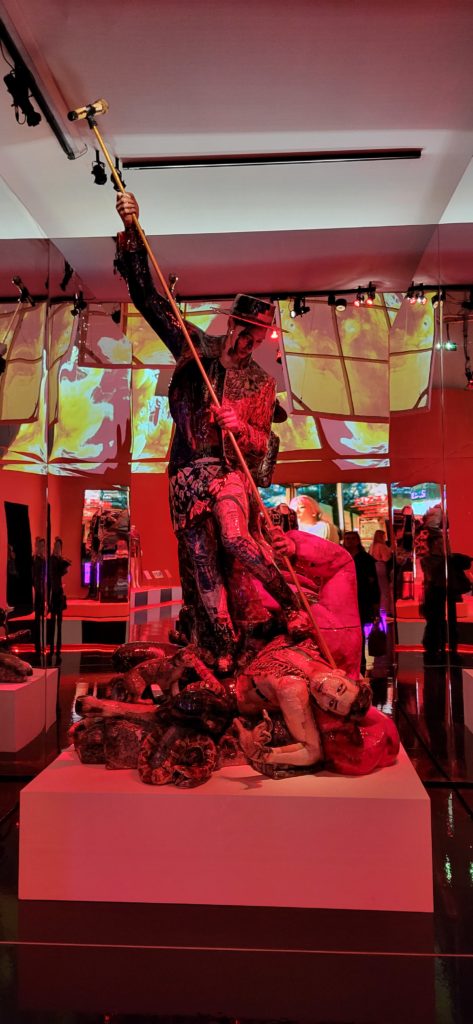 Inside Out 
For the finale, visitors enter the fashion segment of the exhibition featuring clothes worn by RM and Jin of BTS, Jennie from BLACKPINK, and ATEEZ's Wooyoung. The exhibition explores the link between K-dramas, K-pop, and K-beauty with many fans wanting to look and dress like their favorite idols.
Taking center stage is The Peony Dress by Miss Sohee. Kim told EnVi that all of the items in this section were chosen for a purpose, mainly that the designers were pioneers in their area. "We really wanted to represent the youth and Korean diaspora because it has really grown in profile both as producer and consumer. For the fashion section, it was really important to reflect that."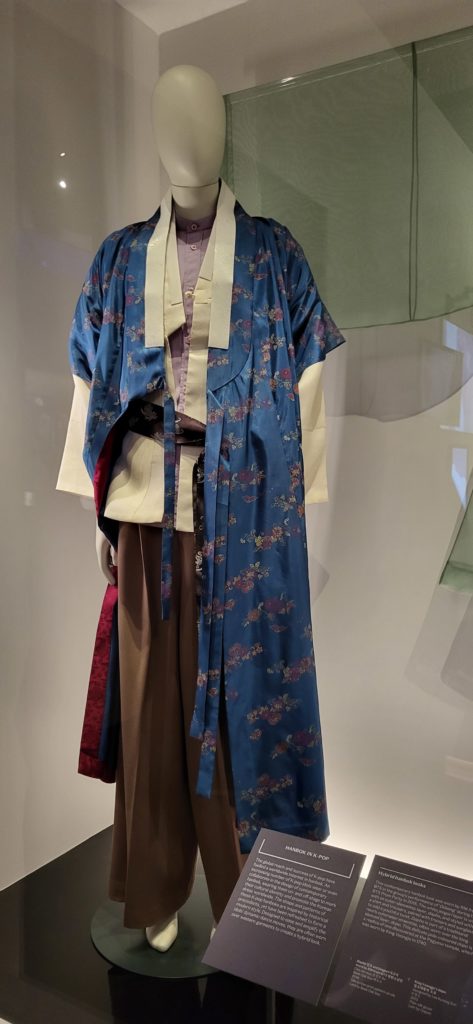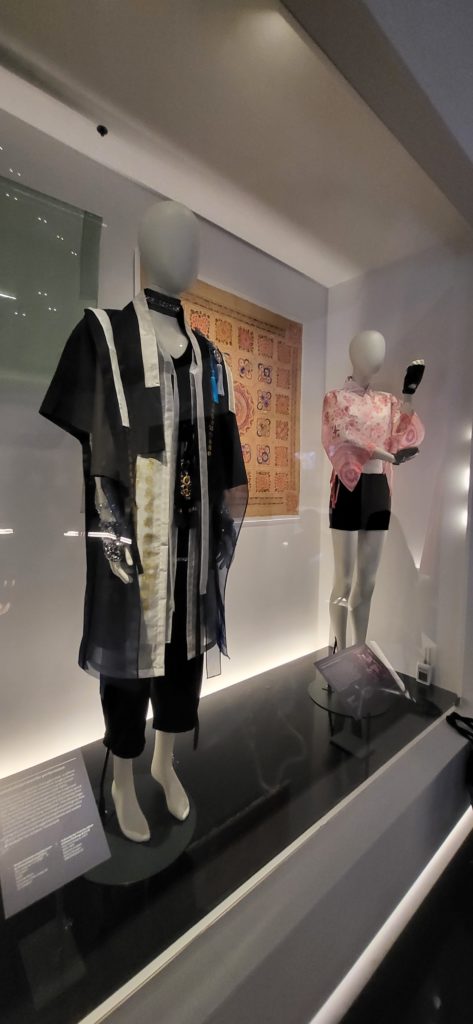 When talking about what could have been included in the exhibition, Kim mentioned that if possible, she would have included sections about food, literature, and many other things. However, she settled on focusing on the performative side. "We knew we were going to have K-drama/K-cinema and K-Pop … because you can't really separate the two. And then, we wanted to have beauty and fashion because those are having such a big moment, in the wake of K-drama product placement, K-pop idols, celebrities, and endorsement."
To finish, Kim told EnVi about how she has found the experience as a woman of color. "It's great," she said with a large grin. "It's really great to have your cultural heritage be celebrated and to have a say on how things should be done and how they should be presented rather than having someone tell you how things should be done. I've been here for so long, I've been able to build relationships with people around different sectors, so they've all been super supportive, which was great to see."
Want to see it for yourself? The exhibition is running from September 24, 2022, until June 25, 2023, located at the V&A museum in London. Tickets cost between £8 and £20.
Want to know more about the exhibition? Follow the V&A on Twitter, Instagram, Facebook, and TikTok.
Want more London exhibition content? Check out our coverage of Yayoi Kusama's infinity mirror rooms at the Tate Modern here!