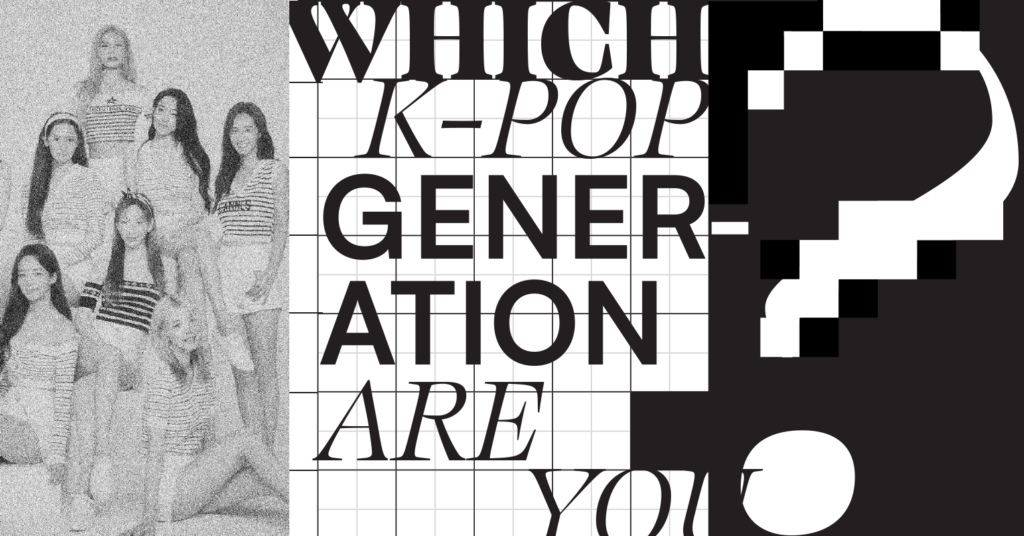 K-pop has been around for decades. From early pioneers like Seo Taiji and Boys to innovators like aespa, it's evident that K-pop has and always will be a popular and evolving genre of music. Within the genre lives an abundance of groups that experiment with various sub-genres like R&B, classical, and synthpop. Whether you joined in the early years or have just recently begun your K-pop journey, there's a little something for everyone.
Ever wondered which K-pop generation fan you are? Let's test it out with this special EnVi quiz and discover which generation best describes you. Don't forget to tally your scores as you go along!
1. What year did you become a K-pop fan?
Before 2000s
2000 – 2010
2011 – 2019
2020 – Present
2. Choose your K-pop Boy Group.
H.O.T.
BIGBANG
BTS
Stray Kids
3. How did you discover K-pop?
Hearing them for the first time on the radio
Your friends introduced you to the genre
Youtube recommendation
You heard about K-pop NFTs
4. Now, choose your K-pop Girl Group.
S.E.S
Wonder Girls
BLACKPINK
IVE
5. Pick a K-pop soloist.
BOA
IU
Kang Daniel
AleXa
6. Among these albums, which do you like the best?
Seo Taiji and Boys by Seo Taiji and Boys
I Got A Boy by Girl's Generation
Page Two by TWICE
Map of the Soul: 7 by BTS
7. Choose a song that you fancy the most.
"Wild Eyes" by Shinhwa
"Nobody" by Wonder Girls
"Overdose" by EXO
"Psycho" by Red Velvet
8. Pick a word that best describes a K-pop generation for you.
Pioneers
The Golden Era
Worldwide Breakthrough
Metaverse
9. Which musical genre do you enjoy aside from K-pop?
Classic Pop
Ballad
Rock
EDM
10. Choose a music video you enjoy the most.
"Coincidence" by Baby VOX
"Nobody" by Wonder Girls
"Very Nice" by SEVENTEEN
"Next Level" by aespa
11. What is your choice of social media platform to connect with the K-pop community?
Tumblr
Instagram
Twitter
Metaverse
12. Out of these idol leaders, which one is your favorite?
Bada (S.E.S)
Onew (SHINee)
Taeyong (NCT)
Sumin (STAYC)
13. What K-pop song are you most likely to play on a rainy day?
"I Gave You" by SHINHWA
"Runaway" by KARA
"Again" by NU'EST
"Period" by PURPLE KISS
14. What accessory is your go-to to compliment an outfit?
Headphones
Headband
Scarf
Sunglasses
15. Lastly, if these groups were to announce a concert date near you tomorrow, which group would you choose to see?
Click-B
BIGBANG
TWICE
Loona
Mostly 1s: You're a First Generation K-pop Fan
You're a veteran in this fandom! As a first generation K-pop fan, your birth as a full-fledged K-pop stan was probably around the same time as the birth of K-pop itself! When you listen to their music, it automatically takes you back in time and you reminisce how you discovered it. If you started to appreciate first generation idols in the later years, your taste in the classics and the OGs is impeccable.
Mostly 2s: You're a Second Generation K-pop Fan
If you're a second generation K-pop fan, you probably appreciate both oldies and modern pop music. It's no secret that you enjoy being transported into a time when music was evolving. Though most of the groups from this generation are on hiatus, you either chose to stay updated on content for fun or you've probably taken a pause and just checked in on updates from time to time. After all, who would want to forget the "Golden Age" of K-pop?
Mostly 3s: You're a Third Generation K-pop Fan
If you're a third generation K-pop fan, you're either older or the same age as the fourth generation K-pop idols. Age aside, this generation is experiencing the best of both worlds with nostalgia from previous K-pop generations' groups or adjusting to the newer generation. Social media is your bread and butter for keeping up with your current K-pop idols and oh, how is your photocard collection going?
Mostly 4s: You're a Fourth Generation K-pop Fan
You are probably relatively new into K-pop but hey, don't worry, you are the future of K-pop's fandom and there's more for you to explore here. With the digital age, you are experiencing the fullest of K-pop fandom life, mostly virtually, with the help of the metaverse. Compared to previous generations, fourth generation K-pop fans like you have more accessibility to K-pop content like online concerts.
Interested in more EnVi quizzes? Click here to take our "Which WayV Title Track Are You?" quiz.